Thousands of tourists flood Tromsø every year in the hope of seeing the northern lights. Whether you'd prefer a boat trip or a sled ride, here are five recommended tours for hunting the aurora borealis.
Nestled within the Arctic Circle, Tromsø is a world-leading location for those seeking a dazzling display of the aurora borealis. This Arctic town is right in the heart of the aurora oval. As such. it's an ideal location to catch a display, even when solar activity is low.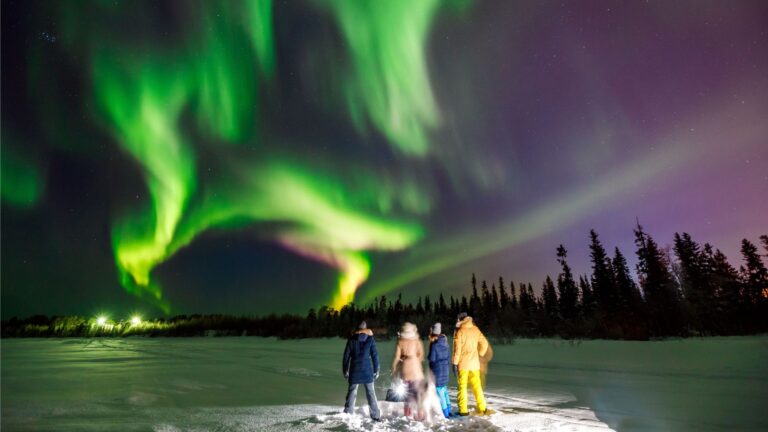 The remote location ensures that escaping light pollution for a front-row seat is relatively straightforward. Plus, with its relatively mild climate due to a sheltered coastal position, venturing out into the darkness to witness the aurora becomes even more enticing.
As the largest city in northern Norway, Tromsø is well-prepared to cater to aurora chasers. By day there's plenty of hotels, restaurants, bars, coffee shops, supermarkets and museums to keep you occupied until your late night hunt begins.
When to visit Tromsø on a Northern Lights tour
So, when's the best time to see the northern lights in Tromsø? First things first, there must be darkness. That means it's only realistically possible for the human eye to see the lights from mid-September to early April.
From November 27 to January 21, Tromsø experiences the polar night. This is the period of time when the sun doesn't rise. While that means many more hours of darkness, it's not necessarily the best time to visit.
The periods of late September to mid-November and mid-January to mid-March typically offer better weather and more daylight. That means more enjoyable daytime activities and a higher chance of cloud-free skies in the evenings. It's all about balance.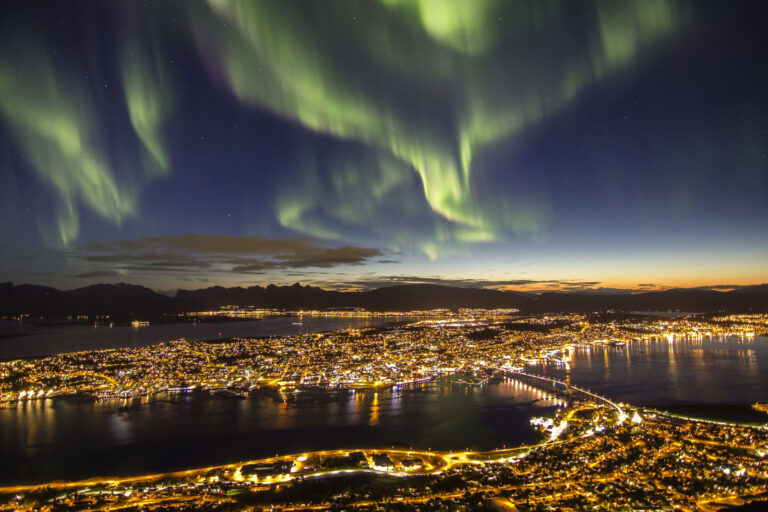 As long as it's dark and the skies are clear, you stand a good chance of seeing at least something in the skies above and around Tromsø. For a good display, well you need luck to be on your side too!
Why take a Northern Lights tour?
I've seen the northern lights on every trip I've taken to Tromsø during the season. Yes, every time! And only two of those times I was on an organised tour.
However, the first time I was on a tour was undoubtedly the best experience. We were far away from the city lights and the tour guide kept us entertained (in a warm tent!) for the couple of hours before the lights appeared.
So although not essential, taking a tour is an excellent option for making the most of your aurora-seeking adventure in Northern Norway.
Knowledgeable guides can lead you to the prime viewing spots and share fascinating insights into the science behind the phenomenon. Tours often provide access to high-quality equipment, like cameras for capturing that perfect shot, and thermal clothing to keep you cozy while you gaze at the night sky.
In addition, transportation to more remote, secluded locations with minimal light pollution is usually included.
Northern Lights tours in Tromsø
Tromsø boasts a diverse array of northern lights tours to suit every taste, from intimate minibus tours to larger bus expeditions, as well as unique experiences like boat tours or snowmobile excursions.
You can even find tours that combine aurora viewing with other thrilling adventures, such as husky rides or visits to Sami camps.
So gear up and embark on a once-in-a-lifetime journey to witness the spectacular aurora borealis in Tromsø. Here are our favourite tours that we think you're going to love.
A classic Northern Lights hunt by minibus
This classic northern lights hunt operated by The Green Adventure is a good all-round choice. You'll be sharing the minibus with no more than seven other hopeful hunters so there's plenty of opportunity to get to know people as you travel out of Tromsø.
Where do you go? It depends! The guide will have checked the cloud forecast and will head to Kvaløya, Ringvassøya or Skibotn depending on where the conditions are best.
The tour begins with a warm bowl of soup and a warm drink following pickup in downtown Tromsø or from Tromsø Camping. It also includes professional photography, with photos emailed to you after the tour at no additional cost.
Find more details including pricing and availability of this tour on Viator
A Northern Lights hunt by electric car
You probably know that Norway is a world-leader in electric vehicles. So it's perhaps no surprise that you can book an eco-friendly Northern Lights tour by Tesla.
This exclusive private tour in a Tesla Model X only adds to the silence as you explore the wilderness outside Tromsø, looking for some cloud-free skies.
Included warm drinks and a snack together with collection and drop-off from any downtown accommodation make this tour a compelling choice.
Find more details including pricing and availability of this tour on Viator
Northern Lights photo cruise
Search for the northern lights by boat while enjoying a different perspective on Tromsø city and the surrounding mountains.
This Northern Lights photo cruise focuses on getting into good positions for photographs. However, it is shorter than many land-based tours so bear that in mind before you book.
Knowledgeable local guides will hold a talk about the aurora while you wait for the light show to begin. Depending on the ship used, there may be an opportunity to use a hot tub or sauna.
Find more details including pricing and availability of this tour on Viator
Northern Lights luxury cruise
If you like the idea of a fjord cruise but prefer smaller groups, this Northern Lights luxury catamaran cruise could be for you.
In a small group no larger than eight, you'll board the luxury vessel in Tromsø and head out to the surrounding fjords. Here you'll search for clearer skies to boost your chances of a northern lights sighting.
The approximately four-hour tour includes snacks, drinks, and the use of warm suits. Onboard Wi-Fi means you can share your photos immediately.
Find more details including pricing and availability of this tour on Viator
Reindeer Sled & Sami Camp tour
There's little more disappointing than spending hours on a northern lights tour with nothing to show for it. That's why I often recommend that you combine a northern lights hunt with another activity.
One great example is this Reindeer Sled and Sami Dinner tour. Combine the opportunity to see the aurora with a wonderful Sami-themed evening. You'll feed reindeer and enjoy a reindeer sled ride, enjoy a traditional Sami dinner and hear stories about local culture and beliefs.
If the lights are nowhere to be seen, you'll keep warm around a fire with a cup of hot tea, coffee, or hot chocolate inside a traditional Sami hut.
Find more details including pricing and availability of this tour on Get Your Guide
A DIY Northern Lights tour in Tromsø
As I mentioned earlier, there are many other northern lights tours in Tromsø. Plus, you don't even need to book yourself on one to stand a chance. The lights can often be seen in the skies right above downtown Tromsø.
That being said, to best appreciate a weak display, you'll need to minimise light pollution as much as possible. If you lack your own transport, use a local bus or taxi to visit Telegrafbukta beach or visit Prestvannet lake.
If you are venturing out on your own, be sure to wrap up warm. It may not feel cold at first, but after a few hours, you'll feel different. Be sure to check out our northern lights tour packing list before you pack your bags.
Have you been on a Northern Lights tour in Tromsø? What was your experience? Let us know in the comments below.