What gear do you need for hunting the aurora borealis in Northern Norway? Get your free packing list here and make sure you're well prepared for your memorable trip.
If you're looking for a unique and unforgettable travel experience, a northern lights hunt in Northern Norway might just be the perfect adventure for you.
People travel to Scandinavia from all over the world hoping to catch a glimpse of the colourful, natural light show in the night sky. Known for its remote wilderness areas, the north of Norway offers some of the best opportunities anywhere in the world to witness the elusive aurora borealis.
Proper planning for a northern lights trip
However, unlike many other trips, a northern lights hunt requires proper planning. If you come underprepared, you'll be cold, frustrated and might miss the lights altogether.
First things first, arrange your tour in advance! If you've not yet started researching, check out some of these recommended northern lights tours. Now, on to the packing.
A northern lights packing list will look very different from one for another type of trip to Norway. With a wide range of weather conditions to consider, as well as the need for specialised equipment for photographing the lights if desired, it can be challenging to know where to start.
I have seen the northern lights many times in Norway, most recently on this winter cruise to northern Norway. So while I don't consider myself an expert, I do have some knowledge to share with you.
From the concept of layers and sturdy footwear to camera gear and extra batteries, I'll cover all the essentials you'll need to ensure a safe, comfortable, and successful trip.
Whether you are an experienced traveller or a first-timer, this northern lights packing list will help you feel confident and well-prepared. So, grab your suitcase and get ready to experience the magic of the aurora borealis!
Top packing tips for a northern lights trip
First, I'll run through some quick tips when planning what to pack, before diving into the details.
1. You'll be outside for hours. There's always a chance you'll enjoy a spectacular light show the moment you step outside. Far more likely, though, is that you'll be hanging around in the cold staring at the dark sky for many hours. Even if you are at a camp with a tent or staying in a waterfront cabin, you're going to get cold during the time you are outside.
2. It might be much colder than you expect. Have you looked at the weather forecast for Tromsø or Alta? That's good! However, many organised tours drive a long way out of the cities to find the perfect spot. If you head inland, the temperature can drop by 10°C (18°F) or more.
3. Function over fashion. When you're out and about in the Norwegian wilderness, how well your clothing protects you from the elements is far more important than how you look. When the light show appears, no-one will be looking at you anyway!
Check out these recommended northern lights tours in Norway
General packing list for Norway
First things first, consider your overall needs for visiting Norway. Sure, you're coming for the light show, but what else are you planning to do? How long are you planning to stay?
Note: Life in Norway is a participant in the Amazon Services LLC Associates Program, an affiliate advertising program designed to provide a means for sites to earn advertising fees by advertising and linking to Amazon.com.
Passport: Of course, your passport should be the first thing you pack and the last thing you check before leaving for your trip. It's a great idea to take a photo of the information page of your passport, too. In addition, make a note of the contact details for your Embassy in Norway just in case you lose your passport.
Driver's license: Do you want to rent a car? Then this is essential. Even if not, you may want to bring it in case your plans change or simply as an extra form of identification.
Travel insurance documentation: Remember, healthcare coverage is not the same thing as comprehensive travel insurance. Even if you're covered by the EU/EEA agreement on healthcare, having your own travel insurance policy is a wise move in the event of lost possessions, cancellations, and many other circumstances. Bring your documentation, especially the emegency phone number and your policy reference number.
Document wallet: Do you just slip your passport in your back pocket, or in a bag that could easily be snatched? Instead, store your passport and other important travel documentation in a secure wallet. This unisex wallet shields against RFID scanning and can be concealed upon your person.
No-fee credit card: Cash is not widely used in Norway these days, so you may find youself using your credit card much more than you expected. If you don't have a card that offers no fees on foreign transactions, it's a wise move to get one.
Travel gadgets and technology
Prepaid SIM card: In many parts of Norway, you can get away with using Wi-Fi for your communication and connectivity needs. But if you're going to be hunting the northern lights, you'll need data connectivity. If you're from outside the EU/EEA, that means you'll need a local SIM card to avoid excessive charges.
Power outlet converter/extender: Norway uses the standard European round 2-pin sockets. Consider taking an adapter that gives you additional ports. This excellent travel plug adapter gives you a US outlet plus 2 USB-A and a USB-C sockets, all for the price of one Norwegian plug socket.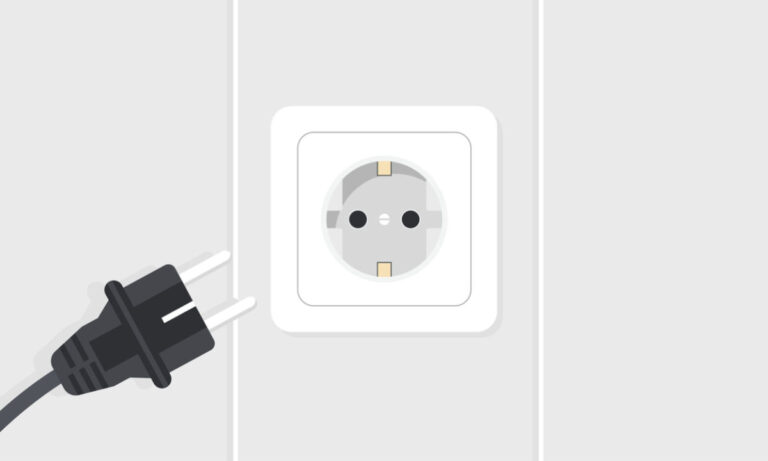 VPN: This isn't something you pack, but something you'll need. With our reliance on the internet in the modern world, a virtual private network (VPN) is now a must-have on any trip. A VPN essentially allows you to create a secure connection over an otherwise shared connection, such as hotel or coffee shop Wi-Fi. This applies to your laptop, tablet and even phone. Our VPN recommendation covers all these.
Power bank: One thing you'll be very grateful for when spending hours hunting the lights is additional power. The cold temperatures will run your smartphone batteries down much faster than you're used to, so having a simple power bank (and the relevant cable!) to hand will mean your phone won't run out of juice when it matters most. This modern power bank with a USB-C connection has a high 20000mAh capacity to keep your devices charged all night, yet it's small enough to slip into a bag.
Northern lights photography
Do you need a professional camera to take pictures of the aurora borealis? That's perhaps the number one question I'm asked about trips like these. With the rapid advancement in camera tech, there is a lot of outdated advice out there.
An advanced camera together with tripod and other equipment absolutely can result in the very best northern lights photography out there. But only if you know what you're doing.
My best advice is this: there is no point in buying and bringing an expensive camera if you don't know how to use it. If you have one, make sure you've learned how to use whatever camera you bring in dark conditions before making the trip.
Camera: If you want to go all-in on photography, then you'll need a modern mirrorless camera designed to work well in low-light photography. Several independent tests have put the Sony A7S III out ahead of the competition. You can set an impressive ISO range of 80-102400. If you understand those numbers, you'll know why that's important. It's also excellent for filming the lights and shooting timelapses. With this camera, the recommend lens is the Sony FE 24mm F/1.4 GM.
Tripod: If you're taking your photography seriously, a tripod is an essential piece of kit due to the long exposures needed for aurora photography.
iPhone 14 Pro: Some blogs will tell you it's impossible to take shots of the lights with a smartphone camera. The reality is quite different. On my most recent trip, I got fantastic pictures and even video of the lights with my iPhone 14 Pro.
To go from great to outstanding you'll need more than a smartphone, but if you simply want to capture memories then the latest smartphone technology is more than enough. Of course, Apple's flagship phone is far from a budget purchase. But if you're in the market for a new phone and planning a northern lights trip in the near future, an iPhone 14 Pro is worth considering.
Bendable smartphone holder: Smartphone users can also make use of a tripod! There are traditional tripods that fit smartphones, but a better option is a bendable phone holder that you can hook on to a fence post, thin tree branch, or pretty much anything. This bendable phone holder is small and lightweight enough for you to carry around all day.
Clothing for a northern lights hunt
You don't necessarily need loads and loads of thick, warm clothes for a northern lights hunt. The most important thing is to understand the concept of layering. You can add and remove layers as needed, depending on conditions. A thin underlayer of wool and a waterproof, windproof outer layer are the most important elements to this.
If you book a northern lights tour, your tour guide should tell you in advance what sort of clothing to bring. That being said, here's my best advice.
Base layer: Gone are the days of itchy, woolen underwear! Full body merino wool base layers are well worth the investment. It is a strong, natural material that wicks moisture away from your body, keeping your skin dry and free of odours. Merino wool is a much better insulator than cotton, so you'll feel warmer in cold conditions.
Windproof jacket: Many people assume a big, thick fluffy jacket is the best thing to bring on a northern lights hunt. Actually, a waterproof, windproof shell layer is far more useful. Wear a thicker, warmer layer underneath. If you have a ski or snowboard jacket, that's ideal. If not, consider one of the popular Helly Hansen pier jackets available for both women and men.
Gloves: Pack two pairs! A thick pair is a must for keeping warm on your hunt, while a thinner pair that works with touchscreens such as cameras and smartphones will prove invaluable. You don't want to be in a position where you have to choose between filming an incredible northern lights display or keeping your hands warm! These Trendoux winter gloves will provide the perfect balance between allowing you to fidlde with your phone's camera settings and keeping the worst of the cold away.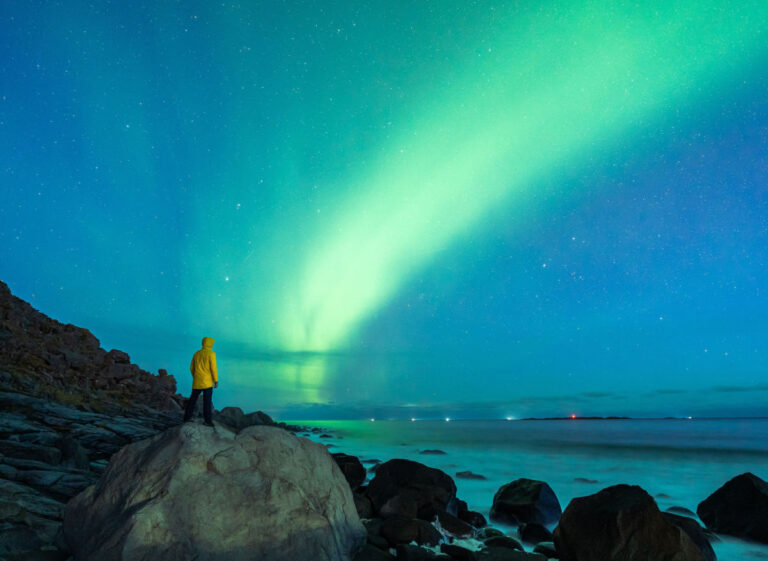 Footwear: Your tour may end up in areas with snow and ice. It will be dark, so having good quality boots with grip for your tour is essential. If you're not confident walking on snow or ice, investing in a pair of strap-on spikes is a wise move.
Headwear: A warm winter hat is a must. The thicker the better. If you have one that covers your ears, all the better. For the best protection, consider a trapper hat or similar style of headwear.
Neck warmer: Before you reach for a thick scarf, consider a fabric neck tube instead. Much less bulky than a scarf, a neck warmer like this one is easy to throw on when you're rushing outside because you've heard whispers of a sighting, but easy to keep in a pocket or a bag when you don't need it. There are also many sportier versions if you prefer a different look.
Other handy items for your trip
I've covered the main must-haves for a northern lights trip, but there are some other useful items you may wish to bring.
Reusable water bottle: Bottled water is expensive in Norway and totally unnecessary. The tap water is perfectly drinkable and tastes good. Save money and use less plastic by bringing your own reusable water bottle. If you typically drink two small bottles of water a day, you'll save at least $25 over a week.
Medicine: Don't forget any medication (prescription and otherwise) you might need during your stay. Bear in mind that Norwegian pharmacies stock a lot less over-the-counter medication than pharmacies in other parts of the world, especially the US.
Waterproof phone pouch: This isn't a must-have, but it will give you peace of mind if you're stuck in wet weather. Make sure you buy a waterproof phone pouch that fits your phone.
Flashlight and batteries: Not an essential, but if you're planning on spending a lot of time outdoors hunting for the lights, a flashlight is a good idea. Just bear in mind that you should always turn it off when you're not walking, because it will interfere with other people's view of the night sky.
Moisturiser: A good face cream and hand cream are must-haves when visiting Norway in the winter. Your skin will thank you!
Check out these recommended northern lights tours in Norway
Well, I hope that helps! This wasn't intended to be an exhaustive list. There are of course many other items that you'll need to bring. But hopefully I've inspired your packing a little, and you'll have a more comfortable trip as a result.
Did you find this packing list useful? If so, please consider saving it to Pinterest so others can find it too. You'll find the perfect pin by using those social sharing buttons.