Believed to be the oldest Norwegian stave church still standing, Urnes Stave Church deep in Norway's fjord country is a highlight of any Norwegian road trip itinerary.
I know from the many emails I get that Norway's old wooden churches are a popular tourist attraction. Many people plan road trips specifically to see as many of them as possible. If that's you, here's one that you absolutely shouldn't miss.
Stave churches are medieval wooden Christian churches that were once common all over northwestern Europe. Several stave churches in Norway remain standing. The name comes from the post-based construction. The load-bearing posts are called stafr in Old Norse, or stav in modern Norwegian.
Introducing Urnes Stave Church
Urnes Stave Church stands in the small village of Ornes on the banks of the Lustrafjord. The view across the water, an arm of the well-known Sognefjord, conjures up images of departing Viking expeditions and Norse settlements long gone.
When you look at some of the pictures and indeed when you first approach the church, it seems a very simple design. But up close, it's a different story. The Romanesque style building is adorned with fascinating carvings.
It's also in remarkably good condition for its age. Archaeologists have dated the church to the 1130s. That's quite something, although recent evidence suggests it could be even older. However old it is, you're walking through centuries of history by stepping inside.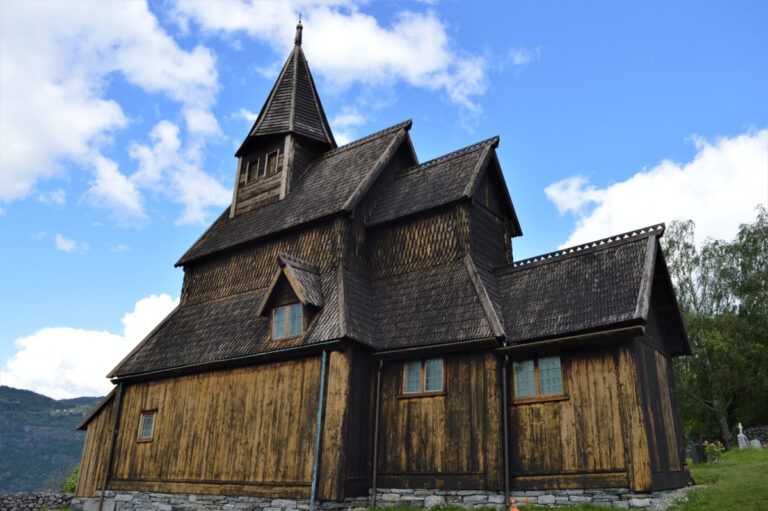 Of course, as a 900-year-old building, it's had its fair share of restoration work. Some of the more modern touches include a 17th-century extension and new windows installed more recently.
Yet the core of the church is as it was many hundreds of years ago. The surrounding area is also far from built up, helping with the overall atmosphere of a visit.
A sign of changing times
While church tourism is a thing, you don't have to be of any faith to appreciate Norway's wooden churches. Students of architecture or history tend to be just as fascinated by these special buildings, of which 28 remain in Norway today.
Their design and especially interior details provide a lot of insight into Norway's slow transition from faith in the Old Norse gods to Christianity.
That's especially true here at Urnes given the church's age. Here, wood carvings are based on popular Viking Age art and craftsmanship techniques. The exterior strap-work panels and elements of Viking tradition from the previous building are known as the Urnes style. After nearly one thousand years of exposure, it's incredible how well-preserved these panels are.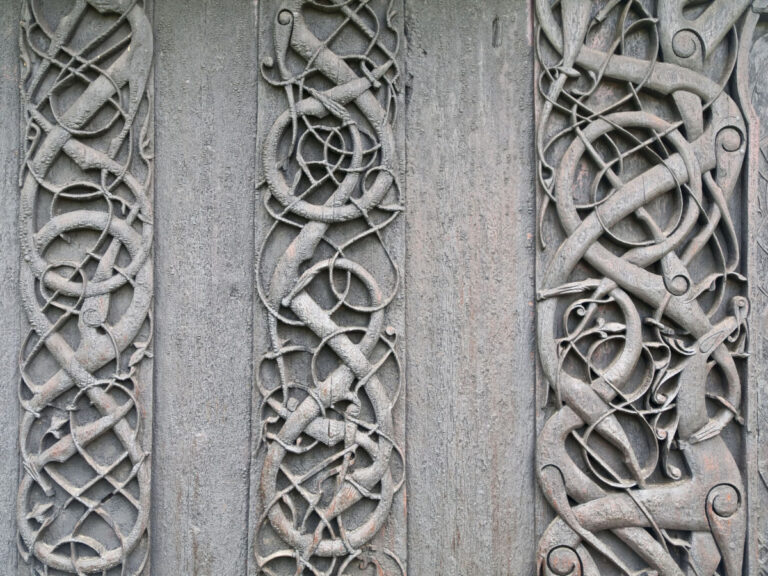 Wait, did I just say previous building? Yes, indeed! While it's an old building, there is some fascinating history that comes before. Based on findings, archaeologists believe it is the fourth such building to stand at the same site.
This suggests Ornes was a sacred site to the Norse people long before Christianity was introduced to Norway at the end of the Viking Age.
Inside the church, there is familiar Christian imagery alongside the Norse details. A group of figures depicting Jesus suffering on the cross in front of Mary and John date from the 12th century.
A taste of life in the Norwegian fjords
I know that many visitors to the Norwegian fjords think that life here must be relaxing. That may be true if you're retired today, but years ago the reality of life would have been very different.
Everyday life in Ornes and all around the fjord region was defined by hard work. If you visit the church, set aside some time to explore the area and you'll soon see the evidence.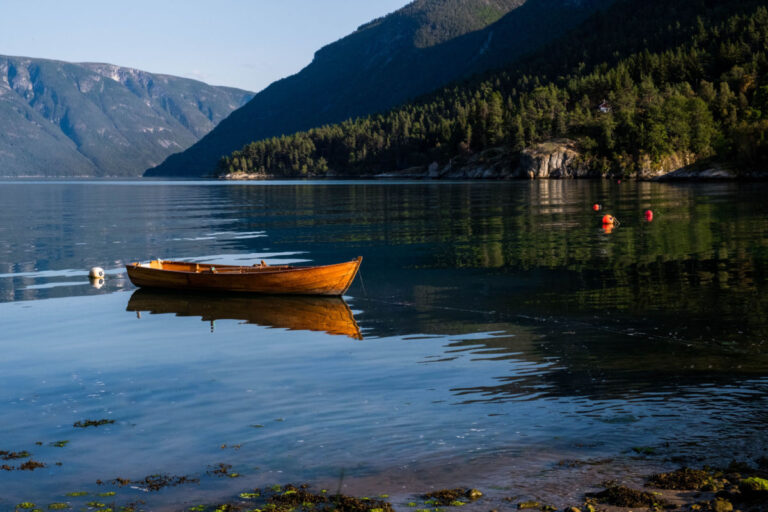 Farms and boathouses show how generations of people living on and around the Lustrafjord made their living over the centuries. And how many still do.
Interest in Urnes Stave Church has increased greatly since it was added to the UNESCO World Heritage List in 1979. UNESCO said it is "an outstanding example of traditional Scandinavian wooden architecture" and that it "brings together traces of Celtic art, Viking traditions and Romanesque spatial structures."
How to get to Urnes Stave Church
Getting to Urnes stave church—located in the village spelled Ornes—is half the fun. The church is open to visitors most days during the summer season, which runs from mid-May to early September.
Why the different spelling? It's to do with Norway's time under Danish rule. Urnes was the preferred spelling under Denmark, but Ornes has been used since that time.
Sogndal is the biggest town in the area, so these directions will assume you're making your way from there. To reach the church, take route 55 north of Sogndal. It's only a 14-mile drive but does require a car ferry.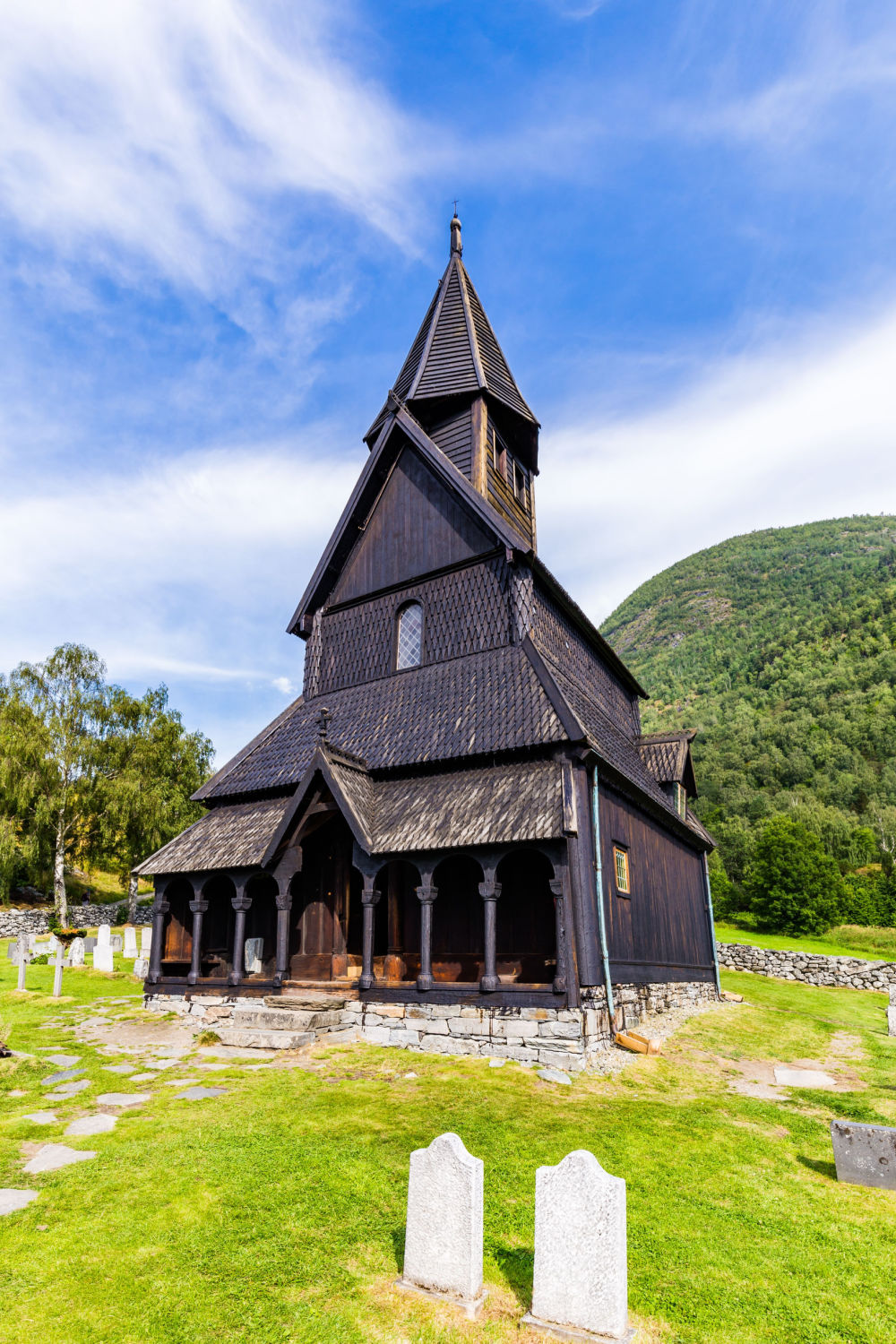 Check the timetable of the Solvorn to Ornes service in advance as it only operates a handful of times per day.
It's also well worth getting to the ferry well in advance, because the small car ferry holds just 90 passengers and 11 cars. If it's full, you'll simply have to wait for the next departure.
When visiting Ornes, make sure to plan some extra time to enjoy a short drive along the Lustrafjord coastal road. If you have time, continue along that road all the way to Skjolden. Why? Well, from Skjolden you can join the Sognefjellet national scenic route, the highest mountain pass in Northern Europe.
If you are on a stave church tour of Norway, there are several other notable buildings in the region. The larger stave church Kaupanger is nearby, as is the 17th-century Lutheran church at Gaupne. While the latter isn't a stave church, it's well worth including on your itinerary.
Have you been to Norway's Urnes Stave Church? Was it worth the drive? Let us know your experiences in the comments.