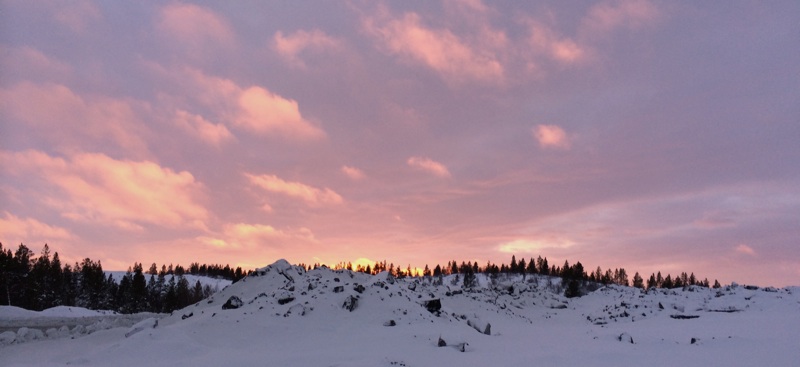 It was impossible to ignore the reminders of World War II on my recent visit to Kirkenes. Just before my trip, I had the pleasure of speaking to Vincent Hunt, British journalist and author of Fire and Ice – The Nazi's Scorched Earth Campaign in Norway. You certainly need to be prepared for the stories you'll read in the book, but they are stories that need to be told.
Fire and Ice – The Nazi's Scorched Earth Campaign in Norway is available now in paperback on Amazon UK
, and for the Kindle on Amazon UK
and Amazon USA
.
I asked Vincent about his research and thoughts on this unsettling aspect of Norwegian history.
Firstly, what exactly was the Scorched Earth campaign?
It started with the failure of the Nazis northern punch against Leningrad, coorindated through Kirkenes. When the Soviet Union pushed the Germans back they chose to flatten the entire north of Norway. Finnmark was reduced to rubble. thousands of buildings were burned, Hammerfest was reduced to ashes, bridges and ports were destroyed.
Any place that could offer shelter to what the Nazis thought would be the pursuing Red Army was destroyed. Any port that could assist them was wiped out. Hammerfest was a major transport and military hub, so they just flattened it all so the Soviets couldn't follow.
50,000 people – the entire population – was told to leave and forcibly evacuated. Many went south on boats, others decided to flee to the hills expecting to be saved.
What is your background and what made you want to write this book?
I'm primarily a radio journalist, spending the last 15 years making documentaries and working in news for the BBC, so I'm used to working on a story narrative.
I was on a Scandinavian odyssey with a friend of mine who lives in Gothenburg. We travelled extensively and on the way back from Nordkapp we stopped in Honningsvåg. In the church we looked around, read the plaques, saw the pictures and I realised I didn't know any of what happened. I discovered there wasn't anything published in English, although there's plenty in Norwegian.
I worked on the Rwandan genocide, the Irish conflict and the Warrington bombings, so I'm no stranger to listening about death and destruction but I was genuinely surprised by what i heard. So I felt compelled to dig deeper, rather than just find documents that don't reveal the human side of things.
Can you give us some interesting stories you found during your research?
Once I started digging into it there was an incredible amount of material and a huge human story bubbling under the surface. I felt like I'd discovered a pandoras box of unrecognised emotion and trauma. People's memories were so vivid 70 years later and and at times, my jaw was on the floor.
Kirkenes was liberated by the Soviet Union six months before the rest of Norway, which seemed to introduce a certain tension. I heard about supply operations to the resistance and smuggling diplomats out of Sweden, but I had no idea about the human impact. For example, I didn't know there were 3,000 people sheltering in the tunnels at Bjørnevatn mine. Ten babies were born there, but just recently it emerged there was an 11th.
The emergence of the 11th baby has added yet more controversy and self-examination to the difficult chapter of Norway's war years, especially the treatment of those who fraternised with the occupying German forces, which were in fact, overwhelmingly Austrian mountain troops. As fate would have it, the 11th baby is a girl born on the very evening that Kirkenes was liberated by the Red Army, October 25th. She – and everyone around her – kept her identity secret at the time. It's only now that her story has become public – Vincent Hunt
One story that stayed in my mind was of children playing with ammunition. As the Nazis left, they dumped their ammo in the sea and it remained there. One woman told me as a child in the 1950s, she would paddle in the fjord with her friends and find crates of bullets and shells. Being kids, they brought them out of the water, put the bullets on a fire and waited for them to explode. I grew up in the 60s and there were still traces of the war then, but nothing to that extent.
You must have met some interesting people along the way?
Rune Rautio, a military historian who grew up in Vadsø, told me children were frequently involved in tragic accidents, and even he had scars. He found a sealed crate full of shells underwater. The shells exploded on the fire but the last one didn't go out. He went over to it and it exploded, he took the full force of it in his chest. He is lucky to be alive.
In my career I have specialised in digging people out that have been forgotten by history. I was delighted to meet Gunnar Jaklin, a former journalist who set up the Tromsø Defence Museum. He was the real deal. You can read as many books and documents as you like but the stories that leap off the page are the human ones for me. He gave me chapter and verse on what it was like. He told me stories about being in Narvik after liberation. His family fled to Sweden and he joined the volunteer Police.
He told me one story about rounding up gestapo members after the war. They had the gestapo members on the boat and were out at sea. One of the guys had a rifle and he sprayed a bunch of bullets across the dining room. The gestapo guys thought it was the end and broke down in tears. It struck me that 60 years later for him to be chuckling about that, how awful the conditions must have been.
Despite the subject matter, did you enjoy your time in northern Norway?
As a place to visit, Finnmark is barren but it's so beautiful as well. I'm from the north of England so I can relate a lot to the north/south debate. Northern Norway speaks to my soul. When you come a little further west and you get into the softer edges around Tromsø, it is simply enchanting.
For these terrible things to happen against such a terrific landscape is part of the tension of the book. One of my contributors took me around a valley and it was pure wilderness: pine trees, beautiful clean air, and crystal clear rivers for salmon fishing. I would certainly love to spend more time in the north of Norway.
Of course, the cost was phenomenal. I jumped in a taxi from the hotel to the airport and I could've fed a family of ten for a month for the cost! I didn't jump in many taxis after that. It was worthwhile though as I got a few stories from the taxi drivers! Everyone there had a story.
Fire and Ice – The Nazi's Scorched Earth Campaign in Norway is available now in paperback on Amazon UK
, and for the Kindle on Amazon UK
 and Amazon USA
.