Oslo's newest food hall has fast become the most popular place in town to grab a snack, light lunch or something more substantial.
I was down in Oslo recently and finally found some time to check out Vippa, Oslo's newest food hall, home to several street food stands. Mathallen is great but sometimes I don't have the time to trek up to Grünerløkka and just want something quick and light. Step in Vippa!
I'd been over on Hovedøya and only remembered about Vippa because it's right by where the small island ferries use dot leave from before they made the switch to Aker Brygge a few years ago. The industrial look and feel of Vippa is an authentic one given the building's use as a former port warehouse.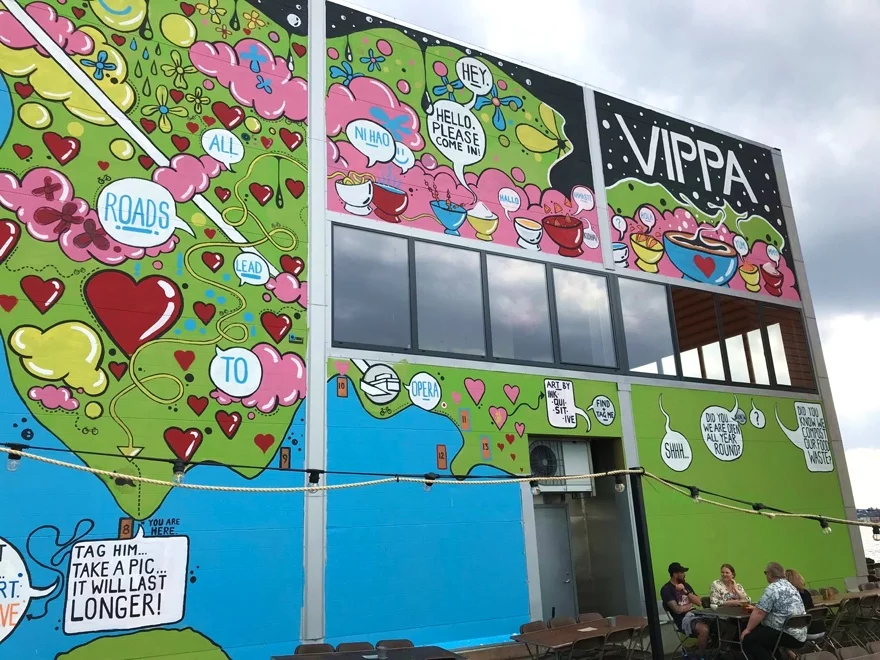 The giant outdoor murals mean it's super easy to spot from the water, and the tall orange towers of the fast-developing waterfront promenade help guide you there.
A social enterprise
While it is at first glance a simple hall of food stands, Vippa is actually a social enterprise that uses street food as a way to integrate immigrants and aspiring entrepreneurs into the wider community. It's so far, so good for the project.
We see food as a way to stimulate dialogue amongst citizens and best agricultural practises as a best way to feed them. We feel obliged, by today's social and cultural unrest, to create a space – a common platform where these best practises could serve as links between cultures, languages and cuisines in the act of moving forward – Vippa
I went midweek in April and so found the place pretty quiet. That's no bad thing, as I was able to get served straight away and have my pick of seats. I can only imagine how crazy this place gets when the sun comes out on a Saturday!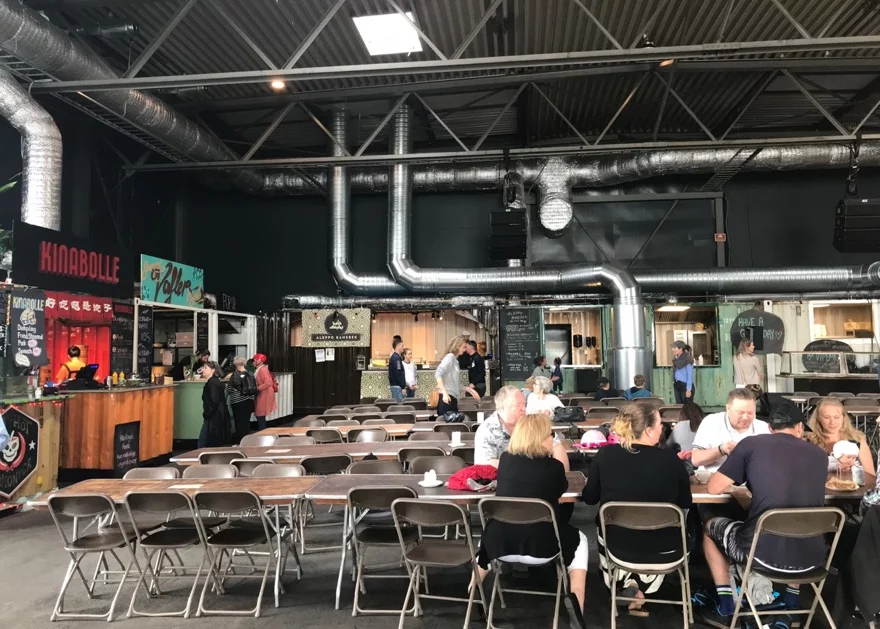 The large communal tables provide lots of seating but there's also a large outdoor terrace and plenty of room on the surrounding waterfront promenade.
Anyway, onto the food! It's always tricky to decide on what to try in a place like that, even more so when you weren't sure entirely what to expect. This seems like the kind of place where the turnover of stalls will be reasonably high, but at the time of my visit, they included Tex-Mex, Chinese, Syrian, Eritrean and several other non-specific offerings.
Mexican street food in Oslo
I made a beeline for the taco stand when I saw they used corn tortillas. Having taken an MBA in tacos over the past years (living with a Mexican has its benefits) I can say that these were fantastic, full of flavour and more authentic than many "taco" places in the capital.
A quick snap to the Mexican in-laws and they got the seal of approval. Of course, 110kr is more than I'd prefer to pay for such a dish, but you soon get used to that after seven years of living in Norway – and it's much cheaper than almost any other lunch option bar a pre-made sandwich in the city.
It's certainly a hell of a lot cheaper than shelling out hundreds for a plate of meh with a side of ugh at Egon. The stall  also offered a bowl of Tex-Mex chili but the tacos were more than enough for me.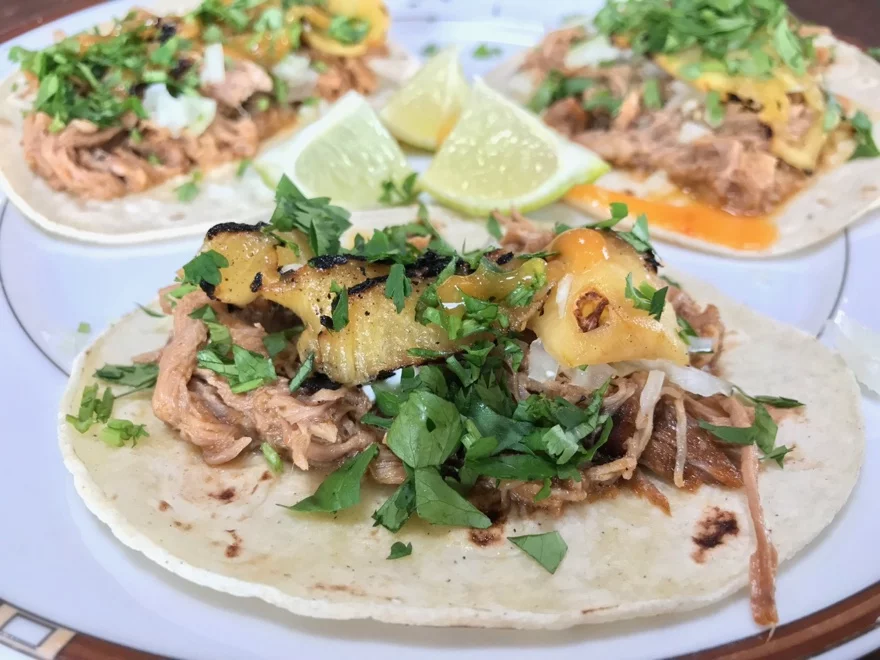 After I had gorged on tacos, I took a stroll around the rest of the stands, disappointing the eager eyes of the stallholders when I passed them by. I bought a quick coffee before I left, via a tour of the outside terrace.
Despite my first impression of Vippa as a very-fast-food venue, many patrons seemed settled in for the day, with empty plates and beer glasses galore.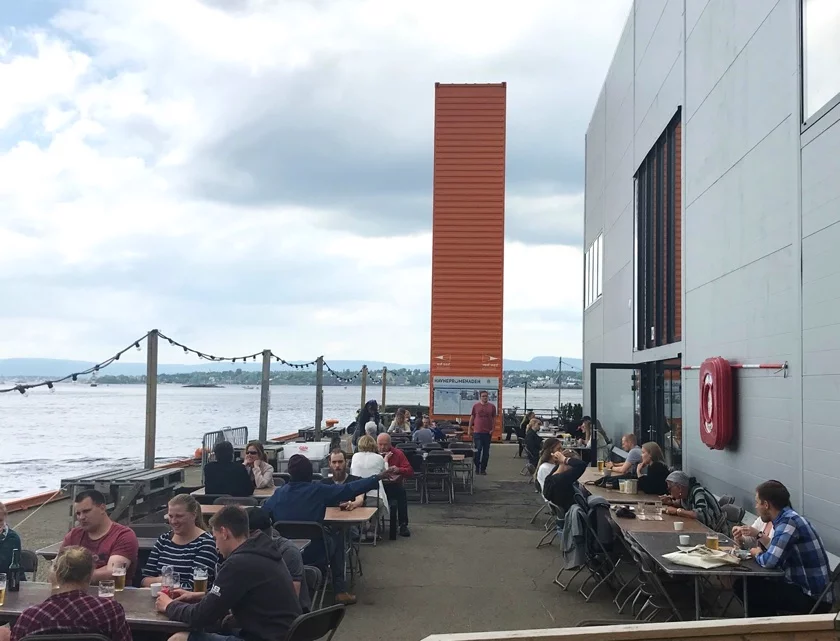 How to get to Vippa
To reach the place on foot, follow the waterfront path from the City Hall past Akershus Fortress. It's about a 15-minute walk.
From Jernbanetorget it's a similar distance to walk, or you can hop on the number 60 bus labeled Vippetangen. The bus terminates right outside, so it's the perfect way to get back to civilisation if you find yourself having eaten a little too much…
Did you enjoy this article? If you're planning a trip to Vippa, why not share your plans on Pinterest? We've got just the pins for you: