Norway's first Gold medal of the Tokyo Olympics went to Kristian Blummenfelt. Here's what you need to know about the Norwegian Olympic triathlon champion.
It was 400 metre hurdler Karsten Warholm who took the global headlines with his record-breaking run to take Gold for Norway in Tokyo. But it wasn't Norway's first Gold medal of the games.
In fact, the destination of the first Norwegian Gold medal at the Tokyo Olympics surprised many. 27-year-old Kristian Blummenfelt overcame sweltering weather conditions to surge clear in the last kilometre of the triathlon's 10km run.
The startling finish put him ahead of the better fancied younger sprinters and was enough to take a surprise Gold for Norway. It was Norway's first ever Olympic medal in the triathlon.
Blummenfelt had prepared hard for the Games including a victory earlier in the year on the International Triathlon Circuit in Yokohama. "I've been thinking about this race for so many years," Blummenfelt told Reuters. "I was on holiday here many years ago and thought to myself 'OK, your goal is to win an Olympic gold medal here in 2020."
Read more: Norway's Team Sweater for the Tokyo Olympics
This is the story of Kristian Blummenfelt and how he did exactly that.
What is the triathlon?
Personally, I hear the word 'triathlon' and immediately think of the Olympics. I know it's a discipline with three components–swimming, cycling, running–but beyond that, I'm stumped!
So, a bit of research tells me that the Olympic triathlon consists of:
1,500-metre swim
40km bike ride
10km road run
There are no breaks from start to finish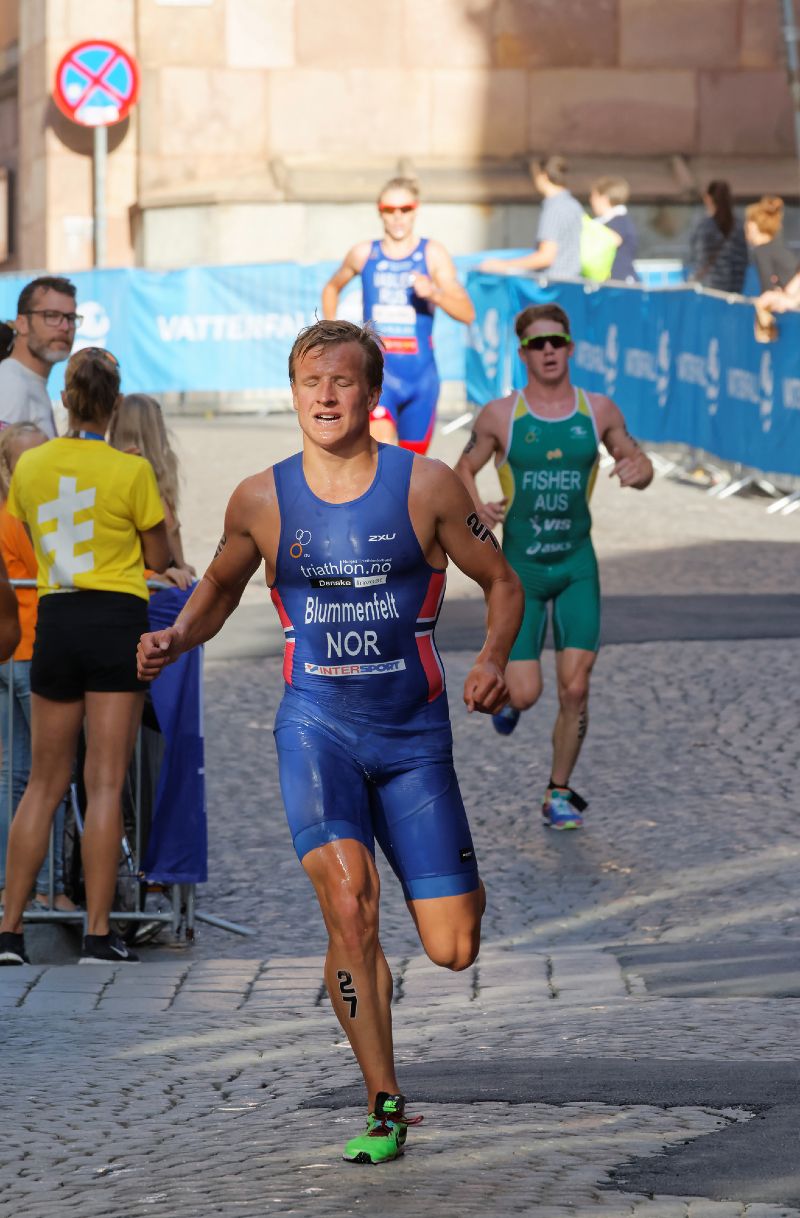 This is truly a test of endurance. Those are the Olympic distances for both men and women, but you may see different distances in other triathlon races.
Read more: Introducing the Norseman Xtreme Triathlon
The Gold medal winning race
Blummenfelt was part of a group of almost 40 athletes that ended the cycling leg of the triathlon more or less together. With a number of young sprint specialists in the group, Blummenfelt was far from favourite.
He kept driving at the front as the group reduced down to just three people. With one kilometre to go, he surged clear to take the Gold medal. His time was one hour, 45 minutes and four seconds.
After the epic race that took place in extreme heat, Blummenfelt vomited and required assistance to leave the track.
Why Blummenfelt won Olympic Gold
"I'm from Bergen where for two thirds of the year it's windy, rainy and 10 degrees but that just shows the strength of the team around us in getting that preparation," he told Reuters.
Instead of training in Norway, Blummenfelt honed his strategy in Yokohama. He knew he would not be able to out-sprint some of his rivals, so worked on launching a final sprint from around one kilometre before the end of the road race.
The story of Kristian Blummenfelt
Born in Bergen in February 1994, Kristian Blummenfelt grew up in the city and remains a member of Bergen Triathlon Club.
He competes in both short course (sprint and standard distance) and 70.3 (half-Ironman) distance events. Blummenfelt holds the world record for the 70.3 distance, bettering his previous world record in 2019 with a time of 3:25:21.
Commercial appeal
He also has commercial appeal, even before claiming his Olympic Gold medal. "We are very excited that Kristian has joined the deboer team!" said Alex de Boer, co-founder of deboer wetsuits, who entered into a partnership with Blummenfelt in January 2021.
"When Kristian toes the line we all know he is going to push a relentless pace until he gets to the finish line. We love that racers mentality, and we are proud that Kristian chose deboer as a brand that is going to help him achieve the ambitious goals he has set for himself," he added.