From a bed made of ice to chain hotels in the commercial centre, Alta offers an intriguing choice of accommodation.
Understanding the layout of northern Norway's Alta is important when deciding upon where to stay.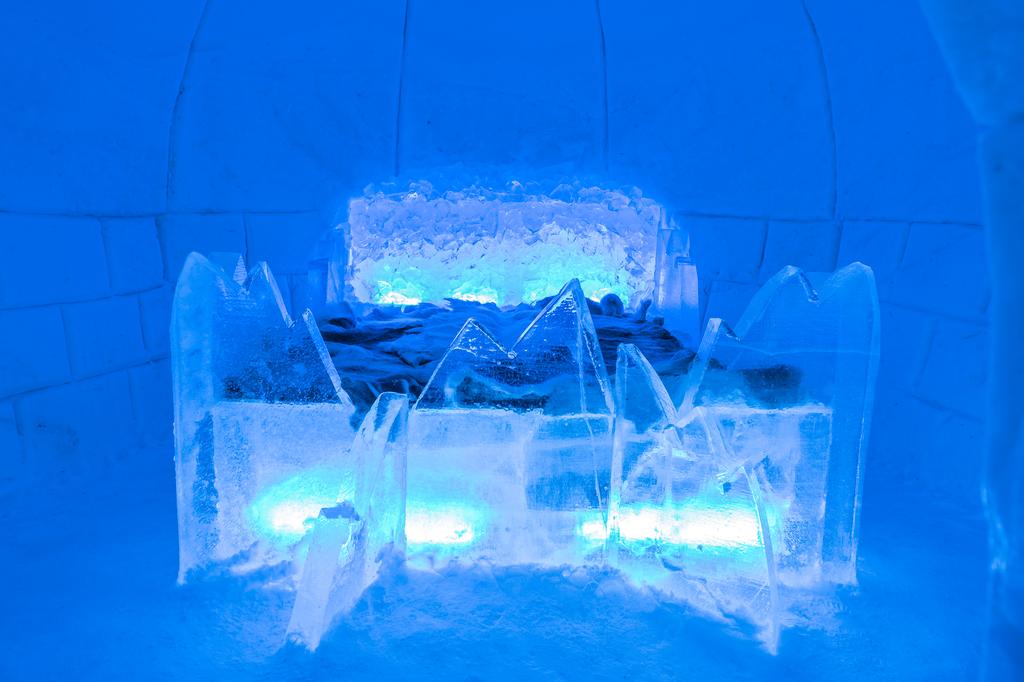 Alta is really a collection of smaller communities with a modern downtown district set apart from the residential areas. Because of this, it's much more of a car-friendly place than most Norwegian towns and cities.
While there are some big name hotels in the downtown district along with a shopping centre and restaurants, there isn't really much to do.
If you're just passing through Alta on a longer road trip then staying in the commercial centre may be the best choice, but if you're planning on enjoying any of the region's outdoor activities, then there are other options to consider.
Hotels in central Alta
Why stay in central Alta? As already mentioned, you can walk to shops and restaurants, and there's parking spaces for 1,000 cars, albeit at a fee.
Both hotels in the area also overlook the modern Northern Lights Cathedral, which is the only other thing of interest for tourists in the central area.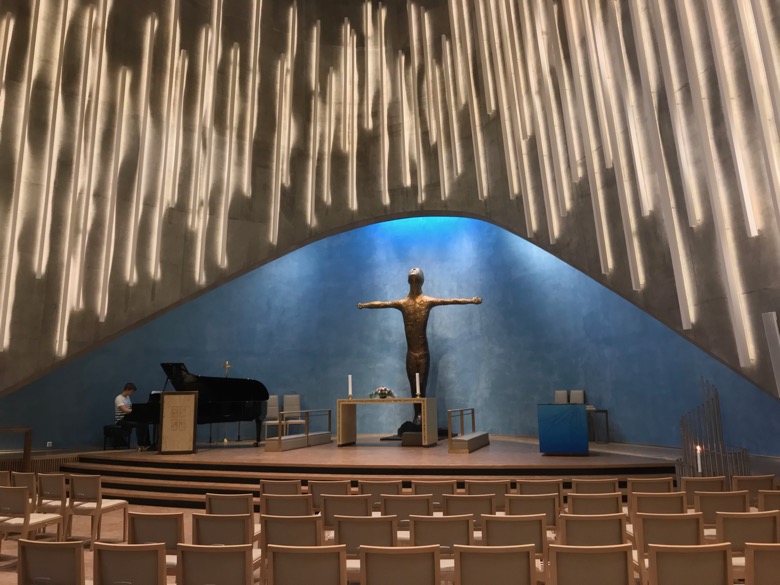 I've stayed in both the central hotels and while both are to a similar standard, the Thon Hotel is my preference.
Why? Well, on my last visit to Alta it hit as astonishing 31C during Norway's summer heatwave. My room in the Scandic Hotel was like an oven, with no way to cool it down.
It's difficult to be too critical as you don't expect hotels in Arctic Norway to be built to deal with 30C+ temperatures, but this is a business hotel and as such you expect a certain level of comfort.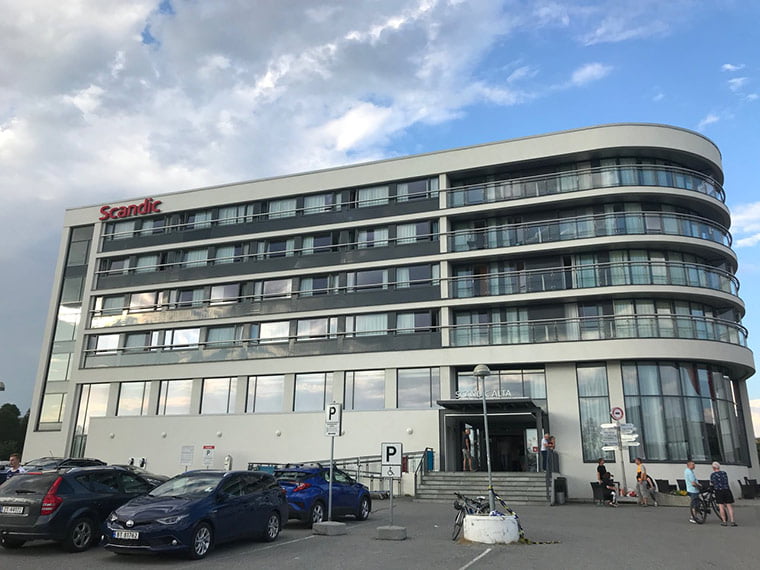 It was a shame, because the hotel was excellent in many other ways. The buffer dinner option was reasonable value and better quality than I'd expected. I would definitely consider it again for a visit outside of the peak summer season.
The Thon was comfortable, modern, and importantly for a place that is so dark and cold for much of the year, colourful!
The receptionist was also super helpful, not always a given in Norway, with things like hiking maps and local bus routes. I stayed in neither hotel very long, but next time I'll check the Thon first and book it unless the price difference is great.
Double rooms can be had in either city centre hotel for around 1,200-1,400kr per night with Booking.com.
A night under the stars
Step out of the central area and things get a whole lot more interesting with some alternative accommodation options.
When I visited the Holmen Husky Lodge I intended to stay just ten minutes to take a quick look around and move on. Two hours later, I was still there. But then I am a dog person!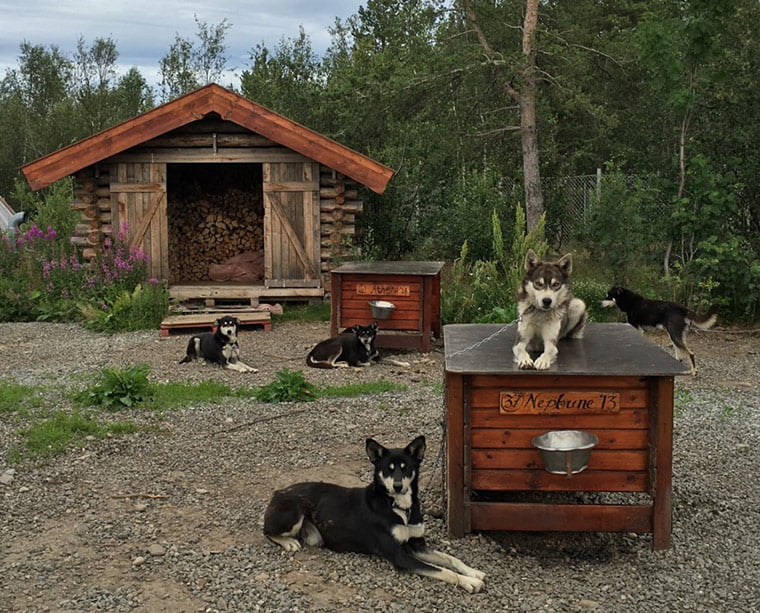 The lodge offers dog-sled rides lasting from two hours up to an incredible six days, tours of the kennels, at certain times of the year an opportunity to 'meet the puppies', and some unique accommodation for overnight guests.
The 'tipi bungalows' feature a a floor-to-top window perfect for waiting for the northern lights in comfort! They all have wood-fired stoves and breakfast served in the main building.
Nights in a tipi bungalow can be booked for around 1,250kr directly with the lodge or with Booking.com.
The cool alternative…
Every year, the Sorrisniva Igloo Hotel is built from scratch from snow and ice. Reindeer leather sleeping pads and ultra-warm sleeping bags are provided in guest room, where guests can expect a constant temperature of between -4C and -7C.
If the cold gets too much, a sauna and two outdoor hot tubs are available! Showers, changing rooms, a restaurant and storage for luggage are all located in a central service building.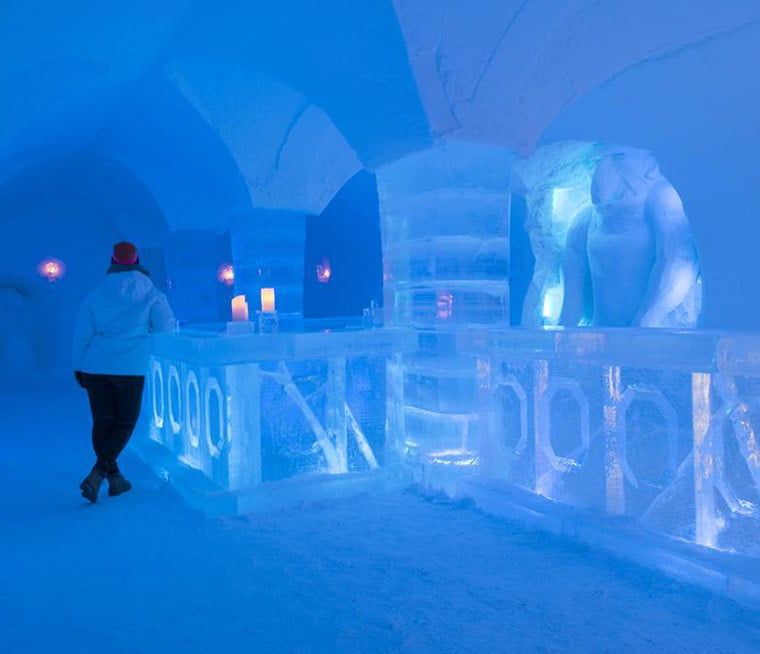 The downside to staying here is the understandable high price. A single room costs 3,080kr while a double comes in at 5,120kr. Ouch! Still, this is an experience you'll remember for the rest of your life.
If that's simply too much but you're still fascinated by the concept, the hotel offers a day visit pass for 200kr. Day visitors have an hour to walk around the hotel and enjoy a drink in the ice bar.
The hotel is open from mid-December to the end of March and can be booked directly or with Booking.com.
Riverside Camping
There are a handful of campsites in and around Alta. My favourite so far is the Finnish-run Alta River Camping. Unlike many campsites in the north, this one's open year-round.
Simple cabins sleeping 2-4 can be booked here from as little as 500kr per night with shared facilities, up to 1,000-1,300kr for two-bedroom cabins with private bathrooms.
The service building is clean and well-equipped, and bicycles are available to borrow for free for guests. This is a great help in a place like Alta where you'll need to travel to get some of the sights such as the Northern Lights Cathedral and the UNESCO World Heritage listed Rock Art Centre.