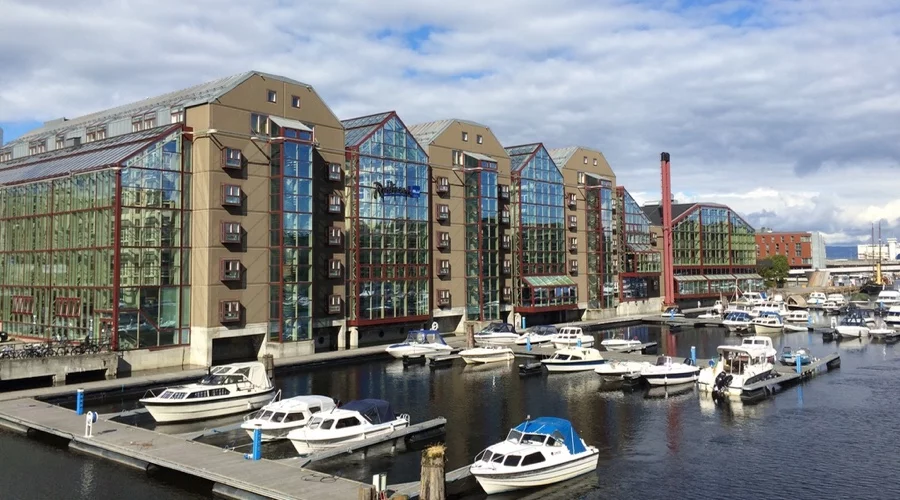 Having just spent the last 2 weeks in the United States, I've had a lot of time to ask myself whether Trondheim is really where I want to live.
Needless to say, it's a huge commitment to move halfway across the world. In the USA, I have my family, incredible job offers, a truck to drive, a garage full of bikes and hiking gear, an incredible professional network, and access to tons of cheap and easy shopping. Yet, life in the States often feels lacking of balance and simplicity.
It's the perfect size city
In a world with so many options of where to live, it's difficult to find your "just right" or your "happy place". For me, Trondheim is the perfect fit.
It is not a huge city like New York or Chicago, where you are surrounded by towering skyscrapers and all you can hear are police sirens and the honking of car horns; nor is it located in the remote middle of nowhere. It's not hard to meet people or find something to do on Saturday night and yet the streets are never so crowded that you're bumping into people.
With a population of just over 172,000, the city center offers something for everyone yet remains serene and peaceful without being overcrowded. Inside the center is a plethora of great restaurants, pubs, and a wide array of shopping centers for everything you need. The prices are often far above average, but then again, so are the salaries.
You're surrounded by nature
Just a short drive away you can find mountains, fjords, cross country skiing, and plenty of things to do. The Norwegians have a saying "There is no bad weather, only bad clothes", which perfectly represents their attitude towards taking advantage of the beauty all around them. The Norwegian culture is notorious for making the best out of any situation and for always finding a reason to be outside.
Here in Trondheim, where there are snowcapped mountains and beautiful views of the fjord almost everywhere you look, it's easy to get lost in nature even on your way to work. Even just yesterday, while biking into the city center, I pulled my bike over on the side of the bridge to take photos of Nidaros Cathedral and the icy river below. I certainly can't remember the last time that I did that in New York or Los Angeles.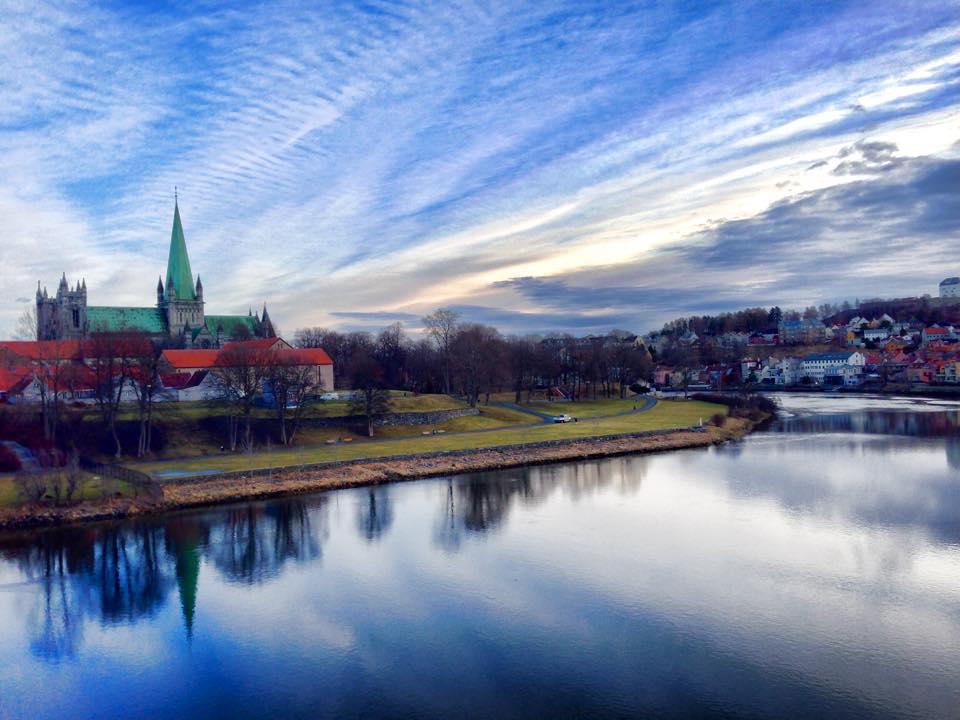 There are so many outgoing people
Although I am new to Trondheim, I have had nothing but great experiences with the people here. Although a little more reserved, they are certainly no less friendly than any other people I've met during my travels to over 45 countries. Want to open a conversation with a Norwegian? Simply mention skiing and you'll be chatting for hours.
As an immigrant, I have been treated with the upmost respect and have found that many successful business leaders have gone out of their way to introduce me into their networks and to provide job leads. Whether in the mountains at the cabin or in the local bibliotek where I take norskkurs weekly, the people are always warm, friendly, and helpful. To really connect with Norwegians, it is helpful to have a solid understanding of what drives them and what sets them apart culturally.
There is a great tech sector
Trondheim is home to NTNU and HiST, two of the most prominent technological universities in Scandinavia. In addition, there is a quickly growing entrepreneurship scene, which is most definitely noted by anyone who has ever grabbed a coffee at DIGS café. Trønders are very quick to learn technical skills and are often some of the first to create high-tech solutions to some of the world's trickiest problems. Read more about Trondheim's technology scene.
Live where the Vikings lived
The city was actually founded by Viking King Olav Tryggvason in AD 997. Trondheim was the nation's first capital under Olav and remained so until 1217. Olav's statue can still be found in the city center. Nidaros cathedral, in the center of town, was Northern Europe's most important pilgrimage site during the Middle-Ages and still serves today as an amazing example of Gothic architecture.
The city also has a fortress located atop one of its largest hills. Kristiansten Fortress was built in the 1680s to provide protection from rival neighbors, including Swedish forces. Who doesn't want to live in a place with such unique history?
So many opportunities to be involved in the community
In just two months here I have already found countless ways to be involved in the community, including: Volunteering for Gi Bort Dagen and Kosmorama and most recently earning a position on TEDx Trondheim's marketing team. It makes sense that a city with such a high student population would have many volunteer opportunities (1 in 6 inhabitants are students)
But even outside of the college campuses, you will find business and industry leaders of all ages working alongside one another at a wide variety of events. Community is an important part of Norwegian culture and nowhere is this more apparent than in Trondheim.
A slower pace of life
Admittedly, since I have not yet found full-time employment, I may be wrong about this. However, life feels less hectic and hurried. In the States, I was constantly running from one event to the next and checking emails while eating on the run.
It was also common to spend 2 hours in traffic during rush hour on my way to and from work in Los Angeles or to be packed like a sardine into the metro in New York City as people struggled against one another in the race against time to get to work. In Trondheim, biking or jogging to work is common and you don't have to be worried about dodging your way through heavy traffic while you do it.
Here, it seems that outside of a very busy and focused 8-16 work schedule, people tend to slow down and relax more once the workday is over. It is very uncommon for people to answer work emails on the weekends or outside of working hours.
This allows for some breathing room between work life and non-work life; which I believe is something that we are slowly losing concept of in the United States as technology allows us to work from anywhere at any time. I believe that this balance greatly reduces stress and anxiety and allows people to concentrate more on what really matters in life.
The very strong family atmosphere
Last Sunday, my girlfriend and I went for a hike in the park as we always do and for the first time I realized that many families actually meet up and hike together throughout the day. In fact, it was uncommon to see a single family alone whereas most of them traveled in groups of three or more. The idea of a Sunday stroll is not exclusive to Norway but the togetherness, community, and focus on family activities is certainly stronger here than in many other places.
The family is the center of Norwegian life and this can be seen through the number of daycares dotted throughout the city and in the number of mothers out pushing their strollers on any given day. It is not so much that they work and then make time for family but that they are a family and they make time for work. Trondheim very much reminds me of the small town I grew up in and represents much of what I love most about small-town USA.
Very low crime rates and good education
Most people will consider crime rates and education at the top of their list when determining where to live. Norway is consistently ranked as one of the safest countries in the world by the Global Peace Index. Trondheim, in particular, is very safe and violent crime is extremely uncommon. Some minor crimes such as bike theft are relatively common but this can be prevented by locking your bike to one of the many bike parking stations located throughout the city. As for education, what's not to love about some of the best education in the world, for FREE? The public school system is very good at all levels and the universities such as NTNU and HiST are some of the best in Northern Europe.
Janteloven: Everyone is equal
As opposed to the common view that I have heard of Norwegians being cold and unfriendly, I have found quite the opposite. Almost everyone I have met here in Trondheim has been kind, humble, and good-natured. Much of this can be attributed to what is called "janteloven". In his 1933 book "A Fugitive Crosses His Tracks", Aksel Sandemose outlines 10 basic laws about how people should view themselves in Scandinavian culture. In general, flaunting wealth, criticizing others, or think of yourself as better than anyone else is very much frowned upon.
The culture here is one of togetherness and humility; which is something that I very much admire about the people. The actual rules sound a bit harsh an extreme as they are written here which has led to the "anti-Janteloven". The latter is very similar to the way we view ourselves in the United States which is good in moderation but can be dangerous and pretentious when taken to extremes. Which Janteloven do you like better?
It is quite clear that I very much enjoy the life, culture, and nature here in Trondheim and that I am very fond of the people and institutions. I hope that I will find a job here in the next 3 months so that I can stay and continue to experience more of Trøndersk culture. In the meantime, there will certainly be many more adventures, friendships, and new opportunities.