A city founded by a Viking King, Trondheim is steeped in history. Here is the story of Norway's first capital city, which now stands at more than 1,000 years old.
Recent archaeological finds throughout downtown Trondheim are helping us all to understand what life in Trondheim used to be like. They have given us new knowledge about the layout of medieval Trondheim, and the importance of the church to the community.
Yet excavations on sites believed to have been churches and palaces have raised just as many questions. That's mainly because few written sources survive from the Middle Ages, and during the Viking time almost nothing was written down at all. So, unearthing the truth about Trondheim's past remains an ongoing process.
For a long time, the city was known as Nidaros. The name survives today in many situations throughout Trondheim.
An important city for more than 1,000 years
Trondheim was Norway's first capital and continues to be an important city to this day. More than 1,000 years after its founding, Trondheim is a world-leading centre of science and technology research.
Norway's kings from Harald Fairhair to Harald V have been hailed, crowned and blessed in the city. While coronations are no longer performed, a blessing still takes place in Trondheim.
Now, let's take a look at how things all began in the story of Trondheim.
Read more: Fun Facts About Trondheim
Before Trondheim
Rock carvings show that people have lived in the region for thousands of years. The location of Trondheim by the mouth of a river yet protected from the worst of the ocean by the Trondheimsfjord had many advantages.
Prior to the city's founding, there was an assembly site at the mouth of the river known as the Øreting, or Eyraþing in Old Norse. Delegates from regions would meet here to pass laws and make judgements.
The hailing of a new king is an ancient Norse custom. According to the sagas of Snorri Sturluson, Harald Fairhair was hailed as the king here, as was his son, Haakon the Good.
We'll now take a look at the two Olavs. It is believed that both Olav Tryggvason and Olav Haraldsson played important roles in Norway's conversion to Christianity.
Olav Tryggvason & the founding of the city
Most historians accept that Olav Tryggvason founded Trondheim in the year 997. But, as explained above, we do know that an assembly existed here prior to that. Some sources also imply that merchants had settled here long before Tryggvason arrived.
One popular theory says that Leif Erikson stopped by to visit the king before his voyage west. He of course went on to sail to Iceland, Greenland, and possibly North America.
While being one of Trondheim's most famous sons, Tryggvason lived much of his life outside of Norway. In fact, not much is known about his life in England, where he spent many years.
The oldest written record of the king in English came in the Anglo-Saxon Chronicle, which has revealed many details of Viking history. Olav promised "that he would never come back to England in hostility."
Olav brought men and goods to Trøndelag, which was in rebellion against Earl Håkon. English sources claim that after the Danish king was murdered during the rebellion, Tryggvason took the throne. In 997, he founded Trondheim.
It is believed he chose the area as his base due to the curvature of the Nidelva river giving natural protection from land attacks. He named the settlement Kaupanger, meaning 'trading place', but this was soon changed to Nidaros.
Olav Haraldsson
From 1015 to 1028, Olav Haraldsson ruled Norway. The son of Harald Grenske, a leading figure in Vestfold, Haraldsson is written about extensively in the Icelandic sagas. Several of the Norwegian king's sagas also feature him.
Read more: A Brief History of Norway
As with Trygvasson, Haraldsson spent many years outside of Norway. Before leaving France to eventually rule Norway, Haraldsson was baptised in Rouen. Upon declaring himself King of Norway, he founded the town of Borg (now Sarpsborg) and quickly won more power than any of his predecessors.
Olav was no peaceful ruler. He defeated the petty kings of the south, firmed up his control of the Orkney Islands, and raided Denmark. However, he is best known for playing a leading role in the christianisation of Norway. Despite this, modern historians doubt that he had much to do with it at all.
The most likely story is that Olav used Christianity to gain power for the monarchy and centralise control. While he doesn't claim Haraldsson wasn't a christian, Anders Winroth in his book The Conversion of Scandinavia argues that there was a "long process of assimilation, in which the Scandinavians adopted, one by one and over time, individual Christian practices."
Following his death at the Battle of Stiklestad in 1030, Haraldsson's body was enshrined in Nidaros Cathedral, built over his burial site. Haraldsson was canonized 134 years after his death by Pope Alexander III, forever confirming Nidaros as a place of historical importance. The annual Saint Olav's Festival marks the occasion to this day.
Nidaros Cathedral
Today it's one of Trondheim's most famous tourist attractions, and remains one of Norway's most important religious buildings.
Nidaros Cathedral dominates the city centre today but it would appears much more imposing in the days when Trondheim was a much smaller settlement. That being said, its first incarnation was as a simple wooden chapel built over the tomb of Saint Olav. The building has been expanded and restored numerous times.
The western facade is without doubt the most eye-catching part of the cathedral. Numerous intricate carvings give you plenty to look at from the large public square with benches.
Yet despite its appearance, the iconic face is not as old as you might expect. Only five statues from the Middle Ages have survived, with many of the deteriorated remains on display in the museum.
In fact, the facade was entirely restored by a large team of sculptors 1905 to 1983 to bring it to the spectacular condition of today. It was the largest art project in the history of Norway.
The adjacent 12th-century Archbishop's Palace is one of the best preserved buildings of its type in Europe. Throughout its long life, the palace acted as the residence of some of Norway's most powerful men and a military site. Today, however, it houses a great museum chronicling the story of Nidaros through the ages.
Sverresborg
Ruler from 1184 to 1202, many historians consider Sverre Sigurdsson one of the most important Kings in Norwegian history. His reign was a troubled one due to his wish for consolidation and constant quibbles with the church.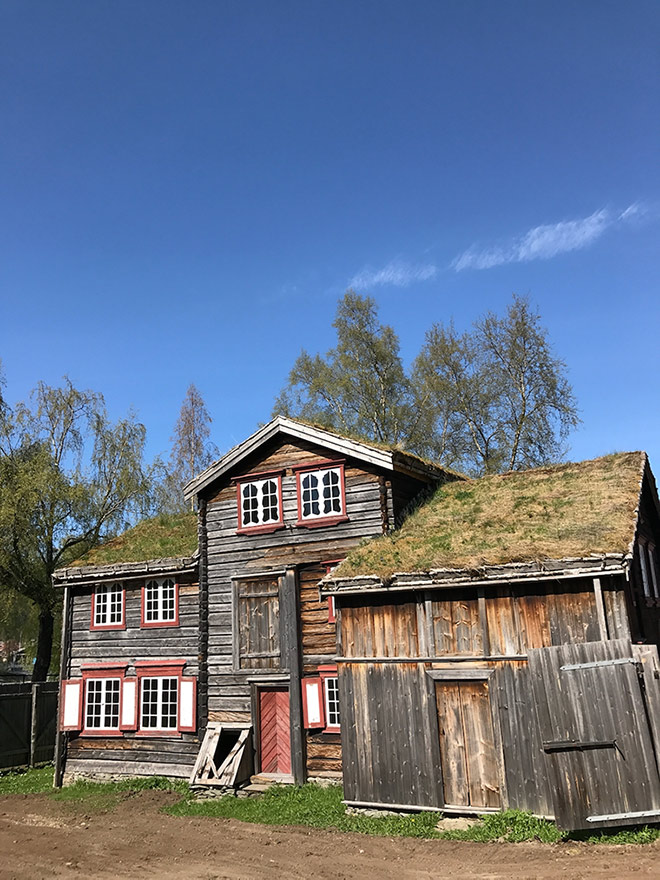 The King built a fort and residence Sverresborg on a hill overlooking Nidaros to support his struggle against rival King Magnus Erlingsson. His chosen location was easily fortified and hard to approach from all directions. This meant only a small defensive force was required. Today, Sverresborg is the location of Trøndelag Folk Museum.
The capital moves to Bergen
Nidaros remained the capital of Norway until 1217. That's when a period of civil unrest began over a succession struggle. Haakon IV eventually triumphed and chose to sit in Bergen, which in turn lost the capital status to Oslo.
The city of Nidaros continued to grow as a trading post, and during the Middle Ages the name Trondhjem first began to appear. This spelling is still used today by traditionalists.
A changing city
Trondheim remained a small city throughout the late Middle Ages. The city was relatively densely populated, with up to 10,000 people living within the bounds of the river in wooden accommodation.
This situation led to many great fires throughout the period. After the serious fire of 1681, the situation became so serious that drastic action was needed. The downtown area was reconstructed to include several wide avenues, intended to prevent fires from spreading quickly.
Munkegata is a good example of one of these avenues. The reconstruction was a success, so much so that some wooden buildings still survive from the 1700s.
While Trondheim was protected with fortifications by the river and to the west, the city remained vulnerable to attack from the east. In the years after the 1681 fire, Kristiansten Fortress was built to defend the city against such attacks. Named after King Christian V of Denmark-Norway, the fortress played its part in successfully defending the city against a Swedish invasion in 1718.
Beginnings of an academic powerhouse
The Trondheim of today is known around the world as a centre of knowledge. The university NTNU together with the SINTEF research group leads the world in many technology-based research areas.
This reputation can be traced back as far as 1760. Founded in that year, the Royal Norwegian Society of Sciences and Letters is Norway's oldest scientific and scholarly institution. At the time, Norway had no universities or colleges.
Read more: Trondheim Travel Guide
In 1833, a proposal was first made for a Polytechnical Institute, before Trondheim Technical College was founded in 1870. This was replaced with the establishment of the Norwegian Institute of Technology (NTH) in 1900, which would through a series of mergers go on to become the Norwegian University of Science and Technology (NTNU).
Trondheim in World War II
From the very first day of Nazi Germany's invasion of Norway, Trondheim was occupied. The occupying powers imposed martial law in Trondheim, and used the city as a base for naval operations.
British military began to make plans for a counter-attack, but could not agree on a strategy. The British Army wanted to assault Trondheim, but Churchill insisted on Narvik in northern Norway. Troops were sent to both locations as a compromise, but these plans were abandoned just days later.
In addition to the naval base, German troops captured Værnes Air Station, now co-located with Trondheim Airport. They expanded and improved the air base to support their operations in the north.
The modern history of Trondheim
Local reorganisation in the 1960s saw Strinda, Tiller, Leinstrand, and Byneset join Trondhiem, more than doubling the city's population. The population has grown steadily ever since.
With so much building work going on these days, more of Trondheim's history is being revealed. These stories range from the unexpected discovery of a previously unknown cemetery to the confirmation of a Viking saga.
If you're visiting the city and want to know more about its history, I highly recommend a visit to the Archbishop's Palace Museum.