Trondheim is a popular student city and has a big international population. Here's what you need to know about living in Trondheim, Norway.
In the heart of central Norway lies Trondheim, Norway's third biggest city.
It's easy for me to forget now, but when I moved to Trondheim in 2013, I didn't immediately fall for the city. I had spent an enjoyable two years in Oslo and moving to a much smaller place took some adjustment.
Fast forward to 2021 and I couldn't imagine living anywhere else. While I wouldn't ever claim that Trondheim is the best place on earth, it's very much the right place for me now.
I get so many questions from people considering a move to Trondheim, or those about to make the move. So to find out if Trondheim might be the right place for you too, read on!
Where is Trondheim, Norway?
Trondheim is located in central Norway, approximately 485 km (301 miles) north of the country's capital city, Oslo.
The E6, Norway's principal north-south highway, links Trondheim with Oslo and Northern Norway. It is also the starting point of the E39 west coast highway.
Top three facts about Trondheim
There's so much to know about this little corner of central Norway. In facts, there is so much that we published another article all about facts about Trondheim. Here are a few of the highlights:
The city's founder was a Viking King. Viking King Olav Tryggvason founded the city as a trading post in the year 997.
Trondheim's original name was Nidaros. Named after the Nidelva river, the city was also known as Kaupangr í Þróndheimi ("the city in Trondheim/Trøndelag"). The cathedral retains the name to this day.
Trondheim has 13 sister cities. The city has friendship agreements with 13 cities around the world. Many are in fellow Nordic countries, although Vallejo, California, is also on the list.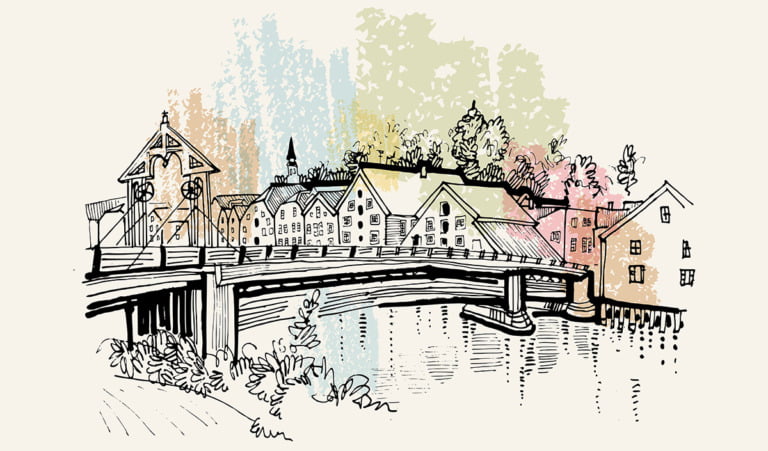 Student life in Trondheim
I don't know the exact numbers, but I wouldn't be surprised if Trondheim is Norway's biggest student city in percentage terms.
NTNU is Norway's leading university of natural sciences and technology, supplying 75% of Norway's master candidates in technology. There are more than 35,000 students studying in Trondheim at any one time, along with around 7,000 staff.
Approximately 10% of students and 30% of staff are non-Norwegian, which makes a significant contribution to Trondheim's international community.
Trondheim as a technology capital?
Given NTNU's status as a technology education hub, it's perhaps no surprise that this has a wider impact on the city. The powers-that-be bill the city as "Norway's technology capital".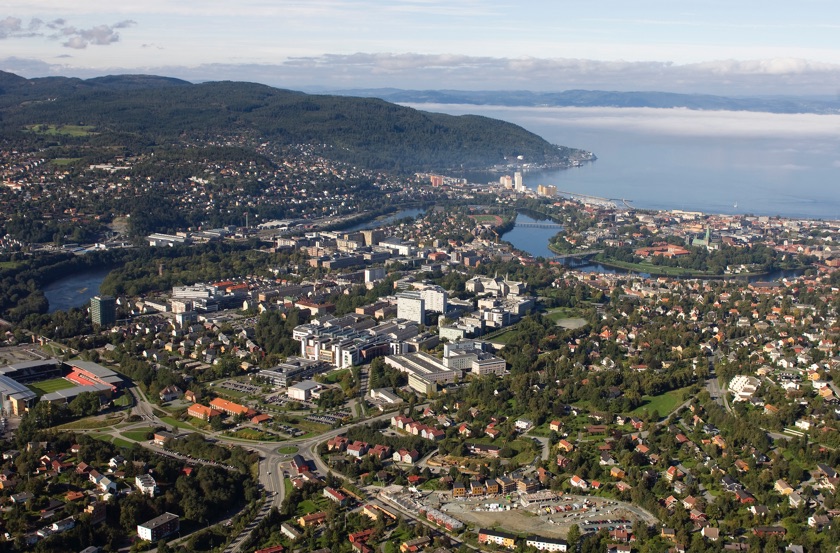 Although I've always thought that's stretching things a bit, Trondheim is home to notable hi-tech businesses. Research institute SINTEF, Nordic Semiconductor and a research department of Equinor are among the businesses that call the city home.
Downtown co-working spaces including Work-Work and DIGS provide a home for startups, many founded by current or former NTNU students.
Major landmarks in Trondheim
Landmarks not only tell you a lot about a city, they also help you get your bearings. That's very true in Trondheim! First up, while not a landmark as such, the river Nidelva winds it way around the city centre, almost encircling it. As such, it's an important feature of Trondheim.
By far the best-known building in all of the city, Nidaros Cathedral stands proudly at the southern end of downtown. Visiting it and the adjacent Archbishop's Palace is a must to better understand the history of the city.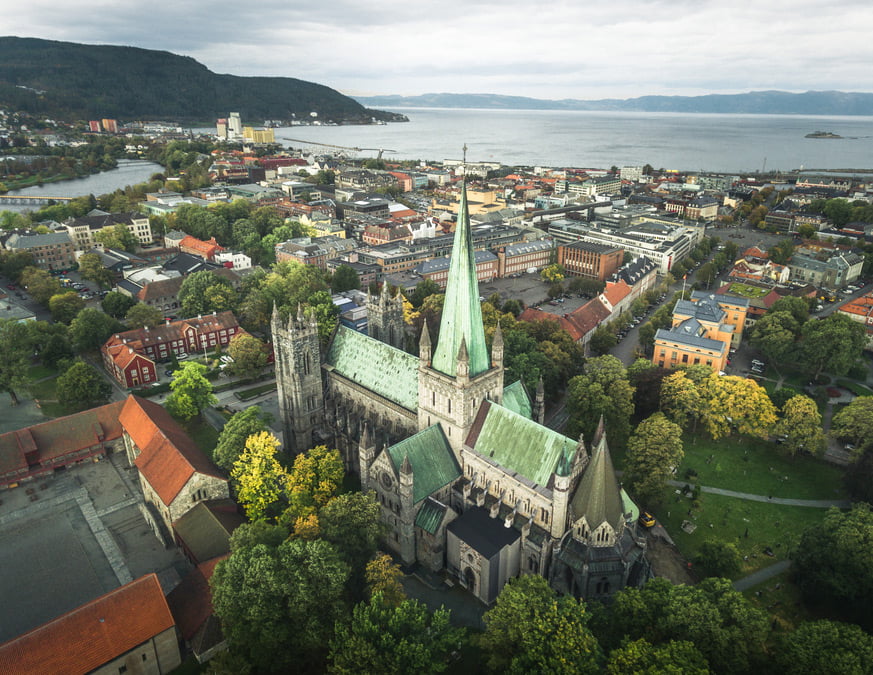 Atop a hill to the east of the city, Kristiansten Fortress was built as part of a defensive fortification to protect the city from attacks from the east.
Just over a kilometre from the city in the Trondheimsfjord, Munkholmen is a small island with a big history. Formerly an execution site, monastery, fortress and prison, the island today welcomes tourists and sunbathers in the summer.
The Tyholt tower (Tyholttårnet) is another construction easy to spot from large parts of the city. The TV tower in Tyholt hosts a revolving restaurant at its top, offering fantastic views across the city.
Oslo has its marka and so does Trondheim. The 80 square kilometre forest Bymarka is the city's playground, providing hiking opportunities in the summer and cross-country skiing in the winter.
Areas of Trondheim
The city of Trondheim is formally split into four districts (bydeler). Which bydel you live in is relevant for health and family services.
Midtbyen covers the city centre and the majority of western Trondheim including Byåsen. Østbyen covers the city's eastern suburbs, while Lerkendal covers some of the area south of the city centre and the south-eastern suburbs. Finally, Heimdal incorporates Heimdal itself plus the extreme west and south of the city.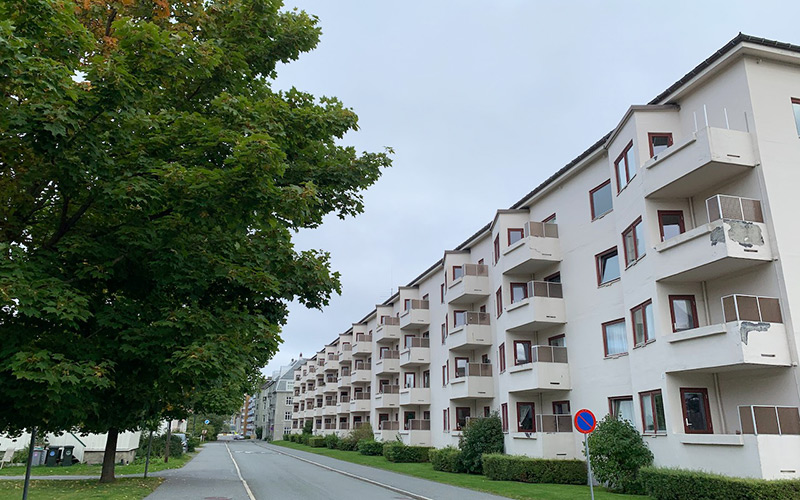 However, these administrative names aren't commonly used when describing the areas of the city in which people live. These tend to be much smaller neighbourhood names.
Popular neighbourhoods among Trondheim's international community include the housing close to NTNU's Gløshaugen campus, and pleasant areas within walking distance of downtown such as Ila, Øya and Møllenberg.
Moving to Trondheim
If you're moving to Trondheim, where do you begin? Well, hopefully this article will give you some good pointers!
Read more: Trondheim in the Winter
But aside from that, many companies use a relocation agency that will provide assistance to new arrivals. This may include assistance in finding a place to live and opening a bank account, introduction to fellow foreign residents, language courses and more.
Upon arrival, you'll almost certainly need to make use of the services provided by the Trondheim branch of SUA, the Service Centre for Foreign Workers.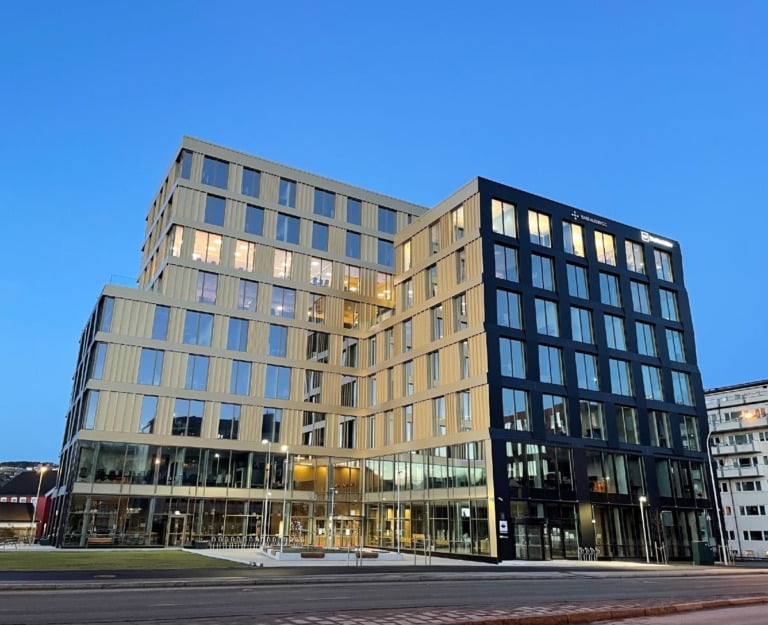 Located close to Lerkendal Stadium, the SUA brings together the Labour Inspection Authority (Arbeidstilsynet), the police (politiet), the Norwegian Tax Administration (Skatteetaten) and the Norwegian Directorate of Immigration (UDI) under one roof. The idea is to provide an efficient application process and guidance for foreigners.
Major employers in Trondheim
As with everywhere else in Norway, the public sector is the biggest employer. Without Norwegian language skills, it's extremely unlikely you'll find employment with the city or county council.
However, as mentioned earlier, NTNU is a major employer of foreign talent. But there are other institutes and companies working in the fields of science and technology that also look globally for new hires.
These include SINTEF, Nordic Semiconductor and ARM. If you're curious about working in research, listen to this interview with an American researcher working at SINTEF Energy.
Getting around Trondheim
Trondheim's public transport system is mainly designed around an extensive bus network. Introduced in 2019, three metrobus lines all connect in the city centre and link with district lines at various interchange points.
To make your life easier, download the AtB apps to look up timetables and pay for tickets.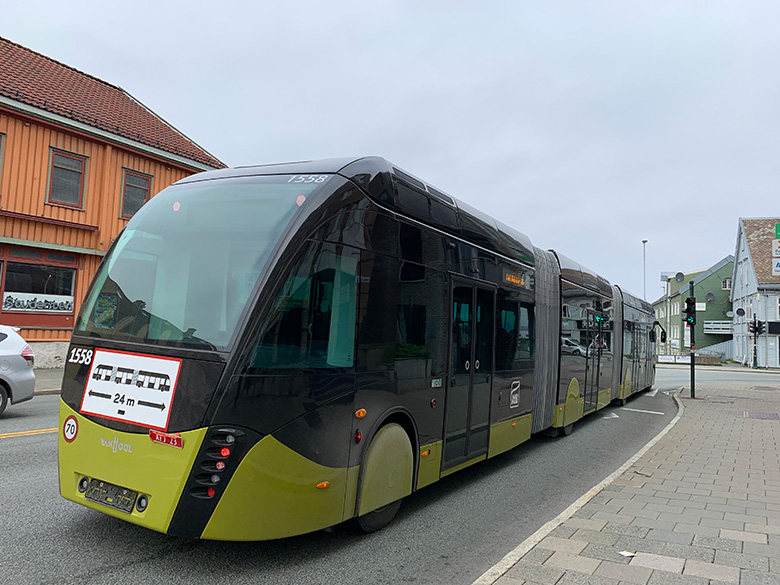 The city also has one tram line, useful for those living in Byåsen. Local trains can also prove useful to people living close to a station, particularly in the eastern suburbs north of the E6 highway.
Finally, Trondheim has a good and ever-improving network of cycle lanes. Many people commute into the city by bike.
Outside of the winter months, a bike rental system is available with many locations around the city centre, university campus and inner suburbs.
Read more: Public Transport in Trondheim
Shopping in Trondheim
As with most Norwegian cities, most neighbourhoods in Trondheim will have a local supermarket. Rema 1000 was founded in Trondheim and is the most common supermarket you'll see.
Downtown Trondheim is home to several malls including Trondheim Torg, Byhaven and Solsiden. There's also a few pedestrianised shopping streets such as Nordre gate and Dronningens gate.
There are also several popular out-of-town malls that are including City Syd in the south of the city.
Read more: Shopping in Trondheim
Events in Trondheim
As the biggest city for hundreds of miles around, Trondheim is the cultural capital of central Norway.
At the time of writing, the event schedule for 2021 remains uncertain due to national restrictions, but our previous listings of events in Trondheim should give you an idea of what to expect once things return to normal.
The biggest events include St. Olav's Festival, a church and cultural festival held every summer. Pilgrims from across Europe choose to visit the cathedral during this time, with charter flights from Spain commonplace.
If you're into football, the city's Lerkendal Stadium is home to Rosenborg BK, Norway's most successful club. At least 15 home games are played every year from late March to October, typically on Sundays.
More information about living in Trondheim
For more information about living in Trondheim, check out this links:
What are your questions about in Trondheim? Ask away in the comments and I'll update this article with the most relevant information.