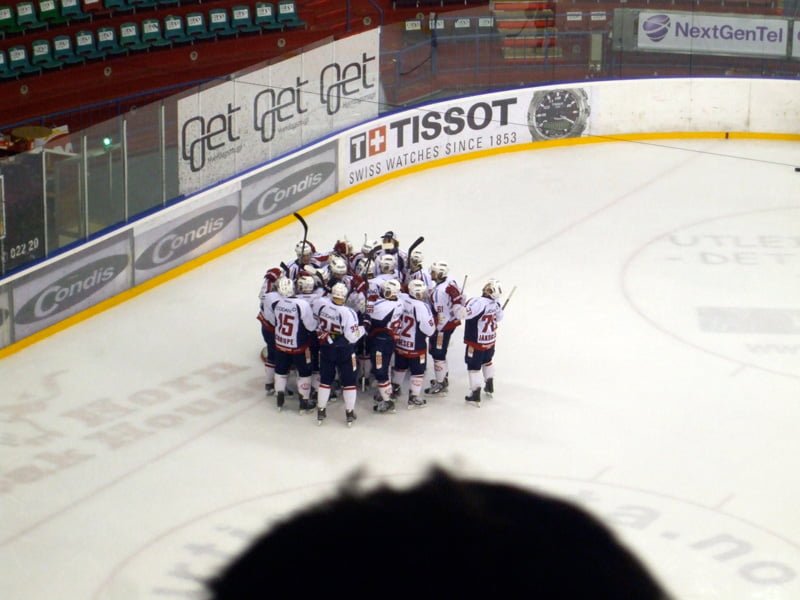 Like in much of Europe, most Norwegian football teams are part of a wider sports club. The Vålerenga IF sports club consists primarily of football, handball and ice hockey, alongside other sports such as basketball and even American Football.
Soon after my arrival in Oslo I was given the Vålerenga injection to ensure my blood ran blå og rødt! So, having already seen Vålerenga Fotball beat Viking 3-0, the time had come for my inauguration into the world of ice hockey.
While nowhere near as popular as football, ice hockey is played to a reasonable standard in Norway and seems to have a loyal following. It's semi-professional with the majority of players being of Norwegian origin, but there is a smattering of overseas talent mainly from Canada and the USA.
I presume they are professionals, but I'm sure some Norwegian hockey buff will chime in here with some detail! Anyway, onto the game.
My friend Dave invited me along to one of the semi-final games. At the end of the regular league season, the top 8 teams compete in an American style series of play-offs. To get to this stage Vålerenga had beaten Storhamar Dragons 3-1 at home to clinch the best-of-seven quarter-final series by 4 games to 3. Their semi-final opponents were local side Lørenskog. This was the fourth game in the best-of-seven semi-final, with Lørenskog leading 2 games to 1.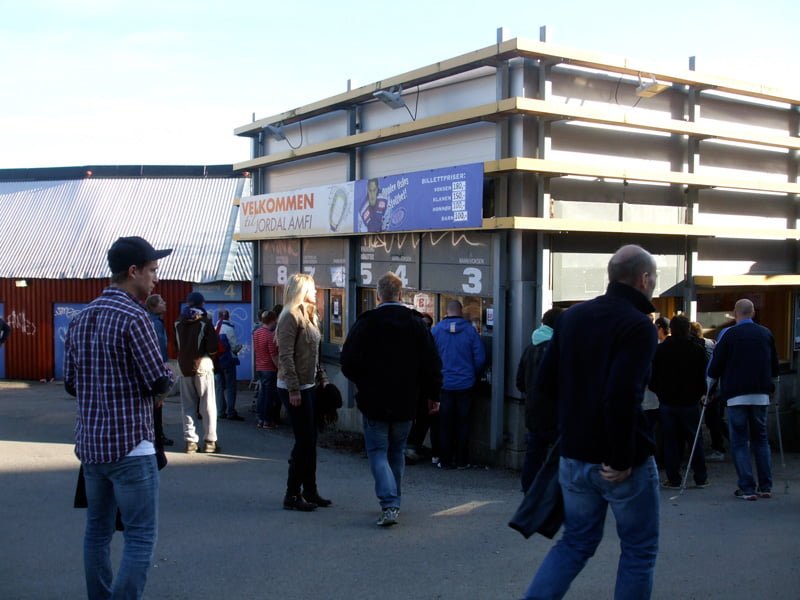 Vålerenga play at Jordal Amfi, a small arena nestled at the foot of Kampen, a stone's throw from Vålerenga itself. The atmosphere outside the arena reminded me of queuing for tickets at a non-league football ground from years gone by!
Inside the ramshackle building is a surprisingly roomy arena holding 4,500 people. Most of the seats are at one side and at one end, so my pictures make the place seem empty. In fact, there were over 2,000 people in attendance.
So, what did I make of my first ice hockey experience? Here are my observations:
It's long.
Three periods of twenty minutes each might not sound like a long time, but there are two things which extend the duration significantly. Firstly, the clock is stopped every time the puck is out of play. Secondly, the intervals are a whopping 18 minutes long.
The total duration from start to finish was 2 hours 10 minutes, longer than a football match. Although I enjoyed the game, I was ready for the end and was secretly pleased it didn't go into overtime…
It's violent!
My number one memory of watching ice hockey on the TV is the fighting. There were only a couple of minor scuffles during this match, but the general play seemed pretty rough to me. When is a foul not a foul? I have no idea. Slamming your opponent into the perimeter wall seems acceptable some of the time and not others…
I'd love to understand this more! Although not especially violent, it did seem a niggly match with quite a lot of obvious fouls – at one point three Lørenskog players were sin-binned at once. The main reason VIF failed to win was not being able to take advantage of the long periods of numerical advantage.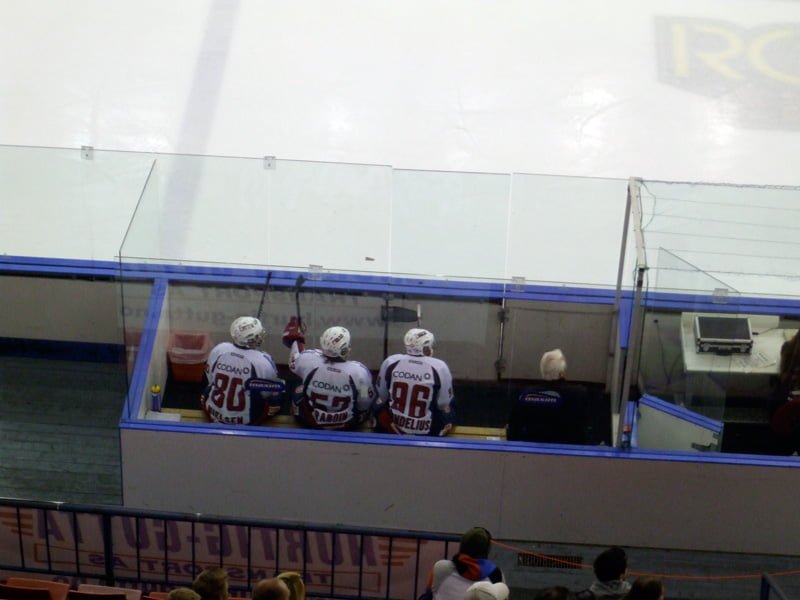 The rules actually make sense.
As a casual TV spectator, I was never able to make out the rules. The "offside" rule seemed odd and I could never understand the point of "icing".
In the morning I'd read up on the rules and before the match my friend Dave gave me the lowdown too. A few minutes into the game, suddenly, it all made sense!
The offside rule in particular adds a real tactical element and "flow" to the game, which is difficult to appreciate when you can't see the whole rink at once. It reminded me of my younger football watching days, when I only started to appreciate tactics and the game as a whole when seeing games in person, not on the TV.
The music adds to the atmosphere.
Okay, I'll admit, music in sport really narks me off. This is a very "British" thing to say, but it's just so "American". This was not just my first ice hockey match but my first of any "American" sports where music is played during the match.
And what do you know! It actually adds something to the atmosphere… there I was, standing at my first ice hockey match, singing along to Aerosmith. Go figure.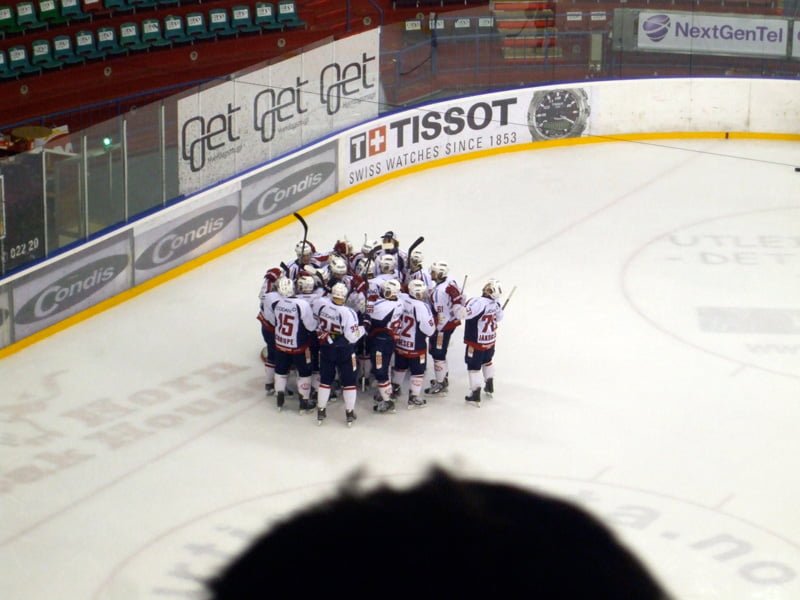 Despite leading and having a numerical advantage for long periods, Vålerenga failed to capitalise and Lørenskog ran out 4-3 winners. It was a decisive result as it put them 3-1 ahead in the semi-final series, leaving Vålerenga needing to win the final three games to make it through to the final.
They didn't, so it's Lørenskog who take on Stavanger Oilers in the final series to decide the 2011/12 Norwegian Ice Hockey Champions. I might even watch some of them…