Strap yourself in and get ready for a journey around one of Norway's most scenic regions.
Sometimes you have to face the inevitable – it's impossible to see a whole country in ten days. We knew that we'd be missing lots of Norway during our all too brief stay, but one thing we didn't want to miss was checking out some fjords.
My husband and I had already planned to take the famous train line that runs between Oslo and Bergen, so we knew we could use Bergen as a base from which to explore.
Which fjords to pick?
We considered a number of different alternatives for seeing the fjords in this area: the Hardangerfjord, and located slightly farther north, the Sognefjord.
We looked into the Norway in a Nutshell tour to the Hardangerfjord but we were concerned it wouldn't be enough to time to see the things we wanted to see. Would we be rushing around from bus to train to ferry with little time to explore?
On the other hand, their one day tour gets good reviews on Trip Advisor and it includes all the transportation for seeing Vik, Voss, a famous waterfall (Vøringfossen), as well as a fjord cruise.
Ultimately we decided we wanted to control our own fate and go a bit farther a field, up to the Sognefjord.
We rented a car in Bergen (we were able to arrange to return it to Bergen airport, which is quite a bit further south than the city itself) and booked a hotel way up in Sogndal so we could stay overnight.
Create your own itinerary
We had a somewhat tight schedule because we were due to fly up north to Alta to join our friends' rock band on a mini tour of Finnmark – so everything had to be timed perfectly.
I did find two websites, one from fjordtours.com, and one from fjordnorway.com, which gave us time estimates for each leg of the journey. Between them and Google Maps, we were able to come up with a plan that we thought would work. And work it did!
One reason a drive up into the fjords is totally do-able in a limited amount of time is the sheer lack of traffic. We live in the Washington, DC area, and here, we have to factor traffic into every drive we take.
Once I looked into a "Sons of Norway" group in order to find somewhere to practice my Norwegian language skills, but they meet on the other side of DC from me – and during rush hour.
In the time that drive would take me, I could practically travel to actual Norway! Luckily, in actual Norway, the travel times we had estimated for each leg of our fjord trip ended up being right on. In fact, we ended up at the airport 10 minutes ahead of schedule!
Here is the route we ended up taking:
Right after lunch, we took the E16 north out of Bergen. It's 101 km to Voss, about 1 hr and 40 minutes, and (we counted!) over 33 tunnels. We stopped in Voss for a bathroom break. There is a really nice, clean rest stop right before Voss and if you miss it, there's also a library where you can use a bathroom for a 10kr donation. They let us use it for free.
Seriously, only in Norway are the public bathrooms stops this beautiful.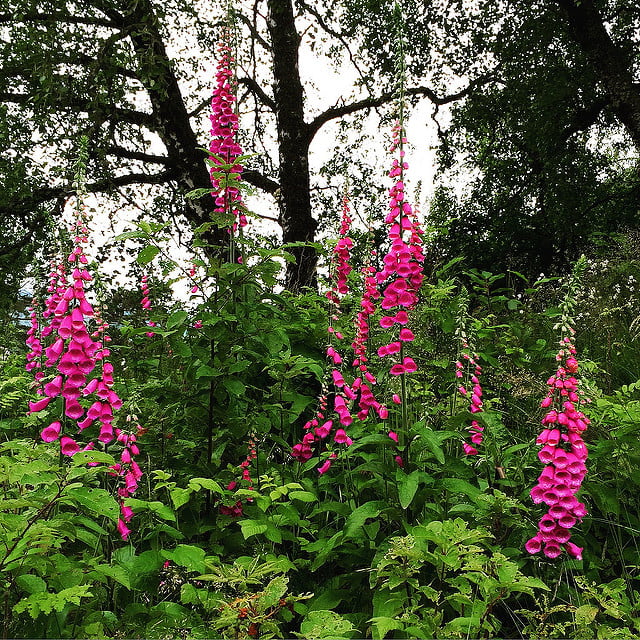 Next we headed for Tvindefossen, a waterfall maybe 15-20 minutes out of Voss. You literally can't miss it since you drive right past it. The drive between Voss and Tvindefossen had some of the prettiest scenery I've ever had the privilege of witnessing.
We were there in late July and there were foxglove, daisies, Queen Anne's lace, and different colors of lupine everywhere. It was truly magical.
Here is Tvindefossen, with people to show scale. On this trip, I learned that Norway is a land of many, many waterfalls. This was a very pretty one and worth the time to stop and see it. It's very easy to do this quickly if need be, as it really is right off the main road.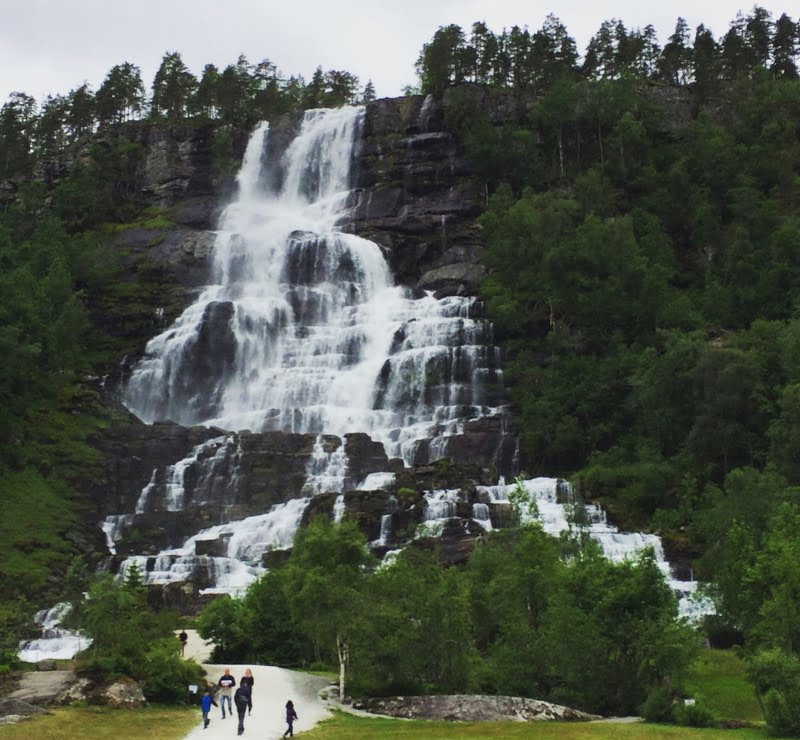 If you have time though, it's worth walking around to get a nice close look at the falls, as well as the surrounding area. Here's that lupine I was talking about.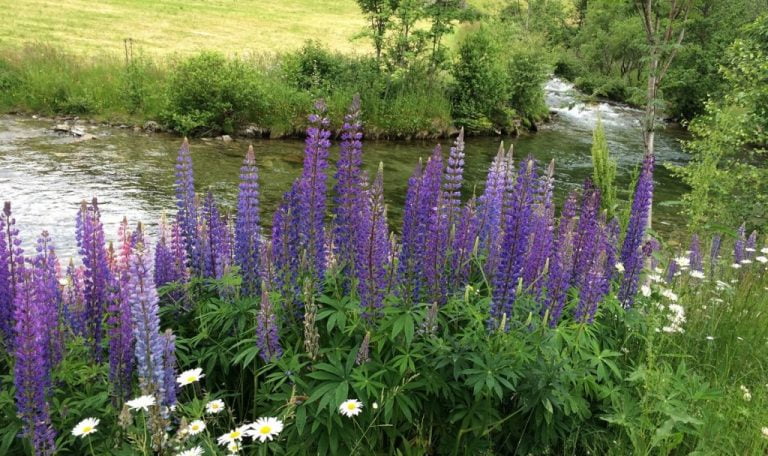 Then it was back in the car to drive the remaining 30 minutes or so to Gudvangen. We had planned to be there by 6pm (preferably earlier) to catch the ferry for the approximately 2.5 hour fjord cruise up Nærøyfjord, from Gudvangen up to Kaupanger.
The scenery on the drive continued to be spectacular, and we pulled over to take pictures a lot. Just look at those reflections!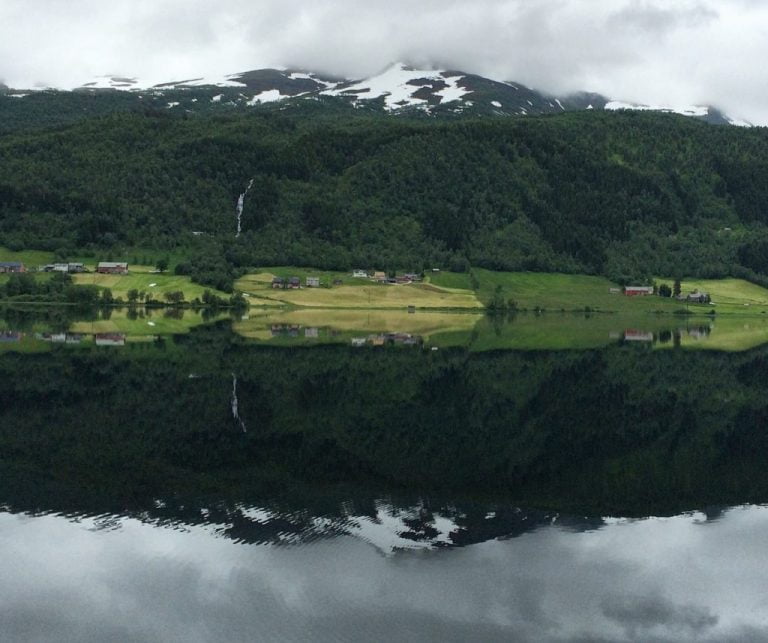 Nærøyfjord is an UNESCO World Heritage site – as the name would imply, the fjord starts off very narrow and then opens up into Sognefjord. You can book tickets for the cruise online in advance.
We didn't know what to expect at the ferry terminal, but it was quite large. There was a gift shop and a bathroom – and there were also bathrooms aboard the ferry. Though there was a café on the boat, they didn't stock much of anything, so I highly recommend bringing your own food if you can.
One of my Norwegian friends owns a Rema 1000 and had given us a bag of Norwegian goodies when we'd seen him in Oslo, so we spent our ferry ride snacking on RekeOst on crackers and melkesjokolade.
I'm not sure we'd ever been on a car ferry before – but it was very easy. You just drive your car on and then you can sit or stand wherever you like on the boat to watch the scenery. You can access your car if you need to without a problem.
We had a cloudy, nearly rainy day, which made the fjord very atmospheric – I'd be curious to see what it looked like in bright sun – I'm sure it would feel quite different.
Here's the view from the back of the boat, looking at where we'd come from – you can see the cliffs on both sides of the fjord here are very close because it's so narrow.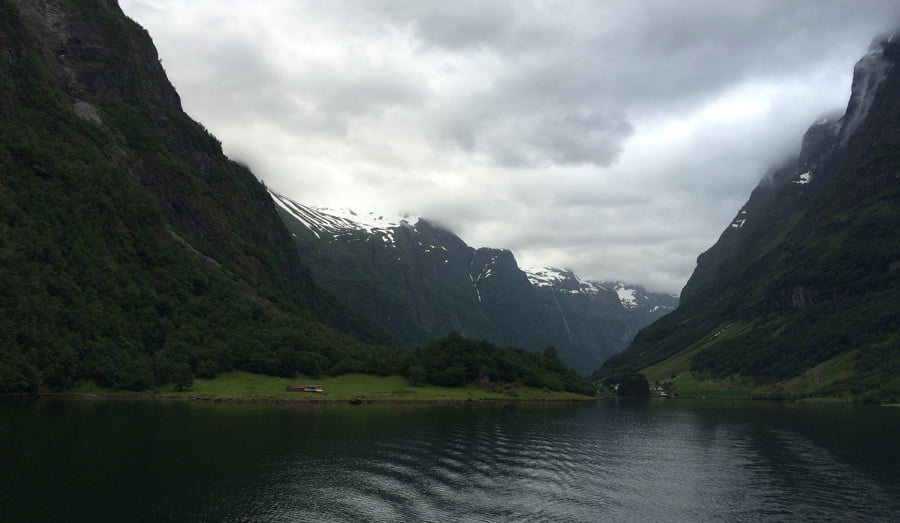 We got into Kaupanger around 8:45pm or so, but it was still quite light due to the time of year. We took a look at the nearby Kaupanger Stave Church while we were in town before driving on to our hotel.
We had hoped that we'd be able to at least walk around the churchyard to see the exterior of the building, since we knew we'd be there after their regular hours – and were pleased to find that that was very much the case.
We stayed overnight maybe a half hour away from Kaupanger, in Sogndal, at the Hofslund Fjord Hotel. It's an older hotel but our room was clean and comfortable. I highly recommend doing what we did and pay a bit extra to get a fjord view room. It came with a little balcony with enough space for the two of us to sit out there and eat our take-out pizza.
This seemed to be the only food option open when we arrived in Sogndal! Fortunately it was tasty, and I did successfully order our pizza only using Norwegian, so I felt pretty good about this experience overall. Here's a panorama taken from our balcony – such a peaceful view. And still light at around 10pm.
I believe the hotel is family run and the person at the desk was so nice and very helpful to us. We had to leave super early to catch a ferry, before normal breakfast time, so he actually arranged for breakfast to be left out for us in the morning. It was really nice of them and very much appreciated.
After we ate, we got back on the road to catch our ferry from Hella to Vangsnes. We were tired from the previous day, so we pushed the schedule as late as we felt we could and still be on time for our flight out of Bergen that afternoon. We also knew we wanted time to stop at Hopperstad Stave Church in Vik.
Arriving early for the ferry
Hella is less than a 40 minute drive from Sogndal. We padded the drive with extra time just in case of traffic – we really had to be sure we didn't miss the 8am ferry! As it happened, the extra time wasn't necessary. There were few, if any, cars on the road, and I think we were the only ones who had arrived much before 8am!
The ferry ride was short, only 15 minutes. You can consult this handy online schedule ahead of time. Similar to the Nærøyfjord cruise, you just drive your car right on the ferry. Though you can access your car during the ride, it's best to venture up a higher deck to watch the scenery.
Unlike at the Nærøyfjord, this wasn't a cruise for tourists but a utilitarian boat, to get you where you need to go, a necessity when there aren't always connecting roads!
Next we headed south to Vik, which wasn't far, not even a half hour. We easily found the Hopperstad Stave Church, one of the oldest of them, dating to 1140 AD. We'd read that it was a 20-minute walk from the harbor, but there is no need to walk if you have a car – you can drive right up to the church. (And it actually looked like quite a long hike from the harbor.)
We were there pretty early in the morning so the church wasn't open yet, but we were still able to look around the grounds. The building was absolutely gorgeous and SO very Norwegian.
After we left the Stavkirke, we stumbled on this pretty little Steinkirke, or Stone church, nearby – it dates to 1170 AD. It had dragon details on it, similar to the stave church, as well as a slate roof.
We said goodbye to Vik just a little bit regretfully – it is such a lovely place! As you drive up into the mountains, there is a pull out for a café with a stunning view of the town and fjord.
The café was closed, so we didn't get the best view (which we would have had to pay them for) – but we still got a good view right next to it! Definitely worth pulling over to check this out.
As we continued up through the clouds, we saw snow! There was a picnic spot where you could pull over, right before one of the tunnels. We snapped pictures of the snow – and a bunch of curious sheep that came over to investigate us.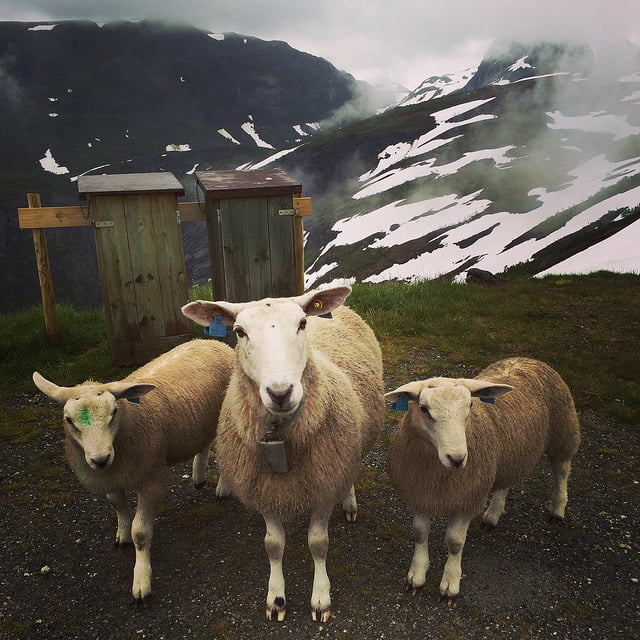 Eventually, the scenery was back to greenery and wildflowers, indicating that we were close to Voss again. After Voss, the rest of the way to Bergen takes you back through those 33 or so tunnels – some of them were so long that by the end we couldn't remember if we'd counted that one or not!
There are many ways to see Norway – from trains, ferries, airplanes… and yes, cars. There's no real wrong way to choose – it's Norway, it's going to be beautiful.
That's really the good news. If you have limited touring time and don't want to rent a car, the Norway in the Nutshell tours are available and they'll take care of all the transportation for you.
But if you have the inclination, the driving in the fjord region is very easy and the traffic is light and as predictable as it gets, which can make planning your trip a breeze. Having a car also means you can stop for scenery any time you like – and those views are worth savoring.
Indeed, I found that this trip into the fjords wasn't about the destination. It truly was about the journey.