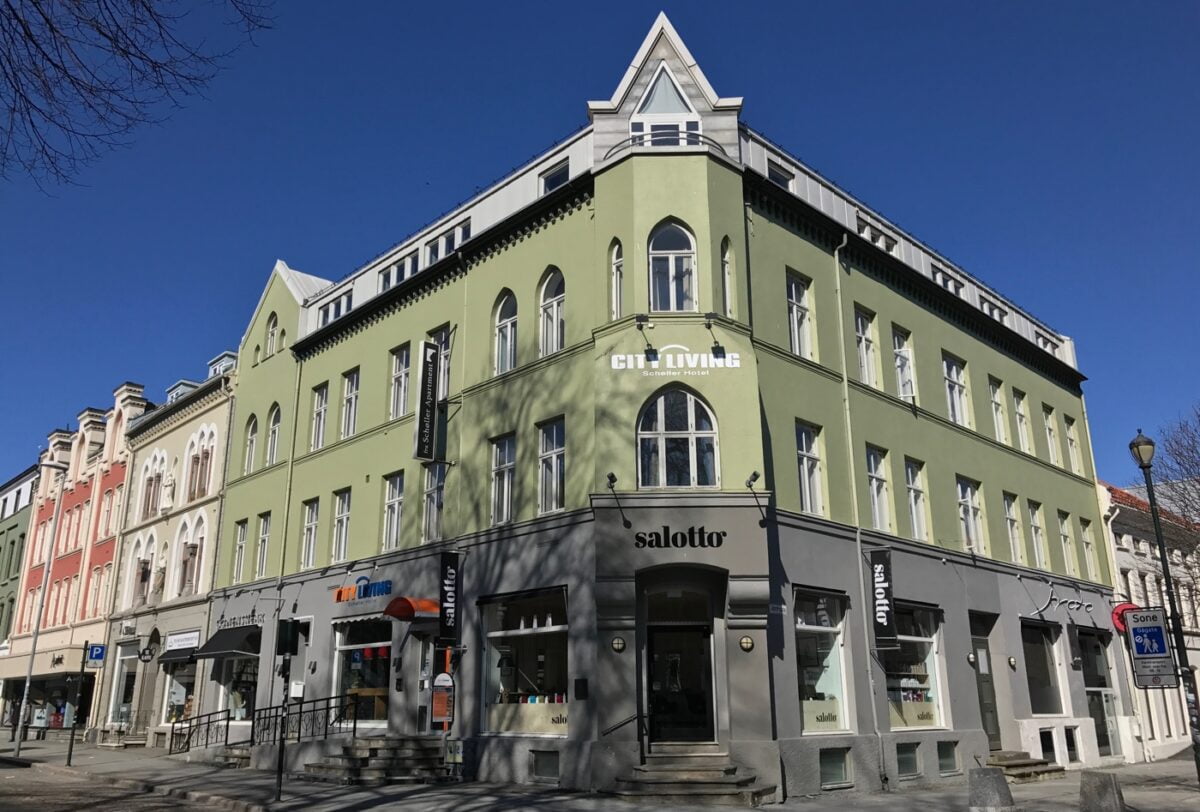 It is hard to find, but budget accommodation in Trondheim does exist. Here's our recommendations to stay in Trondheim on the cheap.
Top choice: Pensjonat Jarlen
The best budget choice in the heart of Trondheim, the Pensjonat Jarlen is located just a few minutes away from the Trondheim Torg shopping mall. Rooms are small with basic furnishings, but all come with a private bathroom, TV and free Wi-Fi.
Even better for those on a budget, all rooms come with a fridge and hob, allowing you to prepare your own basic meals. Double rooms can be had from as little as 695kr but they go fast, so be quick! Check availability and rates
P-Hotels Brattøra
Immediately adjacent to Trondheim Central Station and with a harborside location, the fairly new P-Hotels Brattøra is a well-located budget option. Single, double and triple rooms are available and surprisingly roomy for such a cheap hotel. All rooms come with TV, private bathroom, free Wi-Fi and many with a view of the Trondheim fjord.
A basic packed breakfast is delivered to every room in the morning. Rooms are usually available for under 1,000kr, dropping to as low as 549kr with advance booking. Dorms are also available. Check availability and rates
Nidaros Pilegrimsgård
An outstanding location on the banks of the river, this venue was originally designed to host pilgrims who had made the long walk over the mountains to Nidaros Cathedral. Nowadays the accommodation is open to all. Rooms are basic but the welcome is warm. Tea and coffee is free all day and can be enjoyed on the sunny outdoor terrace.
Single, double and triple rooms are available for under 1,000kr. During high season, a couple of rooms are converted into dormitories to allow more solo travellers to stay. Check availability and rates
Trondheim Vandrerhjem
This minimalist hostel was completely rebuilt in 2013 so you won't find dated decor and peeling wallpaper here. Choose between beds in a 4-person dorm, a family room that sleeps up to 5, or a private double room that shares a kitchen and bathroom with two other rooms.
The out-of-town location is quiet but only a 10-15 minute walk from downtown Trondheim. Beds start from 335kr per night. Check rates and availability
Singsaker Sommerhotell
For most of the year this charming building hosts hundreds of students attending Trondheim's university, but from mid-June to mid-August, 103 rooms are made available to travellers. Dormitory rooms are also available. The green location at the foot of Kristiansten Fortress is just a few minutes walk from Bakklandet, the city's old town district.
All profits are invested back into the building at this student-run accommodation. Expect to pay between 745-950kr for a double room. Check rates and availability
City Living Schøller
Above a sushi restaurant in Trondheim's central shopping district, City Living Schøller offers a range of accommodation from small single rooms to family-sized apartments with kitchenettes. Double rooms start from 700kr. Check rates and availability