Introducing Finse, a tiny place high up in the mountains of Norway that's long been used as a training base for polar explorers.
If you've ever taken the world-famous Oslo to Bergen railway between Norway's two biggest cities, you'll have stopped high up in the mountains at Finse.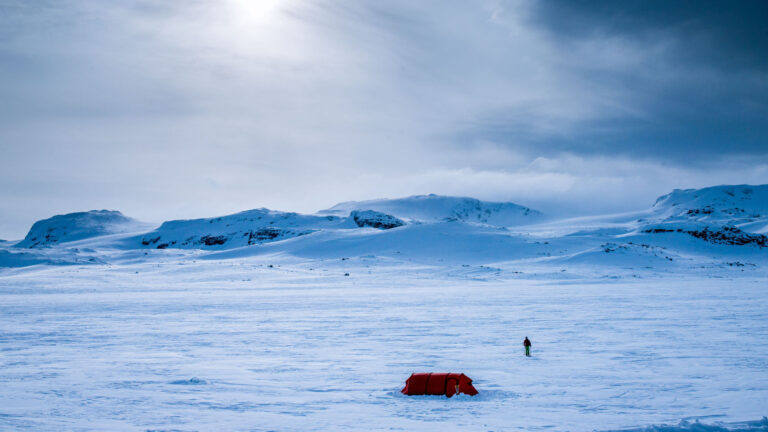 Far too small to be called a town and barely a village, Finse consists of a train station on the Bergen line, a hotel, an alpine research centre and just a handful of lakeside cabins. There are no roads to other settlements.
If you visit in the summer, Finse is a wonderful place to begin long-distance hikes or cycle rides through the Norwegian wilderness even though some snow remains on the peaks. But in the winter, it's an entirely different experience.
In fact, winter conditions on this mountain plateau are said by many polar explorers to be as close as you can get to Antarctica without traveling south. It's dry, cold and isolated, with very little natural shelter when the fierce winds blow.
A great base for fiction
If it sounds like the perfect setting for eerie goings-on, you would be right. Norway's former minister of justice turned crime writer Anne Holt set her locked-room mystery novel 1222 at the hotel following a train derailment during a blizzard.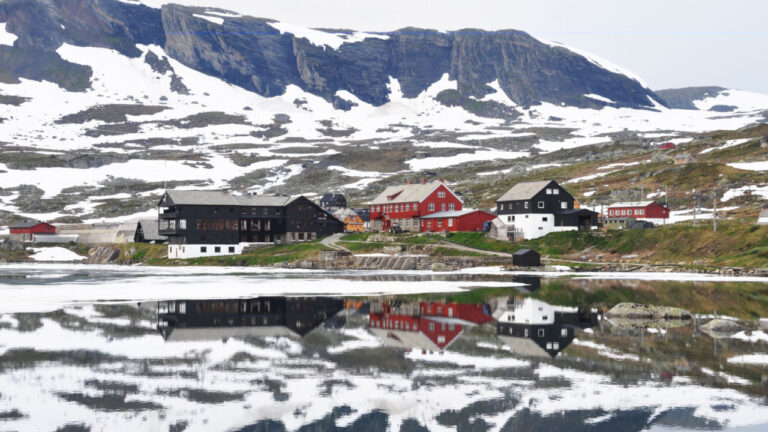 "After a train crashes high in the Norwegian mountains, the survivors, wounded but initially optimistic, battle their way through the snow to a nearby hotel, 1,222 metres above sea level. As the temperature falls and the tension between factions – a Muslim couple and a shrill right-wing television presenter, hoodied youths and shady businessmen – rises, people start to die, and it's up to Hanne to puzzle out what is essentially an icy version of the locked-room mystery." – The Guardian
There's a fair chance you've never heard of 1222 before, but I'll wager you've heard of another piece of fiction related to Finse.
In 1979, producers of Star Wars: The Empire Strikes Back chose to film scenes in and around Finse. The frozen lake Finsevatnet and the glacier Hardangerjøkulen were the perfect stand-ins for Echo Base on the ice planet Hoth.
Over the years the area has attracted many Star Wars enthusiasts. The biggest events have been for anniversaries. In 2010, people travelled from as far away as Los Angeles to mark the 30th anniversary of the release of the film.
Training for Antarctica expeditions
Norway has a long history of polar exploration. Roald Amundsen, the most famous Norwegian explorer, led expedition teams that first successfully traversed the Northwest Passage, crossed the North Pole by air, and reached the South Pole by trekking across Antarctica.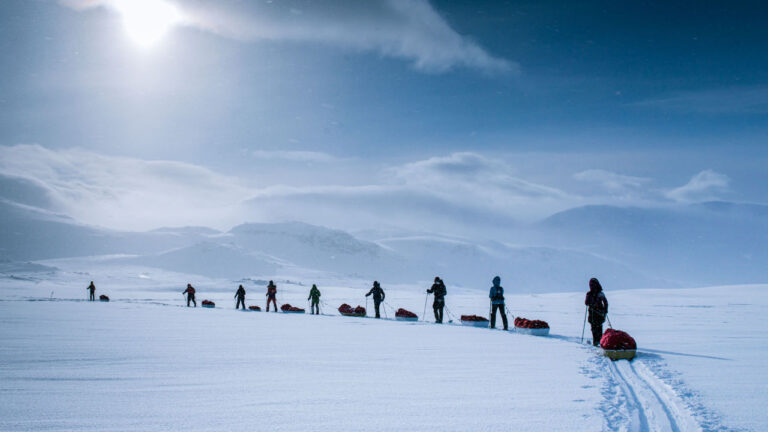 Amundsen spent at least some time in Finse training for his expeditions, as did fellow polar explorers Ernest Shackleton and Robert Scott.
Now, one enterprising company is offering budding polar explorers the chance to learn survival skils, camping and cross-country skiing techniques with experienced polar guides, just as those famous names did in the Heroic Age of Antarctic Exploration.
Shackleton Challenges host a six-day 'polar skills challenge' at Finse including train tickets to Finse, expedition training, all meals and accommodation, a 10-mile ski tour and camping experiences from around $8,000.
Record-breaking polar explorer Louis Rudd now works as director of expeditions with Shackleton Challenges.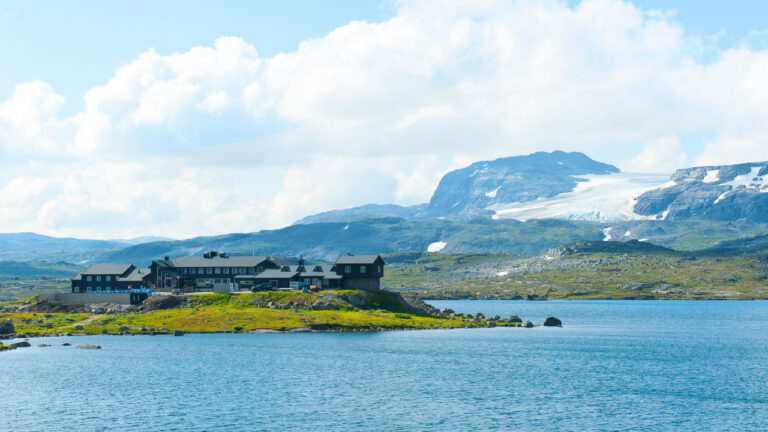 "We chose Finse because it's the spiritual heart of the exploration community," he told National Geographic. "To think that Robert Falcon Scott, Ernest Shackleton and Roald Amundsen trained here sends shivers down my spine."
The history of Finse
The hotel now in place at Finse was originally a small mountain lodge opened in conjunction with the Bergen line in 1909. It was originally intended as a safety precaution just as much as for tourism.
At the time, taking a train over the Norwegian mountains was seen as a risky activity. So the lodge was built along with several other places that would act as a place of refuge in the event of the train getting stuck.
King Haakon, Ernest Shackleton, Fridtjof Nansen, Karen Blixen, the Prince of Wales and polar father and pilot Tryggve Gran were among the famous names to visit Finse during its early years.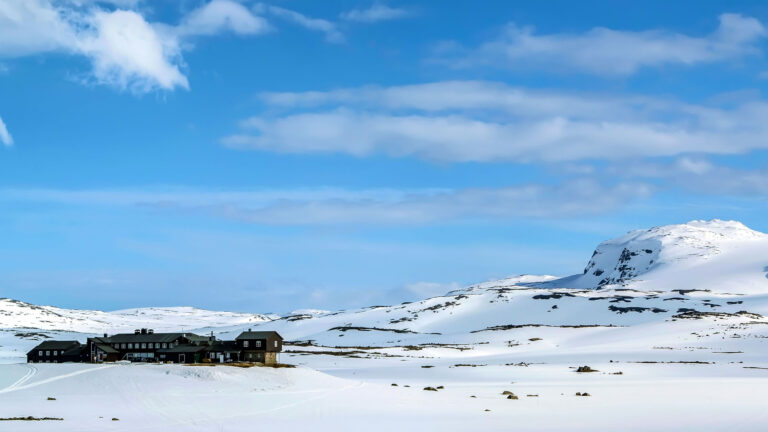 During World War II, the occupying Nazi forces took control of the hotel. They had plans to establish an airstrip on the nearby glacier to test how cold weather would effect aviation fuel. They also established a larger facility, which after the war became Finsehytta lodge.
When to visit Finse
Of course, you don't have to join an expedition training camp to enjoy Finse. The Finse 1222 Hotel offers comfortable accommodation to all guests, not just polar explorers.
In the summer, cycling and hiking are popular activities. Some people even stop off at the hotel for just a few hours for a coffee and a short walk before joining the next train departure to continue their journey.
Bear in mind the number of daily departures on the Bergen line is not that high these days, so you'll need to plan such a trip carefully.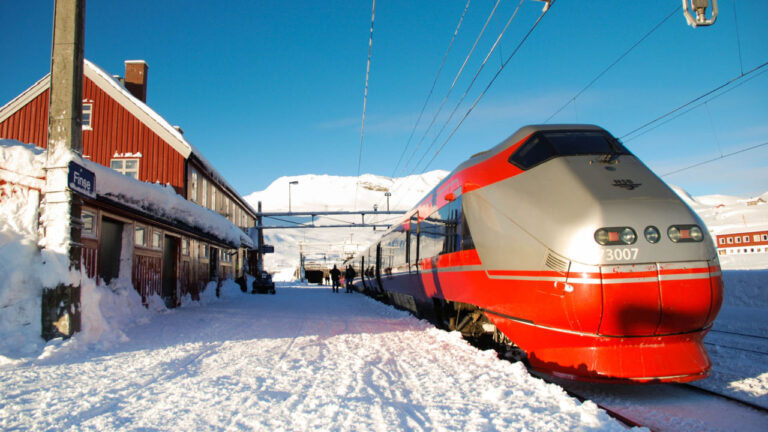 In the winter, guests can enjoy cross-country skiing or try their hand at ski sailing. If you plan on exploring by yourself, you should have at least some experience in harsh winter environments.
How to get to Finse
The only way to reach Finse from Oslo or Bergen is by rail on the Bergen line. Book tickets well in advance to get the lowest fares of around $30. Travel is time is 4.5 hours from Oslo and 2.5 hours from Bergen.
Have you been to Finse? How was your experience? Let us know in the comments below.