The former site of Oslo Airport has been transformed into a business park and now a fully-fledged neighbourhood. Here's what you need to know about Fornebu.
When I first moved to Norway, I worked for a year or so at Fornebu. The business park of modern office buildings on a green peninsula was a soulless place.
But things are, slowly, changing. I recently took a trip down to Fornebu to see how things have changed over the past 10 years or so.
The Fornebu of today now has apartments, a shopping mall and is starting to feel more or less like any other Oslo neighbourhood. Sort of.
Introducing Fornebu
Although I keep referring to Fornebu as an Oslo neighbourhood, it's actually part of Bærum municipality. It's the same with popular "western Oslo" neighbourhoods such as Stabekk and Bekkestua.
For decades, the Fornebu peninsula was known by everyone as the site of Oslo Airport. It served as the city's main airport from before World War II right up until October 1998.
Once Gardermoen took the main airport away from Fornebu, work began on transforming the peninsula into a centre of excellence for IT and telecoms.
Read more: Jobs In Oslo: How to Find Work in Norway's Capital
Fornebu attracted anchor tenants quickly. It became home to the headquarters of telecoms giant Telenor and the base of international operations for energy giant Equinor (then Statoil).
A couple of hotels were built to support the growing needs of the business community. In 2009, the multipurpose Telenor Arena opened at a cost of NOK 585 million. Urban redevelopment continued and in recent years, a number of apartment complexes have drawn people to not just work here, but live here too.
A shopping mall opened in 2014. In future years, a T-Bane extension will make it much easier for people to move between downtown Oslo and Fornebu. More on this later.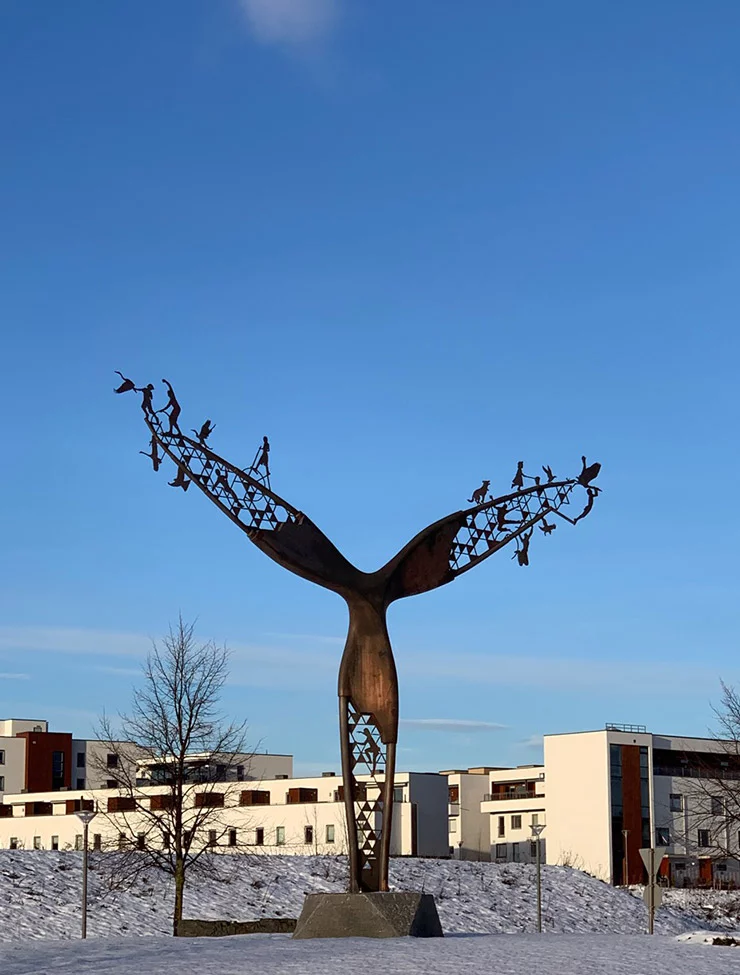 Things to do in Fornebu
Fornebu is far from a tourist destination. But many people visiting Oslo on business will find themselves in Fornebu for meetings. If you're staying in one of the Fornebu hotels, it's smart to get to know the area a little.
Fornebu Senter: Opened in 2014, Fornebu S bills itself as a "destination for fashion and beauty that offers inspiration and impulses". In other words, it's a shopping mall.
Aside from the regular shopping mall names, there's a Meny supermarket, a couple of cafes/restaurants and Vinmonopolet, the state-owned alcohol store.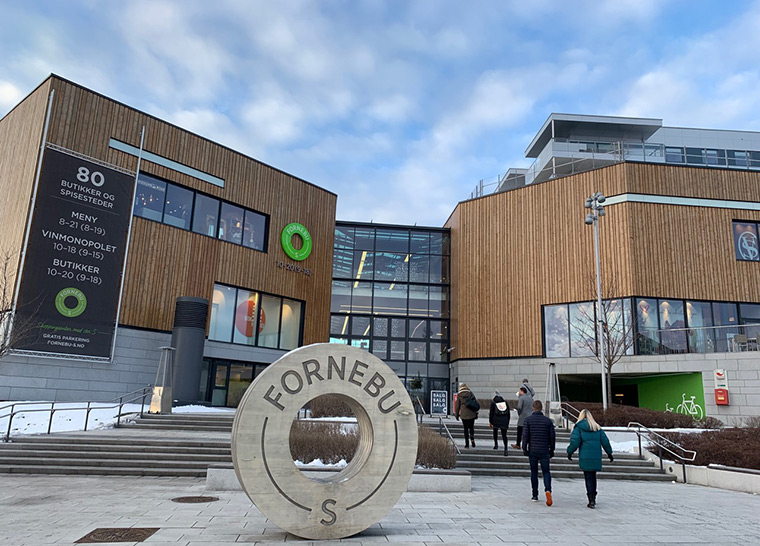 Telenor Arena: Today the Telenor Arena is a multipurpose venue hosting concerts and exhibitions year-round. But it has a very interesting origin story.
The NOK 585 million venue was originally intended to be the new home stadium for Stabæk Fotball. But the team played at the venue for just three years before arguments about money saw them leave.
Coastal path: There are pathways all over Fornebu, many skirting the coastline. They are perfect for taking a break from business and making the most of the area's nature.
Known in Norwegian as 'Fornebu Rundt', this 6km-long looped trail is popular with walkers, runners and dog-walkers. For a longer 10km route, check out this recommended jogging route.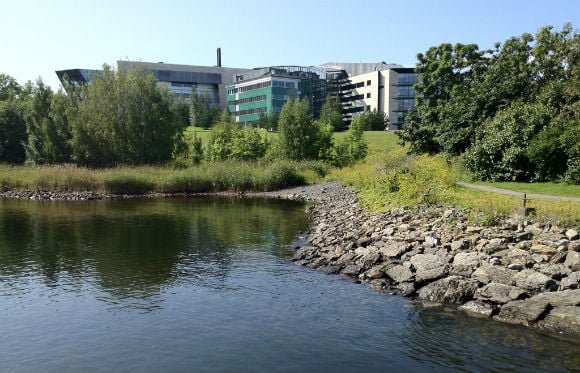 Storøyodden beach: On the western side of the peninsula, this sandy beach and grassy areas are a popular draw for locals when the sun is shining. A nearby nature reserve is home to diverse birdlilfe.
Historic air tower: Known in Norwegian as Flytårnet, the former air traffic control tower and associated buildings is the heart of 'Old Fornebu'. The facility is now home to a diverse range of tenants including a TV studio, a retro furniture store and a car and scooter museum.
Oslo T-Bane extension to Fornebu
When I worked at Fornebu, one of my big complaints was how crowded the buses were.
Although there's been improvements to roads and routing since then, I can imagine it's still pretty bad at rush hour given the amount of companies that have moved into the neighbourhood since then.
There was talk way back in 2011 about extending the T-Bane (light rail) system to Fornebu. Previously, other projects had been debated including a tram and automated people mover connecting to Lysaker station.
But after funding was finally agreed for the T-Bane extention, construction got underway in late 2020. The line is scheduled to open by 2027.
The new Fornebu line will connect with the common city tunnel at Majorstuen. From there, it will run entirely in a tunnel for 8.15km serving six stations: Skøyen, Vækerø, Lysaker, Telenor Arena, Flytårnet and Fornebu Senter.
Where to stay in Fornebu
Are you coming to Fornebu for a conference or series of business meetings? You can choose between staying in downtown Oslo and commuting to Fornebu, or staying in one of everal Fornebu hotels.
The Radisson Blu Park Hotel and Quality Hotel Expo are on the northern side of Fornebu. Both are perfect options for attending events at the Telenor Arena.
Farther south, the Scandic Fornebu is ideally located for the Equnior offices. It's also close to the Fornebu S shopping mall.