Grimstad is a charming coastal town on Norway's sunny south coast. From Ibsen's legacy to the best walking routes, here is an introduction to Grimstad.
Before my recent trip to Grimstad, I knew the town as the home of one of my favourite Norwegian breweries and knew it had something to do with Henrik Ibsen. But that was all!
As it turns out, Grimstad is a lovely waterfront town typical of the southern Norway coastline. White houses, boats galore and some interesting history thrown in too.
The best place to start is with this quick highlights video. It'll give you an idea of what to expect in just a couple of minutes.
Once you've watched the video, read on for more details and ideas about things to do in Grimstad. Let's get going…
Where is Grimstad and how to get there?
Grimstad is on the southern coast of Norway, approximately 275km southwest of Oslo. In the other direction, Grimstad is about 47km from Kristiansand, the biggest city in the south.
From Oslo, it takes about 3.5 hours to drive to Grimstad along the E18. Express coaches from Oslo call at Grimstad, but be aware that they stop just off the E18 at Øygardsdalen. From there, it's a 25-minute walk to the town centre.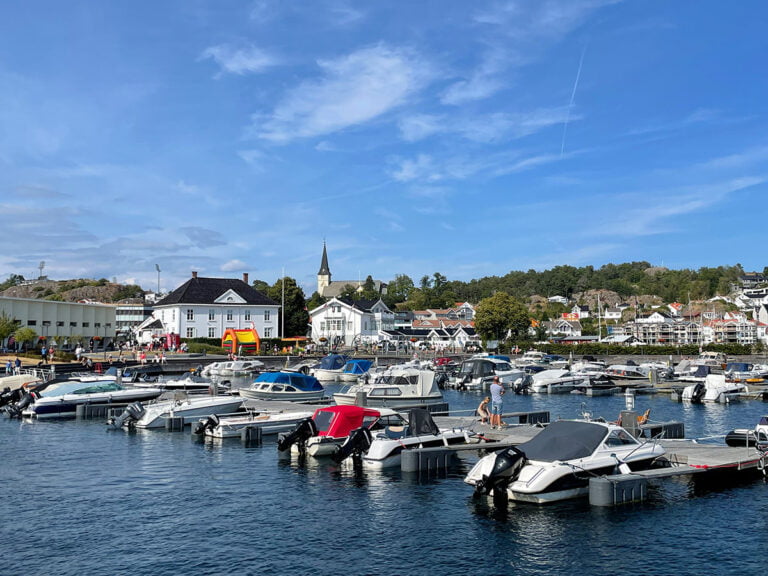 As a day trip from Oslo, it would be a bit much, so an overnight stay is recommended. If you're doing that, it makes sense to combine a trip to Grimstad with nearby towns such as Lillesand, Arendal or Risør.
From Kristiansand however, it's just a 35 minute drive or around one hour by local bus. Unlike the express coach from Oslo, the local bus does stop by central Grimstsad.
Grimstad town centre
Once in Grimstad, the best way to get acquainted with the town is simply to walk around. From the main central shopping centre Odden to the church via the harbours and central shopping area takes no more than 15 minutes.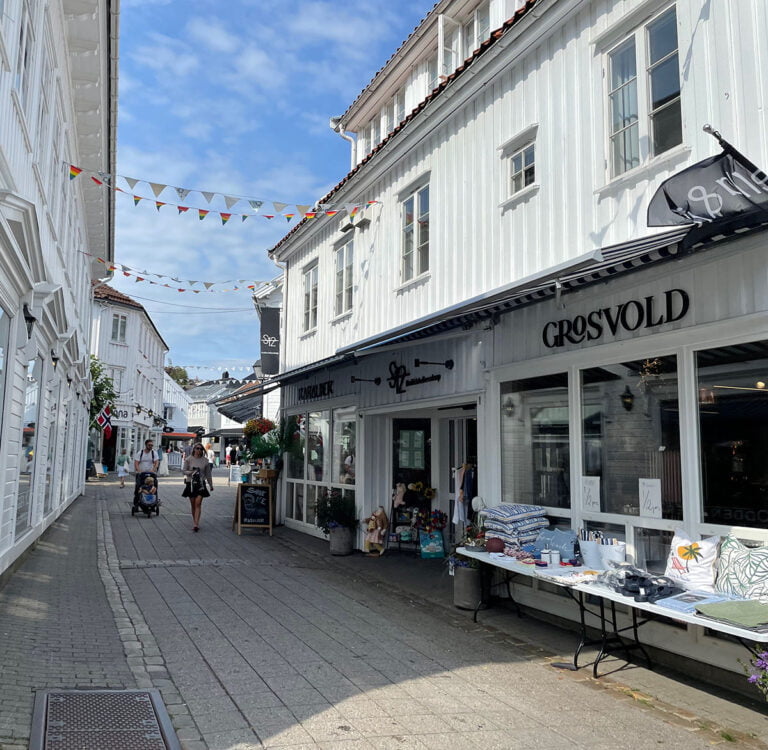 Or at least, it does if you walk directly. But on a summer's day it's very hard not to get sidetracked! Grimstad is full of harbour views, alleyways and stairways just begging to be explored.
The pedestrian streets of the compact town centre are a lovely place for a stroll. It's easy to get lost amid the alleyways and countless white wooden buildings, but it's such a small place that you won't be lost for long!
Alleys and stairways of Grimstad
One thing you'll quickly notice is the number of stairways dotted around the central area. Most are marked as a 'snarvei', which means shortcut in Norwegian. Thanks to the wonders of Google, I found out more about these curious routes.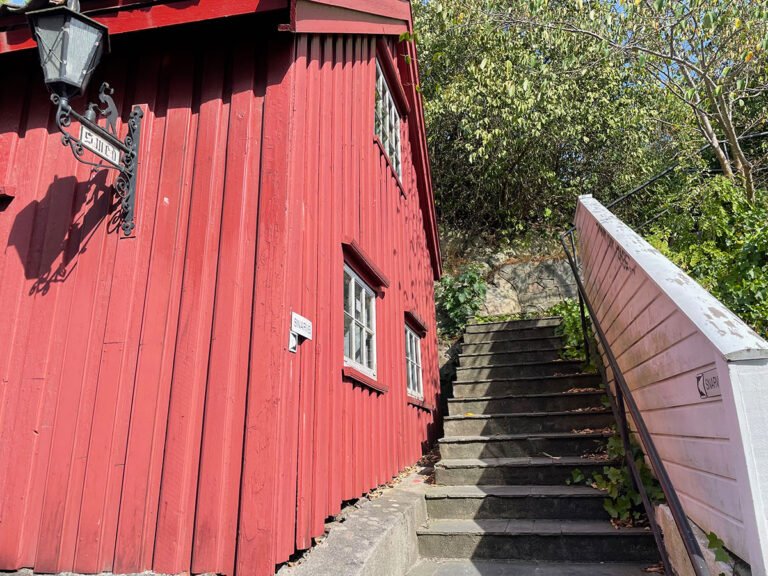 The words of local historian Halfdan Gundersen are the best to describe the somewhat chaotic layout of central Grimstad:
"As you can imagine, the public roads were in a relatively primitive state in the beginning. The town had more or less built itself up and the houses were scattered here and there like in a coastal village. Gradually a settlement emerged along the narrow alleyways that gradually became streets."
"The town developed on this irregular basis, and since it was not exposed to the devastating but regulating influence of fire like most other wooden towns, you can still discover the crooked and mostly narrow streets between the houses today."
The Ibsen legacy
Although playwright Henrik Ibsen (1828-1906) grew up in Skien, he took a job as an apothecary's assistant in Grimstad. He wrote his very first play 'Catilina' while working in the town, along with many poems dedicated to local girls!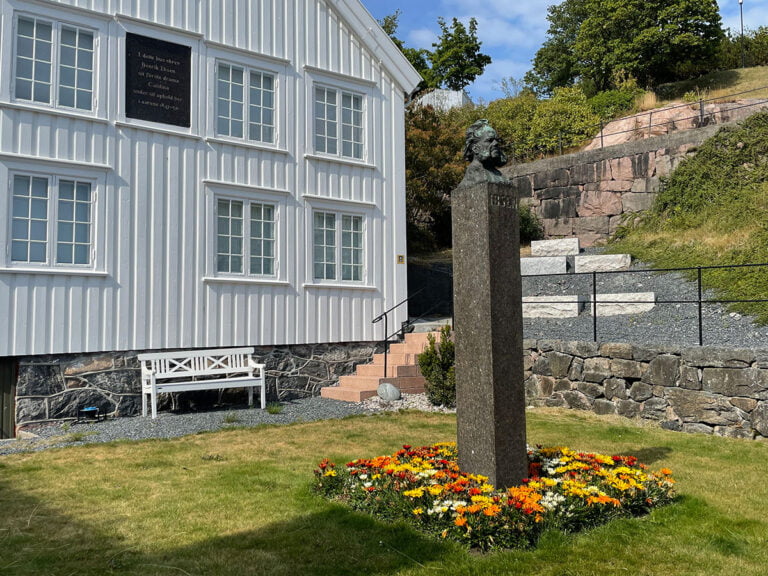 Ibsen's legacy is celebrated in and around Grimstad. The former pharmacy building is now the Ibsen museum, where guided tours are given in the summer.
Ibsen wasn't the only writer to call Grimstad home. While lesser known internationally, Knut Hamsun is another important figure in Norwegian literature. In fact, Hamsun was awarded the Nobel Prize in Literature in 1920 for the book 'Growth of the Soil'.
Grimstad church
It's hard to miss Grimstad church. Not only is it tall, it's also perched on top of a hill so that it can be seen from much of the town.
Built in 1881, the wooden church is painted in a light green colour with contrasting trim in yellow and red ochre. The striking colours were chosen in the 1960s, when an examination of the church revealed it had originally been painted in light green.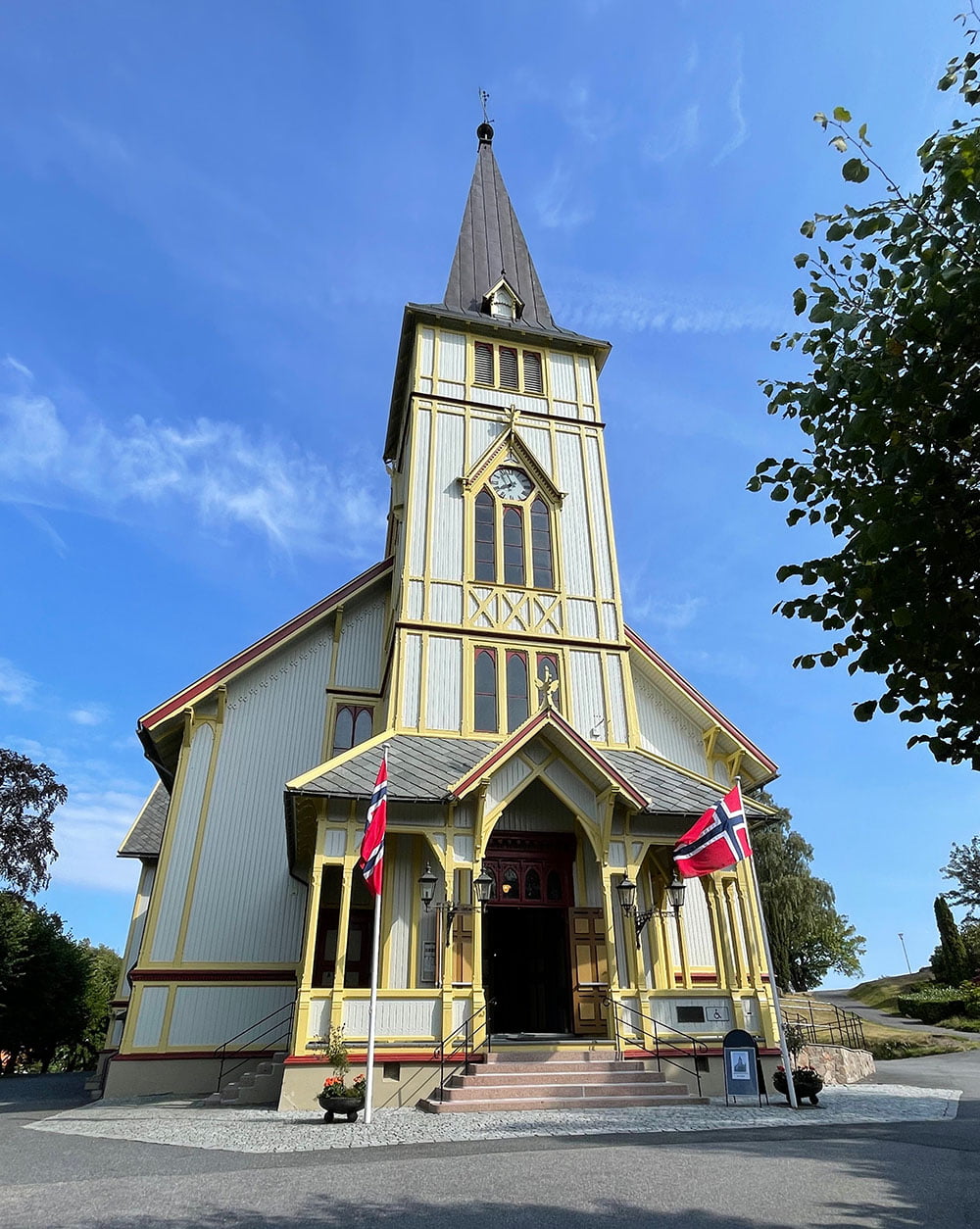 Considering the small size of Grimstad, the size of the church is surprising. Up to 1,000 people can cram into the church, although I was the only visitor on a sunny Sunday afternoon.
The interior is worth a look. In case you hadn't figured out Grimstad's love of the water, the model sailboat hanging from the ceiling should make the point. There can't be many churches with such a feature!
Other things to do in Grimstad
Aside from the Ibsen musuem and Grimstad church, there are some other things to do in Grimstad:
Nøgne Ø: As I mentioned in the introduction, one of the few reasons I knew of Grimstad was its brewery, Nøgne Ø. Although enjoyed all over Norway, Nøgne Ø beers are easy to find in the bars and restaurants of Grimstad. By the way, the name means "naked isle" in Norwegian, and comes, of course, from Ibsen.
Maritime Museum: The Hasseldalen area, home to shipyards and shipping activity for 150 years, is today home to the Maritime Museum. It primarily tells the story of the age of sail, when humans tried to conquer the oceans.
Grimstad archipelago: This string of rocky islands and skerries with secluded beaches are within sight of Grimstad. Locals putter to and from the islands in their own boats, but what's a tourist to do?
There are several options for touring the archipelago. The schooner Solrik and old fishing vessel Østerøy are popular, but there's also the opportunity to rent your own boat and kayak. There's also a taxi boat which can be rented for groups as a sightseeing tour.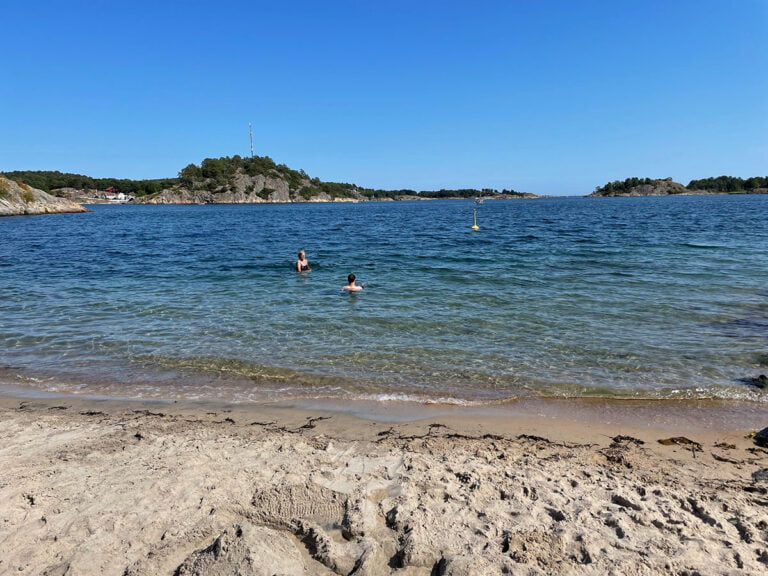 Town beach: Southern Norway is known for its coastline and beaches. Slightly out of the way, the town beach is a pleasant spot but very small. Most people seem to prefer lounging about on the grass, venturing down to the sand only when they fancy a paddle.
Jerv FK: You could always do as I did and catch a football game. Local club Jerv play at the Levermyr stadion and are at the time of writing in the Eliteserien, the top tier of Norwegian football.
Food & drink in Grimstad
While in Grimstad, there are a couple of local specialities you should seek out. One is of course a beer from Nøgne Ø.
Hot dogs: To locals, Grimstad is known just as much for its pølser as it is Ibsen. You can't miss the legendary red Nottos hot dog stall on the waterfront. It was also one of the few places I was able to get something to eat at around 10pm!
Porke: The Grimstad take on the humble skolebolle, a pastry with egg custard at its centre, covered in coconut. Several cafes in the town serve the popular local snack.