It's known internationally as a cruise, but Norwegians have used the Hurtigruten coastal route as a local ferry for generations. Here's how you can do the same.
Taking the Hurtigruten coastal voyage is a bucket list item for many travellers. Many of our Norwegian American readers have taken the full journey, which takes 12 days to travel from Bergen to Kirkenes and back again.
Some people take a one-way trip from Bergen to Kirkenes, which is a shorter, cheaper way to enjoy the coastline. Kirkenes to Bergen is another popular option as it's typically cheaper than the first half.
But while some Norwegians do take the full coastal voyage, many others use the service as a local ferry. For generations, that's exactly what the Hurtigruten was.
It's only in recent decades with bigger, more comfortable ships that it's popularity as a round-trip "cruise" experience has come to the fore.
A critical transport link along the Norwegian coastline
The Norwegian coastline has long made ground transport challenging. Even with recent bridge and tunnel projects, driving between two points along the coast can still be a long and/or difficult experience.
Prior to 1893, traffic along the coastline between Trondheim and Hammerfest was busy but unreliable. Authorities decided a regularly scheduled express route was needed.
Captain Richard With and his steamer DS Vesteraalen took up the challenge and Hurtigruten ("the quick route") was born. Soon the route was extended from Bergen to Kirkenes, and Hurtigruten became a critical transport link for cargo and people.
Who uses Hurtigruten as a ferry?
Despite the name, Hurtigruten cruises are not a particularly quick way to travel along the coastline. Even setting aside aviation, there are several speedboats operated by local councils that provide a quicker service, such as Trondheim to Kristiansund or Bodø to Svolvær.
But there are portions of the coastline where Hurtigruten is the quickest option, or cheapest, or just the easiest.
When I took the full round-trip on the MS Vesterålen in January 2019, passenger numbers were well below capacity. This meant it was very easy to see if and when locals were using the service as a port-to-port ferry.
The reasons were many and varied! One large group of students travelled between Tromsø and Svolvær for an arts festival. Farther south, one person with a broken arm travelled from Rørvik to the regional hospital in Trondheim for a check-up.
I also used the Hurtigruten as a local ferry earlier this summer. Together with my parents, I travelled from Bodø to Svolvær. The journey took six hours including a short stop at Stamsund, and was an enjoyable, scenic alternative to the direct Bodø-Svolvær speedboat.
Pros and cons of travelling port-to-port
It's fair to say there are some very clear advantages and disadvantages of using the Hurtigruten in this way.
First of all, it's often the easiest way to get between two places, especially remote ones. For example, Stamsund to Finnsnes, or Honningsvåg to Båtsfjord. Flying is usually possible with Widerøe, but it can be expensive and often requires a change of planes.
While you can always drive, not everyone owns a car. This is especially true for tourists travelling along the coastline. So if you are car-free, Hurtigruten is a useful option.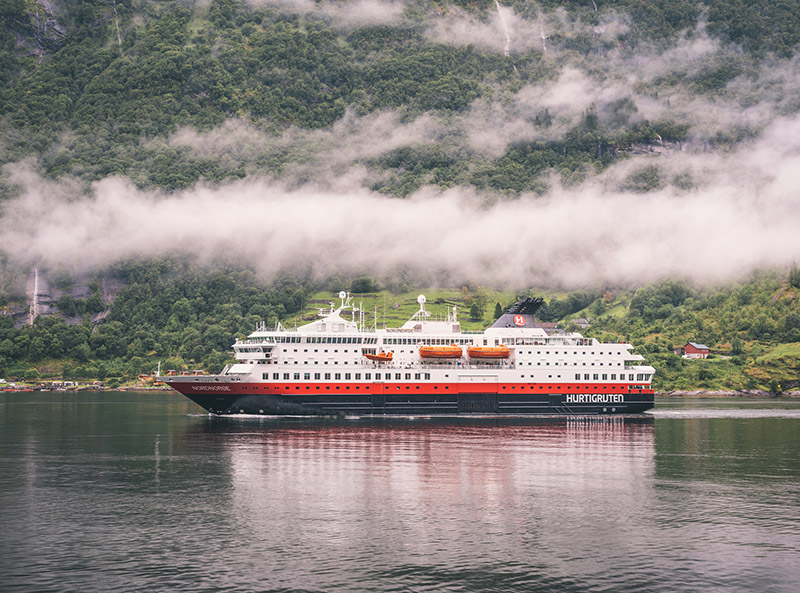 Another strong advantage is the ability to take it easy on the trip. You can relax with a beer, enjoy the coastal view, or simply sit back and read a book.
On the flip side, the Hurtigruten is relatively slow and often expensive. Availability can be an issue in the summer months. You are also required to pay for a cabin if the journey involves an overnight stretch.
Scheduling is also an issue. The service runs no more than once per day in either direction. For example, the southbound service from Bodø departs at 3.30am. That's not convenient for most people!
Example timetables
Here are some example routes that are available right now on Hurtigruten. Note that times do vary seasonally and are subject to change, so this is purely for informational purposes. Check the schedules directly with the company if you are considering a trip.
Trondheim to Bodø: Leaves Trondheim at 12.45pm and arrives in Bodø at 1.05pm the following day. In the other direction, leaves Bodø at 3.30am and arrives in Trondheim at 6.30am the following day.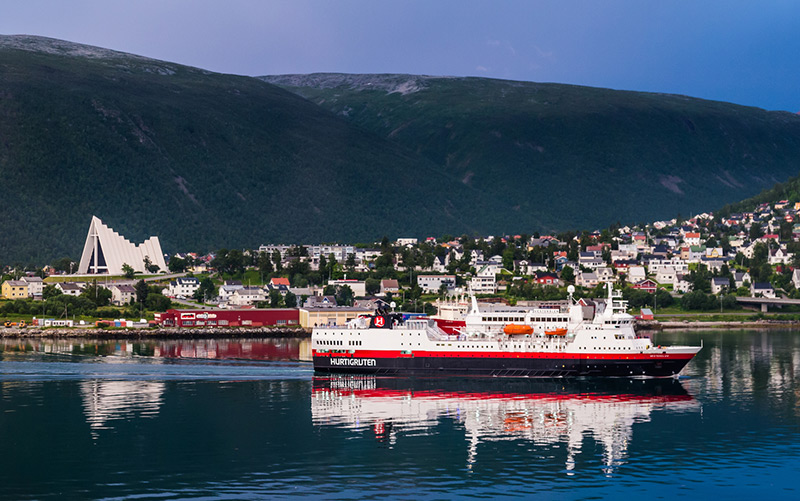 Tromsø to Svolvær (Lofoten): Leaves Tromsø at 1.30am and arrives in Svolvær at 6.30pm. In the other direction, leaves Svolvær at 10.15pm and arrives in Tromsø at 2.15pm the following day.
Trondheim to Ålesund: Leaves Trondheim at 9.30am and arrives in Ålesund at 00.30am the following day. In the other direction, leaves Ålesund at 8pm and arrives in Trondheim at 9.45am the following day.
Remember, these times are adjusted seasonally are only meant as a guide. To check the times applicable to your visit, use the Hurtigruten website.
What to expect when using Hurtigruten as a ferry
The process of booking and boarding the ferry is a little different when you are not taking the full voyage. When starting the roundtrip in Bergen, you check-in and board from the departure lounge.
But if you are using the service as a local ferry, you typically check-in on the ship itself. This must be done 15 minutes before departure, or 30 minutes before departure when boarding at Bergen. As I understand it, short trips must also be booked in advance.
When we boarded at Bodø, we arrived about one hour before the ship's departure. Upon boarding the MS Nordnorge, we showed photo ID at the ship's reception and were handed ID cards. These are used when paying for things onboard and when arriving/leaving the ship.
The biggest difference when using the vessels as a day ferry is the lack of a cabin. There is a luggage room available although this was jam-packed with baggage. There was just about room for our bags!
The rest of the ship is available for you to use, including the restaurants, bars, lounges and sun deck. During the booking process we were offered the chance to book a meal in the main restaurant.
However the three-course meal would've set us back about NOK 550 each, not including drinks. We opted instead to eat at the bistro and pay onboard. This was a much better option for us and the food was more reasonably priced.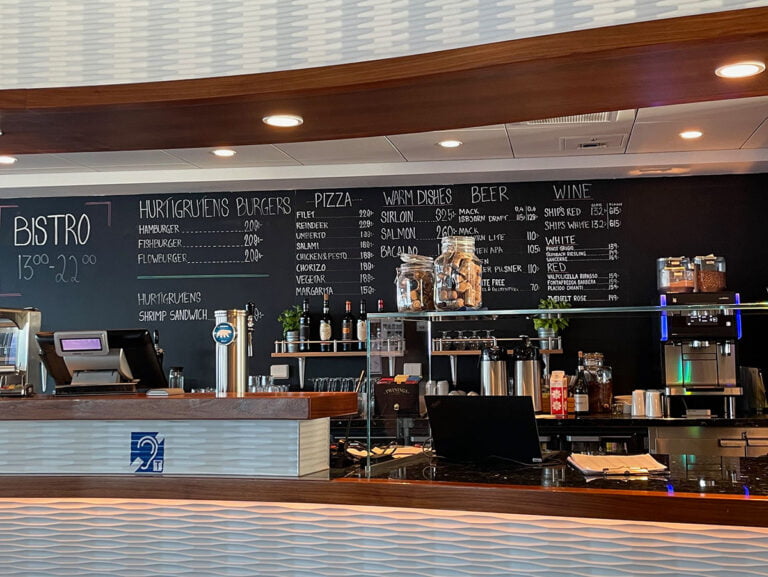 I should add that for one-way trips that include an overnight stop, you are required to book a cabin. There is no option available to sleep in the lounges, for example.
How you book a port-to-port trip with Hurtigruten
It probably surprises some people that you can use the Hurtigruten as a local ferry. One of the reasons for this is the promotion of the roundtrip cruises on the English language version of the website.
When using the website as a Norwegian, you are presented port-to-port options much more prominently. These options are available on both the UK and US versions of the site. You just have to dig around a bit to find them! Look for "short voyages" or equivalent terminology, or use the links above.
The booking process is relatively straightforward. You select the two ports and then are presented with date options. You select the type of cabin (if appropriate), whether you want to book meals in advance, and book.
Prior to sailing you receive all the information you need to know about the trip via email. You will be reminded, but it's important to remember to take photo ID with you.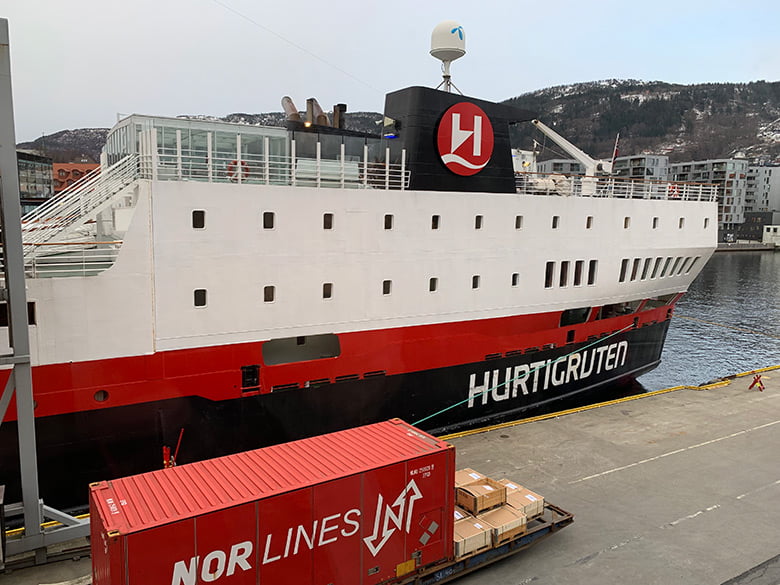 Using Havila as a coastal ferry
Hurtigruten now has a competitor on the coastal route. Havila Voyages have been plagued by problems during their launch (not least the global health crisis) but are now up and running on selected days.
The company also offers a port-to-port service and operate either vessels on the days that Hurtigruten do not sail. The ships are modern and similar in amenities to the Hurtigruten vessel.
So, if you want to sail port-to-port and there is no Hurtigruten departure available, check out the options with Havila.