From professional footballer to rock star to novelist, Jo Nesbø has had quite the career path. Discover the story of Norway's top crime fiction writer.
Norway's leading crime novelist Jo Nesbø is not your average writer. He has had many interesting professions in his life, including as a professional footballer and rock star. Both were huge passions, but there was something bigger awaiting the Norwegian.
From a typical and humble upbringing, he spent his formative years exploring those different passions and interests before finally finding his true calling – the dark underbelly of Nordic noir and crime fiction.
Nowadays Nesbø is a prolific writer, often churning out at least one book each year. He has become one of the most successful Norwegian crime writers out there. This is the story of how he got there.
His early life
Nesbø was born in 1960 in Oslo but grew up mostly in Molde. It was on Norway's west coast that he developed a love of music. Whilst at school he learned to play the guitar and sing in a band. His education includes a degree in Economics and Business Administration from the Norwegian School of Economics in Bergen.
There was always a burning desire to express himself. He had a brief football career with Molde but it was cruelly cut short by a cruciate knew ligament injury. His early professional life saw him work as both a stockbroker and freelance journalist. He continued to write music and sing, and in 1992 he formed a rock band called Di Derre.
Living in Australia
Nesbø had a hectic work life and an all-consuming role in Di Derre, so something had to give. He decided to take some time out and planned a six-month break in Australia. It was to prove an influential time in his writing journey.
Listen: True Crime in Norway
The detachment from his homeland appeared to fuel his inner creativity. The break from Norway allowed Nesbø to get a manuscript together for what would become his first novel. This featured a character that would go on to serve him so well – Harry Hole.
Interestingly, Nesbø's first novel was submitted to publishers under a pseudonym, so it wouldn't be rejected on account of his status as a former professional footballer and famous rock star.
That first manuscript became Flaggermusmannen (The Bat Man). The English title was simply The Bat. It was the start of the chain-smoking Harry Hole and his unorthodox methods.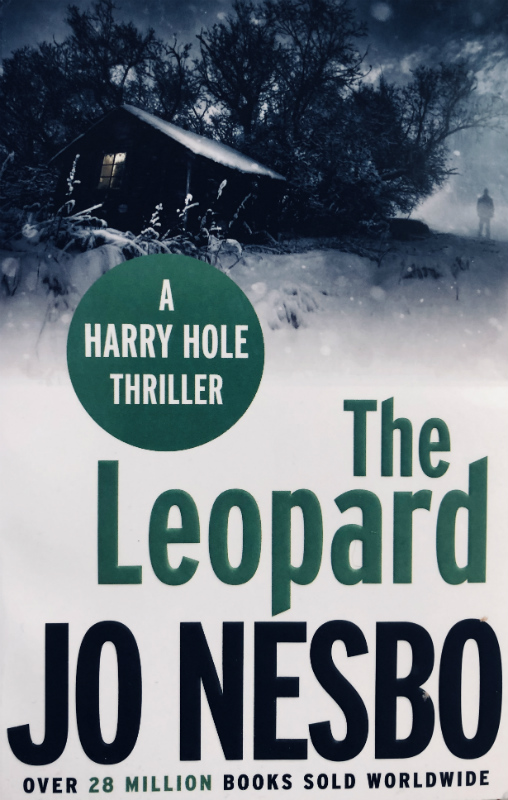 Harry Hole series
Harry Hole is not your normal detective. He is a recovering alcoholic, and through the stress brought on by his job, the bottle is only ever a short reach away. It is alcohol that remains one of his biggest adversaries throughout the series.
Then there's the murder investigations he gets assigned to, and they are rarely straightforward cases. Harry's methods are equally chaotic as he obsessively hunts down justice like a dog searching for a hidden toy.
Read more: Must-Read Norwegian Novels
Other Harry Hole books followed and to this day the series remains his most popular. If you like crime novels – and have an interest in Norway – then I recommend you check out this series.
Other collections
Other novels by Nesbø are the Olav Johansen series:  Blood on Snow and Midnight Sun: Blood on Snow 2. The story follows Olav Jahansen who acts as an illicit and devious fixer for a an Oslo crime boss. This series is as moody and dark as anything he's written.
The Norwegian also penned the The Doctor Proctor books, a children's series that follows the adventures – and misadventures – of a wild professor craving his big break. In 2014, it was also adapted into a Norwegian movie starring Kristoffer Joner but received average reviews.
Re-imagining Shakespeare
In 2014, Nesbø was approached by his publisher to write an adapted version of Macbeth. He manages to put a very new twist on a Shakespeare classic in a way that only the Norwegian can.
It's a radical story intertwined with more familiar ideas and concepts. The narrative delves into the dark world of a gangster thriller set in the dystopian town of Fife in the 1970s. Nesbø paints the character Macbeth in the same light as Harry Hole, in the sense that he has his own objectives but also his own vices.
There is, of course, violence, bloodshed and murder in what the Norwegian calls, "key ingredients of a gangster thriller."
Jo Nesbø's success
Nesbø has won many awards for his writing in his native Norway, from Best Norwegian Crime Novel for his debut book The Bat to the Norwegian Book Club Prize 2008 for The Snowman. He has also thrived internationally too.
Nesbø's worldwide success has meant he has easily sold more books translated into English than books printed in Norwegian. He has sold some 36 million-plus novels internationally, numbers that ensure his place in the crime writing elite.
Several of his books have been adapted into films. Headhunters (Hodejegerne) is by far the most popular screen adaptation to date. The 2011 crime thriller has an average rating of 7.5 on IMDb.
One movie version that flopped was the 2017 The Snowman (Snømannen). It had a relatively big budget and Hollywood superstar Michael Fassbender as the lead but it received very poor reviews and never really captured the magic of the original novel.
Crime writing – and Nordic/Scandinavian noir in particular – may not be for everyone, but Jo Nesbø makes it more accessible and readable than ever.
He has this special gift as a writer that keeps the reader second-guessing right until the very end. Nesbø is able to show you Oslo and Norway through the his unique, descriptive and murky lens. It's troubling and absorbing in equal measure, characteristics that keep many people around the world coming back for more.