So here we are, a few days before the longest day of the year. The long summer days in Norway are something I adjusted to long ago, having spent my last three summers down in Oslo. Or at least I thought I had! Living here in Trondheim, I've had to adjust all over again, because we are much further north.
This was the view from Trondheim Airport last week at around 10.30pm: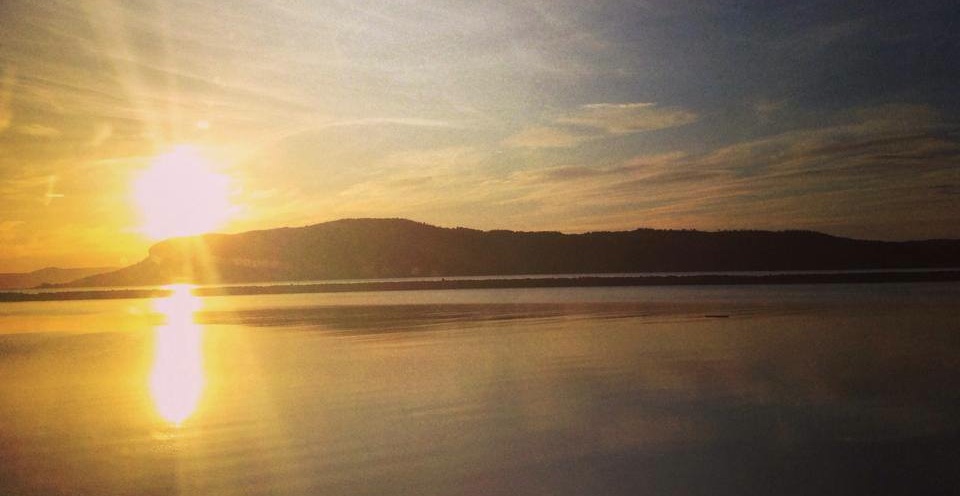 Then outside our flat at midnight last weekend:
Yes, that really was midnight.
For those of you who understand latitudes, my former home of Birmingham in England is 52°28'N, Oslo is 59°57′N, and Trondheim is 63°25′N.
The impact of living so far north? On the longest day of the year (21 June, this weekend), the sunrise will be 03:02 and the sunset will be 23:38. But that doesn't mean it will be dark between those times! Just check out the picture above to see what a typical June night is like here in Trondheim as the clock reaches midnight. The sun may have set, but the light remains.
For these few weeks during June when the days are at their longest, the daylight subsides for barely an hour, only to be replaced by a twilight that's just about enough to read by and will keep you awake as it peeks inside your curtains. Even the tiniest slither of light creeping in from the edge of your "blackout" curtains is enough to fool your body into thinking it's dawn.
Of course, things get a lot more extreme the further north you travel. A 5-6 hour drive north and you'll reach Mo i Rana, close to the Arctic Circle. Beyond this point you'll experience permanent daylight where the sun doesn't set for at least one day per year. Keep going north and the number of days increases. Of course, this also has the opposite effect in winter, with the number of days when the sun won't rise.
Long summer days – great or not?
I'm torn. On the one hand, being able to enjoy a beer, read a book, or just go for a walk in daylight at 11pm is great. But if you don't take measures to ensure you sleep properly, it can be an exhausting time of year. I have got into the habit of drawing the curtains and blinds at 9pm. It's amazing how simple yet affective this strategy is!
Next week my brother and his girlfriend are visiting us in Trondheim. They've never been this far north before, so I'll be fascinated so see the effects on their bodies and their sleep patterns.
But what of the rest of you? I decided to find out on the Life in Norway Facebook page:

Honestly, I expected a mixed response, especially from those living in Norway. The reality was somewhat different, with an almost universal worshipping of the long summer days! I tend to agree with the view that it's a novelty, it's annoying, but it's a hell of a lot better than the opposite situation in the winter!
What do you think?