Kaizers Orchestra is a rare example of a Norwegian language band with a big international fan base. Discover the story of one of Norway's most distinctive musical acts.
Wherever you live in the world, you've no doubt heard of some Norwegian bands and singers. The likes of A-ha, Sigrid and Ylvis have all found success globally.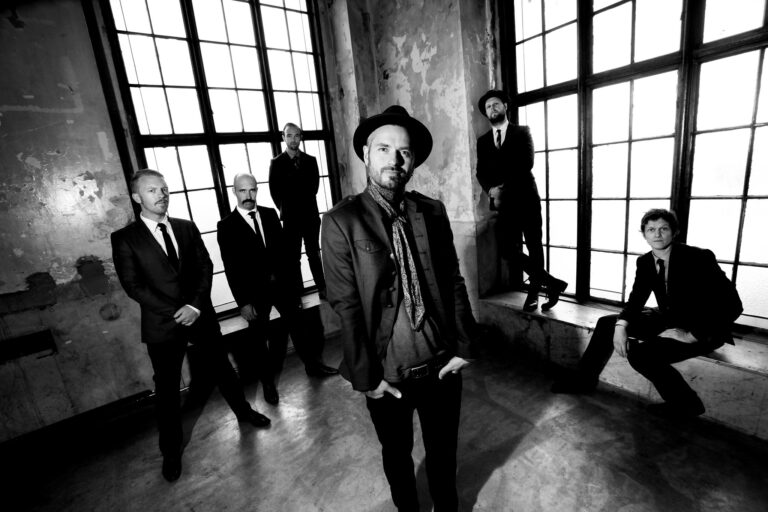 Of course, Eurovision fans will have heard of even more. Artists such as Alexander Rybak broke out with 'Fairytale' after winning in 2009 and Alessandra Mele won huge numbers of fans this year with her epic 'Queen of Kings' narrowly missing out on a podium finish.
But one of the country's biggest bands is one you may well not have heard of. Kaizers Orchestra recently announced they were reforming after a long hiatus. It's safe to say that news has been very well received in Norway and with their many fans around the world.
Join me as I take a deep dive into one of Norway's most distinctive musical acts.
Selling lots of tickets
When a band sells out a 24-date tour in around 2 hours, that is often headline news around the world. The likes of Beyonce, Taylor Swift and Madonna have recently made such headlines – and often for the wrong reasons. Ticket prices these days tend to start at multiple hundreds of dollars and rise into the stratosphere.
Kaizers Orchestra announced that their return to the live stage would come almost exactly ten years after they last performed.
The final concert of their 'Siste dans' tour (Last Dance tour) was in Stavanger in September 2013. They put a total of 24 dates up for sale – six each in Stavanger, Oslo, Trondheim and Bergen – starting in September 2023.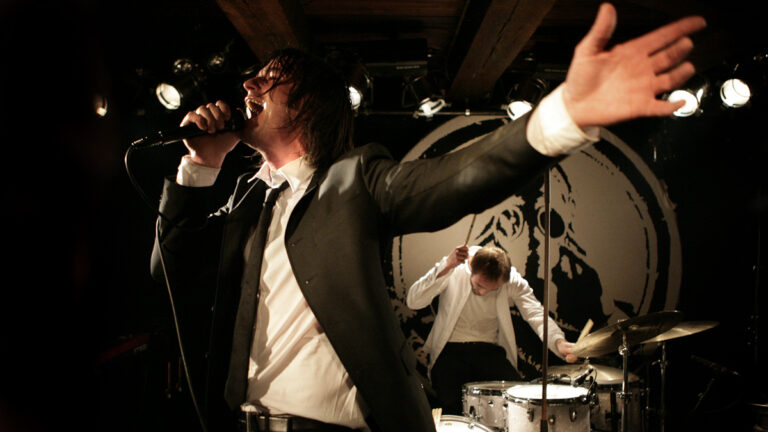 After ten years away from the music scene it can be hard to work out whether there's any appetite for a revival. Nevertheless, they obviously hoped that these dates would sell well. In the end, selling well was an understatement!
The tickets for those first 24 dates sold out in around two hours. They then extended the tour until it included eight extra dates in each venue. So now they will play 14 dates in Stavanger in September, 14 dates in Oslo in October, 14 dates in Trondheim in November and 14 dates in Bergen in December.
Amazingly, all of the extra dates also sold out quickly. That's around 130,000 tickets sold – not bad for a band you've never heard of! So let's take a look at how Kaizers Orchestra got to where they are and what people who are lucky enough to have secured a ticket to one of their concerts can expect.
The origin story of Kaizers Orchestra
Kaizers Orchestra formed in 2000 by Janove Ottesen, Geir Zahl, Terje Winterstø Røthing, Rune Solheim, Helge Risa and Jon Sjøen. Ottesen and Zahl had been playing together for many years, most notably in the bands Blod, Snått & Juling and gnom.
These bands had produced a few minor records, selling a few hundred copies, but never quite gaining the traction required for success.
Towards the end of gnom's existence Ottesen wrote a song called Bastard, a gravelly-voiced, carnival-tinged folk rock song that's evocative of Tom Waits. This was always well received and so, moving forwards, Ottesen continued writing in this style and Kaizers Orchestra were born, with a unique style.
Some of the other members had played in other bands with Ottesen and Zahl, while others were known to them from the local music scene. They initially recorded an EP of 4 songs, and this received good radio play during by:Larm festival in 2000.
This then got the attention of an independent Swedish record label, Broilerfarm, and allowed them to record their first album, 'Ompa til du dør' (Dance Till You Drop).
The album was an instant hit with critics and audiences alike. It went on to win the Best Rock Album at the Spellemannprisen (Norwegian Grammies) in 2001 as well as two Alarm awards (the cool, underground music prize in Norway).
The second album, 'Evig pint' (Eternal Torment), was released in 2003. This was not as well received at the time and failed to match the success of 'Ompa til du dør.' Over time, however, it has been reappraised as one of their mostly consistently good albums.
Hitting the big time in Norway and beyond
After two fairly successful records, and a large fan base built in Norway, Denmark and the Netherlands, it's not surprising that a major label would start to take notice. They put together a 30-track demo, showcasing the best of their talents, and sent it to all of the major labels.
In August 2005, they released the album 'Maestro' and announced an international record deal with Universal Germany, taking them instantly from one of the smallest record companies to one of the biggest in the world. Despite receiving positive reviews, the album didn't sell as well as Universal had hoped, which the band attributed to poor marketing from Universal.
After Maestro came a live album, Live at Vega and a break from touring. In 2007, Geir Zahl's brother, Jan, released a book entitled Kontroll på kontinentet (Control on the Continent) about the band's rise from obscurity to one of Norwegian music's biggest exports.
2008 saw the release of their fourth studio album, Maskineri (Machinery), which earnt favourable reviews and led to a return to touring. They toured the album through the summer and then in the fall released their second live album 250 Prosent (250 Percent) featuring recordings from the Maskineri tour.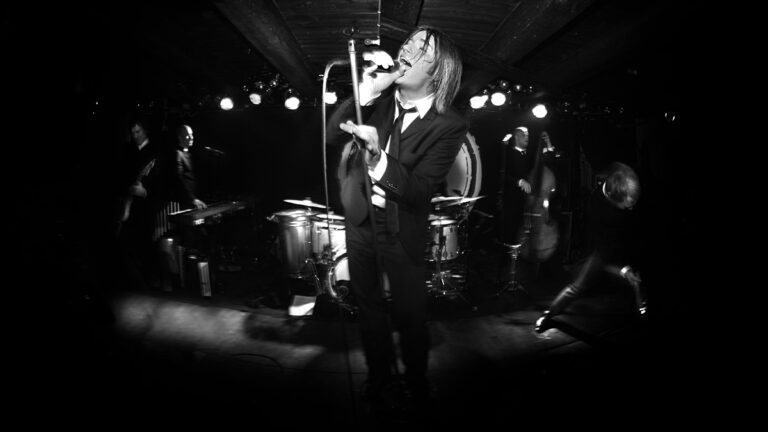 They then decided to spend the rest of 2008 touring 250 Prosent and mainly playing older songs that had been dropped from their recent setlists. This was then followed in 2009 by the album Våre demoner (Our Demons). This was a collection of songs written throughout the Kaizers' career that had never made it onto a record before.
Violeta Violeta
In February 2010, the band announced that their next album would actually be a trilogy of albums called Violeta Violeta.
The first single from this ambitious project, Philemon Arthur & The Dung arrived in August, followed by Hjerteknuser (Heartbreaker) in October. This rapidly became their biggest selling single and remains so to date.
The first album, Violeta Violeta Volume I finally arrived in January 2011. It received mixed reviews that were, overall, more positive than negative. In April, to coincide with their tenth anniversary, the band played a sell out concert at the Oslo Spektrum – one of the largest concert venues in Norway.
In the summer, they started introducing Violeta Violeta Volume II to the world, performing the album in its entirety at the Øya Festival in Oslo. They finally released the album in November 2011 along with a recording of the Oslo Spektrum concert as Live i Oslo Spektrum on CD and DVD/Blu-Ray.
In 2012, the band started teasing the final part of the Violeta Violeta trilogy with an innovative marketing campaign known as The Kaizervirus. The first single was finally released in September and the album swiftly followed in November.
The tour that followed the release of Violeta Violeta Volume III in 2013 was announced to be their last. They toured extensively in the autumn months, including their first ever date in the UK, and then on September 15th, after a run of eight shows at the DNB Arena in Stavanger, they finally left the stage for the last time.
A unique sound
Kaizers Orchastra's unique sound is a large part of the reason why they're so popular. In trying to write this article I've looked constantly for comparisons and found both many and few. At their core is a multi-instrumental heart – rather noisy – that evokes the sounds of travelling carnivals.
On top of that, however, there are many other layers. Different songs can have very different sounds, covering many different genres of music.
From folk-rock all the way up to the epic sounds that fill arenas, Kaizers Orchestra have something for most tastes. This is probably what makes them Norway's biggest Norwegian-language export outside of the very different world of Norwegian black metal.
One other thing that sets their music apart from most is that they write songs to tell stories. Most of their albums weave a series of fantastic tales all seemingly set in a world that's as rich as that of Tolkien or even the Marvel Cinematic Universe!
With recurring characters and intertwined stories, that lends itself perfectly to an opera or musical and, in 2011, the musical Sonny was debuted, featuring music from their first three albums.
Dine gamle dager er nå
Of course, Kaizers Orchestra never announced they were splitting up. This was always billed as a long break, or hiatus, so it was always a matter of when, not if, they would get back together and return to the public eye.
In October 2022, nine years after they'd last been heard of together, the band announced they'd found some old t-shirts. They said they would be donating them to the charitable clothing shop, Fretex, where they'd bought their first stage costumes in 2001. Fans naturally flocked to get their hands on them and soon discovered something special.
The shirts had a QR code printed inside them that led to a website dinegamledagererna.no which, when accessed through the QR code told them they were 'one of the 107'. Other users who tried to access the site simply saw a music box playing an unfamiliar tune.
Some users then received a physical music box along with another QR code, leading to an Instagram account. This account teased images and stories for two weeks before revealing a fully instrumental version of the music box tone, along with the numbers '7 11 19:07'.
On November 7th at exactly 19:07, the video for the song Dine Gamle Dager Er Nå (Your Old Days Are Now) premiered on their YouTube channel and then, finally, two days later the band officially announced their reunion and the huge tour of Norway.
The future of Kaizers Orchestra?
Obviously, fans are now eagerly looking forward to the forthcoming tour that will take up large parts of 2023. Also, people are excited for what else might be in store. The fact that a new song was released as part of the viral marketing campaign for the new tour certainly hints that more new music might be on the way.
With information surfacing that the reunion had been planned for at least two years in advance, it seems unlikely that they'd go to all this effort just for one last tour. Either way, it's undoubtedly an exciting time for fans of Kaizers Orchestra both at home and around the world.
Have you heard of Kaizers Orchestra before? Are you a fan of their music? Let us know in the comments below.