This remarkable boulder wedged high above a famous fjord is one of Norway's most beloved hikes. But it's not a walk in the park. Here's what you need to know about Kjeragbolten.
Hiking in Norway is a wonderful way to embrace the Nordic love of nature. Whether it's a stroll through a city forest or a hike through rugged mountains and verdant valleys, Norway's hiking trails offer memorable outdoor experiences.
Among this seemingly end choice of trails, the iconic Kjeragbolten hike holds a special place in the Norwegian soul. Poised precariously above a frightening drop, the challenging hike beckons the brave and the bold.
This is no walk for beginners. You'll need experience and the right equipment. But for those prepared to put in the effort, you'll be rewarded with a lifelong memory. There's few better places to truly immerse yourself in the Norwegian love of the outdoors.
It's hard to believe this magnificent boulder, wedged in a mountain crevice in the stunning region of Rogaland, was placed there by nature. But it's exactly that wonder that brings hikers from all over the world to the remote Kjerag mountain.
The famous Kjeragbolten boulder
Stepping out onto the boulder is not for the nervous person. But the most heart-thumping moment happens moments before you get there. There's a very narrow path that leads to the boulder! It's only a few steps long, however.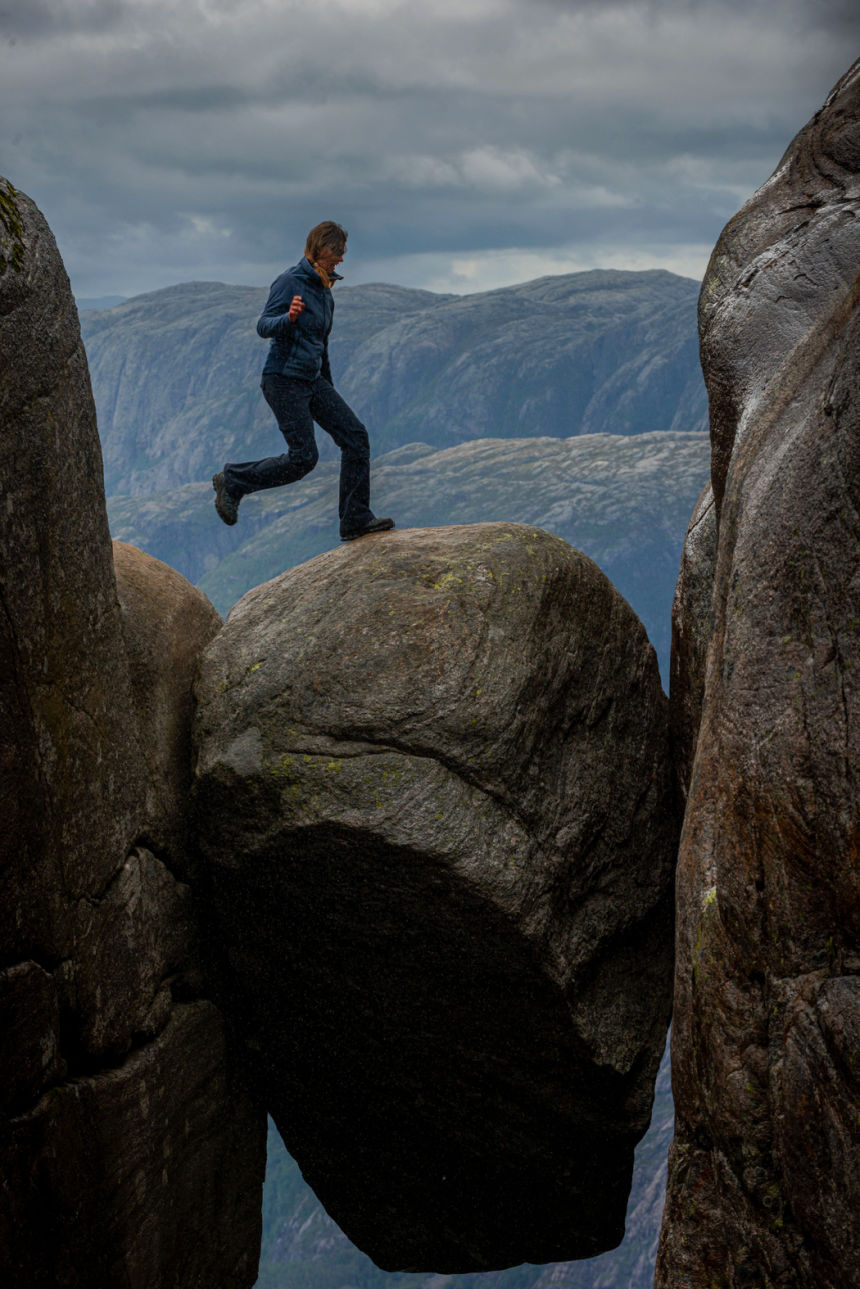 Nevertheless, huge numbers of people head here every year to take their turn standing on the boulder, whether it's for a photograph or simply to say "I've done it."
Although it might seem a crazy risk, Kjeragbolten is safe as long as people respect the environment. At the time of writing, there have been no recorded tragedies.
Getting to Kjerag
To begin your adventure, you'll need to travel to the base of Kjerag basecamp. This is a journey in itself!
The city of Stavanger, well served by an international airport, acts as the main international gateway. From Stavanger, a 2.5-hour drive brings you to the parking area for the Kjerag mountain, close to the village of Lysebotn at the very end of the beautiful Lysefjord.
Lysebotn is a tiny village but has several accommodations and services specifically aimed at hikers heading to Kjerag. The trailhead itself at Øygardstøl is clearly marked on maps and has a large parking area (charges apply) and service building.
Øygardstøl is located at the top of Lysevegen,a steep road with 27 hairpin roads and an attraction in its own right.
During the high season, it's possible to travel along the Lysefjord by ferry to begin your trip at Lysebotn. A local shuttle bus is available to transport you from Lysebotn to the Kjerag trailhead.
Guided hikes that include bus transport from Stavanger are available in high season. The journey itself is part of the appeal, with the Norwegian landscape offering steep-sided fjords, lush valleys, and rugged mountain scenery to enhance your trip.
The Kjeragbolten hike
The hiking trail to Kjeragbolten is challenging, but the payoff is undeniably worth it. But, no matter how keen you are to emulate the famous photos, this is not for the inexperienced hiker.
The full trail spans 12 kilometres with a total elevation gain of almost 800 metres along the way. This is no walk in the park. You can expect chain-assisted steep areas and slippy rocks along the way.
Given the length and difficulty of the hike, it's impossible to tell you exactly how long it will take. Norwegian hiking groups give the estimated time for the roundtrip hike at 6-10 hours, depending on your fitness level, hiking experience, weather conditions, and how many other people are on the trail and boulder.
Depending on when you hike you may also encounter snow on the ground, which can make things more awkward.
The trail explained
The trail begins at the Øygardstøl parking area near the Lysebotn road. From there, the hike is divided into three ascents and two descents into shallow valleys.
The initial ascent is the steepest and can be physically demanding. Chains have been installed in the steepest areas to help you safely negotiate your way up.
Upon reaching the highest point, the trail becomes less strenuous and more enjoyable. You will meander through high mountain terrain with the occasional small climb or descent before you get your reward.
There are no restrooms along the way so make sure you use the facilities at Øygardstøl. An emergency shelter is available but this is for genuine emergency use only, such as for injuries or if a sudden change of weather leaves you stranded.
As with most hiking trails in Norway, the trail is marked with red "T" signs on signposts but also painted onto rocks and cairns. It's sometimes hard to spot them, so remember to pause if you haven't seen one in a while and check you're on the right track.
What to bring: Packing for Kjeragbolten
Considering the challenge and duration of the hike, make sure to bring plenty of water, a packed lunch, and high-energy snacks. It's the perfect opportunity to test out Norway's hiking chocolate bar, Kvikk Lunsj!
The weather can be unpredictable, so layer your clothing and bring rain gear. A waterproof outer layer is absolutely essential, no matter the weather forecast. You may also want to bring at least one change of socks.
Sturdy hiking boots are a must, as the trail can be rocky and sometimes wet. Also, bring a map and a compass, or a GPS device, as some parts of the hike are not as well-marked as others. It's easy to get lost if you're not paying attention.
It's also a good idea to pack a wide-brimmed hat, sunglasses and sun cream. There's no guarantee of good weather, of course, but if the sun shines you'll be out in it for hours with very little possibility to get any shade.
When to take the Kjeragbolten hike
The best time to hike to Kjeragbolten is in the summer months (June to September) when the trail is usually free from snow and the weather is milder.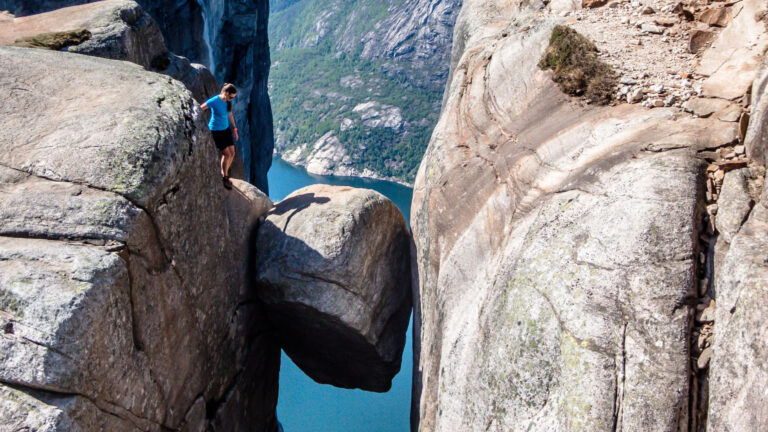 Even in summer, mornings can be chilly, so an early start is recommended not only to warm you up but also to ensure you have plenty of daylight for the hike.
Finally, remember that Kjeragbolten is not just a destination, but a journey. It's a place where you can commune with nature and challenge your limits, all while enjoying some of the most breathtaking views on the planet. So go forth, adventurer, and let Norway's Kjeragbolten enchant you with its wild beauty.
What others say about Kjeragbolten
Not sold on the experience yet? Don't just take our word for it. Here is what some leading travel writers and bloggers have had to say over the years.
"We have hiked on some amazing trails around the globe, in countries like Australia, South Africa, China, and Nepal. The four of us agree that the Kjeragbolten hike is still our favorite in the world" – Earth Trekkers
"When you reach the plateau, if you're lucky, have a lookout for base jumpers jumping from the high cliff right across from where you are having a rest. Three base jumpers jumped while I was enjoying the view" – Unusual Traveler
"If you're up for a challenge and view that ranks among Norway's most sublime, sign up right here" – Lonely Planet