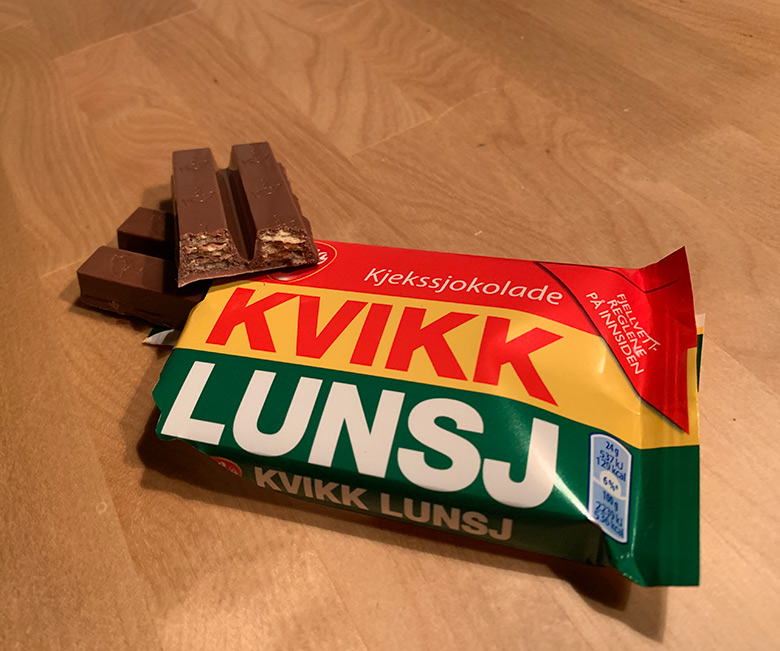 The most popular snack in Norway by a distance is this humble four-finger chocolate-covered wafer. Introducing a true Norwegian icon: Kvikk Lunsj.
In such a healthy and active country as Norway, I find it hard to comprehend that a chocolate bar has such a place in people's hearts! But that's exactly what this brand has. Introducing to you, the Kvikk Lunsj.
An iconic Norwegian snack
Its distinctive red, yellow and green wrapping attracted me to pick one up in a Norwegian supermarket on my very first day in Oslo. Little did I know, I was about to take my first taste of a Norwegian icon.
A Kvikk Lunsj is pretty much exactly the same as a KitKat. More on this later! It has four fingers of chocolate covered wafer, that you can break off one-by-one. To share I suppose, although I rarely do 🙂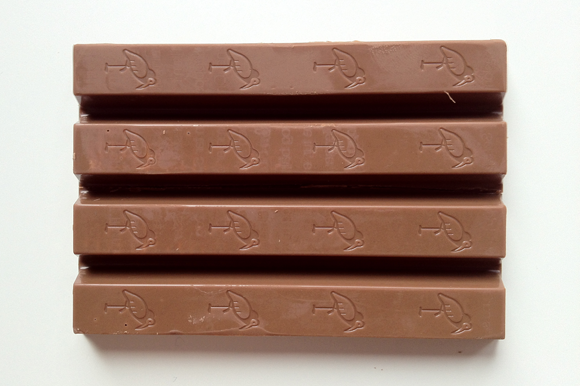 It was brought to market by Norwegian confectioner Freia in 1937, two years after the KitKat. But it was in the 1960s that Freia took a critical step. They began to promote the Kvikk Lunsj as the chocolate bar for hikers and skiers.
The outdoors connection
Currently celebrating its 75th anniversary, Kvikk Lunsj marketing campaigns have developed over the years. However, the basic concept of the connecting with Norway's outdoors lifestyle has stayed central.
The wrappers now feature a different hiking and/or skiing trail inside each one complete with the phrase "God Søndagstur". For the non-Norwegian speakers amongst you, it essentially wishes the hungry recipient a good Sunday hike!
The idea behind the marketing is to encourage Norwegian hikers to pack a couple of these bars in their napsacks every weekend when they head to the hills. And they do. The average Norwegian eats nine Kvikk Lunsj bars every year! Helped of course by the fact that Kvikk Lunsj is one of the cheapest chocolate bars on the market.
A nice touch on the wrapper is a small box identifying the region of the hike featured inside. So if you're heading to Tromsø, for example, you can look for the Tromsø bars before you buy! Of course, hikers don't actually rely on a chocolate bar to plan their routes, but it's powerful marketing all the same!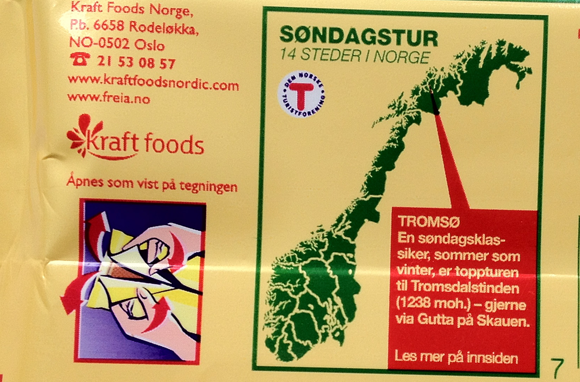 The history of an icon
The chocolate bar was first launched by Freia in 1937. This was shortly after the KitKat. It's known that a Freia manager found the KitKat while travelling and decided to launch a similar product. However, although the product idea was the same, many aspects including the recipe were quite different.
Read more: The Most Popular Norwegian Chocolate Bars
It has been produced consistently ever since, with the one exception caused by World War II. Production was halted between 1941 and 1949 because of a lack of sugar and poor quality of flour.
The KitKat issue
I mentioned earlier the similarity to the KitKat, which is now owned by Nestle. The company had tried for years to trademark the four-finger shape. Back in 2016, Nestle was granted a trademark by the EU's Intellectual Property Office. However, this was overturned less than two years later by the EU's Court of Justice.
A University of Oslo blog post points out that the recipe—even today—remains quite different. There's also different nutritional values between the products, which Kvikk Lunsj having a higher fat content and calorie count.
The website Quartz said the whole issue was simply great marketing for the Scandinavian chocolate, which lacked brand recognition outside the region: "Every time news from this ongoing legal battle breaks though, it gains a little more fame."
In a taste test, which one wins?
The Guardian held a taste test in 2017, which the Norwegian version won hands-down. "It's official. Not only is it not a unique, trademarkable product, KitKat isn't even the best four-fingered chocolate bar in Europe," said the newspaper.
Over on Gerd's Consumer Behaviour Blog, he talks very fondly of the Kvikk Lunsj, a sentiment which seems shared by so many Norwegians I meet:
Kvikk Lunsj, I do not know how you would do in a blind taste test against Kit Kat, but I know that our connection is much deeper than that. You are so much more than a chocolate bar to me. You are everything I like about Norway: hiking with my family, reaching the goal and take a break, simplicity and purity.
I'll sign this post off with a video of an old Kvikk Lunsj TV advert, just to really ram the point home. God tur!