Life in Norway Show Episode #66: What is it like to learn Norwegian as a teenager in the US and then move to Norway 20 years later? Find out on the latest episode of our podcast.
Although fewer people listen to episodes than read articles, I get a lot of feedback on the podcast. So many people have asking when the next episode would be published, and I'm delighted to say that day has finally arrived!
Among the feedback, one of the most common requests I get is to do more interviews with people who have just made the move to Norway.
That makes sense, as much of what I remember from my own relocation is now out of date. A lot can change in 10+ years. Today's guest has moved to Trondheim in 2022. And she has a truly fascinating story to tell that will be of particular interest to Norwegian American listeners.
We talk about learning the Norwegian language as a child, her love for Norwegian culture, finding a position in Norway and her first impressions of life in Trondheim.
Listen to the show
You can listen to the show using the web player below, or on your podcast player of choice. This includes: Apple Podcasts, Google Podcasts, Stitcher, YouTube (audio only) and Spotify. Simply search for 'Life in Norway' on your platform of choice to get started.
Wherever you listen, don't forget to hit 'subscribe' so you don't miss a future episode!
Introducing Kari Nixon
Today's guest is Kari Nixon, a scholar of medical humanities and Victorian literature. She currently holds a position as a Postdoctoral Fellow at NTNU here in Trondheim, Norway.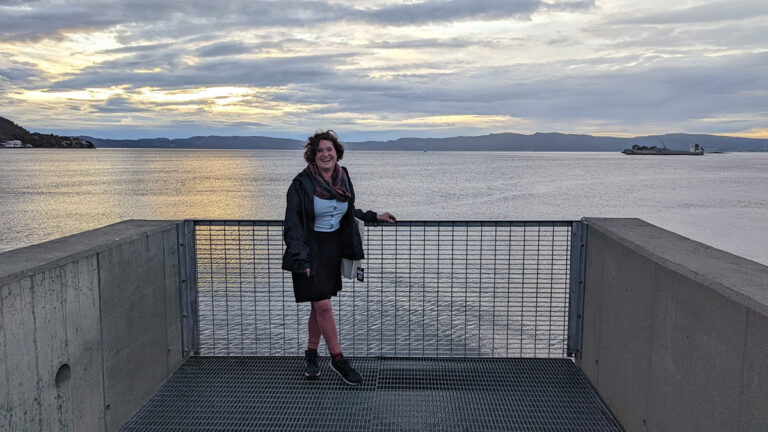 What makes her story of particular interest for the show is that Kari actually learned Norwegian 20 years ago! As a 13-year-old, she joined a Norwegian summer camp called Skogfjorden, offered by Concordia Language Villages.
Norwegian summer camps in the US
I've always thought summer camps were a distinctly American concept, although I didn't really know much about them. Just from the movies!
Kari explained that the Skogfjorden camp is an immersive experience intended to teach young people the Norwegian language.
But there's also a major cultural aspect to the camps. Participants only consume media in Norwegian, eat Norwegian food and learn all sorts about Norwegian culture. Many young people return year after year.
Can you really learn Norwegian in the heartland of America? Turns out you can. Kari had few problems understanding and being understood when she moved to Norway 20 years later.
Links from the show