This post was originally published on Destination Unknown, the blog of Satu Vänskä-Westgarth, a 30-something outdoor enthusiast and fairly new mom from Finland.
Someone recently asked me why, how and when our little family ended up in Norway and that question kind of took me by surprise.
It feels like we have always been here.
I first came to Norway in 2003 for a semester at the NHH business school in Bergen, the location solely chosen based on the fact that it was close to Voss, one of the white water meccas in Norway. I was determined to become a raft guide and spend my summers kayaking in one of the best destinations in Europe, or world even.
And that I did. And I got together with my now husband that first summer. And since then we've been coming back summer after summer. Sometimes for holidays, sometimes (always for my husband) for work.
But I do remember the one particular visit we took to Lillehammer, just before we found out that this is it. Home.
We drove around the lakeside roads in Lillehammer, that eventually turned into dirt tracks and finally cul-de-sacs, in our search for the town beach. Surely there must be one, the waters of Mjøsa were perfect for a cool dip in a rare hot Norwegian summer's day.
Not long after, we were lounging on the field of trimmed grass after our failed quest for the public beach. We had edged as close to the water's edge as we could, and lazily shoved away bugs that refused to change the course of their path just because we had decided to position ourselves on their usual route.
We were waiting for the midday to arrive, for the ski lifts to start their summer job in taking bikers up the mountain in the nearby village of Øyer. This was our escape to avoid valley fever further up in the Gundbransdal valley, where the tiny little village of Sjoa was inhabited mainly by kayakers and rafters like us every summer season.
You would think a town that once hosted the Winter Olympics would be at least a small city or large town. But it was hard to imagine how once thousands of people had fitted along the short main pedestrian strip and squeezed into the limited number of cafes, restaurants and pubs this small Norwegian town had on offer. Still for us, after months in the mountains, this was haven. People spotting, cozy cafes, shop windows and cinema all provided something we were lacking when living the outdoors lifestyle.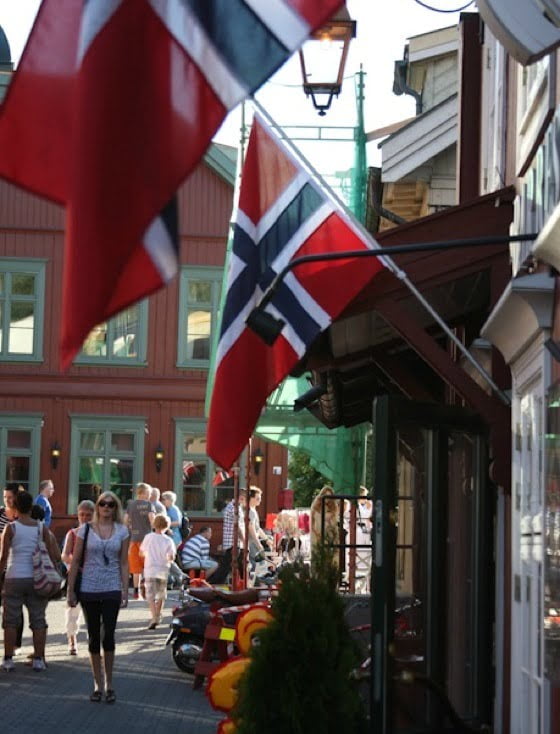 Driving on the back roads to the ski hill we avoided the holiday traffic dominated by camper-vans and caravans on the E6, the main road that stretches all the way from the southern tip of Sweden to the Barents Sea in the Norwegian side. We could see the traffic crawling along. Maybe there had been an accident further up the road, an occurrence that the one single lane of Norway's main road didn't do any favors for.
I felt slightly out of place, sitting in the gondola for the first time with my all-around cross-country bike and light helmet that wouldn't take too many hard hits. I had seen the attire of the other riders and it was far more serious with padding, full-face protection and baggy clothing.
Happy to be distracted, the views soon crabbed my attention and I was nothing but content as we moved further and further up the side of the mountain. You could see far along the valley, a hint of the peaks in the Rondane national park and the River Lågen that drifted peacefully through Øyer before disappearing into the dam at Hunderfossen and reappearing as a thunderous mass of water.
I didn't guess then, on that sunny day, that this would soon become my hometown.
Want to know more about Lillehammer? See my post at Skimbaco on Summer Adventures in Lillehammer and my Outdoor Activities in Lillehammer – Adventure City Guide in Four Jandals.