Superstar blogger Vanessa Brune reveals all about living in the Norwegian Arctic, why she loved it, but why she's now ready to move on.
Vanessa burst on to the blogging scene a few years ago when she started to share her experiences of travel and life in and around northern Norway on Snow in Tromsø.
UPDATE: Don't miss Vanessa's appearance on the Life in Norway Show, where we dig into many of the points raised in this interview. You can listen in on iTunes, Stitcher and even YouTube, and you can find out all the information over here.
Having thoroughly enjoyed each trip I've made north, I have long wondered what it would be like to live there, so her blog quickly became a must-read for me.
I was lucky enough to meet Vanessa in Tromsø when I was on my research trip for my Moon Norway travel guidebook and her enthusiasm for the town shone through.
So, when I recently read she had decided to move away from the city, I was somewhat taken aback!
She has kindly agreed to tell her story here on Life in Norway. Thanks for your time, Vanessa!
Where are you from originally?
I'm from a small town in North Rhine-Westphalia, Germany. After living in the area for the first 23 years of my life, the travel bug hit me and I decided to travel around Scandinavia for a while – and basically haven't really stopped doing that since.
Why did you move to Norway/Tromsø?
I took a gap year after finishing undergrad studies in Germany to travel and figure out what I wanted to do with my life. Right at the beginning of that year, I stumbled upon an online course in Northern Studies at the University of Tromsø (UiT), which I applied for and got accepted.
Instead of just learning about the North online though, I travelled around Northern Norway for a couple of weeks and also visited Tromsø, which had me hooked immediately. The city was just so different from anything I'd ever seen at that time!
Originally, I had plans to move to Sweden to do my Masters and even learned Swedish for 3 years at university in Germany, but my growing interest for the Arctic lead me to finding the Master's program in Indigenous Studies at UiT, which I started in 2014 and graduated from last year.
What is the best thing(s) about living in Tromsø?
The gorgeous Arctic nature that surrounds you. To look out of the window and see snow-covered mountain tops, no matter what season, makes you feel incredibly spoiled. It also never is a short way to nature in Tromsø, no matter which part of the city you live in.
I guess this kind of goes for all of Norway but I personally find the landscapes around Tromsø just a bit more special and fascinating than in the rest of the country. The sight of Store Blåmannen Mountain over on Kvaløya in particular is one that I'll remember fondly.
What are 2-3 must-sees for someone visiting Tromsø?
When visiting Tromsø, you have got to make your way up to Fjellheisen cable car station. It doesn't matter whether you hike up the mountain or take the cable car but you've got to make your way up somehow.
The view on Tromsø from above is just stunning and I can guarantee you, you're going to want to sit up there and take in the view for the rest of the day!
Another place you should definitely visit if you have the chance to rent a car, is the island of Kvaløya. It's basically Norway in a nutshell and offers everything from dramatic mountains to lush fjords and even sandy beaches.
In the summer, you will most likely see reindeer along the way and you can also admire ancient rock carvings at Hella!
A bit further away is Sommarøya, the "summer island" where the water is turquoise and the beaches plenty. To put it short, if you're interested in seeing a place that looks like the Caribbean but is actually in the middle of the Arctic, Sommarøya is where you should head to!
How do you cope with the dark winters?
To be honest, I don't. I've spend 3 winters in Tromsø and have tried each and every one of the coping mechanisms people recommend: taking vitamin D supplements / fish oil, daylight lamp therapy, visiting the solarium, exercising, going out during the few hours of twilight etc.
While taking vitamin D supplements and going outside during twilight certainly helped me to cope the most, I unfortunately suffered from seasonal affective disorder in each of my 3 winters in Tromsø, and it only seemed to get worse after I started to work full-time and was trapped in an office without windows to the outside world each day.
As much as I love the Arctic, after a while I just had to accept that I'm not cut out for the winters there, which brings us to the next question:
Why are you leaving?
The main reason of why I'm leaving Tromsø is my health. I don't cope well with polar night and don't see the point of having to take medicine every winter just to be able to live in Tromsø.
Life in Tromsø, as gorgeous as the city is, has a few other flaws though, so the tough housing market and the city's remote location have contributed to my decision to leave.
My boyfriend Simon and I both had work contracts and a lease coming to an end, making this summer the perfect time to move. After 3 years in the Arctic, I'm also looking forward to being more flexible again when it comes to travelling.
Where are you moving to, and why?
We're planning on moving to Southern Norway at the end of the summer.
Kristiansand, Stavanger and Bergen are the places we lay our eyes on and while all of these will certainly come with challenges and flaws of their own, we're looking forward to life in the south-west of Norway as there are plenty of places for us to explore there, that we haven't been to yet.
The decision to move to the south-west mainly arouse from the fact that we wanted to live somewhere more central in Norway, south of the Arctic Circle, not in Oslo, but still in a bigger town.
We are intrigued by the weather in Kristiansand, the current housing prices in Stavanger and the cultural scene in Bergen. To see where we'll eventually end up, you're more than welcome to follow along at my blog Snow in Tromso.
What happens now to your blog?
Nothing. Snow in Tromso has never been a blog just about Tromsø and although I have to admit that the name choice I made over 3 years ago was quite unfortunate, I don't think a rebranding is necessary at this stage.
As my readers know, the blog has always been about travels and life up north in general and thus, I've written about everything from visiting Swedish Lapland, my fieldwork in Greenland, Norwegian traditions, and Sami reindeer herding, in addition to travel tips and expat advice on Tromsø.
I will continue to provide tips and advice for those looking into visiting or moving to Tromsø, as I have lots of content left to share even though I don't live in the city anymore.
What is the one piece of advice you would give to someone planning a move to Tromsø?
Prepare yourself. Whether that's for the dark season, the tough housing market or just life in Norway in general. Preparation is key in order to "make it" in Tromsø, as life in the Arctic differs quite a lot from life in Central Europe.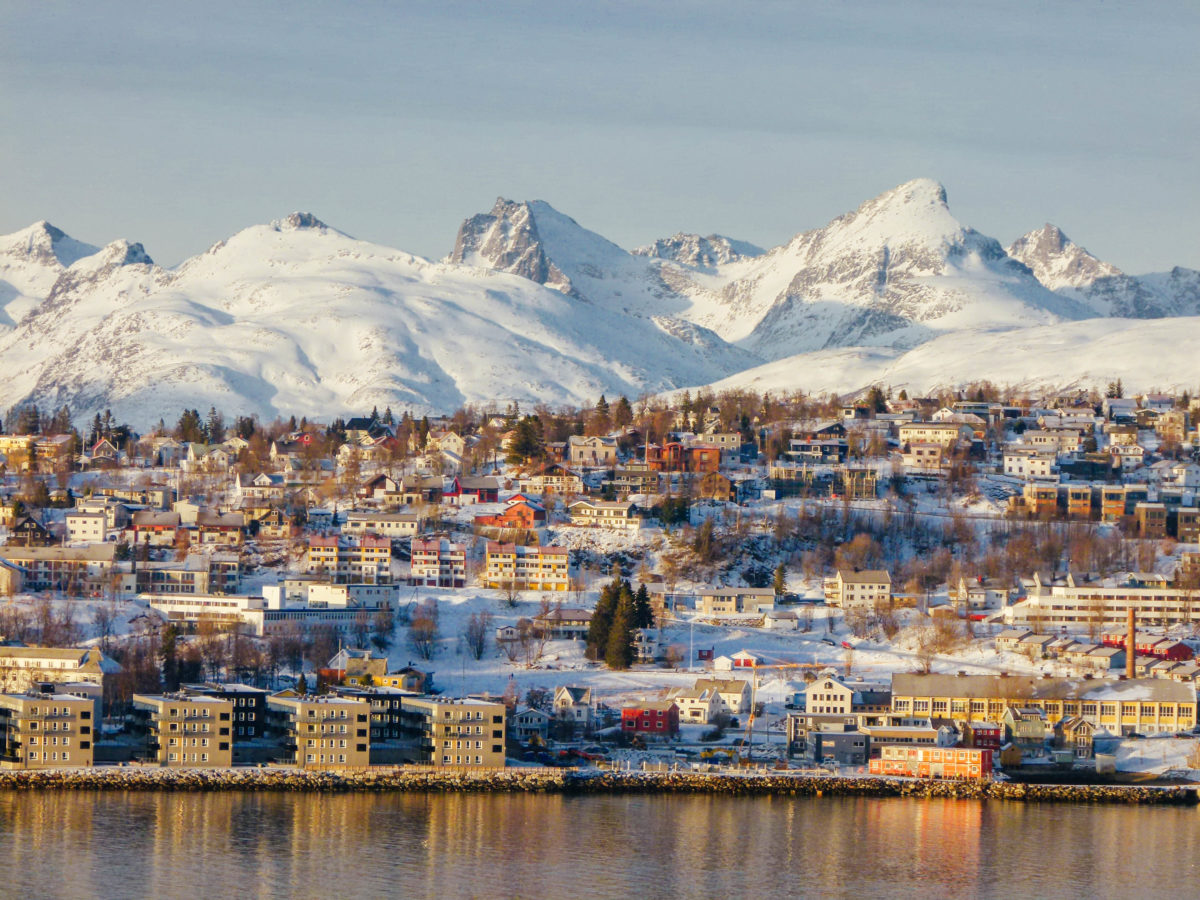 You'll live in a quite remote place in Tromsø and travelling back and forth to see your family might put a significant strain on your budget.
Figure out how you'd cope with polar night before you actually make the move, set yourself a budget for accommodation and bring enough savings to pay the deposit (usually 2 months), and last but not least, learn Norwegian in order to find a good job.
I get asked this quite often but it's not as easy to find a job without speaking Norwegian as you might think – especially not if you're looking for full-time employment. A lot of expats in Tromsø therefore start out as tourist guides, hotel/restaurant staff or kindergarten assistants.
Keep in mind however that the market for part-time jobs is quite saturated already as Tromsø is a university city and you'd have to compete with all the students looking for a job.
Anything else you'd like to add?
If it's your dream to live in the Arctic one day, whether that's forever or just for a year, by all means: do it!
Despite what I advise others, I certainly wasn't as prepared as I should have been but still had an amazing 3 years in Tromsø, and made memories that'll last me a lifetime.