What's it like to live in Northern Norway? We speak to a local to understand the realities of everyday life in Arctic Norway.
Vanessa is a 25 year old German who decided to move to the Arctic in 2014. She lived in Tromsø for many years and also travelled to Iceland and Greenland. You can also hear more from Vanessa on this episode of the Life in Norway Show.
With this article I aim to give newcomers to Tromsø a more realistic picture of what everyday life here in Arctic Norway is really like.
Let's bust some stereotypes!
Surviving the polar night
Whenever I hear people talk about the total darkness of a Tromsø winter, I cringe a little. It's true that between the end of November and the end of January, the town experiences the polar night. But although the sun doesn't rise, we still have daylight from around 10am to 1pm.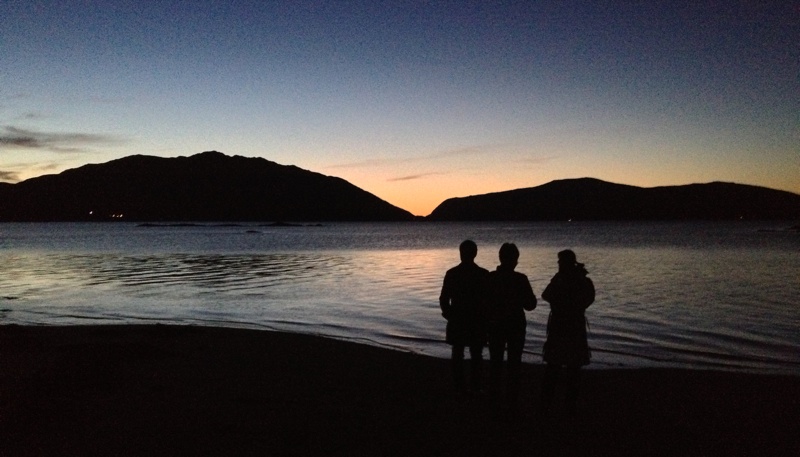 It's such a special time! On a clear day, the skies turn a brilliant pink-orange just before it gets light outside and before it gets dark again. In between these times, the skies are mostly blue and the locals call this the 'blue hour'.
As lovely as it is, if you're not used to the polar night it can be difficult to adjust. It's important to keep up your usual sleeping routine and not sleep in until midday just because it's dark outside!
In the absence of real sunlight, many Norwegians drink fish oil to keep up their vitamin D levels while I personally enjoy going to the solarium to pretend…
Seeing the northern lights
If you're planning a trip to Tromsø at the darkest time of year with the hope of seeing the northern lights, chances are you'll be disappointed.
In order to see the lights, the skies must be clear. November & December are known for being rather wet and cloudy. Even if you visit in October or March when the statistics are in your favour, there's still no guarantee if you only stay for a couple of nights.
All you really need is patience, because on a clear night you can see them from downtown Tromsø. An organized tour is only really worthwhile on cloudy nights, as the tour guides will drive as far as Finland in search of clear skies.
How cold is winter in Arctic Norway?
Incredibly cold, right? Well the good news is, winter in Northern Norway is surprisingly mild, at least on the coast which benefits from the warming factor of the Gulf Stream.
While temperatures from November to March can plunge well below -20C inland, they usually stay between -5 and +5C in and around Tromsø. And yes, we do get a lot of snow. A word of warning though: The wind can make it feel so much colder, so come prepared regardless!
Bathe in the midnight sun
The most misleading term about life in Tromsø!
I really pity the thousands of tourists who visit Arctic Norway each summer to see the famous midnight sun, only to be greeted with cloudy skies and rain.
What the midnight sun actually means is the period of time from late May to late July when the sun doesn't set. If you're lucky enough to visit on one of those few days with clear skies, then yes, you can see the sun at midnight. Otherwise you have the pleasure of looking at grey, albeit light, skies for 24 hours a day!
Expect an average temperature of around +10C. It does get warmer but even though it's summer, pack a fleece and some sweaters. You won't regret it.
The great outdoors
Many new arrivals plan to experience the Northern Norwegian nature by going hiking or mountain climbing every day. While that's not impossible, you will need a car if you don't want to hike the same trails day after day.
Most of the city's 70,000 inhabitants live on a tiny island in the middle of a fjord. It's really frustrating if you've just arrived and can't yet afford a car as everyone around you tells tales of their exciting hiking tours. We do have beautiful nature in and around Tromsø, but most of it is unfortunately only accessible by car.
Culture and events
If you want to go to the theatre, dine at hip new restaurants and go clubbing every weekend, life in the Arctic might not be right for you.
Having said that, Tromsø is by no means a boring place! We have the Midnight Sun Marathon, Tromsø International Film Festival, Sami Week and many more, so unless you're used to going out every night of the week, you shouldn't get bored here.
What do the locals eat?
Search for Norwegian food online and you'll find images of reindeer stew or dried fish. While restaurants in the north do offer that, you're much more likely to stumble across the likes of 'taco Friday' and Grandiosa frozen pizzas.
Despite the massive fishing industry, Norwegians generally eat far unhealthier food than you'd expect. Don't be surprised to find bread with sugar, and pizzas with taco topping. How rates of diabetes aren't far higher here is beyond me.
Finding a job in Arctic Norway
It's a common misconception that there are no jobs available in Tromsø outside the fishing and tourism industries.
The Norwegian University of the Arctic (my alma mater) is situated in town and attracts thousands of students and researchers each year. Many biologists but also people who are studying law and medicine find that Tromsø offers excellent academic opportunities.
I work in digital marketing, which I could do anywhere in the world.
Cost of living in Tromsø
If you think that life in the Arctic is expensive, you're unfortunately right!
Rental prices are insane and the housing market is tough. Food and other everyday items can cost more than in the rest of Norway because of the high shipping costs. This also means the selection of food can be limited, although I live near a giant Europris where they do sell some German chocolate and candy!
Surprisingly, fruits and vegetables are available all year round although the quality and price are not always what you might expect.
I hope this gave you some insight into what everyday life in Tromsø and Arctic Norway is really like. Feel free to leave a comment below if you have any questions!