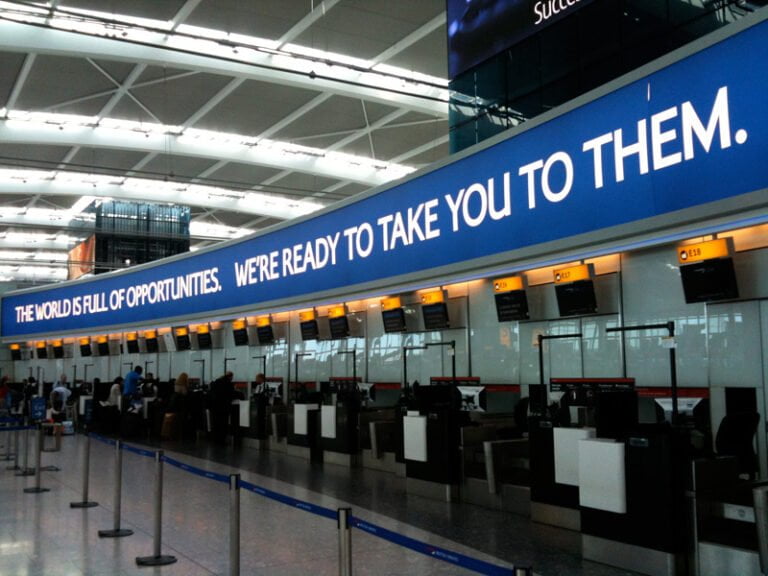 As I'm sure you've figured out from this blog, I travel a lot. I try to get back to the UK every few months and travel around Norway extensively.
I should explain that I love flying and I love airports! For many a plane is a way to get from A to B and airports are nothing but an annoyance. For me, it's all part of the travel experience. As such, I absolutely love T5, the new(ish) British Airways only terminal at London Heathrow.
The buzz of people flying quite literally all over the world is thrilling and I get a real kick from it. Sad yes, but I know several of my friends feel the same! Although I started off my Norwegian adventure by flying Ryanair from Stansted to Oslo, I now fly mostly with British Airways (or SAS), predominantly because it's more convenient for me at both ends of the journey.
Lately I've been fortunate enough to obtain quite a few bargain Club Europe seats in the sales around Christmas and New Year. Club Europe is British Airways' "business class" on short-haul European flights. Although a long way short of first class travel, it is nevertheless an upgraded experience. This is how British Airways advertise it: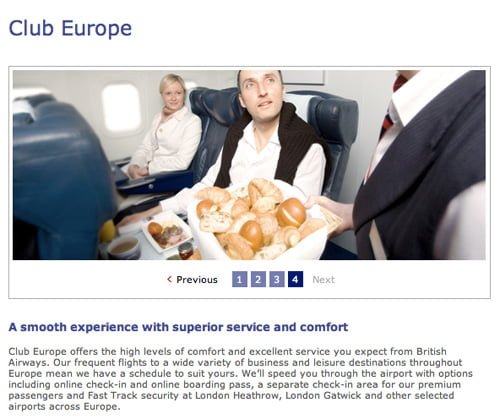 So, does the reality live up to the advertising? This is my experience.
Oslo Airport Gardermoen (OSL)
Land side
Check-in at the Club Europe counter was a breeze and I took full advantage of the 2x23kg baggage allowance. A friendly smile and I was given directions to the lounge. OSL is a SAS (Star Alliance) hub, so I was unable to use the fast-track security. That is, until I smiled sweetly at the guard and said "But I always use the fast-track with this ticket".
Through I went. Heh heh heh.
Air side
Once through security I headed straight for the OSL lounge. The main OSL lounge is Star Alliance only, but there is a secondary lounge for use by other airlines. The lounge is nothing special but it is a quiet place to relax away from the terminal. The food on offer is snacks only, although there is Ringnes (Norwegian lager), white wine and red wine available, as well as the usual tea and coffee. One minor downside of waiting at Oslo is the free wi-fi is limited to 1hr only (tip: if you have a UK and Norwegian phone you can get a password sent to each and therefore up your time to 2hrs – if your plane is delayed this can be useful!)
In The Air – Oslo to Heathrow
At the gate, everyone boards the plane together so there is no priority boarding, although the queue was pretty orderly. There is no separate cabin on Club Europe, the seats of the front few rows are reconfigured to allow two per row rather than three with elbow room both sides. Both times I flew Club Europe I had the whole row to myself and even on a short flight, this makes a big difference.
The first time I flew was a few days before Christmas. Because of this the general stress levels amongst passengers seemed to be higher and of course, all flights were sold out. Given that this was the last flight of the day and catering and duty-free supplies were heavily depleted, the cabin crew did a fantastic job.
Shortly after take-off we were offered a hot towel to freshen up with, followed by a choice of drinks, I opted for a vodka. Due to the catering stretch I was given the choice of chicken with mixed vegetables and cashews, or nothing, so I went for the chicken with mixed vegetables and cashews =)
The meal was served with a bread roll, dessert mousse, some cheese and oatcakes and more booze, followed up with a coffee. And you get the novelty of using proper cutlery. All in all it was a really nice meal and while not top restaurant quality, it was certainly better than some of Oslo's inner-city haunts.
Because things were so hectic and the duty-free was overwhelmed, we were compensated with more booze. Another vodka? Keep em coming! Somehow, a matter of only minutes before landing, I was able to buy two items from the duty-free thanks to some great personal service from the crew, who served me well after the allotted time. Despite the hectic atmosphere, I arrived at Heathrow rested and relaxed. Good job BA!
London Heathrow Airport (LHR)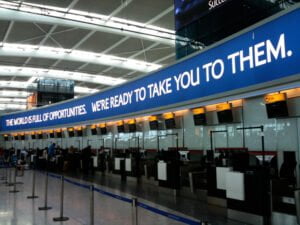 Land side
The value of the Club Europe tickets really showed on my return journey in the New Year. Firstly I could check-in before the standard desks opened, again with the extra bag. I was given clear directions to the fast-track security and the lounge. Clearly with Heathrow Terminal 5 being the British Airways hub, the service was always going to be better.
Air side
There are numerous lounges in T5 for BA/Oneworld customers, I made my way to the "north" lounge. It was streets ahead of the OSL lounge with great food, drink and services. As I arrived late morning, there was a full breakfast buffet which after half-an-hour was changed to the daytime menu, featuring sandwiches, baguettes and a variety of hot food too. Juices, teas, coffees and a dizzying array of alcoholic drinks were available. I stocked up.
Although the lounge was much bigger than at OSL, it was a lot more crowded and therefore a little less relaxing. I did find a corner to make my own though, with a table, comfy sofa and view of Sky Sports News. From here I noticed there was a games room and also showers available for use.
I arrived at the airport early to take advantage of the lounge and I sure got my money's worth. I watched as people came and went, some taking their time, some just popping their heads in to grab a coffee and pastry before their flight. The reason the T5 lounge is so busy is not just the number of BA flights but also any Oneworld frequent flyer (at a certain level) can use the lounge even if they're travelling in economy.
In The Air – Heathrow to Oslo
Unlike in Oslo, at the gate Club Europe ticket holders can board first which allows you to settle in your seat before the rush. The flight back was more relaxed than the first and the service was almost identical, with a similar meal (again without an option) and the opportunity to have a couple of lunchtime glasses of wine.
Summary
I will travel Club Europe from Heathrow to Oslo when I see a sale, but from Oslo to Heathrow the benefits don't really justify the extra cost, even during a sale period. The exception to this is when I need to transport extra baggage.
For the business traveller there are clear advantages of flying Club Europe. It's easy to work from the lounges and with the food/drink on offer throughout the journey it allows you to get more work done without disruption. For the casual flyer, the benefits are less but it all depends what you want from your travel experience.