Overnight trains are a convenient option to travel between two Norwegian cities, but they are not for everyone. Here's what to expect when taking a night train in Norway.
When I first moved to Norway, I used night trains a lot to travel between Oslo and other big Norwegian cities. They were a convenient and most importantly of all, a relatively cheap option.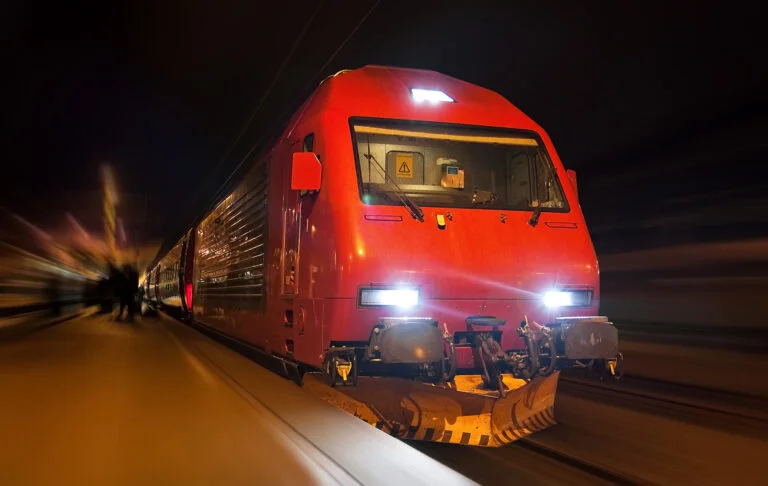 Recently, I have rediscovered the joys of the night train, having just returned from Oslo to Trondheim on an overnight service. Whereas back in the day I booked a regular seat, this time I booked a sleeper cabin.
The experience is quite different. If you live in Norway and don't drive or you don't plan on renting a car when you're visiting, overnight trains could be an option for you.
So, as part of an ongoing series on train travel in Norway, here's what you can expect when taking Norway's night trains.
Why take a night train in Norway?
People take night trains for several reasons. First and foremost, they can offer terrific value for travelling between two cities without a car. Train fares are usually slightly cheaper or on a par with a flight, but they save you money on a hotel.
That being said, the quality of sleep you'll get will vary depending on whether you book a regular seat or a sleeping cabin. A sleeping cabin costs more, which may change the equation especially if you're travelling alone.
Of course, one reason not to take an overnight train is to see the scenery. While at the height of summer you'll be able to see a lot, most people will expect the blinds to be pulled down.
What to expect on overnight trains in Norway
There are now several train operators in Norway following the reform of the rail network a few years ago. Despite this, the onboard experience is very similar across all operators, as most trains are owned by Norske Tog AS.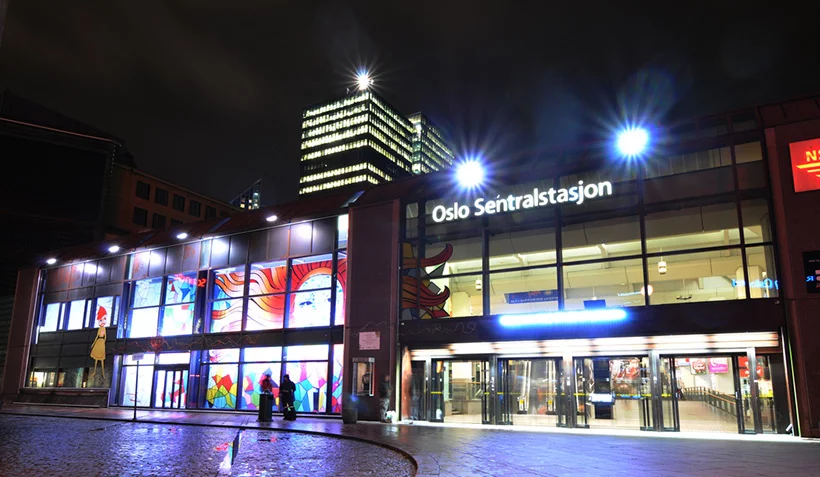 The first thing to explain is that Norway's night train journeys are relatively short. While journey times are usually slightly longer than the daytime equivalent, you will still face a very late departure and an early morning arrival.
On specified overnight services, there are dedicated sleeping carriages in addition to the regular seating. There is also a dining car open throughout the night. Booking in advance is essential, especially if you want a sleeping cabin as they usually sell out.
Sleeping cabins
The sleeping cabins are small and basic, typically sleeping two adults. For a good idea of what to expect from a sleeper cabin, check out our video of the Oslo to Trondheim night train above.
Check-in takes place in the station hall. You receive a keycard and are free to board the train as soon as doors open. If you are running late and get to the train just before departure, you board the train and collect your keycard from the dining car.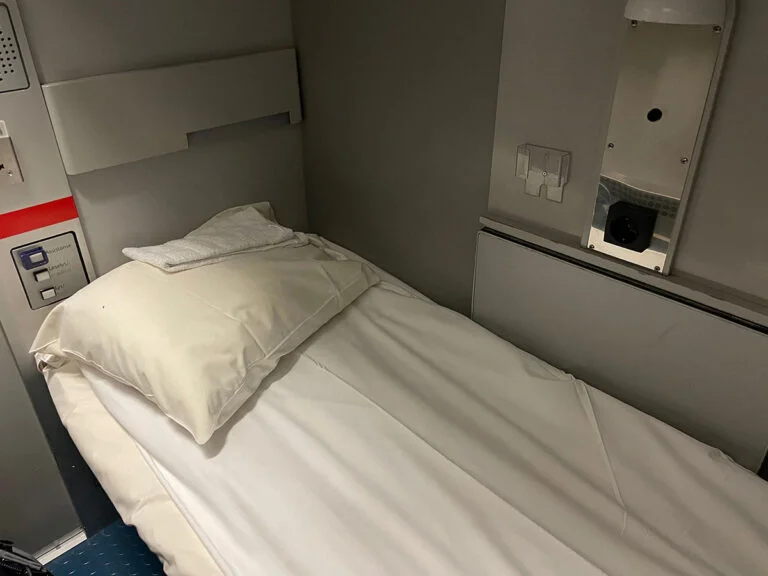 There are two slim bunk beds and a small sink. Each bed has a small reading light together with the main cabin light. A small curtain can be pulled across the window–a great help during the light summer nights!
As for the quality of sleep, it of course depends on what kind of sleeper you are. With ear plugs and an eye mask, I found the rocking of the train actually helped with my sleep, although I still had a somewhat restless night.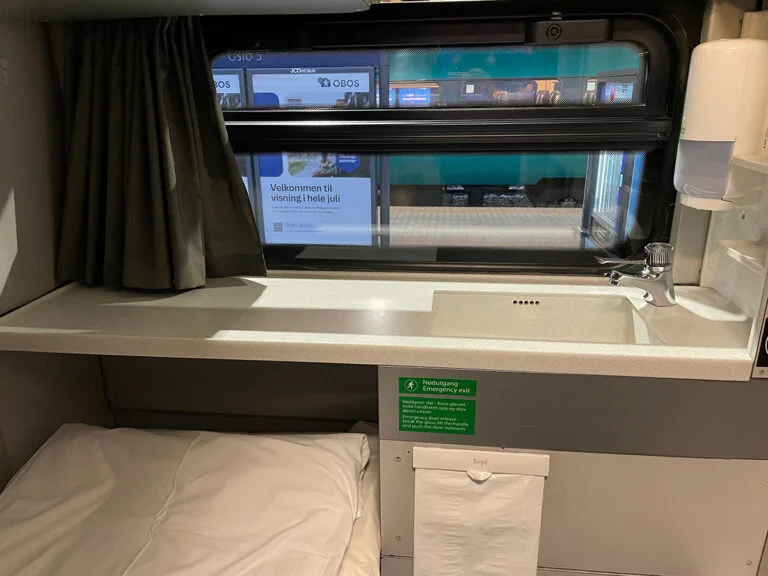 Toilets are located at the end of the corridor in each carriage. There are no showers onboard, but you can pay a reduced rate to use a shower at a partner hotel in your arrival city.
Sleeper cabins cost approximately NOK 1,000 per cabin, which comes on top of the regular ticket. So if a regular ticket costs NOK 500, the total price for an overnight journey would be NOK 1,500 for one person or about NOK 2,000 for two.
Regular seating
You can also buy a regular seat in the same carriages used on daytime trains. These can be very cheap, but you may struggle to get enough sleep.
If the train is quiet and you have a spare seat next to you, your chances increase. But on a full train with people moving about through the night, sleep is a much less likely prospect.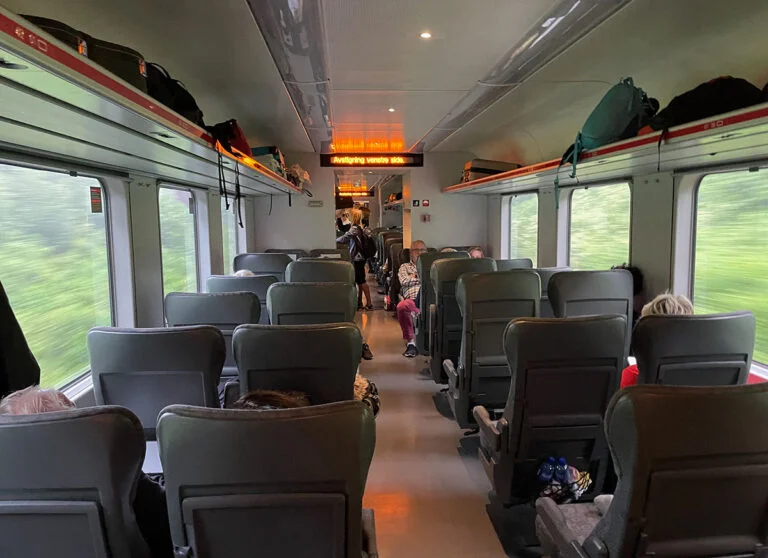 If you live in Norway and are travelling home, this might not be so much of an issue. But if you are travelling through the country and have a packed itinerary, how important is a good night's sleep to you?
Dining car
If you can't sleep or you wake early, you can make use of the dining car. This is the same facility as on the day trains and is typically open throughout the night.
At night there is usually enough seating for you to take a break with a coffee, snack or even a full meal. Passengers with a sleeping cabin can collect a complimentary bottle of water from the dining car.
There tends to be a queue for coffee in the morning! While a full breakfast isn't available, there are typically hot cinnamon buns or similar available for purchase. As with showers, a hotel breakfast can be purchased at a reduced rate in a partner hotel upon arrival.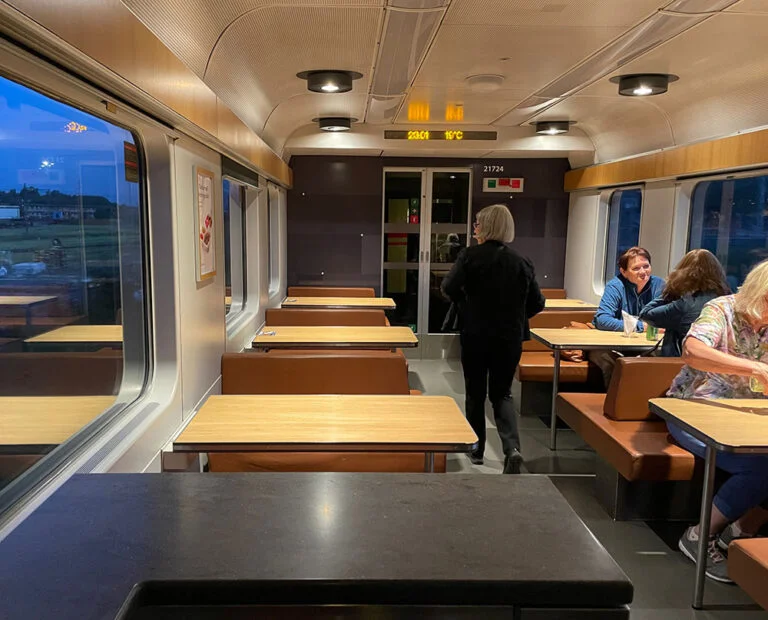 Premium seating
On day trains there has long been a premium seating carriage available for a small supplement. These have never been available on the night trains, as they are replaced with the sleeping carriages.
However, a more comfortable "premium plus" carriage has recently been introduced on several routes, which is also available on the night trains. These seats are more luxurious and seem to sit somewhere between "economy plus" and "business class" offered by long-haul airlines.
Sleeping in these seats should be easier than the regular seating, and they are cheaper than buying a sleeping cabin. I don't yet know much about this carriage, so keep an eye out for this option when booking.
Now, let's take a look at the long-distance routes in Norway on which it's possible to take a night train.
Oslo to Bergen night train
Operated by Vy, the Bergen line is one of the world's most famous railway journeys. There are night trains running in both directions six times per week. On Saturday nights there is no service in either direction.
From Oslo, the train leaves at 11pm and arrives in Bergen around 5.50am the following morning. From Bergen, the train leaves at about 11.15pm and arrives in Oslo at about 6.25am the following morning.
At the present time, discussions are ongoing about cutting the number of daily services on the Bergen line from six to four. It's not known if this will include the night train or not.
Oslo to Trondheim night train
Operated by SJ Nord, the Oslo to Trondheim night train also runs six nights per week in both directions. On Saturday night, there is no service in either direction.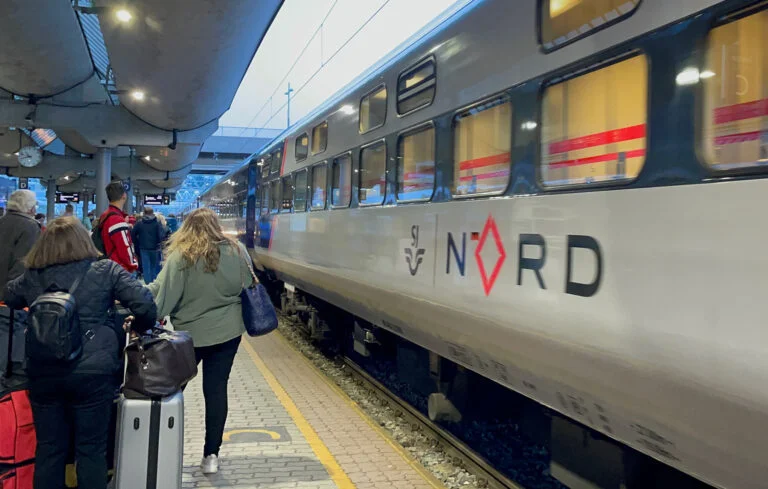 From Oslo, the train leaves at 10.50pm and arrives in Trondheim around 6.30am the following morning. From Trondheim, the train leaves at about 11.15pm and arrives in Oslo at about 6.50am the following morning. Read more about the journey here.
Oslo to Stavanger night train
Operated by Go Ahead Nordic, the Oslo to Stavanger night train also calls at Kristiansand. As with the other services, it runs six nights per week with Saturday nights being the exception.
From Oslo, the train leaves at 10.25pm and arrives in Stavanger around 7.20am the following morning. From Stavanger, the train leaves at about 10.35pm and arrives in Oslo at about 7.25am the following morning.
Narvik to Stockholm night train
This line is much more unknown in Norway as it's actually part of the Swedish railway system. Narvik is not connected to the rest of the Norwegian railway network.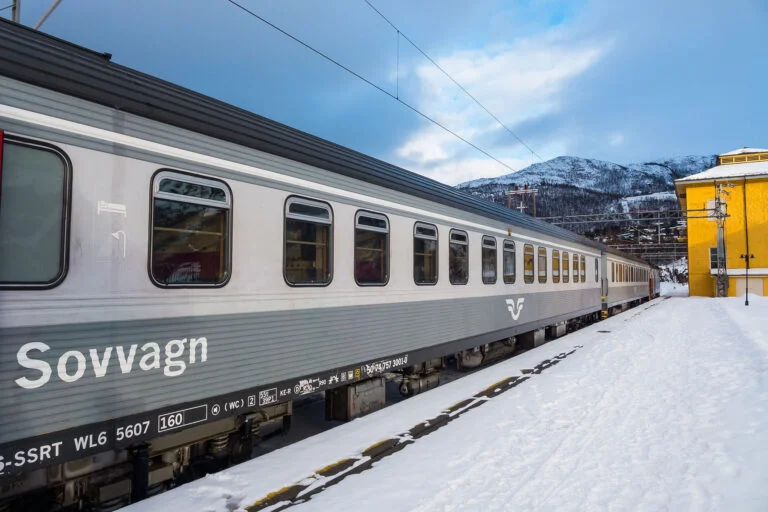 Still, if you're in the north of Norway, the ability to get to Sweden's capital on an overnight train is a tempting prospect. Run by SJ, the Narvik to Stockholm night train is a true adventure with a total journey time of 18 hours.
From Narvik, the night train leaves at approximately 3pm and arrives in Stockholm at 9.25am the following morning. From Stockholm, the train leaves at 6.10pm and arrives in Narvik at around 12.45pm the following afternoon. There are also options involving a change of train at the weekend.
Bear in mind that as this is run by the Swedish railways, the seating options and sleeping cabins available differ, as do the facilities onboard.
Have you taken a night train in Norway? Did you enjoy the experience or is there room for improvement? Let us know in the comments.