Travel from Trondheim beyond the Arctic circle from the comfort of a train.
At 729km and taking almost ten hours, the Nordland line is Norway's longest single train journey. The railway crosses 293 bridges, ploughs through 154 tunnels and crosses the Arctic circle on its epic journey northwards from Trondheim to Bodø.
While not the most visually appealing route, it's still an undoubted highlight among Norway trains.
Twice per day
The train runs the entire length of the line just twice per day. At the time of writing, a train leaves Trondheim at 7.38am and arrives into Bodø at 5.28pm. There's also a night train leaving Trondheim at 11.40am, which arrives at 9.15am.
From Bodø there are departures at 12.27pm and 9.10pm, arriving into Trondheim at 10.05pm and 7.47am respectively. These times are subject to change, so check timetable and reserve your tickets with Vy.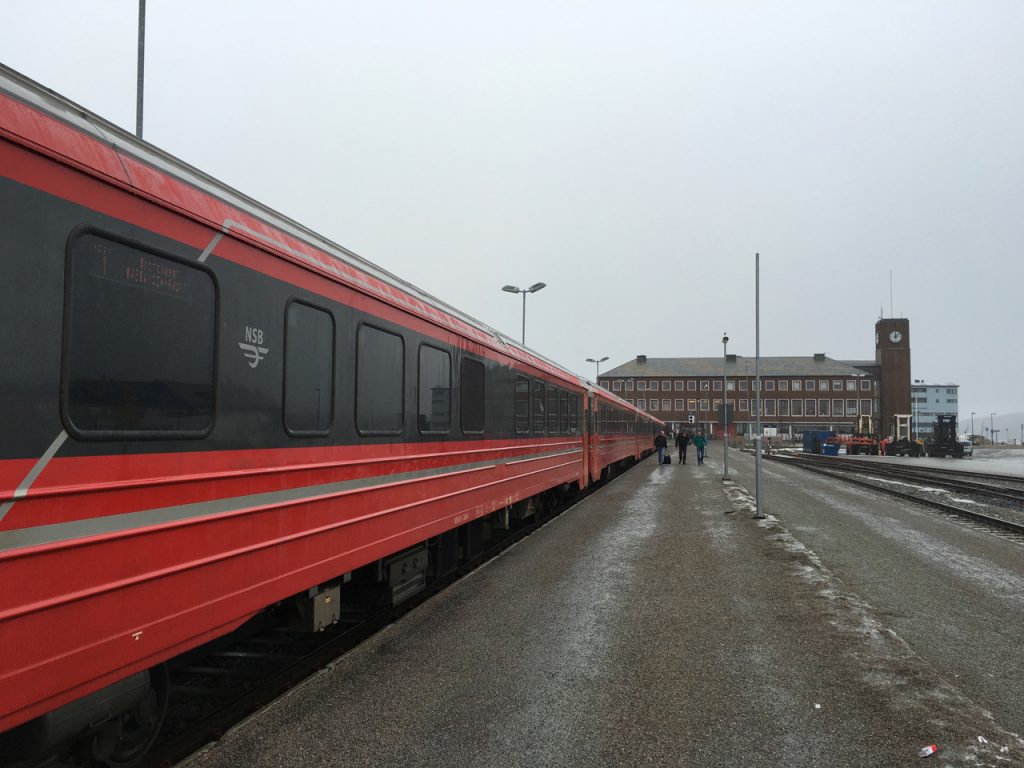 A different experience
The journey isn't as picturesque as some of Norway's other famous railway lines, but it still offers much of interest along the route. Mountainous scenery to the east, rocky coastal scenery to the west, and small communities all along the route.
It's a different story in the winter, when blankets of snow can create a stunning vista – for as long as there is daylight to see it, of course!
As with all Norwegian regional trains, the 90kr investment for a "Comfort" class seat is a wise investment. The seat is more comfortable, there's in-seat power to charge your phone, and free hot drinks throughout the journey.
Locals use this service to travel between the towns and remote villages along the line, while many tourists are making the long journey to the Lofoten islands.
From Bodø, three different ferries leave for different parts of the islands, so Bodø has become a popular stopping point for those heading there.
Why visit Bodø?
While a long way from being a tourist highlight of Norway, Bodø itself is an interesting town especially if you have an interest in war history. Some of the city's museums tell the story of how Bodø suffered in the Second World War.
I recommend checking out the Norwegian Aviation Museum, which covers all aspects of civil aviation along with a military exhibit. Although a little pricey at 160kr, the entrance fee includes a guided tour in English during July.
If you're looking to stay longer, consider the Radisson Blu Hotel complete with sky bar that offers this great view across the city and to the mountains beyond: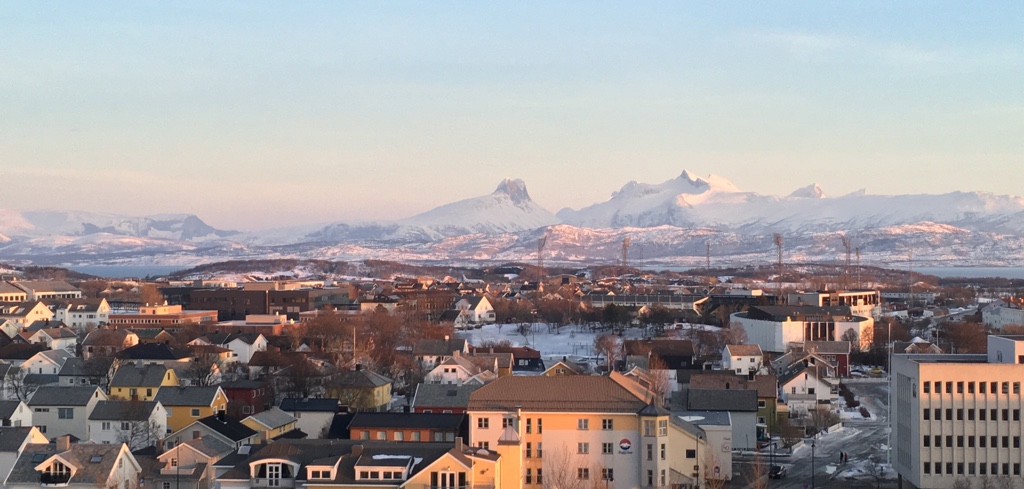 Bodø is also within easy reach of Saltstraumen, one of the world's strongest tidal currents. Whirlpools up to ten metres in diameter are formed when the current is at its strongest. It's a truly curious sight.
Trips by inflatable RIB boat from the city are popular throughout the year, especially with those arriving on a Hurtigruten ship. If you're driving you have the benefit of being able to move around the area and see the phenomenon from all angles.
Has this article got you interested in visiting the north? Or perhaps you want to find out more about the railways? Whatever your interest, we've got more articles for you! Read more on a weekend in Bodø or more on rail travel in Norway.