The majority of Norway's glaciers will be no more by 2100 even if we manage to limit global temperature rise within the set targets. That's the startling findings of a new global study on glaciers.
Many glaciers around the world are melting because of rising global temperatures. This is especially bad for places with fewer glaciers, like Scandinavia and the European Alps.
If global warming reaches 2.7 degrees by 2100, Scandinavia may lose around 90% of its ice and glaciers.
Perhaps even more alarming is the scenario in which the world manages to stay within the 1.5-degree warming target. Even in this scenario (which seems increasingly unlikely), the ice loss is estimated to be between 70%-80%.
A global study
Bigger glaciers in Norway will last longer, but they will also shrink a lot. Researchers have made new calculations to understand how glaciers will change as they melt.
They have found that about half of the world's glaciers will be lost if we don't limit global warming to 1.5 degrees. If global warming reaches 2.7 degrees or more, things will be much worse.
The impact of glacial melting
Melting glaciers will cause the sea level to rise and affect many people. There's already a lot of concern about melting ice caps in Antarctica and Greenland, but from the year 2100 melting glaciers are expected to contribute to the problem at least as much.
Glaciers are also important for water supply and culture, especially in high mountain areas. Over a billion people in Asia depend on freshwater from glaciers.
Read more: Jostedalsbreen Glacier in Norway
Melting glaciers will also impact hydropower plants that use water from them. As glaciers disappear, there may be more landslides and rockfalls because the ground becomes less stable.
How Norway will be impacted
In an article published by the University of Oslo, Regine Hock highlighted the importance of glaciers for the production of hydropower in Norway. The water that melts from the glaciers in the summer is used by power plants further down the water stream.
"Right now we have an infinite supply of water for the hydropower plants in the glaciers," she said. And in fact, during the coming decades when the glaciers melt, runoff will actually increase.
Read more: How Climate Change is Going to Impact Norway
"But at one point we want to reach the top. When the extra water is no longer there, we will have a decline, and that will have a direct effect on the hydropower plants," she said.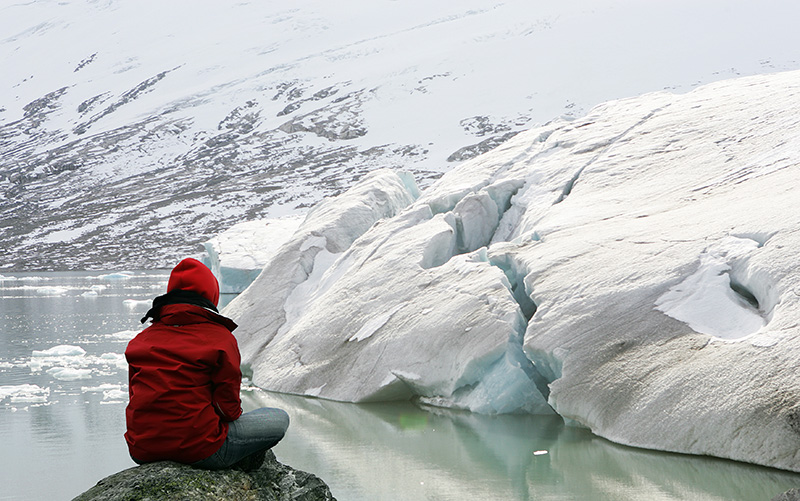 She also highlighted the dangers associated with disappearing glaciers. "When the glaciers retreat, we may have more landslides and rockfalls because the ground is no longer frozen and because it becomes more unstable without the glacier on top."
Cultural heritage
The impact of melting glaciers is already being felt in central Norway. For the past few years, a research project Secrets of the Ice has been finding and documenting newly-revealed glacial archaeological sites.
Finds so far include arrowheads and the oldest pair of skis known to have been discovered anywhere in the world.
Svalbard
The Arctic archipelago Svalbard is already one of the first places on Earth to feel the impact of our changing climate. Despite its vast quantity of ice, it too will suffer from the loss of glaciers.
"If the temperature rises by 1.5 degrees, Svalbard will retain around 80% of its ice, but for every degree of warming there is a massive increase in how much ice disappears. At 4 or 5 degrees, there will be nothing left," said Hock.
Read more: Svalbard's Cultural Heritage Threatened by Climate Change
"Every degree counts for Svalbard, and any reduction in emissions will help preserve glaciers on Svalbard," she added.