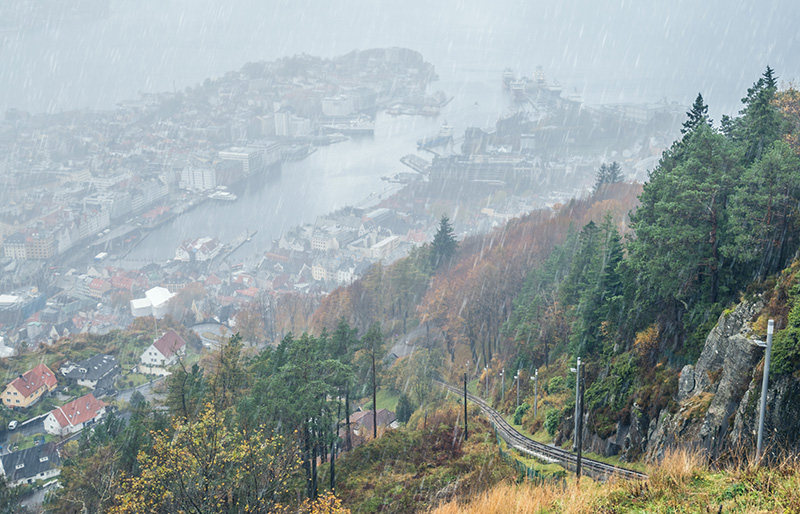 More rainfall, flooding, landslides, power outages, and loss in mobile phone reception. That's what's in store for Norway according to a new climate report.
It's been only a few days since intense rainfall led to severe landslides in western Norway, killing one person. That event came just days after temperatures hit an all-time high in the region.
The Norwegian Red Cross believes that more and more extreme weather events will increasingly threaten human life in the future. "This summer's deadly and devastating landslides and last year's drought and devastating floods have shown us that both the authorities and volunteer emergency organisations must sharpen our work on prevention and preparedness across the country," says Secretary General Bernt G. Apeland.
Norway's climate 2071-2100
His comments come as a new report commissioned by the organisation on Norway's climate in the years 2071-2100 makes for grim reading. The organisation asked the Norwegian Climate Services Centre to investigate the impact on Norway if the world's greenhouse gas emissions continue to rise.
Together with researchers from NVE and the Meteorological Institute, the team outline detailed climate projections on a regional basis. The results were presented during Arendalsuka this week.
Massive changes in Svalbard
Perhaps the most worrying projections come for those living on Svalbard. The Arctic archipelago is already feeling the impact of climate change with record temperatures and unusual winter rainfall causing avalanches and killing reindeer.
Now researchers predict that the average temperature can rise by as much as 8.7C by 2100. Such a change will transform Svalbard as we know it. Heavy winter rainfall will become normal, while the risk of permafrost thawing, snowmelt floods, avalanches and landslides will increase dramatically.
Major impact in all regions
But it's not just Svalbard at risk. The report warns that every Norwegian county can expect more heavy rainfall and storms, raising the risk of flooding and landslides.
Coastal areas will experience higher sea levels and higher levels during storm surges. Permafrost will melt. The risk of drought, forest fire, snow avalanches and landslides will increase in almost all areas of the country.
NVW Hydrologist Irene Brox Nilsen says municipalities must put a major climate focus in all forms of planning and development. "Local climate conditions have always affected where we settle. Municipalities must take climate change into account when planning residential areas and infrastructure. Areas that do not have a significant risk of natural damage today may have it in the future," she warns.
The Norwegian Red Cross asks all municipalities to make sure they have good contingency plans. They recommend preventative work should start already.
"It is crucial that all municipalities agree contingency plans and regularly practice crisis management with voluntary contingency players as well. Authorities need to have a particular focus on vulnerable groups such as the elderly and other groups in the population. They may not be able to prepare for crises or get to safety when the accidents occur," says Apeland.
Preparing for the impact of climate change
Rainfall in western Norway is hardly unusual, and most locals will consider themselves well prepared to deal with it. But intense rain in a confined area creates different problems. The authors of the report warn particularly of landslides like we saw in Jølster earlier in the year.
Apeland notes this in the report's introduction. "You and I must take greater responsibility for our personal preparedness. That is, to prepare ourselves for the loss of power and water for several days, for mobile networks to stop working, or for food availability to become restricted," he writes.