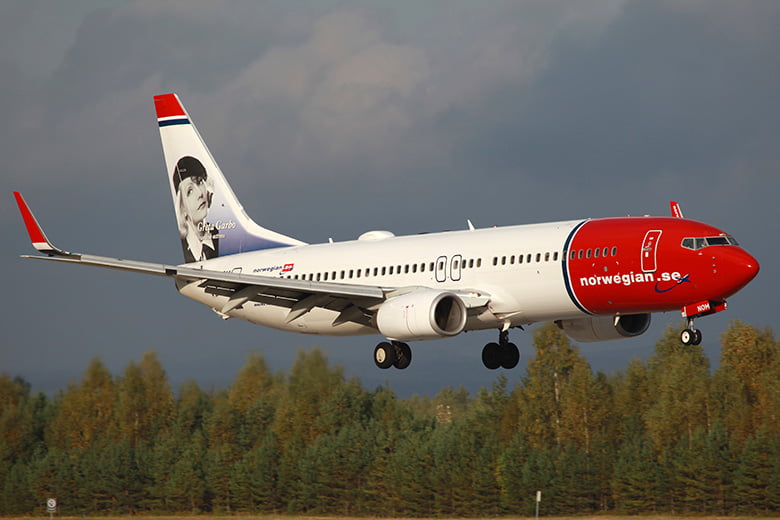 A Norwegian Boeing 737-800 was forced to return to Ålesund after an engine failure minutes after take-off.
To say it's been a tough year for Norwegian would be an understatement. With financial problems, engine issues and fleet grounding plaguing the budget carrier, it's remarkable they're still in the air at all. Last week, one of the workhorses of their domestic and European short-haul fleet hit a snag.
Norwegian's fleet of 118 Boeing 737-800's zip thousands of people around Norway, the Nordic countries and Europe every day of the year. They have 186 or 189 seats and are operated by two pilots and four cabin crew.
Engine trouble in Ålesund
The Aviation Herald first reported on the incident, which occurred on Tuesday. According to the report, the Boeing 737-800 operating as DY413 took off as scheduled from Ålesund bound to Oslo. However, the plane—registered LN-NGS—soon encountered engine trouble.
Read more: Domestic Flights in Norway
As the aircraft climbed away from Ålesund on the west coast of Norway, passengers and crew heard a loud bang. Sparks could then clearly be seen from the left engine. The crew immediately shut down the engine and stopped the climb at approximately 13,400 feet. The aircraft returned to Ålesund and landed half-an-hour after take-off.
Both the airport and police have said that an engine failure was responsible. According to Simple Flying, Norwegian said the crew decided to perform a safety landing after detecting a technical malfunction.
Norwegian's engine problems mount
It's far from the first time Norwegian has experienced engine issues this year. But most of the previous problems have been with the Trent 1000 engines on the Boeing 787s.
The most notable incident happened earlier this summer in Italy, when debris from the engine fell from mid-air damaging cars and homes. The failure occurred just 36 seconds after departing Rome-Fiumicino Airport.
An Italian investigation team discovered that a blade fracture within the intermediate pressure turbine was to blame. The European Union Aviation Safety Agency said a total of 10 similar incidents had occured. Just days ago, a Norwegian spokesperson blamed the engine troubles for the scaling back of its long-haul routes from Scandinavia.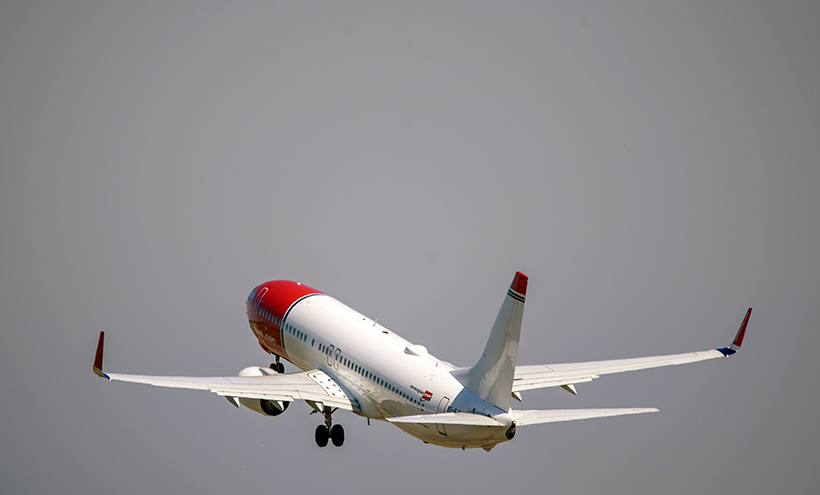 However, the engine involved in the latest incident in Norway was the CFM56 turbofan. Despite being around since the 1970s, the CFM56 remains one of the most widespread airplane engines in use today. It is known for its reliability, but there have been some high-profile incidents over the years.
The most notable of those happened aboard a Southwest Airlines Boeing 737-700 in 2018, when one passenger died as fragments penetrated the fuselage. The investigation found fault with the engine casing rather than the engine itself. Boeing subsequently redesigned its casing for CFM56.
Former gas station retail executive Jacob Schram takes charge of Norwegian in January. He has a lot of work to do.