The Nordic region's largest housing cooperative is planning a striking new apartment building in Eastern Oslo. The 150 homes will produce more energy than they consume.
The eye-catching circular building is to be built at Ammerud in the heart of Groruddalen. The residential suburb is around 10km north-east of downtown Oslo.
Oen will contain 150 apartments with a roof covered by solar panels. Sales will start in 2020.
Read more: Buying a house in Norway
The organisation behind the project is OBOS, the Nordic region's largest housing cooperative. OBOS is owned by its more than 435 000 members, most of whom live in the Oslo area.
An eye-catching design
From an architectural perspective the building has been likened to Beijing's 'Bird's Nest' stadium built for the 2008 Olympics.
Some have also compared it to the new Apple headquarters in Santa Clara Valley, California. OBOS CEO Daniel Kjørberg Siraj says he understands the comparison.
"This is architecture to be enjoyed. That was the first thing I thought of when I was presented with the sketches. Sometimes you have to dare to push things a little further than the traditional delivery when it comes to residential buildings."
Norway's first 'energy positive' apartments
When complete, the circular building will be Norway's first 'energy positive' apartment building. By covering large parts of the roof with solar cells, the building will produce more energy than it uses.
Although there are other energy positive buildings in Norway, they have up until now been commercial buildings. Recently, Powerhouse Brattørkaia opened on the Trondheim waterfront. Among other things, the excess power generated by the building helps to charge some of Trondheim's new fleet of electric buses.
"This is a project that is in line with what politicians in Oslo demand. It's a building with high environmental standards and spectacular architecture. As Oslo is the European Green Capital in 2019, the city also needs some concrete projects to showcase," says Siraj.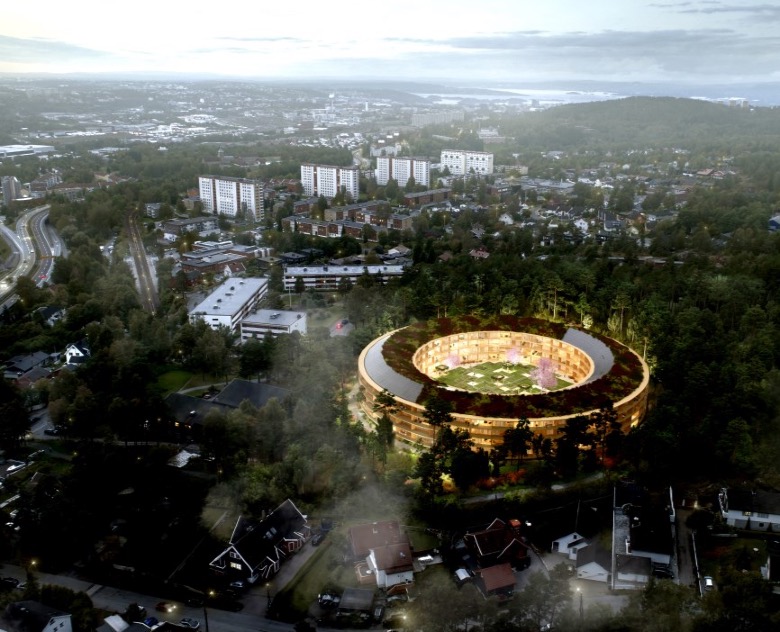 High cost but low energy bills
The entire project has a cost framework of between NOK 700 and 900 million. Because of the higher environmental standards plus the addition of solar panels, the cost is around 10% higher than a typical project.
Siraj believes the building will have a positive impact on the Groruddalen valley, an area often negatively portrayed in the media because of its high immigrant population.
"I think this building can also help to highlight the area as something other than what we read in the newspapers. The spectacular architecture and plus-house standard can attract other types of residents. The most important thing is that we can have richly-composed resident groups."
Sales begin next year, and while prices have not yet been set, the estimated square metre price of the apartments will be between NOK 60,000-65,000. While that will be a significant upfront investment, Siraj says families will save many thousands of kroner on energy every year.
Creating community
Code architects is the team behind the four-storey building known as Oen. They say it was important to create an inner courtyard to cultivate community among the residents.
The courtyard will provide space for celebrations, games, and meeting and recreation areas for both children and adults.
"I don't think this is all that radical. There will be a clear improvement by converting this plot from light industry, as it is today, to residential use. It has a great location with sun, views, nice greenery and close proximity to a school. There is also no reason why everything that looks different should stand in Bjørvika," says Code's Bjarne Ringstad.
All of the apartments will be south- or west-facing with a balcony. Most will have a side facing the park and a side facing nature. The apartments will vary in configuration from one- to three-bedrooms. However, the majority will be sized around 70 square metres.
Ringstad says the team concerned themselves with giving residents a pleasant place to live. "The advantage of the circular shape is that everyone will get sun and views, with balconies facing the common area," he says.