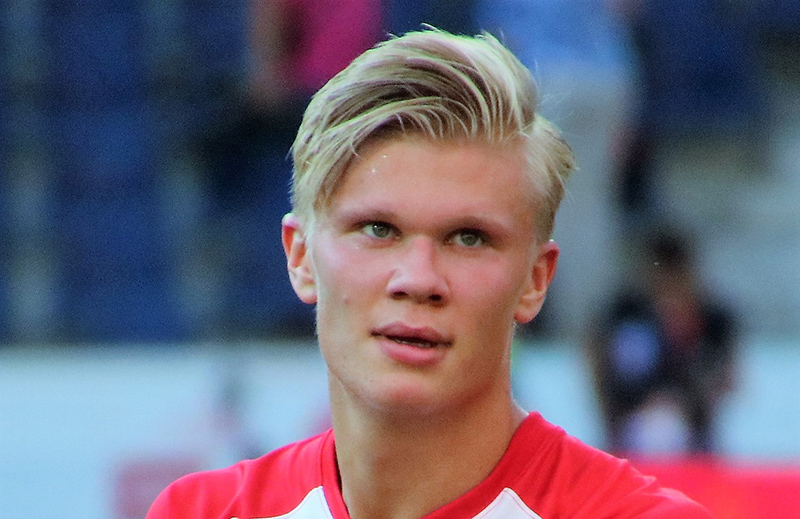 Everything you need to know about the exciting Norwegian striker Erling Braut Haaland.
Every now and then, a footballer comes along from one of the smaller footballing nations who really gets people talking. Not long ago there was a young Norwegian by the name of Martin Odegaard, a player who promised so much at a young age.
Based on this promise, he was snapped up by Spanish club Real Madrid and then subsequently loaned out a number of times in order to help him develop as a player. Only now, in a loan spell at Spanish club Real Sociedad is he starting to deliver fully on that early promise and expectation.
A new football star
Not long after Ødegaard, another Norwegian came along. A player called Erling Braut Haaland (also spelled Håland) burst onto the scene in Norway. The striker has already put in some spectacular goalscoring displays across Europe despite still only being a teenager. Haaland's story is an interesting one and his future could become more interesting still.
Read more: Famous Norwegian Footballers
This article charts his footballing exploits so far and ponders what's next for the Norwegian talent.
View this post on Instagram
He is the son of the former Nottingham Forest, Leeds United and Manchester City defender/midfielder Alf-Inge Haaland. As his father was playing in England at the time, Erling was actually born in the UK, in Leeds in July 2000. When he was just three years old, he moved with his parents to Bryne, a small town just outside of Stavanger.
Early period of his career in Norway
It was this provincial setting that formed the foundation of his footballing career. He intially joined the Bryne FK academy, before stepping up to Bryne 2, the club's reserve team. Haaland went on to score 18 goals in 14 matches for Bryne 2 across the 2015 and 2016 season.
Before long he was thrust into first team action. On the 12 May 2016, at the age 15, he made his debut for the struggling Bryne first team. He failed to find the back of the net in 16 appearances, and it is at this point he probably realised his future was somewhere else.
Seasons with Ole Gunnar Solskjær at Molde
Next up, and arguably the most critical move in terms of his development, was his transfer to Molde FK on 1 February 2017. The man in charge of Molde at the time was a certain Ole Gunnar Solskjær. The manager nurtured Haaland and in turn ensured his continued progression as a player.
Solskjær gave Haaland his first start for Molde on the 26 April 2017 in a Norwegian Cup match against Norwegian minnows Volda TI. He scored one goal on his debut in a 3-2 win. In the reminder of the 2017, Haaland had a promising but fairly unspectacular season, eventually finishing on four goals in 20 first team appearances.
The 2018 season was the time when Haaland really got going. The big Norwegian ended the year with 16 goals in 30 games, a tally that ensured the club's top scorer award. During the course of that year, Haaland put in a number of remarkable performances. One of those was Molde's 4-0 away rout over SK Brann, where the striker helped himself to four goals in the space of 21 minutes.
Announcing himself on the world stage at Red Bull Salzburg
Following that remarkably season for Molde, Redbull Salzburg came calling. And on 19 August 2018, Haaland joined the Austrian club for an initial fee of 8 million euros.
View this post on Instagram
On the domestic front in the 2019/20 season, the Norwegian managed to score 17 goals in his first 16 appearances that season. His technique and pace and power often proved too much for opponents.
If Haaland hadn't already caught the eye of top clubs around Europe, his Champions League form ensured it. He played six times in the group stages of the competition for Salzburg and managed to help himself to eight goals in just six games.
He became only the second teenager to score in each of his first three Champions League appearances. The Norwegian went on to score in his first five consective Champions League matches, joining an illustrious list of players who had achieved the same feat, a list including Chritiano Ronaldo, Neymar, Serhiy Rebrov and Robert Lewandowski.
Norway national team
As well as his club career, Haaland has also been a regular face for his country. He has represented Norway from under 15 level all the way to under 21's and the national team. Although, at full national team level he has only made two appearances so far.
In the 2019 FIFA U-20 World Cup in Poland, Haaland scored nine goals in a record 12-0 win for the Norwegian under-20 team over Honduras under-20's. And despite this game being only the match in which Haaland scored at the tournament and the fact that Norway didn't make it past the group stages, he still ending up with the golden boot (the overall top scorer in the competition).
Borussia Dortmund
In the later part of 2019, there was a flurry of transfer interest in Haaland, as big clubs including Manchester United, Juventus and Borussia Dortmund all showed an interest in securing his signature.
View this post on Instagram
In January 2020, it was Borussia Dortmund who won the race to sign the talented Norwegian. Haaland signed a four-and-a-half-year contract with the German club. The transfer fee is believed to be in the region of 20 million euros but with numerous add-ons and clauses that fee will likely rise much higher.
On the 18 January, Haaland made his debut for Dortmund in a Bundaliga match against Augsburg. He came on as a second half substitute to score a remarkable hattrick (three goals) in the space of 23 minutes and in turn secured a 5-3 victory for his new club. It was the perfect start to life in Dortmund.
Playing style and comparisons to Zlatan
Haaland is a sturdy and powerful forward. He is strong in the air, frequently out-muscling opponents to power home headers; in addition, the Norwegian is equally adept with the ball at his feet. Add to that his explosive pace in and he soon starts to resemble the all-round, absolute striker, the one that strikes fear into the hearts of opponents.
Football experts have compared Haaland with Zlatan Ibrahimovic. That's partly due to his height (194cm) and his scoring abilities but also because of the Norwegian's behaviour off the pitch. Haaland can often be jovial yet at times moody with the media, so it's not hard to see why people come to such a conclusion.
What next for the talented forward?
Erling Brut Haaland is right up there with fellow Norwegian Martin Ødegaard in terms of reputation and potential. Whatever is around the corner for the Dortmund striker, he will likely continue to amaze and draw plaudits from fans and media experts alike.