Undoubtedly one of the more love it/hate it parts of Oslo is the pier-style harbourside development of bars, restaurants, shops and offices called Aker Brygge. It's put down by many as a tourist trap, pricey (even by Norwegian standards) and often busy. All that is true of course, but on a hot sunny day, there are few better places in Oslo to catch some rays and people watch.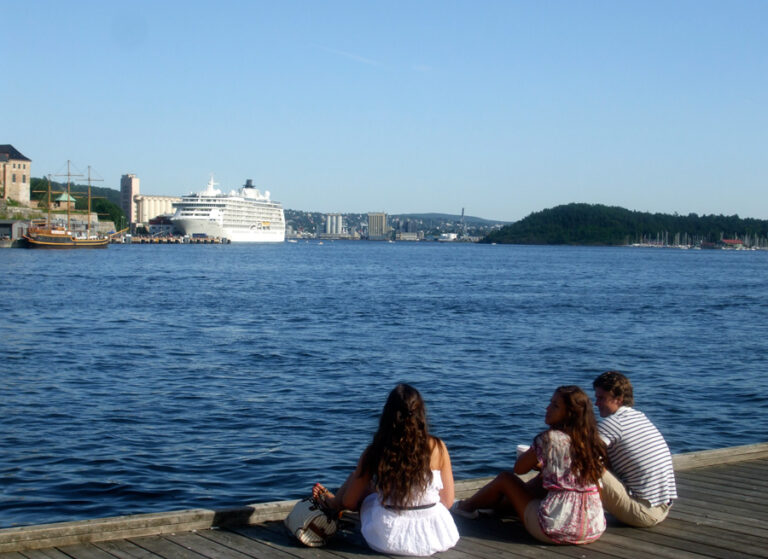 Aker Brygge was built in phases through the 1980's and 1990's on the site of a former shipyard, a precursor to the urban renewal project known as Fjord City, which I'll blog about next week sometime.
As you'd expect there's a decent number of bars and restaurants from familiar names such as TGI Friday's to more Norwegian fare such as the fish restaurant Lofoten, somewhere I'm keen to try out after I've saved up a little! Keep walking and you come to Tjuvholmen, an extension of Aker Brygge made up of even pricier restaurants and bars.
The waterfront area is served by a tram line, but it's only a short walk from most of the city centre and only 15 minutes walk from my apartment. Quite often on warm bright evenings I take a wander down (and take the 54 bus back if I'm lazy) for an ice-cream, iced coffee or just to sit and watch the boats.
So whilst it's definitely not everyone's cup of tea, Aker Brygge does meet a need. It's a nice place to go on a hot sunny day, plus it keeps the tourists away from some of the more interesting parts of Oslo 🙂
By the way, that ice cream was legendary. Cookie dough and lime vanilla fudge in a waffle cone. If only all ice cream was like this…