A review of the Quality Hotel Ålesund, a waterfront hotel next to the Hurtigruten terminal in downtown Ålesund.
I recently spent three nights in Ålesund over the Easter break. It's long been one of my favourite cities to visit in Norway and I've stayed in several different accommodations over the years.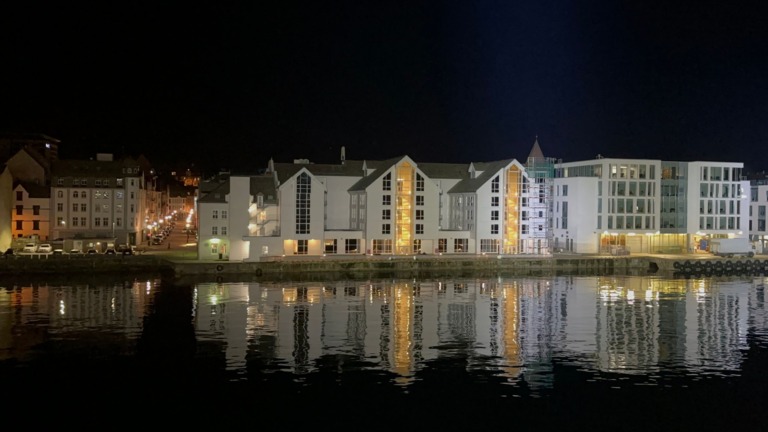 This time, I was arriving on the Hurtigruten's MS Nordnorge at half past midnight, so I wanted to book into a hotel as close as possible to the coastal ferry port. A quick look at the map and the choice was easy.
Location and check-in
Ålesund is not big, but after 15 hours on the Hurtigruten I knew I didn't fancy even a short walk across the city! The waterfront location of the Quality Hotel Ålesund was perfect. It is one of two Quality Hotels in Ålesund.
The other one—Quality Hotel Waterfront—is on the other side of the city. It's a very confusing choice of names for the two hotels given that they are both on a waterfront. So, just make sure you know which one you're booking.
The ship docked a few minutes earlier than its 0030 arrival time and just two minutes after the gangway opened I was standing in the hotel reception. Because my stay was pre-paid, check in was a breeze.
Reception and snacks
The hotel reception doubles as a bar and small cafe/shop. There's a small selection of snacks and drinks on sale along with basic hot food such as panini.
The selection is similar to what you'll find in a Narvesen or equivalent and was reasonably priced for a hotel. Most importantly, it was always open. As opening hours of shops and restaurants varied a lot over the course of Easter weekend, I made use of this service a couple of times.
Check availability and rates at the Quality Hotel Ålesund with Booking.com
There was also plenty of comfortable seating in the lobby area, and a shuffleboard table at the end of the room.
Guest room
I stayed in one of the basic rooms among the hotel's 131 guest rooms.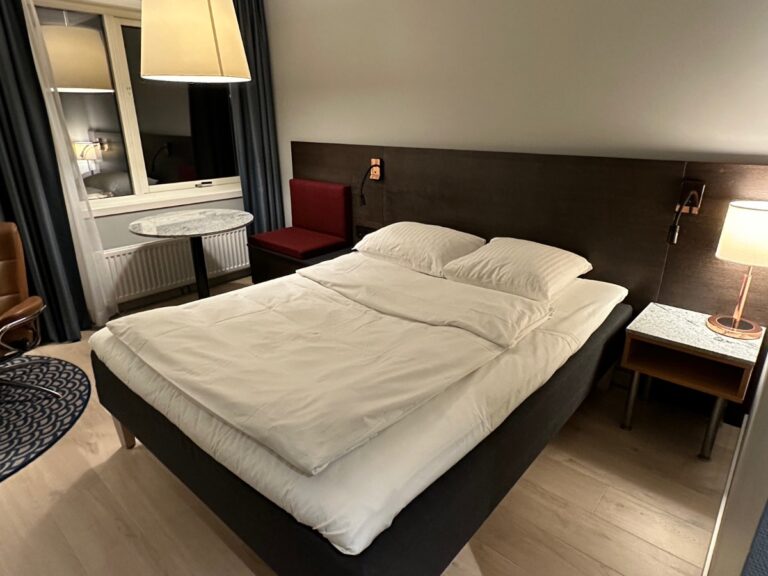 Despite the room's small size, there was room for an armchair and a small bench seat that together with the round table served as a desk where I got a couple hours of work done. There were plenty of power outlets including a couple of USB-A outlets.
Included with the room was a mini-fridge, kettle with tea and coffee, fast Wi-Fi and a clean, decent-sized bathroom complete with hair/body wash in the shower and liquid soap by the basin.
There was a part-sea-view from the window, but pretty much everywhere in Ålesund has a sea view so I didn't spend much time at the window! I spent three nights in the room and slept well each night with very little noise from outside.
One interesting thing I noticed is that the Quality Hotel Ålesund welcomes pets, although you have to contact the hotel in advance to ensure a specific room can be allocated to you.
Breakfast
Breakfast is included in all room rates at the Quality Hotel. During my stay it was served from 7.30-10.30 on weekends and 6.30-9.30 on weekdays.
It was the useful buffet style breakfast that you find in almost all Scandinavian hotels with a good choice of hot and cold items. No complaints here!
The restaurant is also open during the evenings (under the name BistroX) but I didn't get the opportunity to eat there, so can't comment on the menu or the food.
Other facilities
There was a good sized gym or training room on the fifth floor with both cardio equipment and strength training equipment. The gym is free to use for guests.
One important point to know if you're considering a stay here is that the hotel is cash free. There's also no specific hotel parking available, although street parking is available in the streets around the hotel and there is a parking garage 300 metres away.
Check availability and rates at the Quality Hotel Ålesund with Booking.com
Overall thoughts
I enjoyed my stay at the Quality Hotel Ålesund. If you're arriving by Hurtigruten or Havila it's an ideal choice. It's also only a couple of minutes walk from the main Airport Bus stop at Skateflua.
I paid NOK 3,938 for my three-night stay at the Quality Hotel Ålesund. Check the latest rates and availability with Booking.com.