Settle down with something warm and enjoy these pictures from an unseasonably cold winter's morning in Trondheim, Norway.
It has amused me greatly these past days that the British media have named the chilly weather system heading for their shores the 'Troll of Trondheim'! As a Brit living in Trondheim, I thought I should share what the winter weather in Trondheim is actually like right now.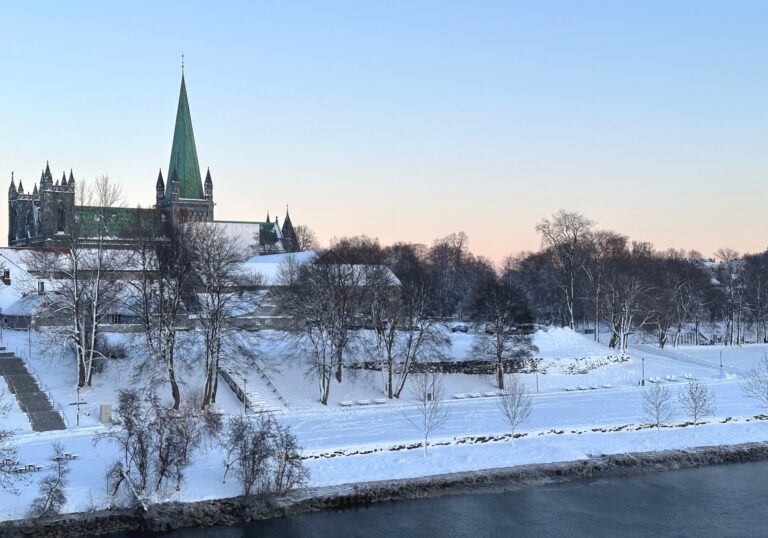 In short: it's bloody cold! While you might think winters in Norway are permanently below zero and we walk on snow for months at a time, that's not how it really is, especially in the cities.
What is the Troll of Trondheim?
When I was growing up in the UK, most winter storms were known in the media as the 'beast from the east' because of the 'Siberian winds.' This time the weather system is moving down from Norway, so a new nickname was required!
At this time of year, Trondheim usually experiences temperatures around freezing point or dipping under by a few degrees. However, I took a trip into the city centre today with my camera while the temperature was at -17°C. That's about 1°F.
The temperature rarely gets this low in Trondheim, and if it does it's usually much later in the winter. Sometimes we barely get more than a dusting of snow before Christmas. Not this year.
So listen up Britain, you've got some cold weather, sure. But you are definitely not experiencing the Troll of Trondheim. It is barely his distant cousin! Come take a look at what the real troll looks like. Start with this video:
If you're not a fan of videos, simply keep scrolling for lots more Trondheim photos.
A winter trip into Trondheim city centre
It takes a certain type of person to wake up on a Sunday morning, see the temperature is -17C and think, yes, today is a good day to go taking photos! But I am that type of person.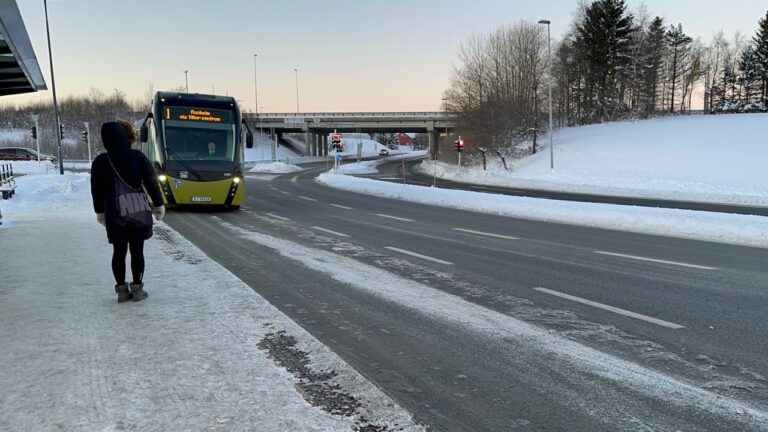 After a chilly but thankfully short wait for the bus, I was on my way to the city centre.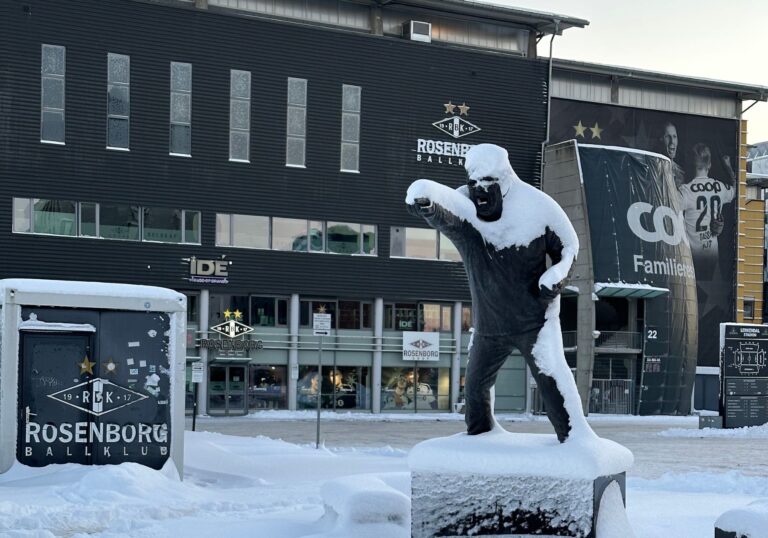 My first stop was Trondheim's Lerkendal Stadion, home to Rosenborg football club. You won't be surprised to hear that football is a summer sport in Norway!
Despite the low temperatures there were a few people about. Life goes on when you live through Scandinavian winters.
Read more: The Story of Norwegian Trolls
Trondheim city centre in the winter
When I made it to the city centre, the temperature had 'warmed up' a little to -15C. Toasty!
My first stop downtown was Nidaros Cathedral. The bells were ringing loud and proud when I arrived and a handful of people were heading into the side entrance for a service.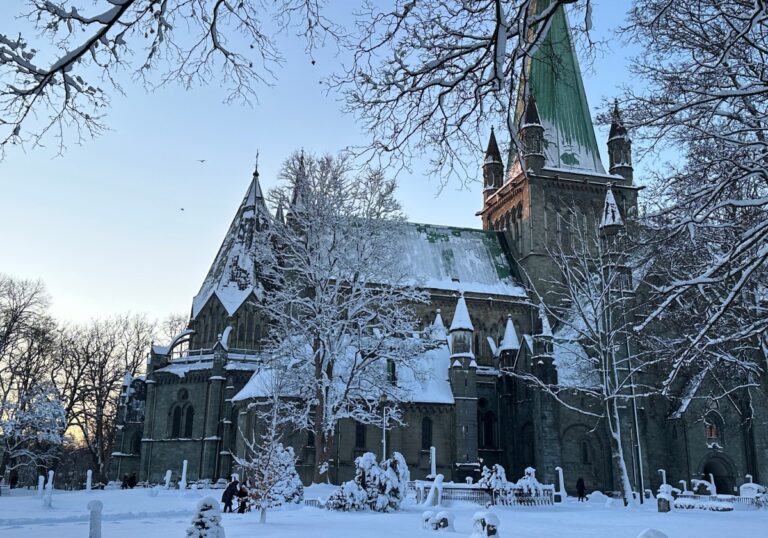 A few tourists, possibly from the coastal ferry, were also wandering around taking photos and looking very cold indeed.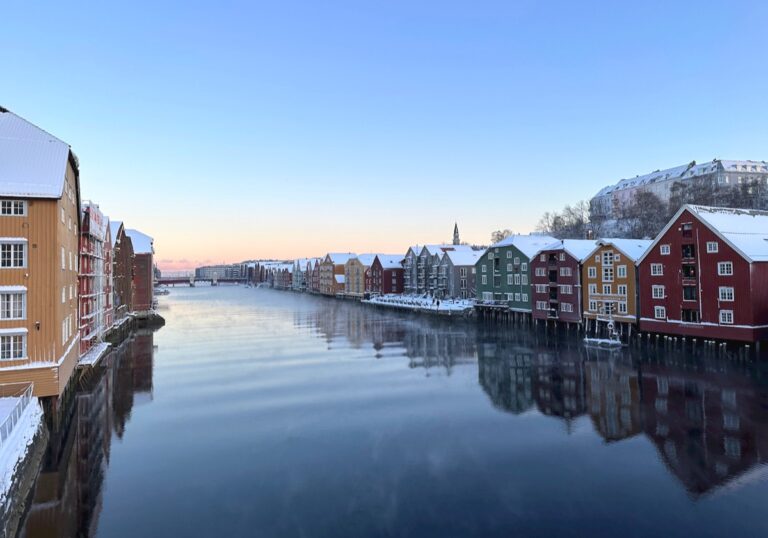 From the cathedral I headed over to the old town bridge. The view from here is wonderful any time of year. In the winter, the snow-covered rooftops and reflections in the calm water were especially beautiful.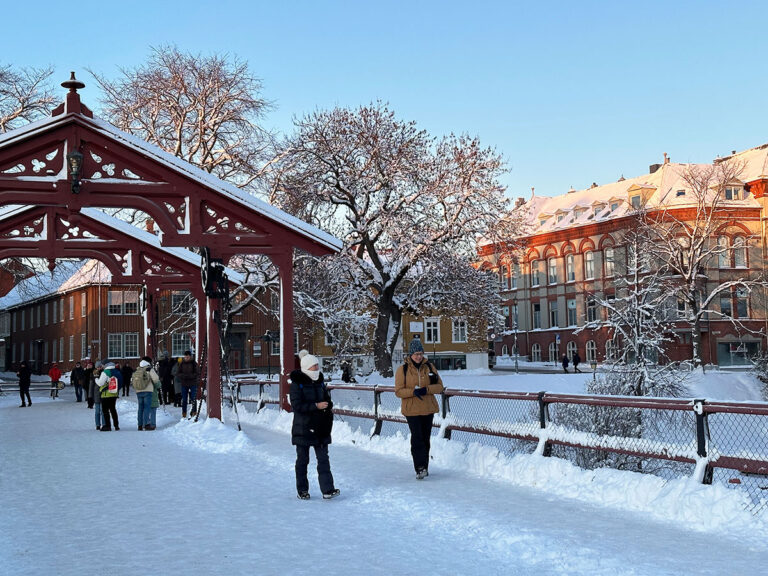 As I crossed the bridge, more people surfaced. Some tourists and some locals heading out for coffee or walking their dogs.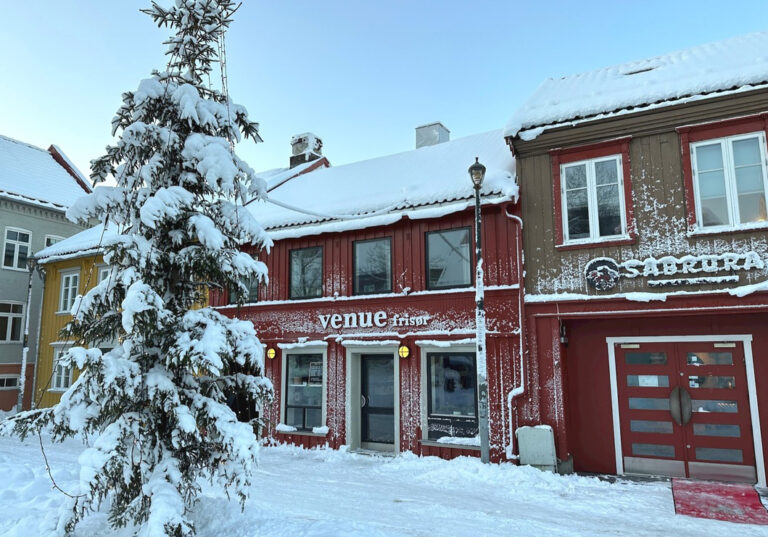 With cobbled streets and historic wooden buildings, Bakklandet is one of Trondheim's most picturesque neighbourhoods. In its winter coat, it's a postcard Christmas scene.
Although the streets were quiet, the coffee shops along Bakklandet were doing a roaring trade! I stopped for 10 minutes to warm myself up with a coffee before continuing on.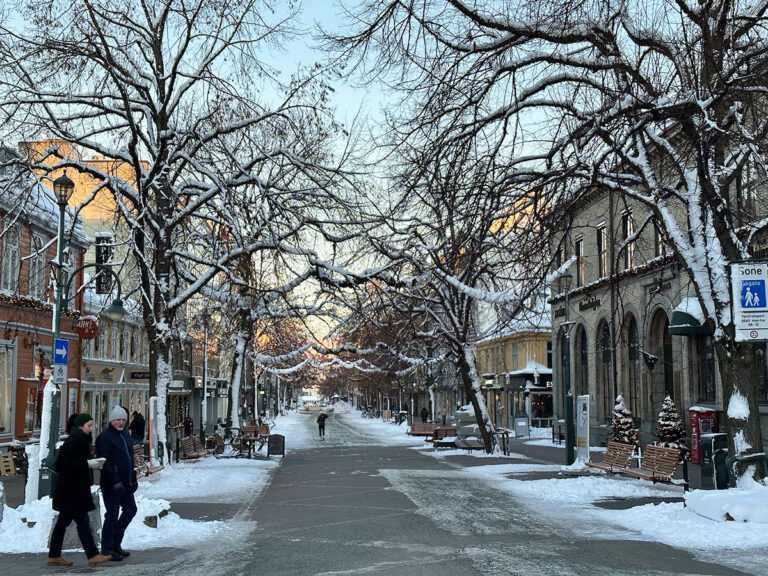 Much of the snow had been cleared and/or trampled away in the downtown shopping streets. Nordre gate is one of the busiest shopping streets in Trondheim, but on a Sunday morning it's still relatively quiet with just a few cafes open.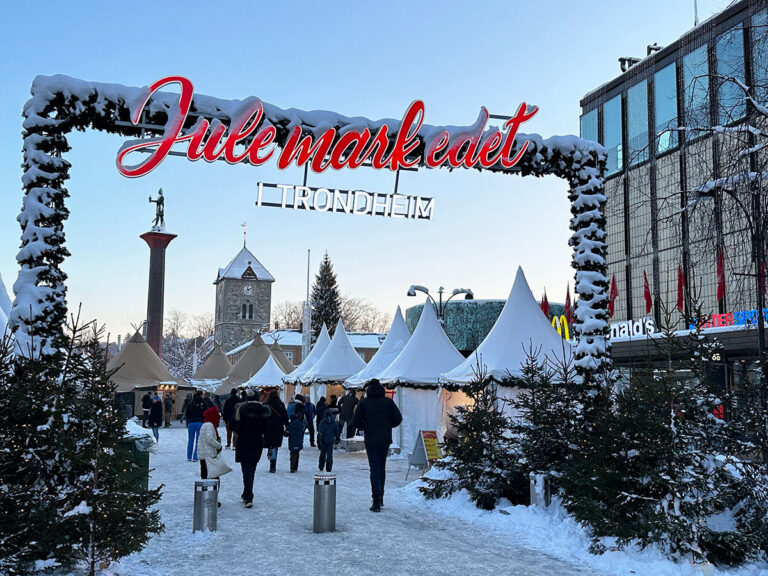 I previously recorded a video on the first day of the Trondheim Christmas market before the snow arrived. With snow on the ground, the market's festive atmosphere is lifted 100%!
The cold weather didn't keep people away even at 11am on a Sunday morning. With some stalls still open, people were milling around looking for gifts, or diving into the lavvo for a warming cup of coffee or gløgg.
Of course, cold weather brings more disadvantages. One of those is ice. The main bus mall in the city centre was a little difficult to navigate as I waited for my bus home!
So ladies and gentlemen, boys and girls, that was the real Troll of Trondheim!