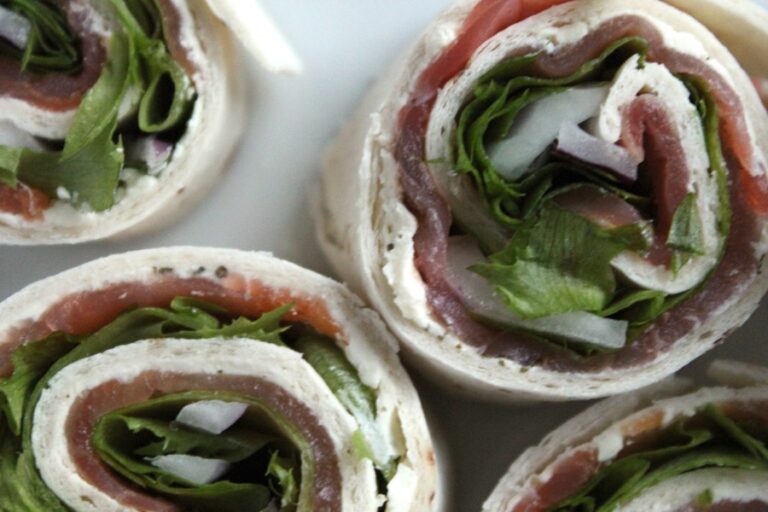 How to make these Norwegian smoked salmon wraps, with dill cream cheese, lettuce and red onion.
This deliciously simple recipe serves three people for lunch, or 6-10 as a party appetiser.
One of the first things many newcomers to Norway notice at the grocery store is how plentiful and relatively inexpensive Norwegian salmon is to buy. Fresh, cured (gravlax) and smoked salmon is common and found in every supermarket and grocery store in Norway.
This hasn't always been the case however, as salmon was traditionally reserved for more upmarket home based meals and celebrations until very recently.
Besides eating smoked salmon with scrambled eggs for breakfast, I've found wraps an easy way to get more Omega-fatty acid rich salmon into my diet.
This recipe is easy to make and is good as an appetizer for your next party or an easy weekend lunch. These salmon wraps can be made ahead as they preserve quite well without getting soggy.
I normally use homemade lefse for this recipe, but tortillas make a good substitute if fresh lefse is not available in your area.
If you don't like smoked salmon, you can substitute smoked trout – another Norwegian specialty – or use fenalår (dry-cured leg of lamb) as an alternative.
Ingredients:
3 lefse or tortillas
Cream cheese, dill or herb flavored (mayonnaise is a good alternative)
Smoked salmon, sliced
Lettuce
Red onion, chopped
Directions:
1. Lay the lefse or tortilla flat and spread with a good layer of cream cheese or
mayonnaise.
2. On top of the cream cheese, layer the smoked salmon, lettuce and red onion,
but reserve a bit of space at the end of the lefse or tortilla. This will be used to
secure the roll.
3. Roll the lefse onto itself to form a log. Be sure to press the reserved end into a
roll in order to secure the log.
4. Using a sharp knife, cut into rounds and serve.
Enjoy!
Did you try to make this recipe? If you enjoyed it, why not share it on Pinterest? We've got just the pin for you: