I've had good experiences with the Rica chain in Norway, so when the chance came to stay in one of their hotels across the border I jumped at it. There are four Rica hotels dotted around Stockholm. I stayed in the Rica Hotel Kungsgatan, which sits proudly on top of PUB, one of Sweden's oldest. Opened in 1882 by Paul Urbanus Bergström (see what he did there!), PUB, to the disappointment of Stockholm's British visitors, is actually an upmarket department store.
Still, it does make the hotel really easy to find. I saw the gleaming giant white "PUB" sign from about 1km away.
Book your stay at the Rica Hotel Kungsgatan with our partners Booking.com
The Room
The room was fantastic – just what I needed after a nightmare journey thanks to the usual nonsense at OSL.
The deluxe room featured a lounge area, large bed, and impressive floor-to-ceiling windows on two sides. Having stayed in many city centre hotels in Scandinavia that don't have any windows at all, this was a welcome change. The bathroom was small but functional with the most important thing when it comes to any hotel room – a powerful shower. YES!
There was of course free wifi and a TV with a small selection of channels, including BBC World News in English.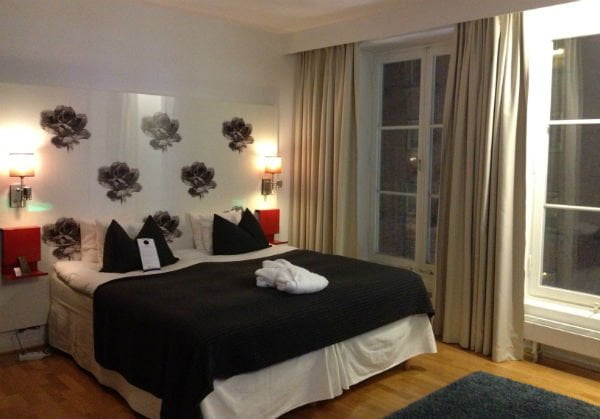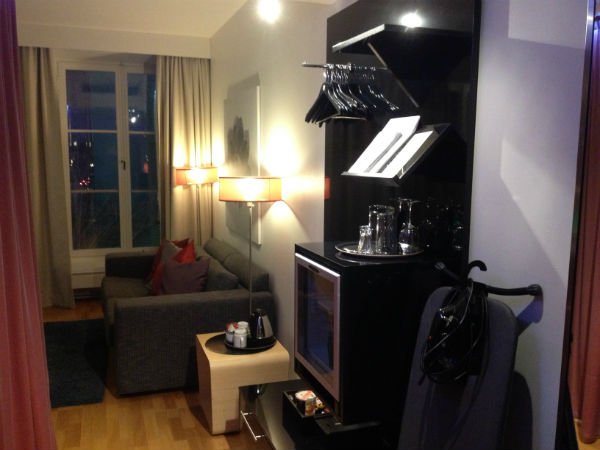 One thing I like about Rica hotels is the sense of humour in the printed materials and accessories. This one was no exception:
My original plan for the evening was to see Lewis, Craig and Pete for some Swedish vodka fun, but once I got to the room there was no way I was going back outside, it was cold and I was tired! My friend Jaime called around with a bag of wine (you can take the northerner out of the north…) and we made the most of the lounge and TV (some random Spanish film about Franco). After he left I decided against bothering the reception staff with an order from the pillow menu, I just tumbled straight into bed and bang, six hours later it was morning.
Breakfast
Breakfast was served in the restaurant and spilled over into the lobby area, quite nicely done as you can grab a smoothie from the bar on your way in. Breakfast was the usual Rica fare of a cold buffet (ham, salami, cheeses, etc), cereals, yoghurts, a couple of hot dishes and a wide selection of bread. And coffee. lashings of coffee. The restaurant was busy but I found a table easily enough and the staff were quick to whisk away any empties and keep the whole thing working. Good job.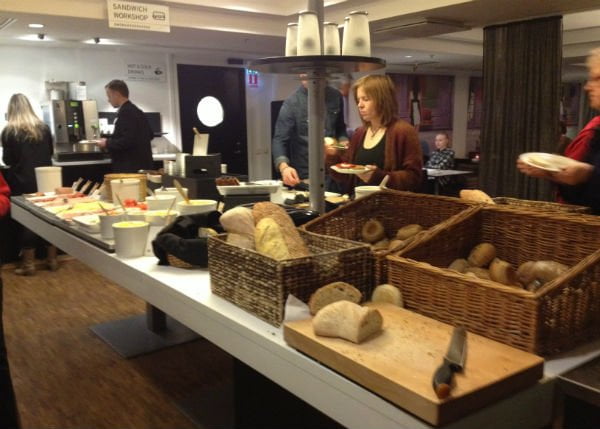 Location
Close to Stockholm Central Station and the Arlanda Express terminal, the location is ideal for a stay in Stockholm. If you're planning on spending a lot of time in Södermalm then you may want a hotel further south, but otherwise the Rica Kungsgatan is well placed for most attractions. By the way, you also get a discount in the PUB 🙂
The view over Hötorget was described by Jaime as "pretty much the centre of downtown Stockholm".
Book your stay at the Rica Hotel Kungsgatan with our partners Booking.com
Disclosure: My stay was courtesy of the Rica Hotel Kungsgatan. However, all reviews on Life in Norway are independent and free of any influence from the hotel itself.