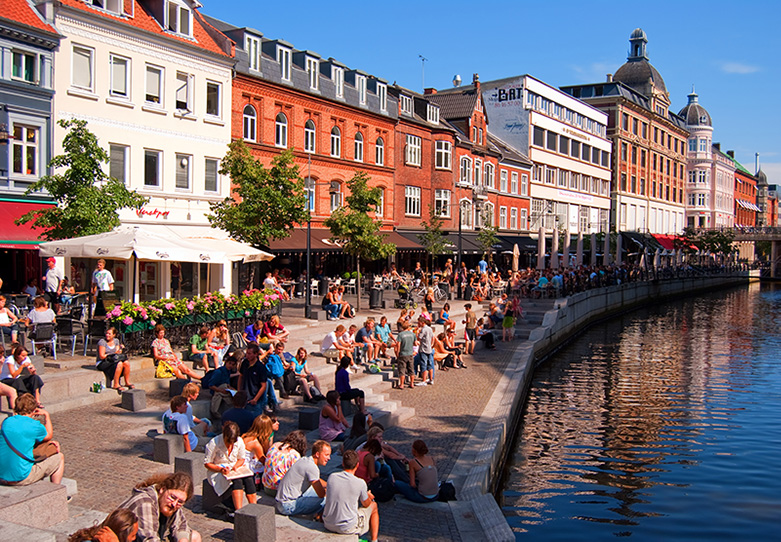 Looking for a weekend away from Norway? Aarhus is easy to get to from Oslo and packed with cultural attractions, yet with none of the Copenhagen crowds.
After many years travelling Norway and literally writing the book on it, I've started to look farther afield. Not too far, mind! I'm now on a mission to explore the best of Scandinavia and to see how it compares to Norway.
I've already been to the other capitals, Stockholm and Copenhagen, so now I'm looking elsewhere including Scandinavia's second cities.
With its status of European Capital of Culture in 2017 leaving a lasting legacy begging to be explored, Aarhus was the obvious place to start.
"Little Copenhagen" without the crowds
I spent three days exploring the city. My first impression? The city has a similar feel to Copenhagen in terms of feel and things to do. But, there's a crucial difference, Aarhus is much less crowded!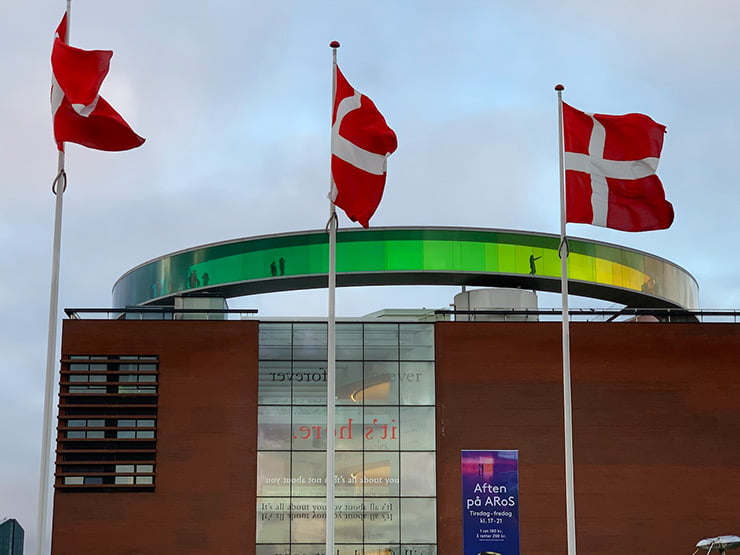 However, Denmark's second largest city stands apart. There's genuinely unique museums, a thriving dining scene, modern architecture, and space to breathe.
Danish architecture & design
Fans of Scandinavian design are sure to love the city. There's plenty of curious buildings to see, from historic homes to modern architecture that divides opinion. The Latin Quarter is the city's oldest district, dating back to the 1500s. Here you'll find a low, dense area with narrow, curved streets.
Architectural Digest calls the city a design lover's paradise, with "historic homes dating back to the 18th century, midcentury modern architecture, independent boutiques selling goods by local makers, and a massive new waterfront neighborhood anchored by futuristic apartment buildings."
One notable example of the modern architecture can be found in the emerging Docklands neighbourhood. This is Isbjerget (The Iceberg):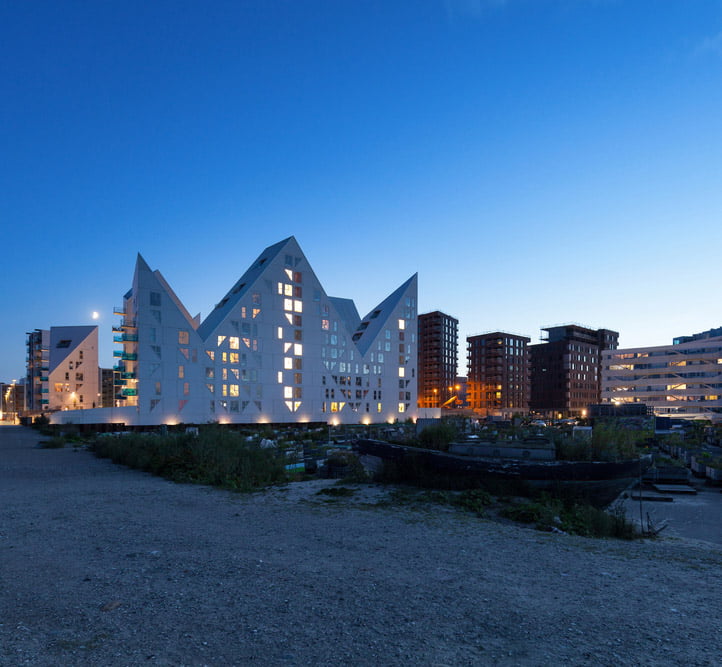 A team of architects including JDS Architects and CEBRA teamed up with Dutch studio SeARCH and French architect Louis Paillard on the project.
Read More: The Best of Denmark
Inside, over 200 apartments are in four L-shaped wings of the complex, including two-storey townhouses and penthouses. More examples of interesting architecture–both historic and modern–can be seen at each of the next three sights.
Den Gamle By
If modern angular lines aren't your thing, how about buildings from hundreds of years ago instead? If so, head to Den Gamle By, the Aarhus old town.
However, this isn't a old district of Aarhus. Rather, this outdoor museum is a collection of houses moved here from across Aarhus and other parts of Denmark. But that doesn't make it any less authentic or less interesting.
You can wander the streets to absorb the atmosphere and learn about how things used to be, all in one place.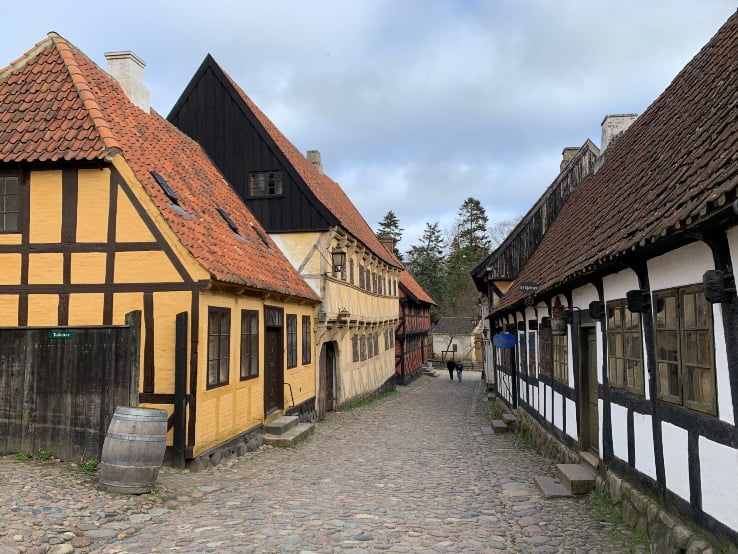 If that doesn't sound like it's worth the 150 DKK entry fee, well you'd be right. But, there's far more than meets the eye here.
First things first, one of the buildings serves as an entrance to a large subterranean museum. Down here, you'll learn about the history of the city from its days as a Viking settlement to the modern day.
Read More: Fun Facts About Denmark
The old town also plays host to several other small museums, all included in the entrance ticket. There's a Toy Museum, Gallery of Decorative Arts and the Danish Poster Museum.
There's also a fantastic little cafe, which serves traditional Danish food of a far better quality than I would have expected from such a major tourist trap. The restaurant was under refurbishment when I visited, but I'm confident that will be well worth a visit once it's back open.
ARoS: Aarhus Art Museum
In the big party year of 2017, almost one million people visited Aarhus Art Museum (ARoS). Since then, the popularity of ARoS hasn't dropped off.
One of the reasons is the spectacular rainbow skywalk perched on the building's roof. This curious attraction offers 360-degree views of the city through an ever-changing array of colours as you walk around.
Many visitors–including me, I have to say!–take the elevator straight to the tenth floor to enjoy the panorama. But there's loads more to see, so allow plenty of time.
The permanent exhibition Human Nature curates work that presents the history of art through the prism of the meaning of life. Another star attraction, Ron Mueck's giant Boy, is presented in a squatting pose inspired by the aboriginal people of Australia from the artist's home nation.
Moesgaard Museum
Next on my list was this regional archaeology museum. One thing to note straight up, the Moesgaard Museum is located well out of town.
It's a 25-minute bus ride away from central Aarhus, but the system is pretty easy to work out. Buses were frequent and I bought tickets using the mobile app. I'm sure that the tourist office or your hotel receptionist can help out if you struggle.
Was it worth the struggle? Yes! The museum is another of Aarhus' architectural stars. Recalling the Oslo Opera House, its sloping roof rises out of the grassy field.
Inside, prehistory and anthropology take centre stage, with stories enhanced by recent discoveries and modern technology.
For example, virtual reality glasses enhance the experience of the Stone Age hunting room. You can also touch a real Viking runestone and participate–virtually of course–in an Iron Age battle.
A cold wind blows from the north and the landscape is bare, with only low, hardy plants as far as the eye can see. This is the view that meets the family when they open their tent flaps, letting in the pale sunlight. They look out over an endless hilly landscape, cut through by a valley. Their eyes search the horizon for herds of reindeer. They are reindeer hunters, and they lie patiently in wait.
I was also able to experience an informative temporary exhibition on the Pompeii disaster. This was super interesting but it's only available until 10 May, 2020, so you don't have a lot of time if you want to catch it.
Dokk1
Back in Aarhus, another curious development to check out is Dokk1. Perhaps you can guess from the name, this public library and cultural centre is located on the city's waterfront at the former industrial port.
Others know better than me, but I've heard the architectural style described as "neo-futuristic."
Wikipedia explains the building's design as: "a heptagonal metal disc floating above a glass prism which rests on a bed of wide irregular staircases to all sides. The metal disc holds offices and administration while the glass prism houses the public library, designed to be transparent to all sides and making all activities within visible from the outside."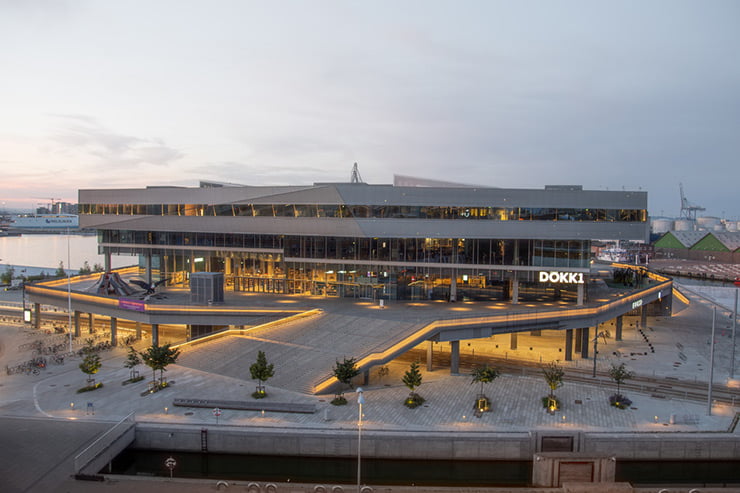 This design also gives those inside the building a view of the harbour, wider bay area, forest or the city depending on where they are.
When visiting Aarhus, Dokk1 is a good place to aim for if planning a wander through the city from the downtown area. To the north of the development, a new residential neighbourhood (Aarhus Ø) is coming together, which reminds me of Oslo's Sørenga.
How to get to Aarhus from Norway
Compared to Norway, Denmark is super small and compact, so you don't need to fly all the way to Aarhus. Regular intercity trains serve Aarhus Central Station from both the Danish capital and its international airport. Copenhagen is easy to reach from most big Norwegian airports in just one flight.
You can also choose to fly to Aarhus, although the airport is located around a 35-minute taxi ride or 50-minute bus ride away. The departure lounge of the airport is notable for its unique appearance that more resembles a furniture store than an airport.
Regular planes serve Copenhagen, but there's also a direct service, albeit not very frequent, to Oslo.
Where to stay in Aarhus
I stayed at the Radisson Blu Scandinavia, which turned out to be integrated into the Aarhus Congress Centre.
For what's obviously a business hotel, the price was reasonable. I had an issue with my room that meant I needed to switch rooms and this was dealt with quickly and professionally.
Of course, there's plenty of other options to suit all price ranges. The Scandic City was one downtown hotel that seemed to be very well located. Meanwhile at the lower end, the Wakeup Aarhus offers 315 simple, affordable yet central rooms with rates around 30% lower than the better-known chain hotels.
I haven't stayed there myself, but it's worth checking out. One thing to watch out for is that the breakfast buffet is optional and costs an additional 90 Danish kroner. At that price, you're probably better off plumping for a coffee shop breakfast instead, depending on how you like to start your day.