Introducing Rodeløkka, a quaint and cozy neighbourhood in the heart of Oslo with small houses and beautiful gardens.
Walking through these narrow streets doesn't only give you a pleasant break from the more urban surroundings. It offers a glimpse into working class Oslo during the industrial revolution. Not too long ago, people in Rodeløkka were poor and the neighbourhood was booming with industry.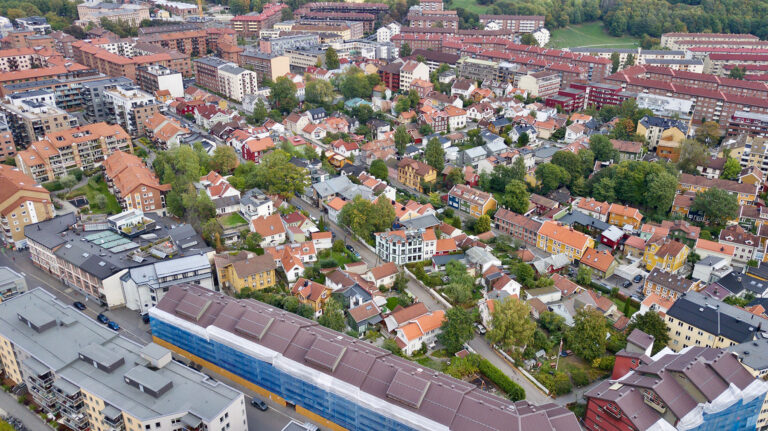 Rodeløkka is located roughly east of Grünerløkka, west of Tøyen, south of Carl Berners plass and north of Sofienberg park.
The small houses, around 140 in total, are all unique and painted in different colours. There are white picket fences and gardens with cherry trees, twisting streets, and small alleys like Snippen and Bodøgata.
Thrown in the mix are some more modern buildings, but this doesn't take away from the feeling of something that seems like a village within the city.
Settled by farmers
Rodeløkka was built around 1860-1880, at a time when the area was just outside the city limits of Oslo, or Christiania as it was called back then.
When the authorities implemented a new law to make sure all new buildings had to be made of either stone or brick, it didn't apply to this neighbourhood. This attracted people from the countryside, who seized the opportunity to build cheap wooden houses and to work in the factories that were popping up during the industrial revolution.
Read more: Damstredet & Telthusbakken: Historic Streets in Oslo
Quite a few men were skilled in carpentry and actually disassembled their houses in order to rebuild them in Rodeløkka. Many of the settlers were also farmers who brought animals and built small barns side by side with the residences, many of which are still standing, giving Rodeløkka a somewhat rural feel.
Booming industry at Rodeløkka
In the early 1900's, the area around Rodeløkka had a diverse industry. There were chocolate factories, tobacco factories, bakeries, mechanical workshops, butchers, bone-crushing factories and furniture makers.
Very unlike the charming atmosphere from today, back then the neighbourhood was straight out slum. Some houses looked like they were built in a rush, and most were hardly isolated. There was no running water nor sewage. Often 20 people lived together in a small house, and everyone was extremely poor.
Life was tough
Like most working class people in European cities at the time, people in Rodeløkka lived on a hand-to-mouth existence and worked long hours in factories without any kind of security system. Fertility rates and child mortality rates were high, health care sparse and diseases widespread. In other words: life was brutal.
All stories about old Rodeløkka seem to somehow revolve around a great variation of smells. Like the mouth-watering smells from two chocolate factories, the delicious aroma from the coffee distilleries, and the perfumed scent from the soap factory in Trondheimsveien.
However, the stench from the bone-crushing factory was apparently horrific, almost unbearable. This was where meat and bone debris from the whole city was deposited, and stored in the yard, before being boiled and made into carpentry glue.
Alcoholism and violence
Residents in Rodeløkka are still talking about the dreadful murder that happened on New Year's Eve in 1928, and this is a source of great legend.
More than a few seeked refuge in alcohol, and alcoholism was not unusual. Hard liquor was smuggled and produced in quite creative ways. Fighting and violence was very common.
Prostitution was legal from 1902, and the prostitution that happended outside the streets were mostly tolerated and regulated. It was also important to distinguish between "decent" and "indecent" women. The story goes something like this:
A carpenter arranged a very wet party for three of his friends in his workshop. To make the event more enjoyable, they managed to get two girls to join the celebration.
They were described as "loose", the one of them being particularly beautiful with the nickname "fullriggern". That's not easily translatable and even interpreted, but probably suggests both a sizable chest and of being easy to get in the sack. The host generously served pure alcohol made from furniture varnish.
Two of the guys, drunk from their senses, started a horrific fight over the prettiest woman. The fight became very violent and bloody, before one of them, wild by rage, took out a carpenter's knife from the workman's shop, and stabbed the other man to death. The remaining three fled the scene.
When the police showed up on his doorstep a few days later, he was prisoned and later sentenced to five years in prison. Which seems surprisingly short compared to today.
To get a sense of how Rodeløkka was 100 years ago, you can watch this movie on Youtube: Gategutter (Boys on the street) from 1949, which was filmed in Rodeløkka. The story is from the depression in the 1920s, and is about a band of very poor and hungry children, roaming the streets and stealing food wherever possible.
Norway's oldest chocolate factory
Freia is one of the factories in Rodeløkka that are still in full operation. Freia is an important part of anyone's childhood in Norway and is not just one of Norway's best-known chocolates, but one of the best-known brands overall.
The factory produces Melkesjokolade, Kvikk-Lunsj, Firkløver, Non-Stop, and the selection is ever increasing. Founded in 1889, this is Norway's oldest chocolate factory.
Original Munch paintings
Freia also probably has one of Norway's most beautiful and interesting cafeterias, displaying 10 original paintings of the famous Norwegian painter Edvard Munch. He was commissioned by the factory's founder Johan Throne-Holst and Munch's childhood friend. They were first put on show in 1923 for Freia's 25th anniversary.
Munch was almost 60 years old when he made these paintings. As opposed to his earlier work, these have a feeling of light and happiness.
It is possible to book a guided tour of the factory, including a look at the original paintings by Munch. For children over the age of 10, the factory organizes chocolate birthdays, where the children can make their own personal chocolate.
Threatened by demolition
For many years, the old houses in Rodeløkka were threatened by destruction, as they were in bad condition, and many still had outhouses. Because of this, many people didn't put effort into renovation and rehabilitation, which made the area seem even more run down.
However, most people in the community protested and campaigned to keep Rodeløkka's distinctiveness. In the end, Rodeløkka survived, and today all houses are protected by the Norwegian Directorate of Cultural Heritage, to make sure the area doesn't lose its' historic value.
From poverty to affluence
Today, houses and gardens are well kept and the outhouses are gone (this lasted until the 1980s), attracting the art world, and middle class couples.
They are sold on the open real-estate market for large sums of money. ven though Rodeløkka has changed from something extremely poor into something rather affluent, the neighborhood has kept the authentic atmosphere.
Watch this short film about Rodeløkka from the 1970s (in Norwegian):
Restaurants in Rodeløkka
Rodeløkka has a variation of cafes and restaurants, also with international components.
In Trondheimsveien, there is a Chinese restaurant, Szechuan Chengdu with great reviews. And rumours say, there is a secret menu you can order from if you or anyone in your party are of a Chinese background.
Perla is a small mezcleria and cocktail bar on Helgesensgate, specializing in the Mexican drink mescal; a strong alcoholic drink from Mexico. This is a place where South Americans like to hang out.
Vespa & Humla, in Københavngata is a local cafe where you can get Italian brunch, and also has its own micro brewery. The cafe also offers a tour with beer tasting around the brewery, Grunerløkka Brygghus.
Stolen Cafe & Bar in Helgesensgate, is a traditional brown pub (brun cafè) that sells reasonable Indian food. It has been there for a very long time.
How to get to Rodeløkka, Oslo
Rodeløkka is about a 10 minute walk east from Akerselva from around Alexander Kiellands plass. Many buses, the subway and trams stop at Carl Berners plass, which is less than a five minute walk from the upper side of Rodeløkka.