The sudden collapse of a Norwegian village shocked the world in the final days of 2020. Here's everything we know so far about the shocking Norway landslide.
A major landslide took place in the early hours of December 30 in a village near Oslo. These unbelievable scenes from eastern Norway made headlines around the world.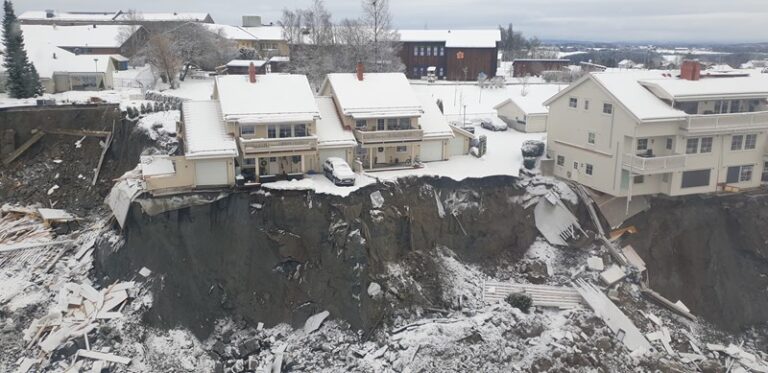 The situation is constantly changing, so here is everything we know so far about the deadly natural disaster.
Summary of the latest news
Seven people are known to have died, but three others are presumed dead. On the afternoon of January 5, police announced there is now no hope of finding any survivors.
Read more: Shocking Photos Reveal Full Horror Of Norway Landslide
More than 1,000 locals were evacuated from their homes as the ground underneath Ask showed continued signs of instability. This also hampered rescue attempts.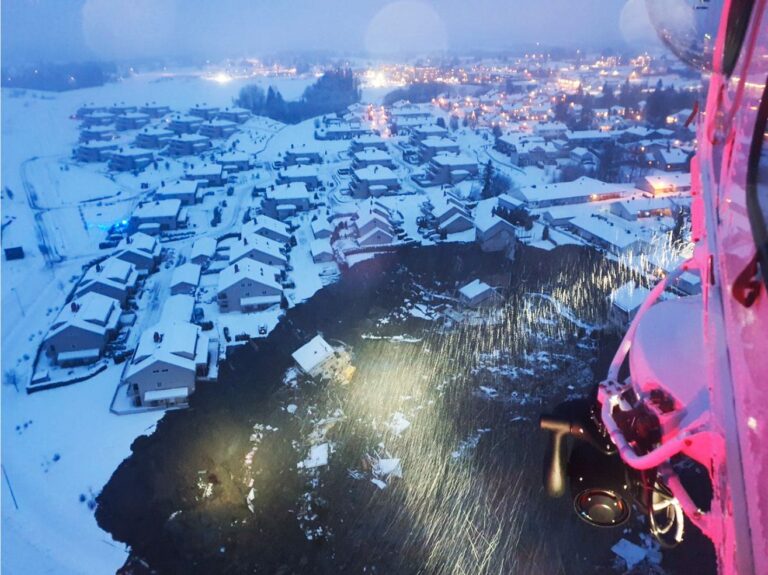 Norway's prime minister has visited the site. The King and Queen also visited the site on January 3 to meet with emergency crews and locals impacted by the tragedy.
How many people died?
So far, seven bodies have been discovered in the landslide area. The first to be named was 31-year-old Eirik Grønolen.
Bjørn-Ivar Grymyr Jansen (40) and his 2-year-old daughter Alma Grymyr Jansen have also been found dead. The mother, who was pregnant with their second child, was confirmed dead later.
Lisbeth Neraas (54) and her visiting son Marius Brustad (29), and Irene Ruud Gundersen (69) are also confirmed dead.
Where did it happen?
The landslide occurred in a residential area of Ask, a village in Gjerdum municipality about 40km northeast of Oslo.
The impacted area was a relatively new road and housing development on the southern edge of the village.
What happened on December 30?
Emergency services received the first calls at around 4am on Wednesday morning.
One eye-witness told NRK: "It was so unreal. I put on my headlamp and walked over, then I saw only a huge hole in the ground and many houses were gone."
"I have forest in the garden that was not there before. It is a bit difficult to describe," said one eye-witness to VG. who lives approximately 200 metres from the site of the major landslide.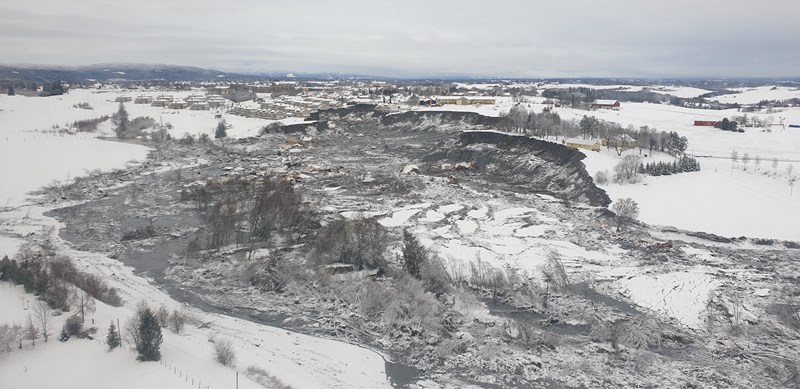 What happened afterwards?
Many lives were saved in the hectic initial hours after the incident. Neighbours, police, firefighters and ambulance crews took part in the initial response. At least 10 people were taken to hospital.
"Some rescued people from inside houses that collapsed shortly afterwards. We have had people down in the ravine to rescue people from cars and so on," fire service operations manager Kenneth Wangen told VG.
Police worked tirelessly to try and make contact with all residents of the affected area, many of whom were away for the holidays.
The search and rescue operation
Once the scale of the incident became clear, authorities were quick to declare a national disaster.
This triggered a search and rescue operation led by Police and supported by the local municipality, national defence and emergency crews, helicopter support, voluntary organisations.
Rescue crews were hampered by the poor light and weather conditions and ongoing land instability in the area. Search and rescue was initially restricted to heat-seeking technology on helicopter and drones and dog search teams.
A crew of Swedish urban search and rescue (USAR) experts assisted with the operation. The initial search was focused on houses that moved by up to 400 metres.
Although the discovery of a dog alive on January 4 raised hope of finding human survivors, the police have since said that the hope is now gone. The search operation continues, but the three missing people are now presumed dead.
"For the last week we have done everything we can to save lives. We have investigated all areas where one could imagine that someone could survive, said police chief Ida Melbo Øystese.
"We see that those who have died, have died quite quickly. But even though we have given up hope of finding survivors, the search is not over. We are now entering another phase to find everyone who disappeared," she continued.
The reaction from Norway's leaders
Norway's prime minister took to Twitter to share her sorrow over the incident. "It hurts to see how the forces of nature have ravaged Gjerdrum. My thoughts go to all those affected by the landslide. Now it is important that the emergency services get their job done," she said.
In his New Year's Eve speech, King Harald offered his thoughts to those affected: "I sympathize with all those entering the new year with sorrow and uncertainty. With you who have lost your homes and who right now are desperate and do not see the way forward."
"At the same time, I would like to commend both the authorities, emergency services and civil society for the great effort that has been made under very demanding conditions," added the King.
The King and Queen will visit the area on January 3 to meet with affected locals and emergency services.
Why did the landslide happen?
Norway is no stranger to earth movement. In the summer of 2019, this dramatic landslide divided a small village in two. Earlier this year, instability near Alta in Northern Norway resulted in a series of landslides that destroyed a road and several houses.
Read more: Earthquakes in Norway
The exact cause of this landslide remains unknown. However, experts say the Gjerdrum area has suffered quick clay landslides before, but not on this scale.
The quick clay ground under the affected area of Ask is known to be at high-risk of landslides. Just before Christmas, a smaller landslide occurred a few kilometres further north but neither buildings nor people were affected.

Quick clay is generally stable but when the structure is disturbed, the clay can liquify. This process can spread quickly over a wide area.