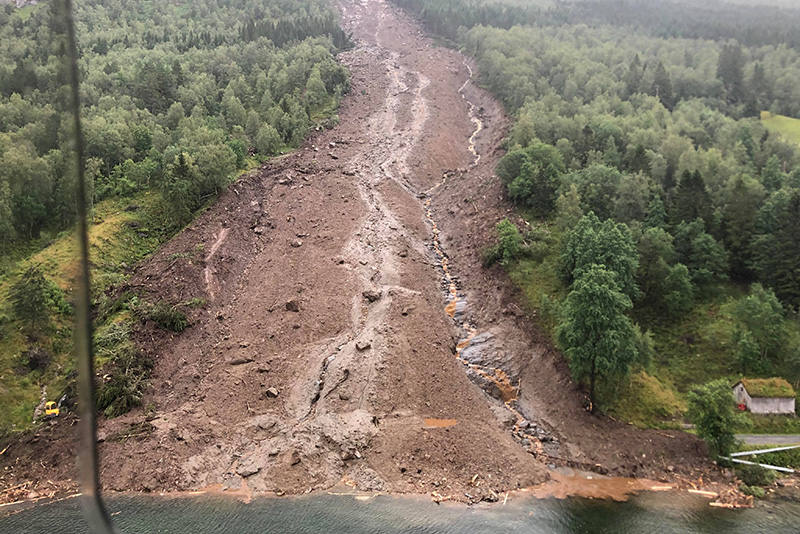 One man is confirmed missing, presumed dead, and several others remain unaccounted for after a series of landslides in a rural area of western Norway.
Just days after a heatwave saw temperature records tumble across Norway, heavy rainfall caused a series of landslides in Jølster. Water, rock and mud swept across roads wiping out everything in its path.
More than 150 evacuated
More than 1,000 people live in the area close to the landslides. At least 150 people have been evacuated to nearby hotels and schools. At least one car is believed to have been swept away into the water and one man in his 50s is confirmed as missing. Several other local residents were unaccounted for in the hours after the incident.
Authorities are having difficulty reaching them as mobile phone networks were disrupted by the landslide. Emergency services are having to use the national emergency radio network in order to communicate and coordinate the search and rescue efforts.
This video taken from a helicopter by the rescue services (HRS Sør-Norge) shows the extent of the destruction:
#Jølster Video fra redningshelikopter Florø. Kan brukes av media. pic.twitter.com/fXTIEo3Fi4

— HRS Sør-Norge (@HRSSorNorge) July 31, 2019
Missing car
Torrential rain flooded Norway's E39 highway and divided a small village in two. A combination of landslides and floods closed the E39 and a local road on the shore of Jølstravatnet. Police are now searching for the car reportedly swept into the water from County Road 451 at Årnes in Jølster.
Police confirmed the search in a press release. "A man in his 50s is reported missing, and there is reason to believe he was driving the car that was taken by the landslide. Police are in contact with and are following up with the man's closest relatives," read the statement.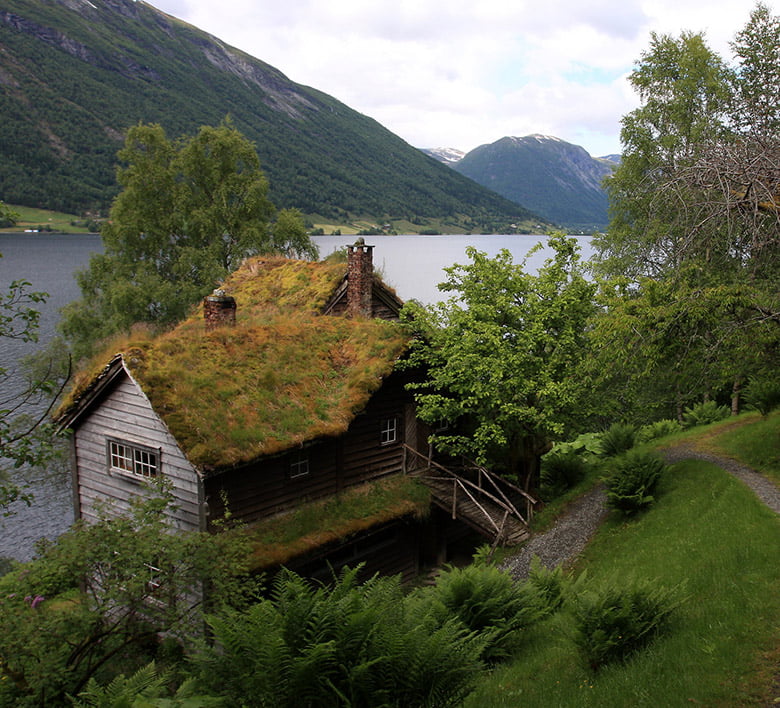 The search however is being hampered by continued poor weather and instability of the land. "There is still a great danger to the area, and the safety of the search teams must be taken into account. It is not justifiable to send down divers or small boats close to shore as long as the danger continues," said the Police.
Geologists are now at the scene to assess the situation.
Weather data showed the danger
Norwegian newspaper VG today revealed that the torrential rain was clearly predicted six hours beforehand by the Meteorological Institute's weather model. Meteorologists had issued a 'yellow level' forecast of 15mm of rainfall for western Norway on Tuesday.
But on Tuesday morning, the model warned of intense rainfall of more than 50mm in three hours in Vaksdal (Hordaland) and Jølster. A weather station at Vaksdal recorded 33mm of rain in just one hour during the early evening.
No damage was reported there, but Jølster wasn't so lucky. A weather station recorded rainfall of 92mm in just four hours.
A spokesperson for the Meteorological Institute told VG that even with the weather model it is difficult to accurately forecast rainfall. Forecasts are made six time per day, each with ten different variants. This often makes it difficult to accurately predict periods of extreme rainfall in one location.