Back in August I wrote about preparing for my first Scandinavian winter. Little did I know that come the 3rd of December, I would be sat in my Oslo apartment with the radiators off, gazing out of the window still waiting for the first snowfall.
November 2011 has gone down in the records book as Norway's warmest ever, or at least since records began 111 years ago. This despite Hurricane Berit battering much of the country last week, doing substantial damage to some coastal areas. But even more remarkable is the contrast to last November, which was recorded as Norway's coldest ever.
However, all is not lost! There are whispers of some light snowfall overnight (we shall see), but either way I managed to get a snow fix when I visited Gerry in Trondheim last weekend. On Saturday I caught some of Berit's torment… dagger raindrops flying horizontally into me in the middle of a gale… nice! It was dark, wet and miserable, so I went to bed.
Then on Sunday morning…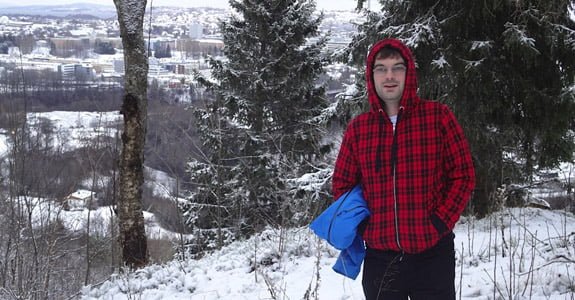 Truly magical.
I loved snow when I was young, especially the first snowfall of the year, if we had any! Even now at the age of 30 I still get excited when I see the white blanket. Naturally, I wrapped up and headed outside to explore a new-look white Trondheim!
When the white blanket eventually comes to Oslo, I'm sure the reality of having it on the ground for months will destroy the romance of it all. But for now, I'm looking forward to it 🙂