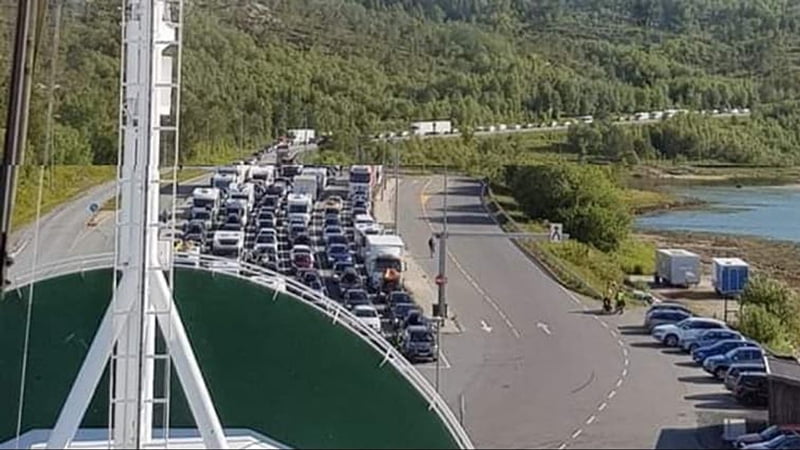 The great Norwegian summer holiday of 2020 is underway. Roads are clogged, trails are full, and full ferries are leaving many cars behind.
Norway's summer of domestic vacations is well underway. Because of the global health crisis, Norway's prime minister encouraged Norwegians to holiday at home this year.
Despite the lifting of some border and quarantine restrictions from July 15, many Norwegians had already made plans to stay at home and explore Norway. This despite a long list of things that Norwegians dislike about domestic vacations!
That list is likely a lot longer after the last couple of weeks. Crowded hiking trails plus long queues for ferries and mountain roads have caused travel chaos across much of Norway. Here's just a flavour of what's been going on so far in the summer of 2020.
Crowded hiking trails
Over the years we've covered several stories about Norway's hiking trails–especially Preikestolen–becoming overcrowded. But it's normally with foreign tourists. Not so this year.
Such were the crowds on the trail to Pulpit Rock recently that the Preikestolen Foundation chair had to call the Police, and ask new arrivals to turn around. VG reported that the majority of hikers were Norwegian and Danish.
https://www.instagram.com/p/CCqeUa5Dfxi/
Preikestolen is an 82×82 foot square clifftop that stands almost 2,000 feet above the stunning Lysefjord. On a clear day, the views "from the Pulpit" are simply breathtaking. Preikestolen bosses blame image-based social media for the increasing numbers of people wanting to make the hike.
It's not just Pulpit Rock that has attracted Norwegians in great numbers. Another famous hike–the Besseggen Ridge–has also proved popular. Too popular. In a typical year, around 60,000 people attempt the hike. Even with the relative lack of foreign tourists, this summer is set to smash all previous records.
Large numbers of inexperienced hikers making the challenging all-day hike combined with poor weather has proved problematic. Rescue services have experienced a high number of callouts. Just a week or so ago, an air ambulance was required to rescue a group of eight.
Long queues on mountain roads
A road trip in Norway has the potential to be a memorable experience, especially the National scenic routes. But there's a big capacity problem. Many of the mountain passes are the only road for many miles around, and their narrow, twisty nature means opportunities for stopping or passing are limited.
For several days now there have been long queues on the E134 over Haukeli. Cars have been at a standstill for up to three hours at a time. The Norwegian Public Roads Administration (Statens Vegvesen) have now asked people to find an alternative route.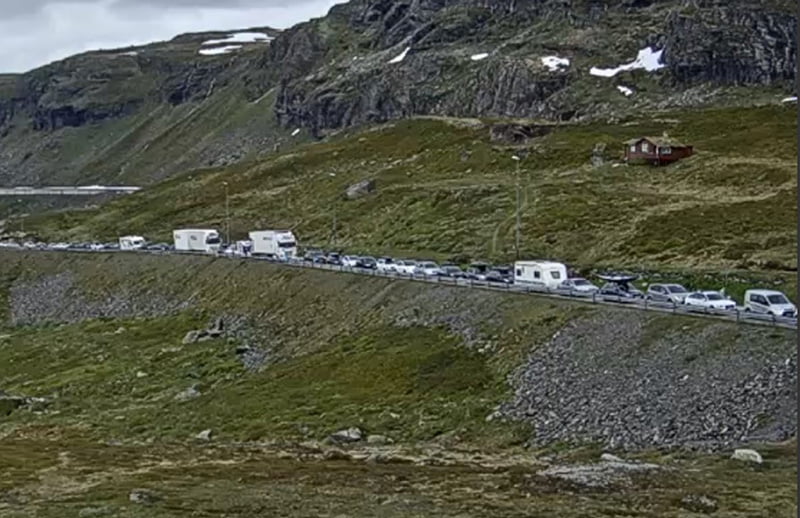 Haukli is a major traffic interchange between the E134 west-east road south of Hardangervidda National Park, and route 9 that leads south all the way to Kristiansand.
Lars Helge Rasch, senior communications consultant at Statens Vegvesen, told NRK of the reasons for the delays. "The waiting time over the mountain is connected with the fact that this summer there is increased holiday traffic, and planned tunnel work. The tunnel work has been announced for a long time.
The work at Haukeli runs until 15 October, and will then be resumed again in June 2021. "We have to do it this way because it is impossible to carry out this work at an altitude of 1,000 meters in the winter. At that time of year, there is more than enough to do just to keep the road open," added Rasch.
The advice from Statens Vegvesen is all well and good, but alternative routes are few and far between. They recommend driving along the south coast, or over Hardangervidda instead.
Long queues for ferries
Car ferries are commonplace on a Norwegian road trip, especially along the west coast and in the north. They operate on a first-come, first-served basis. The queueing system in place ensures that those who miss out on a departure are first in line for the next one.
https://www.instagram.com/p/CCk-j0rnQRv/
However, the sheer number of cars on the road this summer has overwhelmed many ferries. But, it's not as it Norwegians weren't warned. Back on 3 July, VG carried a story warning of the most likely destinations for queues.
In northern Norway, waiting periods of four hours are not unusual. "Motorhome tourists take no chances. To be sure of getting a place, they spend the night on the quay," said Leif Magne Tangen from the Moskenes tourist information office.
One of the worst hit services was the one-hour crossing from Bognes to Lødingen. The service offers a handy short-cut from the E6 on the mainland to the islands of Lofoten and Vesterålen.
"It's chaos now. Usually there is a very short queue. Now it is kilometres long, and all the parking rows down by the ferry quay are filled up," said one tourist to NRK on 12 July. According to the news report, the ferry crew had never seen such queues.
The ferry operator has hired an additional vessel from Trøndelag to meet the high demand for the rest of the summer.
General frustration at tourists
This opinion piece by a Norwegian farmer sums up the feelings of Norway's rural population. "Where does the common sense go?", she asks.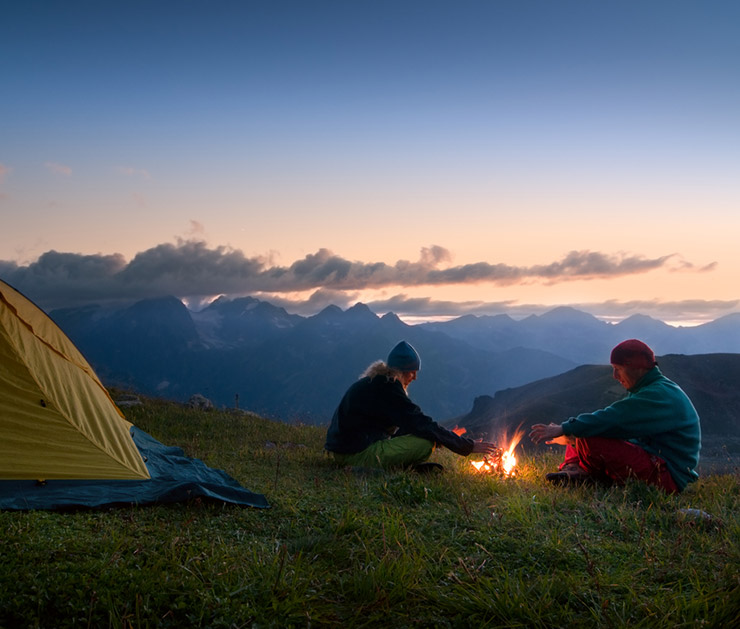 "It is not a human right to go on a summit hike to the most spectacular places. It is something you do if you are capable of it – physically and mentally. If you are not, you get to enjoy other people's photos. Or enjoy yourself on a lower peak, on a forest path or on a beach by the sea."
"What would you say if strangers lit a fire on your lawn or walked in your yard? Maybe they also threw away some beer cans, which your dog ate – and which in turn led to internal bleeding, with fatal consequences."
There's also a general frustration that Norway's right of public access has gone to people's heads. She talks particularly of those who wander into cows' pastures to take pictures. "But when they leave, they do not close the gate behind them. Thus, the cows end up on the road nearby. It is unnecessary – and dangerous for both people and animals."
Have you travelled in Norway this summer? What's your experience?