One writer describes his journey to Pulpit Rock, one of the Stavanger region's biggest tourist attractions.
Pulpit Rock, or Preikestolen in Norwegian, was always going to be number one on my to do list for my first ever visit to Norway last August. Having originally scheduled the hike for Saturday of our Friday to Monday stay in Stavanger,
Read more: Could Preikestolen Collapse?
I decided to switch this to Sunday, after viewing a local weather report shortly after settling into our hotel and seeing the predicted torrential downpours forecast for Saturday.
Getting there
Getting there from Stavanger really could not have been easier. I made a quick visit to Stavanger Tourist Information Centre on Domkirkeplassen, which is open 9am-8pm daily throughout the summer season, to book a return combination ticket for 300kr that includes both ferry and bus travel.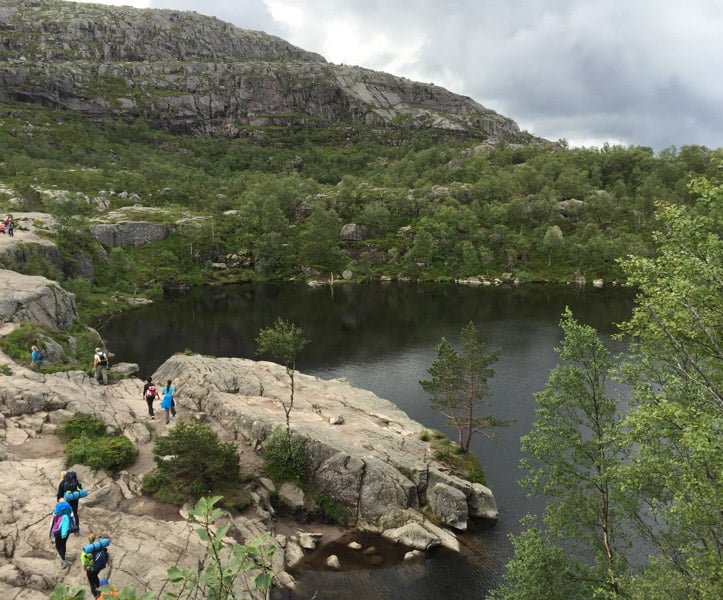 The location of the port for the Ferry to Tau was just a short walk from the centre of Stavanger. From Domkirke Cathedral take a left and follow Klubbgata to the roundabout, turn right and the ferry departure point is located at the next roundabout.
Both the ferry and bus journeys were experiences in themselves and the scenic views on both are well worth the price alone. Once the ferry had arrived in Tau, we boarded the bus at the stop situated right next to the dock.
Read more: "Breaking Point": Record Numbers Hike To Preikestolen
The bus travels through the small town of Jørpeland, before arriving at Preikestolen Fjellstue a short while later. This is the base for the start of the hike.
The hike
What I would say here before I start, is that you do need a degree of physical fitness if you are planning to do this hike for yourself. I did the hike with a friend in his mid 40s. He had little physical fitness and unfortunately he had to give up two-thirds of the way up.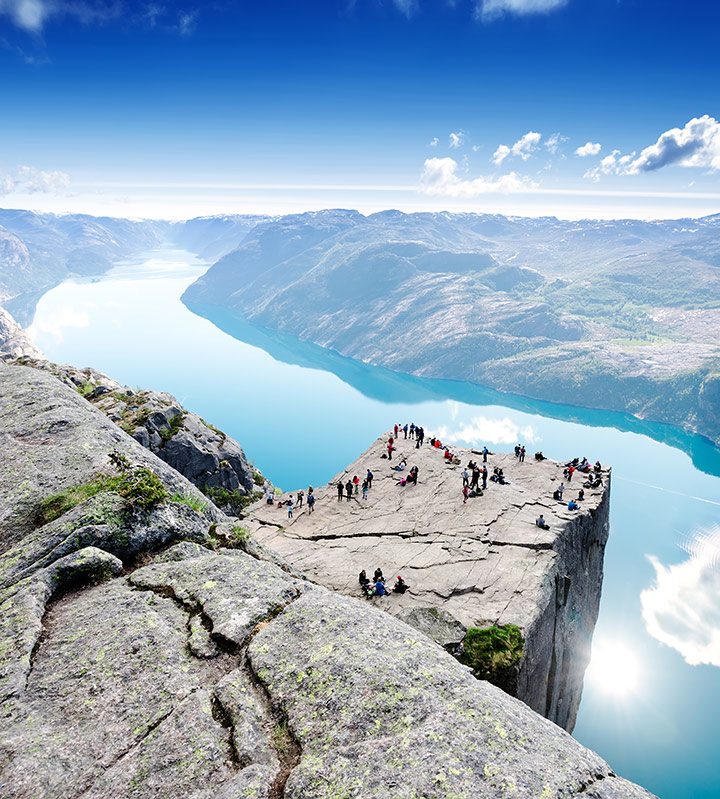 The hike takes many forms of difficulty and has varying underfoot conditions, but along the way you will witness some of Norway's finest wild and beautiful surroundings.
There are plenty of opportunities for scenic photos en route to the ledge. One place in particular that stood out was a stunning plateau that opened up about 20 minutes before the end of the hike.
It had a number of open lakes and many areas just to sit and relax or picnic, as many chose to do.
On the rock
After a hike of around two hours, nothing could have prepared me as Preikestolen came into sight. At 604 meters above see level, with views over Lysefjord and down to the almost toy like cruise ferries on the water below, it really was quite something to behold.
The rock itself was fairly crowded with tourists and many children sat fearlessly with their legs dangled over the edge, as they gazed into the vast fjord below. I was not brave enough to attempt this myself, however.
On the decent back down, it is courteous to give way to those making their way up, this can slow you down somewhat. It is also a little more difficult going back down, especially if the underfoot conditions are wet.
In summary, this is a once in a lifetime experience and I would highly recommend it, especially if you are planning a visit to Norway anytime soon.