Join me as I set sail on a cruise from Edinburgh to Svalbard via the spectacular coastline of Northern Norway. Here's the story of my latest Fred Olsen cruise.
Svalbard is an Arctic land of mystery where the sun disappears for months at a time in winter, only to blaze continuously for months at a time in the summer.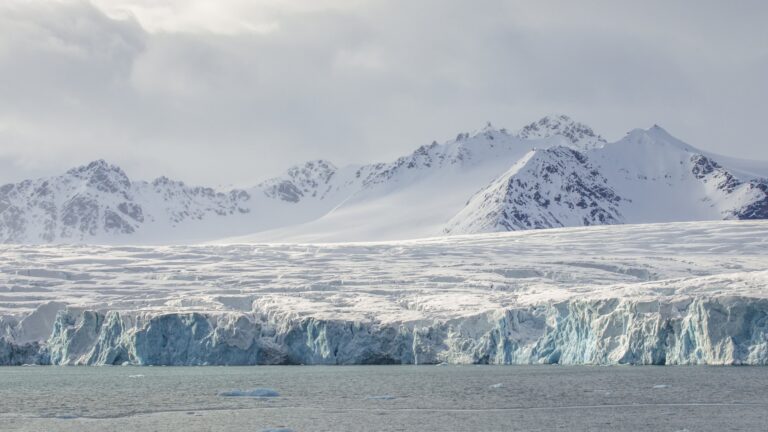 I've been to Svalbard twice before but only to Longyearbyen, the main settlement, and only in the darkness of December and the subzero temperatures of March. This time Svalbard beckoned with the call of the midnight sun.
I knew Svalbard in the summer would be a very different place. Longyearbyen would look very different, but it would also give me a chance to see some of the spectacular polar scenery including the famous glaciers.
Svalbard cruise video
This meant a cruise ship was an ideal choice. There are controversies around cruising in Svalbard and its future is very much in doubt, so I was keen to join a small ship. If you're a watcher rather than a reader, check out this video version of this article:
This intriguing one-off itinerary from Fred Olsen Cruise Lines left Edinburgh in Scotland, sailed up the coast of Norway crossing the Arctic Circle and then across to Spitsbergen in the Svalbard archipelago.
So while this cruise was about the headline destination, it also offered huge amounts of interest along the Norwegian coastline. The Balmoral's small size meant there was plenty of scenic cruising on the itinerary, which meant that six sea days did not feel like six sea days.
Introducing the Balmoral
We were on Fred Olsen Balmoral, a relatively small cruise ship in this day and age with just over 1,000 guests.
Now, it was time to explore the ship. I'll be making a full ship tour video and article of the Balmoral soon, but in the meantime here's some of the highlights.
There's a lot of outdoor space that's perfect for scenic cruising, a flexible show lounge in place of a fixed theatre, several restaurants and diverse activities taking place throughout the days that are geared towards an older, British crowd.
It's actually an old ship by modern cruise ship standards, but the vessel has been very well looked after. Recent renovations in some of the lounges makes the ship feel far newer than it actually is.
Leaving Rosyth
The cruise began from Rosyth so we spent the night before departure exploring the nearby city of Edinburgh, especially the historic Royal Mile. After a taxi ride across the bridge to Rosyth, check-in was quick and easy and we were on board in a flash.
Shortly after leaving Rosyth we passed under the famous Forth Bridge, a UNESCO World Heritage Site and a powerful symbol of Scotland.
Åndalsnes
After a remarkably calm crossing of the North Sea, we arrived at our first port of call, Åndalsnes.
Many of my fellow passengers assumed this quayside building was a modern church. In fact, it's a mountaineering museum complete with this challenging indoor climbing wall. Another attraction clearly visible from the ship was the cable car.
Despite the high cost, many of my fellow guests took the trip. I spoke to some that even walked the trail up, which is perhaps the most Norwegian of all activities you can do while in Norway.
Another major attraction is Åndalsnes is the scenic Rauma Railway. Even if you don't take the trip, it's worth visiting the station to call in to this former railway carriage which has been converted into a chapel.
Trollstigen
I only had a short time to explore the town as we soon headed out on an excursion to the Trollstigen mountain pass, somewhere that always takes my breath away no matter how many times I've visited before.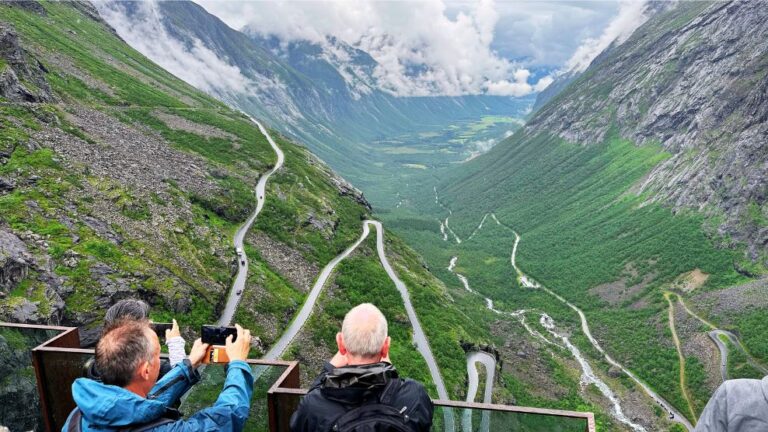 While a somewhat cloudy, rainy day like this disappoints some, for me it just adds to the atmosphere. We made a short stop at the foot of the road to look up before driving the road and making a much longer stop to visit the viewpoints at the top.
We also paid a visit to the imposing Trollveggen mountain face. It was much rainier and cloudier here but at one point we were able to just about see the famous jagged mountain top.
Scenic cruising
Another sea day followed but it was full of scenic cruising, including a sail-by Rørvik in the early morning, followed by a visit to Torghatten, the mountain with the hole, before we crossed the Arctic circle.
Most cruise ships heading north are many miles offshore, so being on a smaller ship made all the difference here. That was especially true the following day, another sea day, as we reached the Lofoten and Vesterålen islands.
The Observatory lounge was a popular place to be throughout the day, as were the outside decks as people enjoyed the scenery or kept an eye out for wildlife.
Highlights of the day included navigating the narrow Tjeldsundet straight and visiting the Devil's Jaw of Senja island.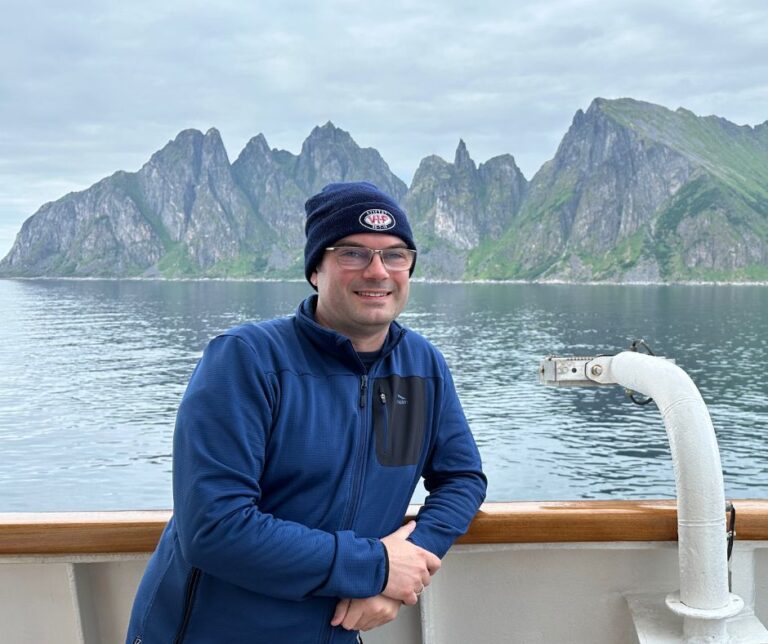 The scenery just kept getting better and better. Before we began the ocean crossing to Svalbard, we had two more ports to enjoy.
Tromsø & Honningsvåg
Tromsø, the biggest city in Arctic Norway, is a perennial favourite of mine. The combination of wonderful weather and a docking position downtown made this a thoroughly enjoyable day.
Honningsvåg is on the itinerary to allow people to visit the North Cape, but having been there before I chose to wander around the town. I'm glad I did as the weather was glorious, or at least it was at first.
The harbour area looked absolutely beautiful bathed in sunshine. Locals had smiles on their faces as they happily chatted with some of my fellow cruise visitors. I kept myself busy taking plenty of video for a future YouTube video.
Just a few hours after arrival the Arctic weather did its thing and the temperature plummeted, although people still made the most of the sailaway party.
Then came a day of anticipation as we crossed the ocean towards Svalbard. Many people attended enrichment talks, which were well attended throughout the cruise.
There was also a mandatory polar safety briefing, and it was only at this point when I think it dawned on many guests just how far north we were heading!
Svalbard scenic cruising
Many people gathered on deck hoping for a glimpse of Bear Island, but it was shrouded in an eerie fog when we arrived—a handful of birds the only indicator that we were near land.
But the following morning, the fog had cleared as we made it to Svalbard for our first glimpse of Spitsbergen island. Many of my fellow guests were mesmerised by the fascinating geology and wildlife on show as we sailed along the Isfjorden.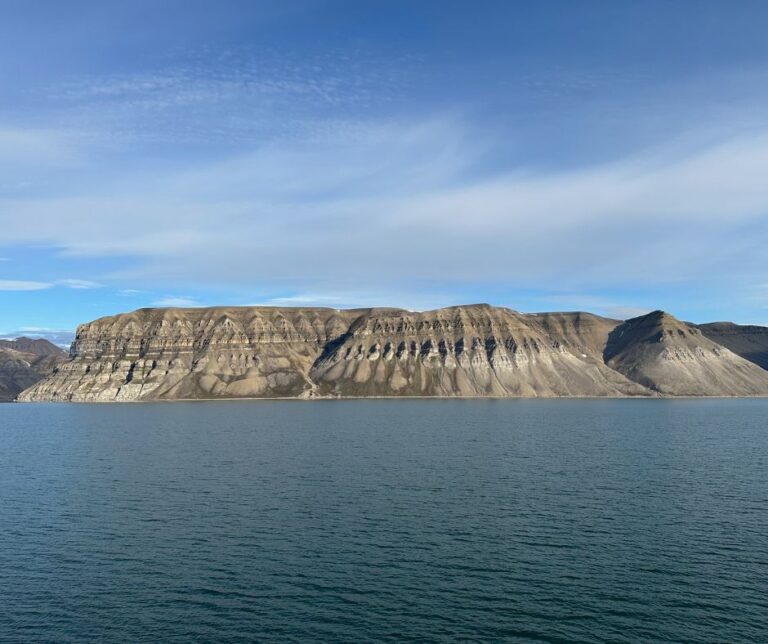 While I didn't get any great wildlife shots, you can just about see a pod of belugas over by the shore. I also loved seeing the distinctive flight of puffins overhead.
On our way to the scenic cruising spots we passed by Pyramiden, a former Russian mining town now all but abandoned.
Then it was time to don the sunglasses as we arrived at the spectacular glacier Nordenskiöldbreen.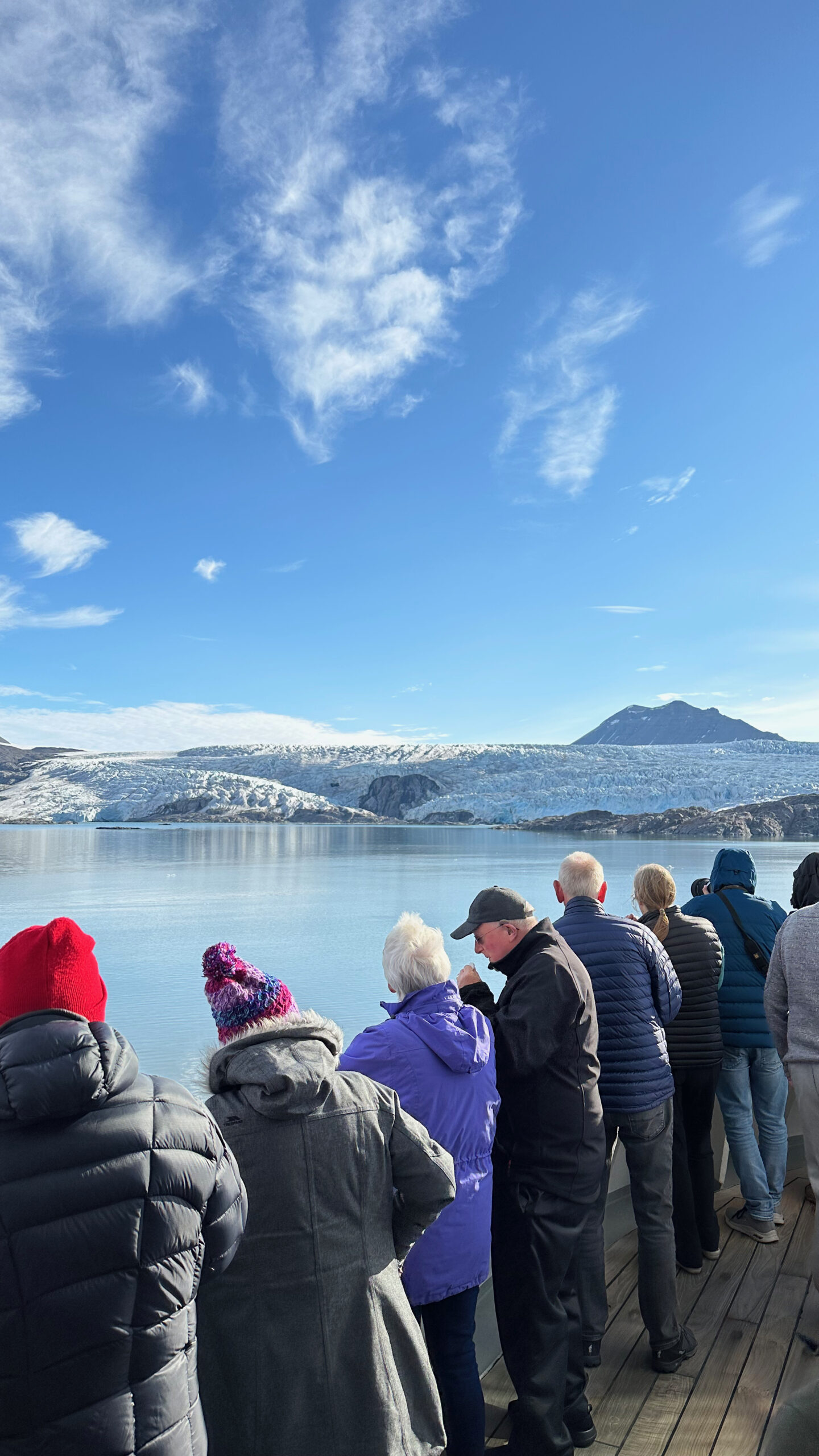 Pictures and video do not do this place justice. Even though the glacier has retreated in the past decades, it is still an astonishing sight in person.
We got a lot closer than I'd expected, again another advantage of being on a relatively small ship. The captain turned the vessel so that everyone got a chance for a great view no matter where they were on the ship.
But that wasn't all for the scenic cruising. An hour or so later we arrived at the Tempelfjord for another impressive glacier view.
Longyearbyen day 1
Soon it was time to leave the ship once again, as we arrived at Longyearbyen. Although less than 2,500 people live here, the town initially feels much bigger because it has to have everything a remote community needs – from a power station and an airport to the shops and services you'd expect to find in a much bigger city.
Having only seen Longyearbyen with snow on the ground before, it was quite a shock to see mostly bare rock, and a river I'd never seen before!
There were plenty of clues as to the kind of place we were in, including the functional nature of the buildings, pipework above ground, the glacier at the end of the town, and the huge number of snowmobiles scattered around the town waiting for the turn of the season.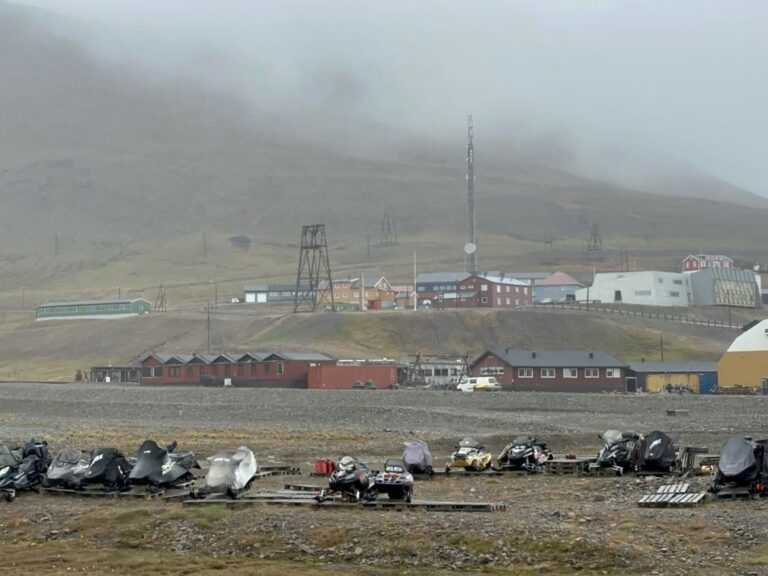 The town is also home to the world's northernmost, well, pretty much everything. The northernmost hospital, gas station, Mexican food truck, and brewery are all here.
We took the opportunity to sample some local food off the ship, enjoying this reindeer pizza and local beers in one of the pubs.
Unusually for a cruise there was no need to watch the clock as we were actually overnighting in Longyearbyen. Many guests stayed up late on the ship in the hopes of "seeing" the midnight sun, but it was hidden a little by a cloudy sky.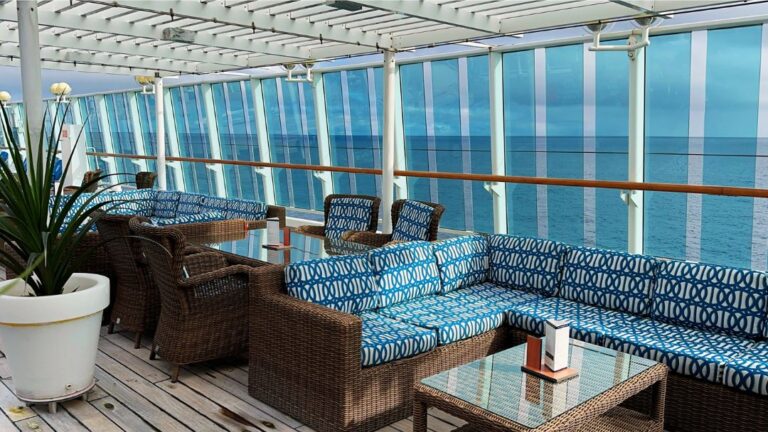 Nevertheless, everyone on board got at least a little idea of what it must be like to live through 24 hour sunlight for a few months.
Longyearbyen day 2
The following day the weather took a turn for the worse, but that didn't stop us heading back into Longyearbyen.
The settlement exists because of a long history of polar exploration, trapping and hunting, and coal mining, although today Longyearbyen is mostly a centre for scientific research and tourism.
That diverse history is remembered at the Svalbard Museum, which features exhibitions about the settlement story and wildlife of Svalbard. There's also archive editions of the local newspaper which I loved looking through.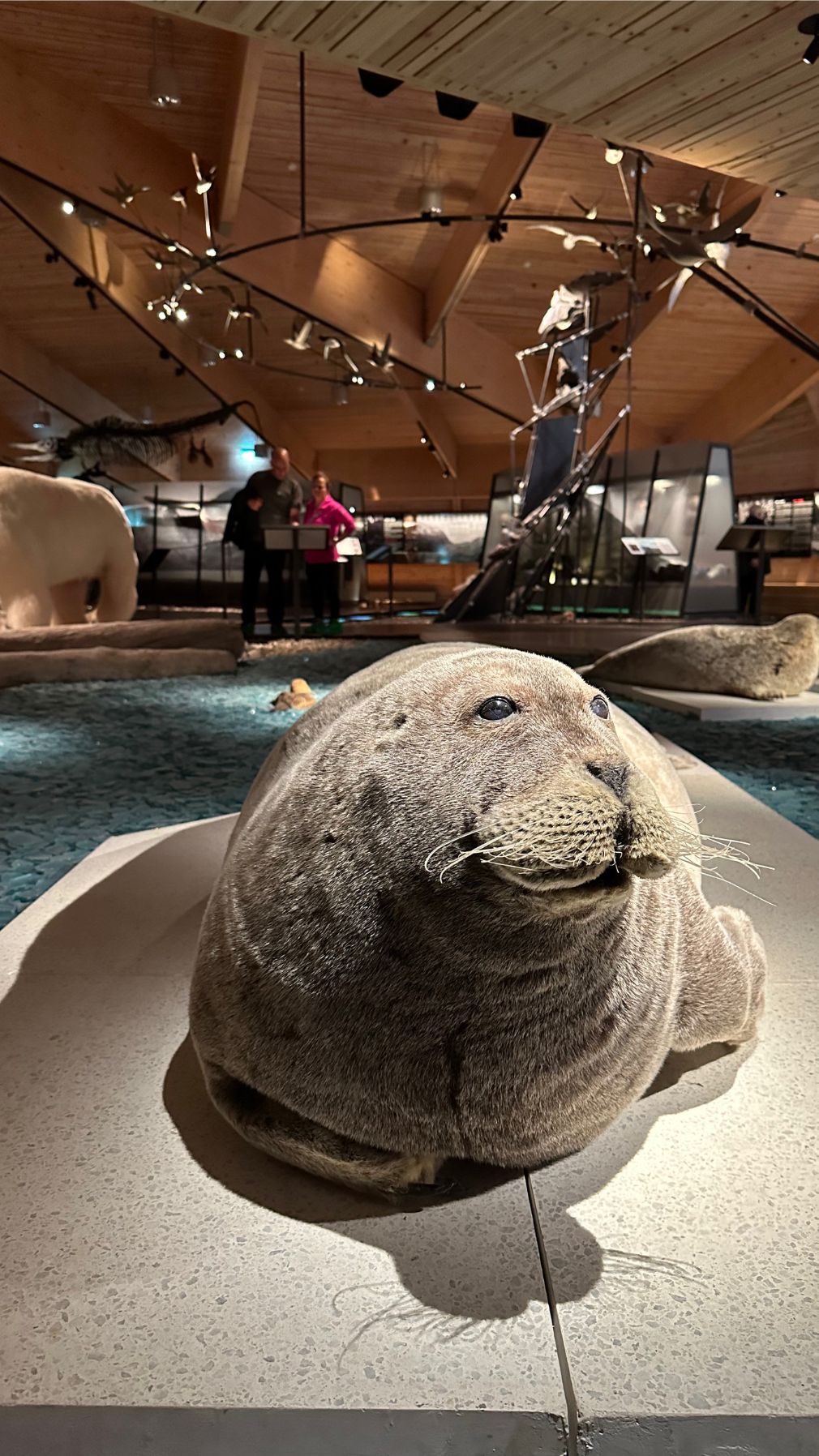 After the museum we called into the Husky Cafe, a wonderful new addition to Longyearbyen that provides a home to retired huskies.
Despite the poor weather we continued on, looking for souvenirs. There's a good range of stores in Longyearbyen, in particular sports gear and outdoor clothing, and work from local artists.
I have to say that I spoke to some people who found Longyearbyen boring. Personally I find seeing how people have survived and thrived in a place like this—78 degrees north—utterly fascinating, but it does highlight the importance of knowing exactly where you're going on a cruise.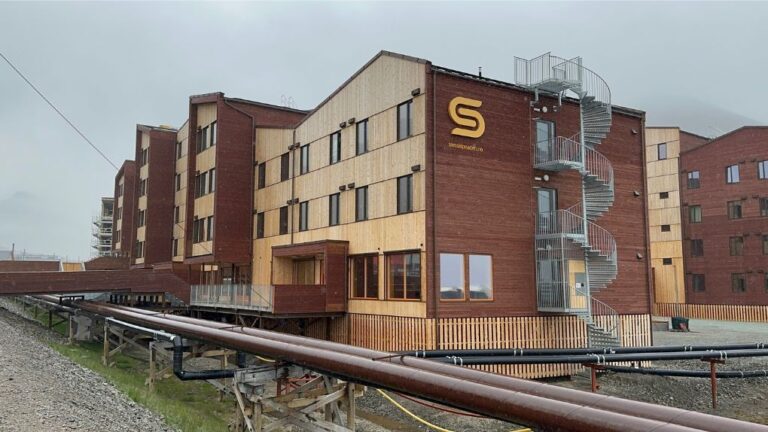 Some of that disappointment may have been because we did not see a polar bear during the scenic cruising, but that was always going to be an unlikely bonus.
And with that, it was time to leave Svalbard. As the pilot left us to it, I couldn't help thinking that after the spectacular scenery we'd seen, it was going to a boring few days heading back south. I was wrong!
Sortland and Nyksund
Our next stop was Sortland, not exactly big on the tourist trail but the stop did enable us to take a bus tour to Nyksund, a tiny fishing village that's been abandoned three times in its history.
Despite the challenges of living in such a remote, exposed part of Northern Norway, Nyksund attracted keen fishermen, at one point being home to an astonishing 800 people.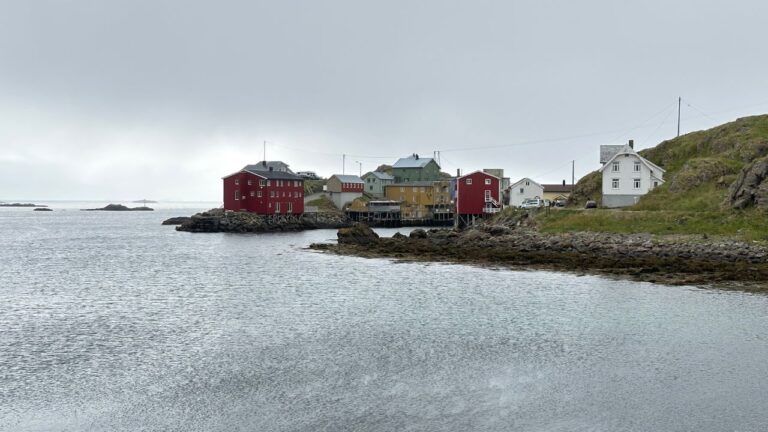 After the last abandonment in the 1970s, it seemed as though Nyksund would be closed forever. But today, Nyksund is a community once again, with a second hand store, church, accommodation and places to eat.
More scenic cruising in Norway
We left Sortland in fantastic weather, which continued for most of the following sea day. This meant that the last scheduled scenic cruising along the Norwegian coastline was absolutely wonderful.
The great weather brought most people out on deck to appreciate the scenery, with the visit to the glacier Svartisen, the day's highlight. It's one of the most famous glaciers in Norway, and once again we were able to get nice and close.
Back inside, the entertainment team held a summer fayre which raised a few thousand pounds for the RNLI. With games including a human fruit machine and cava ring toss, it was a fun if a little bizarre way to spend a few hours.
The final stop on this cruise was Kristiansund, a regular port on Fred Olsen itineraries, with many guests heading off on a boat tour around the town or a bus trip to the Atlantic Road.
If you are considering a Svalbard cruise, I hope this post has given you a taster! Of course, this kind of itinerary is only one option. Other itineraries focus on Iceland, while some expedition ships spend much longer in and around Svalbard.
Have you ever taken a Svalbard cruise? If so, I'd love to hear your experiences in the comments below. If you found this article and video useful, please consider sharing it on Facebook or Pinterest so others can find it too. Thanks!