From a historic wooden church to its local production of goat cheese, Undredal is a small village with a big heart. Here are five great reasons to visit.
The fjord Norway region is not short of picturesque waterfront villages. Undredal is a fine example that offers the best of fjord landscapes and culture while being somewhat hidden in plain sight.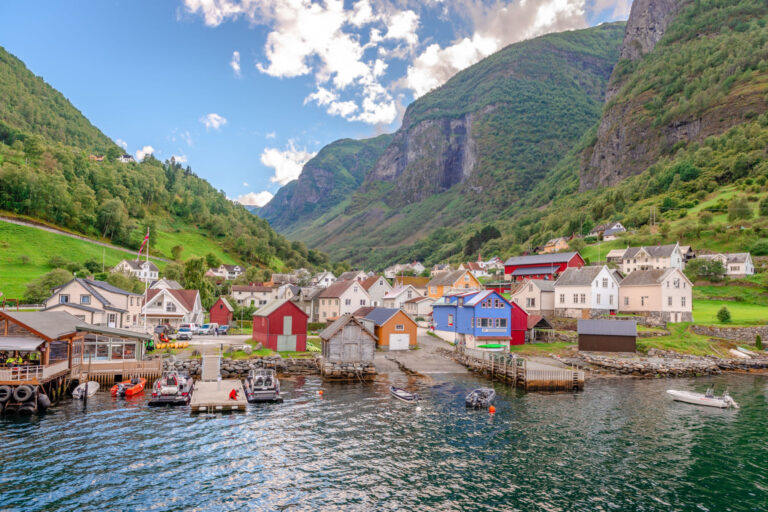 Motorists on the main Oslo to Bergen E16 route zoom past the turn-off for the village on their way to the cities. Tourist drivers head for Aurland and the Lærdal tunnel or the snow road. Cruise ships pass by on their way to Flåm.
Even though less than 100 people live here, Undredal isn't exactly a secret among travellers. That's especially true for Americans, as popular travel broadcaster Rick Steves mentioned the village on his show about Norway.
So while the village isn't exactly quiet in the high summer season, it doesn't suffer from overwhelm to quite the same extent as nearby Flåm or Aurland.
Where is Undredal, Norway?
Undredal is a village on the banks of the beautiful Aurlandsfjord, a branch of the much bigger Sognefjord in the very heart of the west Norwegian fjords.
Despite its location, it's well connected to Norway's big cities being just a few kilometres off the E16 highway that links Oslo and Bergen. The village is also just a ferry ride away from the popular fjord villages Flåm, Aurland and Gudvangen.
Why visit Undredal?
Goats outnumber people in Undredal, just a short drive from the much busier Flåm. This captivating fjord village is tiny yet it's a treasure trove of enchanting landscapes, historic landmarks, and cultural riches.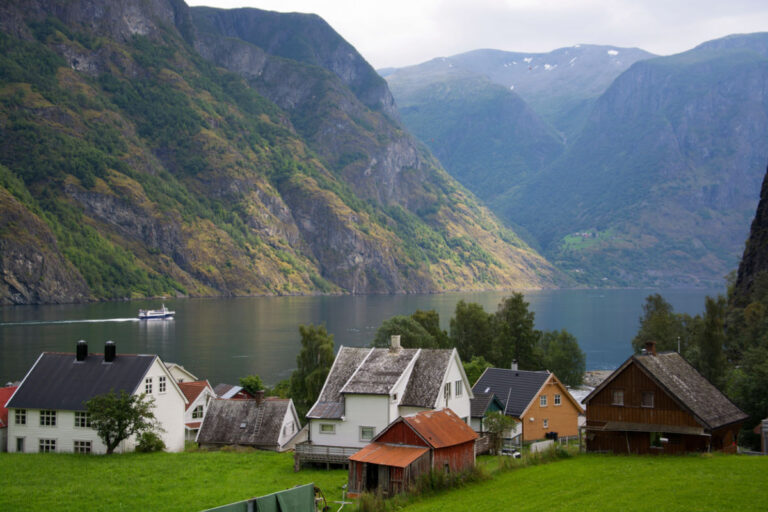 Visiting Undredal offers a unique chance to immerse yourself in Norwegian traditions while still enjoying the best of the fjord landscapes. Here are five good reasons to visit.
1. Authentic fjord experience with fewer crowds
Undredal offers everything you could want from a fjord village in terms of scenery, together with an authentic cultural experience. This is helped by the fact that the village couldn't be reached by road until the 1980s.
Unlike its neighbor Flåm, known for attracting throngs of tourists each year, Undredal retains a peaceful charm with fewer crowds, allowing you to immerse yourself in the natural beauty and local culture without feeling overwhelmed.
From kayaking on the tranquil waters to hiking the scenic trails or simply enjoying the local cuisine, Undredal provides a genuine Norwegian fjord experience. Whether you want to explore the surrounding area on one of the many hiking trails or simply gaze at the fjord from the waterfront, Undredal won't disappoint.
2. Undredal Stave Church
Undredal Stave Church, the smallest of its kind in Scandinavia, is a must-visit for those interested in history, architecture, or unique attractions.
The first written reference to the church is found in a letter from 1321, but there's evidence it's much older. There is a carving on the roof that could be interpreted as 1147, a belief that is supported by recent detailed analysis.
Constructed in the traditions of Norwegian stave churches and renovated in 1722, this historical gem features distinctive white clapboard sides and a medieval chandelier featuring carved animal heads, contributing to its unique charm.
The interior is just as small as you'd imagine to be, seating barely 30 people. This means there is a restriction on visitor numbers, offering a truly intimate experience.
3. Perfect experience for cheese lovers
Undredal, a village renowned for its world-class goat cheese, offers a unique culinary experience for cheese enthusiasts.
Its famed dairy cooperative, Undredal Stølsysteri, uses traditional methods and raw, unpasteurized goat milk to craft exquisite white cheese and brown cheese. The local store, Undredalsbui, and the Eldhuset Museum provide opportunities to buy and learn about these delectable cheeses and their production.
Goat sausage is also produced locally and often served as an accompaniment to the cheese during tastings.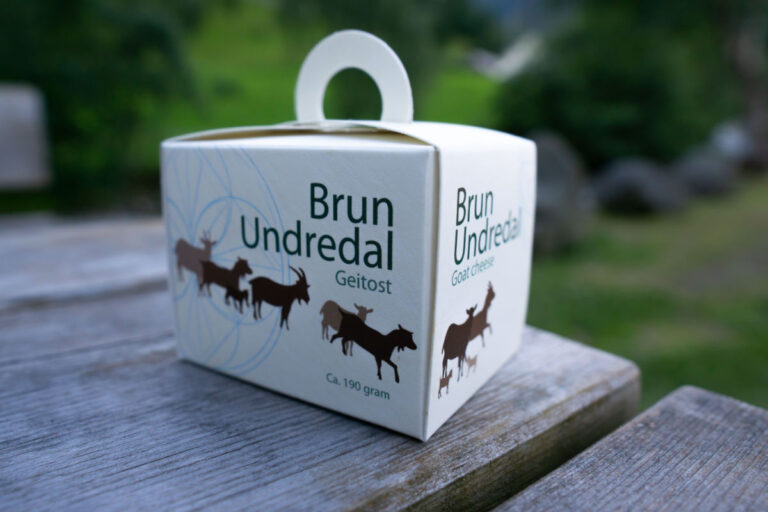 The village occasionally hosts the Goat's Cheese Festival (Geitostfestivalen), a celebration of its cheese-making heritage, though it no longer occurs so regularly. Nonetheless, visitors can still enjoy the exceptional goat cheese that has made Undredal famous.
4. Wonderful hiking opportunities
Undredal truly is a hiker's dream. Whether you're a seasoned trekker or a casual walker, the numerous trails here offer varying levels of challenge. Each trail leads you through stunning landscapes, culminating in panoramic views of the fjords and the village.
Hjødna Viewpoint: A short and easy hike from Undredal, Hjødna viewpoint provides a spectacular bird's-eye view of the fjord and village. The walk is approximately 20-30 minutes and is well worth the effort.
Stigen Farm: A steep, challenging hike or a boat ride away, Stigen Farm offers stunning fjord views and a slice of traditional Norwegian farm life. A week-long camp experience lets visitors immerse themselves in farm activities.
Hovdungo and Ørnareiret (Eagle's Nest): A popular but demanding hike, the trail to Hovdungo and the Eagle's Nest offers panoramic views of the Aurlandsfjord. The hike is around 8.2 km long with a 700 metres elevation gain. An overnight stay at Ørnareiret offers a unique experience in the heart of nature.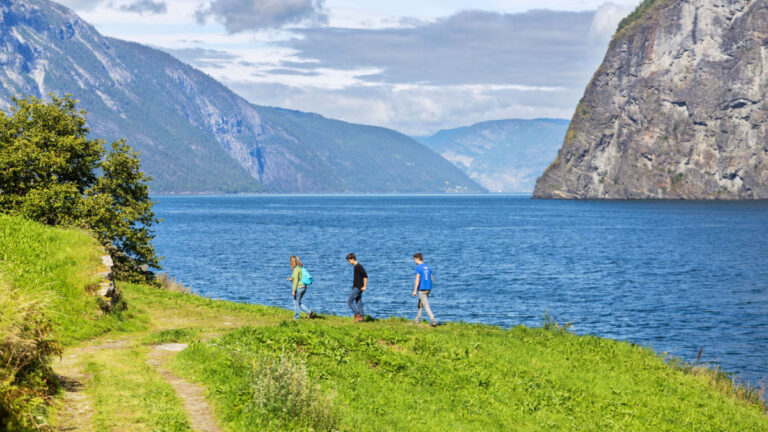 Stokko: For a less strenuous option, the hike to Stokko along a scenic tractor road offers stunning fjord views. The 2 km trail towards Stigen Farm is suitable for all fitness levels and perfect for a couple of hours' adventure.
5. Enjoy a fjord boat trip
Explore the serene fjords of Undredal from a different perspective with a relaxing boat ride. As you gently glide on the crystal-clear waters, you'll get to appreciate the village's picturesque beauty in a truly unforgettable way.
While most tourists visit Undredal on a day trip from Flåm, you could do the opposite and visit the bustling village to ride the famous Flåm railway, returning to the more peaceful Undredal for an overnight stay.
Note that the sightseeing ferry must be pre-booked in order for it to stop at Undredal! Times and capacity is limited, so you'll need to arrange this boat trip in advance to be sure of your transport.
Where to stay in Undredal
Undredal may be small but it offers a few accommodation options, all offering the chance to unwind after a day of exploration. There are a handful of apartments in Undredal ranging from small studios to three-bed apartments ideal for groups.
For those on a tighter budget, Undredal Camping offers space for pitching your tent or parking your vehicle with restroom and shower facilities on site.
Have you been to Undredal? Let us know how you spent your time in the comments below.