Here's our pick of the best video games with a Viking theme. Skill up on your Norse warrior battle strategy while you wait for the year's hottest release.
Okay, so you're probably not heading to Valhalla. But one of the hottest video game releases of 2020, Assassin's Creed Valhalla, is arriving on most major platforms this autumn!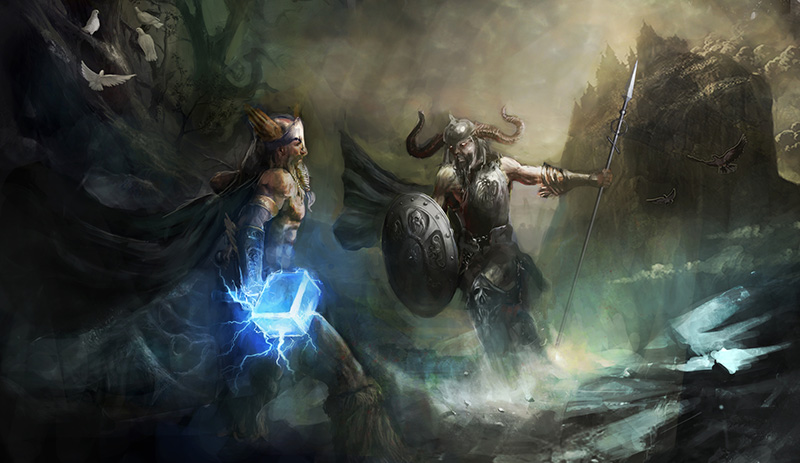 But there's still a little time to wait for what is expected to be one of the best-selling Viking games. If you want to get your head into the Viking mindset ahead of release, you have a lot of options.
Here's our pick of the best Viking-themed titles. All were released in the past three years so you can pick up and play them today.
Vikings: Wolves of Midgard (2017)
Taking the role of a Viking chieftain of a lowly clan that has recently been decimated, the aim of Wolves of Midgard is to hack and slash your way to victory. Similar to games like Diablo, Wolves of Midgard embraces Norse mythology well.
Simple mechanics like 'exposure' where you can only fight for so long without finding fire or shelter before you freeze add a welcome touch of realism. There are different aims such as preventing Ragnarök and building your clan back up by subjugating rival clans. It's not going to keep you coming back for replays but it's definitely worth a run through.
The game is available for Windows, macOS, Linux, PlayStation 4 and Xbox One.
Expeditions: Viking (2017)
If it's historical accuracy that you're after, then this is the one you're looking for. In this SRPG, you're a Viking thegn who just took over the role of chieftain after your father was killed abroad. Your first priority is to rebuild your clan and gather the skills and weapons you need.
Once you're ready you can head out and start battling enemies, conquering lands and doing all the good things the Vikings loved to do! Like all games, Expeditions: Viking has strengths and weaknesses. One strength is the turn-based combat system that works really well. One problem you might encounter is that you need to get your balance of skills right or you may end up being unable to actually beat any opponents!
Expeditions: Viking is available on PC now.
For Honor (2017)
If you're a true Viking and your only desire is to die in a glorious battle and ascend to Valhalla, then this is the game for you! Aside from the lacklustre campaign that's effectively an 8-hour tutorial and the very stingy rewards system, For Honor is an incredibly good game.
You take on the role of a character in one of 4 factions – Samurai, Vikings, Knight and Wu Lin. Each faction has types of characters that fit into its mythology and use accurate weapons and fighting techniques. Its strength lies in having one of the best developed combat systems in all of video gaming. This is bloodthirsty gameplay at its most Viking!
The multiplayer game is where For Honor comes alive. You can customise your character fairly infinitely so it's unlikely you'll ever come across someone who looks identical. It may take a long grind to get there but the results are worth it.
For Honor is available on PlayStation 4, Xbox One and PC.
Hellblade: Senua's Sacrifice (2017)
The first indie title on our list is hard to describe. It's effectively a cinematic novel, which tells a compelling story through an incredibly rich and diverse visual and auditory experience. Take the role of Senua, a cursed Pict warrior who is arriving in Helheim in a quest to save her dead lover.
Through puzzling, hallucinations and guidance from the voices in Senua's head the game takes you on a journey quite unlike any other. Battling is there too, though this is far from a hack and slash game. Instead, as one of the most immersive titles out there, Senua's Sacrifice is a stunning example of how indie gaming can be as good as, or even better than, the big studios.
Hellblade: Senua's Sacrifice is available for PC, PlayStation 4, Xbox One and, since April 2019, Switch.
Read more: A Viking Timeline: What Happened & When
Niffelheim (2018)
Imagine you're a Viking warrior who dies what he sees as a glorious death only to wake up in Niffelheim instead of Valhalla. Oh the horror! That's the backstory for Niffelheim and what follows is a largely entertaining 2D scroller. You begin by gathering resources by mining and chopping down trees, learning to cook and make potions and building up your castle.
The aim is then to complete the journey to Valhalla to take your rightful place. Each time you find yourself defeated you go back home and build up your arsenal of weapons and health-giving potions and food ready to try again. This isn't to everyone's tastes, but platformer fans can have a lot of fun with this.
Niffelheim is available for PC and Switch as well as PlayStation 4 and Xbox One.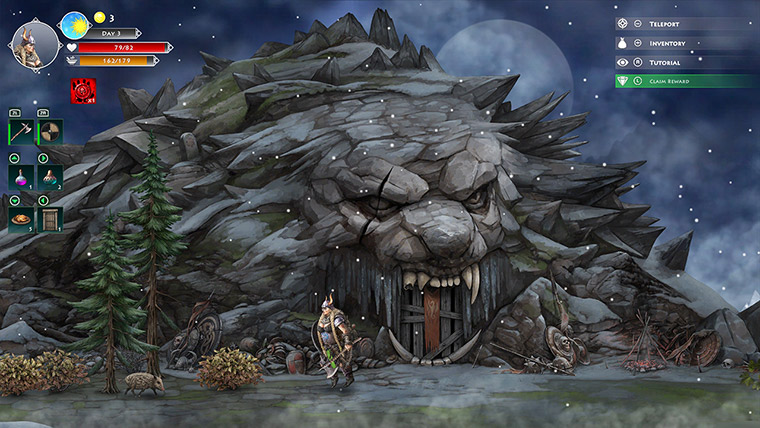 Die for Valhalla (2018)
Another entertaining 2D beat-em-up that's worthy of a few of your silver coins is Die for Valhalla. You play as a Valkyrie who can possess various Vikings, allowing them to take the damage and keep you going on your quests!
Each different type of Viking has different abilities so if you find you're in the wrong body for the enemy you're facing you can leave them dead on the ground and find another one to possess!
This is a game that benefits from coop play with friends. Otherwise, at times, the grind can be a little bit tedious. Overall, it's the art style of this game is what gives it a lot of its charm. It's a supernatural cartoon style, similar to Don't Starve, which suits the subject matter perfectly.
Die for Valhalla is available on Xbox One, PlayStation 4, PC and Switch.
Dead in Vinland (2018)
In this great indie game, you play a Northman whose ship was blown off course, ending up in the mysterious Vinland. Your goal is to manage and build up your resources and power to, initially, pay off the fierce chieftain and then, ultimately, to challenge him to give you and your family a peaceful life.
Another game where the art style is a reason to play the game in itself, Dead in Vinland is a Viking update of the earlier game Dead in Bermuda. But the game is not simply a reskin and nor is it just pretty. Engaging gameplay includes managing both physical and mental health to ensure you survive.
Dead in Vinland is available for Switch, PC and macOS.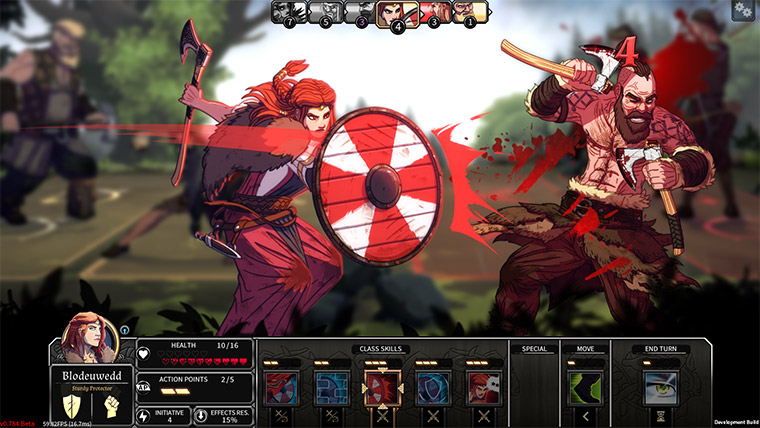 Total War Saga: Thrones of Britannia (2018)
Thrones of Britannia is the 12th instalment in the Total War series of games that began way back in 2000 and the first of the 'Saga' games. Like the other games in the series, it's part turn-based strategy and part real-time tactics.
Choose a faction from the list of ten available and plan your way to dominance over your rivals. You have limited pools to pick from so it's hard to massively overpower every unit. That said, the game becomes much easier as it progresses, and you do eventually reach a point where your victories are pretty much assured.
With a beautifully detailed map, nicely simulated mass battles and deep, extensive strategic options, this is a game that looks great and plays well, though long-term strategy players might find it a little lacking.
For desktop purists only, TWS:ToB is available on Windows, macOS and Linux.
Northgard (2018)
Another PC-only strategy title, Northgard, from indie producer Shiro Games, harks back to games like Age of Empires. Rather than simply being a Viking-skinned update, the game offers a play experience that mimics real Viking life. You're not simply fighting and conquering. Instead, you have to care for your clan and take into account the conditions. Sow and reap when the weather is good so you can lay down provisions to sustain you in the winter months.
You build up your knowledge by collecting 'Lore' from runestones around the map to help you develop as a civilisation. And when the inevitable attacks come from neighbouring clans, not to mention marauding bears and wolves, you have to hope your clan is strong enough to repel them.
Northgard is available on PC.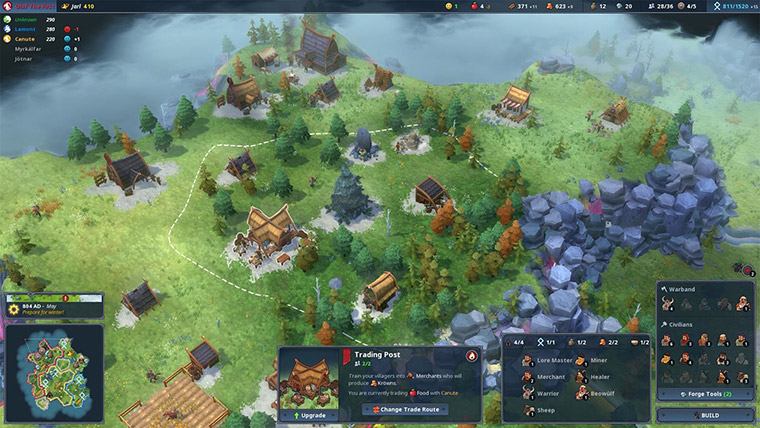 Bad North (2018)
If you fancy a real-time strategy game but don't want to get too bogged down in endless minutiae, then you should definitely give Bad North a chance. Boasting gameplay that could teach other developers a thing or two about keeping things simple, Bad North gets out of the way of the play.
Each campaign starts with a pair of commanders who have to work their way through a series of islands, attacking, conquering and discovering helpful items as they go. Once they die, you start again, with only the knowledge you've gained in past campaigns to help you. Combining simplicity, and often frustration, with strategy provides a compelling gameplay experience but it may be too superficial for a lot of gamers.
Bad North is out now on PC, PlayStation 4, Xbox One, Switch, iOS and Android.
God of War (2018)
Published by Sony, it's hardly surprising that God of War is a PlayStation exclusive but for some people the previous games have been THE reason to buy a PlayStation in the first place. So, it's also no surprise that the latest version, upgrading from Ancient Greeks to Vikings, is very highly rated.
Taking place many years after the previous instalment, Kratos is now living in Midgard with his son Atreus. The game sees Kratos setting out with Atreus to fulfil his wife's last wish – for her ashes to be scattered from the highest peak of the 9 realms.
To do this, Kratos visits most of the worlds of Norse mythology in a story that's engaging and, at its heart, features a father and son bonding and learning to deal with loss. If you have a PS4 and haven't played this game then you're missing out on one of the best gaming experiences going.
The near future of Viking video games
Eitr is a substance in Norse Mythology that originally gave life to everything. But it's also poisonous, being produced by snakes and serpents. So perhaps it's no surprise that a hotly anticipated game with that title has been in development hell for years!
A 2D game similar to Dark Souls, the game allegedly boasts a superb combat system. The gameplay videos that have been released look great. First announced in 2015, will 2020 be the year that it finally sees the light of day? Who knows!
To end where we started, one game that will definitely be here before the year is out is Assassin's Creed Valhalla. The game is widely tipped to be 'the best Viking game ever' based on how well the franchise has treated classical mythology in previous outings. Rightly, anticipation levels are high for a lot of gamers.
In the game you'll play a Viking trying to settle in and conquer Britain. No doubt there'll be lots of assassinating of shadowy figures – the clue is in the title after all – but they seem to have placed a lot of emphasis on building up a working settlement as well. It sounds like it's getting everything right so now we just have to wait!
Assassins Creed Valhalla is released on November 17th 2020 on Windows, PS4, PS5, Xbox One, Xbox Series X and Google Stadia.
Are you looking forward to playing Assassin's Creed Valhalla? Have you played any of the games on our list? Let us know in the comments.