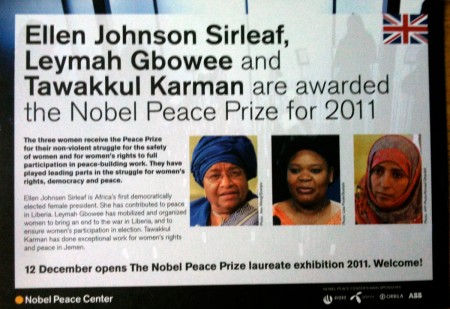 This weekend I've had the pleasure of Andy's company here in Oslo. On Friday we wandered past the City Hall and the Nobel Peace Center, which reminded me I'd seen the announcement of the 2011 Nobel Peace Prize winners on the news earlier in the day. Anyway we decided to visit the Peace Center on Saturday when we had more time.
Good decision! It turned out to be a celebratory day for the 2011 announcement. First things first, that meant free entry, saving us both 80 kroner, hurrah! But also we got to sit in on a talk from Thorbjørn Jagland (the leader of the Norwegian Nobel Committee) about the 2011 laureates, which was being filmed and streamed online.
On stage there were three framed pictures, which turned out to be the diplomas designed specifically for each of the 2011 winners – Ellen Johnson Sirleaf, Leymah Gbowee and Tawakkul Karman. The diplomas will be handed over at the ceremony in Oslo City Hall in December.
Upstairs was the impressive Peace Field, a room of fibre-optic light with LCD screens, each one profiling a previous Nobel Peace laureate. There was also an eye-opening photographic exhibition about an asylum seeker in Norway called Rahman who now lives here illegally after being turned down twice. A nice touch was the message wall for visitors to write their notes of support to Rahman.
If you visit Oslo and are the slightest bit interested in politics, world affairs, or the peace prize itself, check it out.